While I read a lot of entertaining books that I really enjoy, every so often a new series comes along that, from the very first page, completely captivates me. Such is the case with ELEMENTARY, SHE READ by Vicki Delaney! From her quirky, endearing protagonist, Gemma Doyle (who may or may not be distantly related to the author of Sherlock Holmes) to the setting of the quaint New England Cape Cod town, I loved it all. And I was especially enthralled with Gemma's shop, Sherlock Holmes Bookshop and Emporium located at 222 Baker Street, adjacent to her best friend's shop, Mrs. Hudson's Tea Room. I wish it was a real shop because I could spend hours browsing there! Gemma is a British transplant and brings a unique inflection to the New England setting. She is amazingly perceptive at noticing the smallest of details yet is a bit of a klutz and quite forgetful at times. Gemma is also very outspoken and directly honest, which makes people around her uncomfortable at times, but she has a good heart and never does it with malice.
While I've never read any Sherlock Holmes books (gasp! I can't believe I've overlooked them or am even admitting it!!!) I envision Gemma as a modern day type of Holmes with her best friend, Jayne, a reluctant Watson. The pair complement each other, bringing light humor to the situations they find themselves in. The plot moves along at a fast pace and the author weaves in a priceless magazine that contains the first published Sherlock Holmes story, with a reclusive multi-millionaire, feuding heirs, and a murdered caregiver. There are numerous suspects and Gemma methodically examines them all while dealing with the town's new detective that seems to have it in for her. The reveal neatly wraps up the threads of the story in an exciting conclusion, leaving me wanting more!
While there aren't any recipes included with the book, Mrs. Hudson's Tea Room provides plenty of tempting treats to whet your appetite. Vicki has graciously shared her recipe for Mini Strawberry Tarts. These delectable bites are the combination of flaky, buttery crusts providing the perfect platform for the rich, creamy custard and garnished with juicy, sweet strawberries. A delicious ending to spring and summer dinners while elegant enough to impress both family and guests!
Amazon Synopsis
Gemma Doyle, a transplanted Englishwoman, has returned to the quaint town of West London on Cape Cod to manage her Great Uncle Arthur's Sherlock Holmes Bookshop and Emporium. The shop–located at 222 Baker Street–specializes in the Holmes canon and pastiche, and is also the home of Moriarty the cat. When Gemma finds a rare and potentially valuable magazine containing the first Sherlock Homes story hidden in the bookshop, she and her friend Jayne (who runs the adjoining Mrs. Hudson's Tea Room) set off to find the owner, only to stumble upon a dead body.
The highly perceptive Gemma is the police's first suspect, so she puts her consummate powers of deduction to work to clear her name, investigating a handsome rare books expert, the dead woman's suspiciously unmoved son, and a whole family of greedy characters desperate to cash in on their inheritance. But when Gemma and Jayne accidentally place themselves at a second murder scene, it's a race to uncover the truth before the detectives lock them up for good.
Fans of Sherlock Holmes will delight in the sleuthing duo of Gemma and Jayne in Elementary, She Read, the clever and captivating series debut by nationally bestselling author Vicki Delany.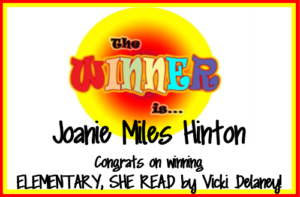 A special thanks to Vicki Delaney for providing a hardcover copy of ELEMENTARY, SHE READ for one lucky winner! Contest ends Friday, March 17, 2017 at 11:59 pm PST, and is limited to U.S. residents only. Please use the Rafflecopter box located below the recipe to enter. The winner will be announced on this page and on Cinnamon & Sugar's Facebook page, as well as notified by email (so check your spam folder!)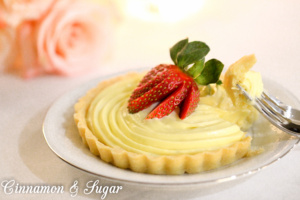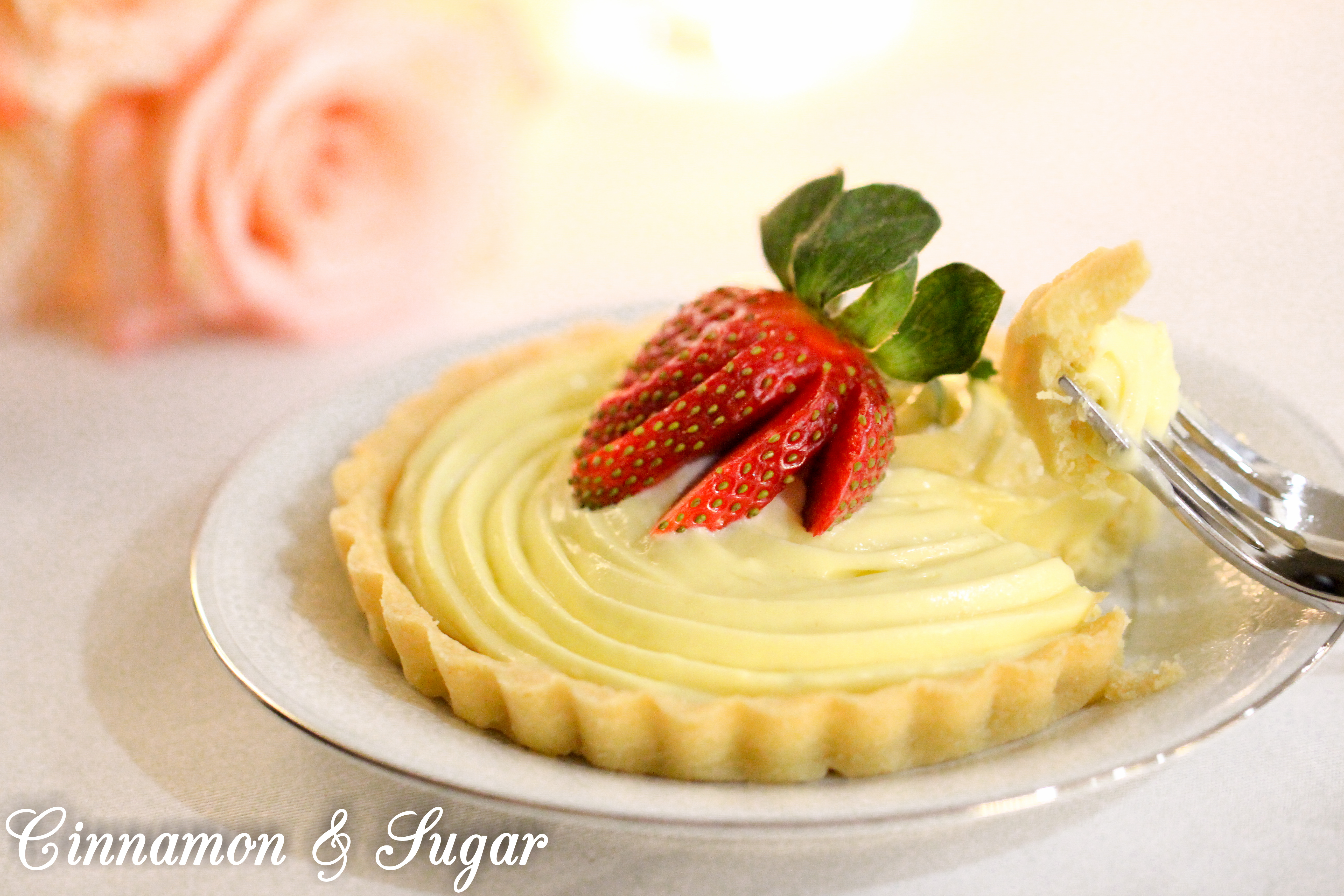 Ingredients
Pastry

2/3 cup all-purpose flour
1/3 cup + 1 tablespoon butter
1/2 cup confectioners' sugar
1 egg yolk

Pastry cream

2 egg yolks
3 tablespoons granulated sugar
1 rounded tablespoon all-purpose flour
2/3 cup milk
1/2 teaspoon vanilla extract

Topping

1 egg
1/4 cup whipping cream
1/2 teaspoon confectioners' sugar
Strawberries to decorate
Instructions
Pastry

Mix flour and confectioners' sugar together in a bowl.
Add butter and rub in gently with your fingertips to make flaky crumbs.
Add the egg yolk and gently work together with fingertips to form a dough. If the dough is too sticky, gently mix in a teaspoon of flour at a time, until it is easy to handle and forms a ball.
Very gently knead the dough 2-3 times with your hand to form a ball.
Flour work surface lightly and dust rolling pin with flour.
Gently roll out the pastry to 1/8 inch thick.
Cut into circles to fit tart pans. Use a glass of appropriate size if you don't have a round cookie cutter.
Place the circles over the tart tin and gently push them down.
Prick the pastry cases in several places with a fork.
Freeze for at least one hour. Can be left overnight.

Pastry Cream

Using an electric mixer on medium speed, whisk the egg yolks and 1 tablespoon of the sugar together until the mixture forms ribbons when the beaters are lifted, 3 or 4 minutes.
Beat in flour to make a thick pale yellow mixture, almost a paste.
Heat the milk gently with the remaining 2 tablespoons of sugar and add 1/2 tsp of vanilla extract.
Once the sugar is completely dissolved, bring to the boil.
Very slowly, pour milk onto the egg yolk mixture, stirring all the time to avoid curdling.
Pour the mixture back into the pan and heat on low to medium. Keep stirring with a whisk as you heat it. It will quite suddenly become thick and creamy.
Reduce the heat immediately and cook for a minute or two, but keep whisking all the time.
Remove from heat and pour straight into a bowl. Cool slightly.
If not using immediately, cover with plastic wrap to keep skin from forming and refrigerate until needed.

Bake the pastry cases

Pre-heat the oven to 350F.
Bake pastry shells for 5 minutes.
While the shells are cooking, beat one egg with a fork.
Remove the tarts from the oven.
Gently brush the pastry cases with beaten egg and then put them back in the oven for 5 minutes.
When done, they should be lightly golden round the edges.
Cool for five minutes.
Remove pastry shells from the tin and cool on a baking rack.

Fill tarts

Slice strawberries if they are too large to fit neatly on the tart.
Whip 1/4 cup of cream with 1/2 teaspoon of confectioners' sugar.
Whisk pastry cream lightly. Add whipped cream to pastry cream and mix on low speed
Fill tart shells with cream.
Top with the fruit and dust with confectioners' sugar.

Tip

Use pre-made frozen tart shells or refrigerated pie dough to simplify this recipe.
If you don't have mini tart pans, regular-sized or mini muffin tins can be used.
https://cinnamonsugarandalittlebitofmurder.com/mini-strawberry-tarts/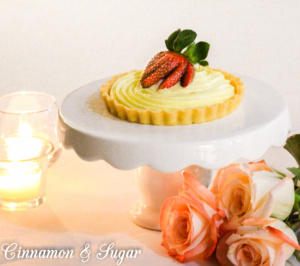 Pin to Pinterest: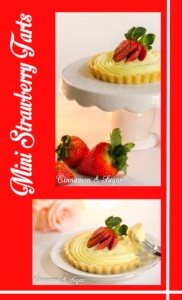 If you receive my blog post via email you will need to visit my website to view the video.
I received a copy of this book and willingly provided a review. All thoughts and opinions are my own.