Last year I heard a lot of buzz about the new Bel MacGrath Mystery series by Maggie McConnon and was intrigued. My great-grandmother immigrated from Ireland to America so I'm drawn to everything Irish and loved the premise of the story. When I had a chance to read BEL OF THE BRAWL, the second book in the series, I jumped at the chance! Even though I still haven't read the first book (I need to correct that soon!), this second book was easily read as a stand-alone. There is just enough backstory to help the reader know what's going on but not so much that it detracts from the pace of the book. BEL OF THE BRAWL starts out with a flashback to a dark mystery surrounding Belfast 'Bel' McGrath the summer after graduating high school. She can't remember what happened the night her best friend disappeared and became "the girl who never came home". Bel moved away from Fosters Landing and moved on with her life, becoming a chef.
Fifteen years later Bel is back home and working as head chef for her family's Irish wedding venue, Shamrock Manor, where the murder of a groom during his wedding, threatens to ruin their business. When one of their waitresses disappears with a huge sum of money belonging to her family, Bel decides she needs to get some answers. It's not long before unsavory characters make their way to Shamrock Manor and Bel has her hands full trying to find the killer before another murder takes place. Working with her traditional Irish parents and her four brothers leads to shenanigans that had me laughing out loud at numerous scenes. While there is, at times, heart-wrenching anguish over the loss of Bel's best friend, the author provides many humorous interludes to break up the darkness so that the reader doesn't get overwhelmed with the tragedy. Don't get me wrong, this isn't a dark mystery, but a traditional cozy with a long unsolved disappearance theme running through it. Ms. McConnon skillfully writes the transitions so that the flow and pace of the story never lags making me want more after I devoured the very last page!
While there aren't any recipes included with the book, there are plenty of mouth-watering mentions of food coming from Bel's kitchen. I was inspired to create a recipe for one of the appetizers she serves at the wedding: Scallops wrapped in bacon. I added the addition of a maple soy glaze brushed on to the bacon before broiling. Besides providing a delicious flavor, the sugars add to the caramelization during broiling. While I made these as appetizers that quickly disappeared from the platter, next time I will make more and serve over steamed white rice for an entrée.
Amazon Synopsis
Bel McGrath loves her work as a wedding chef. But with her latest event set to take place at Shamrock Manor, she just can't seem to catch a break. The Casey wedding has left her with ten thousand greenbacks in the hole, a missing staff member, and a dead groom. Now, in between Guinness beers and pub brawls, Bel must find a way to crack the case—even though what she should be cracking are eggs into the batter of the wedding cake. A good Irish girl's work is never done. . .
What begins as local town fodder for an episode of "Wedding Gone Wild" is turning into "Gangsters with Guns." With the Casey family spiraling out of control, and billable McGrath hours being lost by the minute, Bel is definitely in too deep. With all these shenanigans, she barely has time to obsess over her new boyfriend and her own unsolved mystery from years ago! Time is running out on getting the next couple down the aisle before the so-called luck of the Irish takes a deadly turn… Bel of the Brawl will keep Maggie McConnon's fans, new and old, guessing.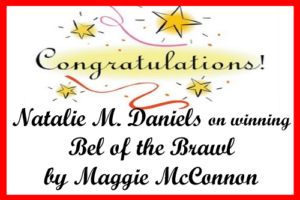 A special thanks to the publisher, St. Martin's Press, for providing a copy of BEL OF THE BRAWL for one lucky winner! Contest ends Thursday, March 23, 2017 at 11:59 pm PST, and is limited to U.S. residents only. Please use the Rafflecopter box located below the recipe to enter. The winner will be announced on this page and on Cinnamon & Sugar's Facebook page, as well as notified by email (so check your spam folder!)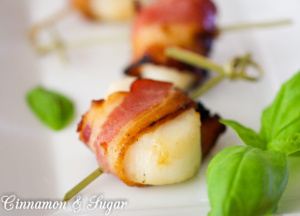 Scallops with Maple-Glazed Bacon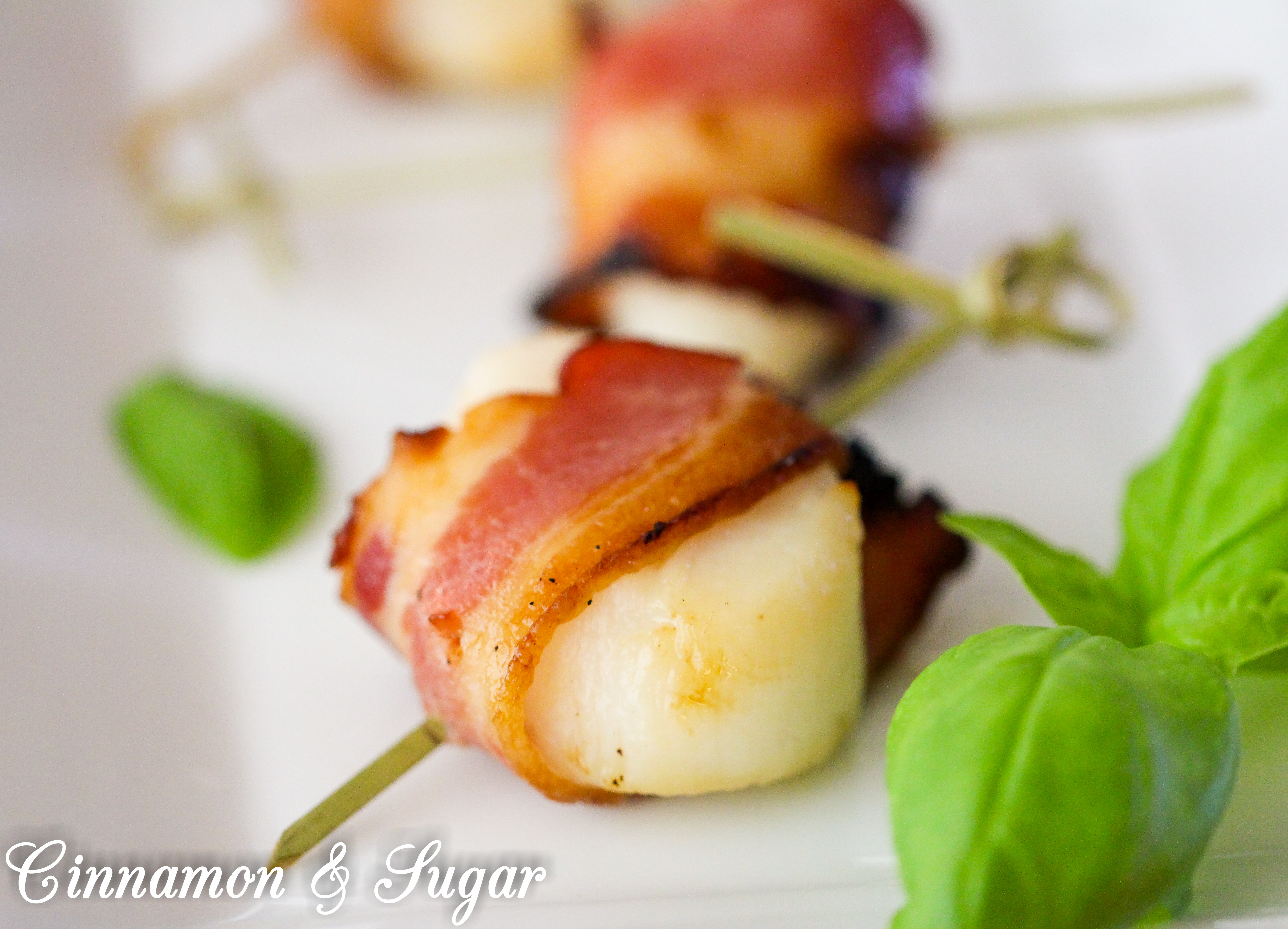 Ingredients
12 bacon slices
1/4 cup cup maple syrup
2 teaspoons soy sauce
1 tablespoon brown sugar
12 large sea scallops (dry scallops are preferable)
24 Toothpicks
Instructions
Preheat oven to 400 degrees (F).
Soak the toothpicks in water.
Cut each bacon slice in half (kitchen shears work well for this task).
Line a baking sheet with foil and arrange bacon pieces on sheet.
Bake for 7 - 8 minutes, until bacon is partially cooked but not crisp.
Remove baking sheet from oven and place bacon on paper towels to absorb grease and cool.
Discard the bacon grease on the baking sheet, and wipe excess grease with a paper towel. Set baking sheet aside.
Whisk together the maple syrup, soy sauce, and brown sugar.
Slice each scallop in half, horizontally.
Wrap each scallop in bacon and secure with a toothpick.
Place the bacon-wrapped scallops on the baking sheet and brush with maple syrup glaze.
Turn the oven on to broil and broil the scallops for 2 minutes. Be sure to carefully watch and if a piece starts getting overly brown, turn it over.
Remove pan from the oven and turn each piece over then return to oven.
Broil for another 2 to 3 minutes until bacon is done. Turn pieces over again as necessary to complete cooking.
Remove to a serving plate and serve immediately.
https://cinnamonsugarandalittlebitofmurder.com/scallops-with-maple-glazed-bacon/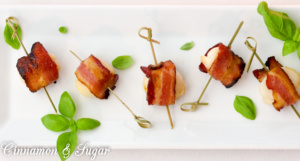 Pin to Pinterest: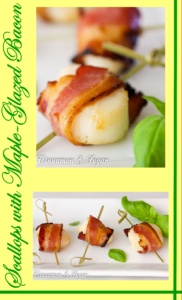 If you receive my blog post via email you will need to visit my website to view the video.
I received a copy of this book and willingly provided a review. All thoughts and opinions are my own.