WHEN THE GRITS HIT THE FAN, book three in the Country Store Mysteries, by Maddie Day (aka Edith Maxwell) is another solid addition to a terrific series! Robbie Jordan, owner of Pans 'N Pancakes, is a believable and likable protagonist. I enjoyed her down-to-earth attitude and her willingness to jump in and get whatever needed to be done, done… be it knocking down walls to remodel her building; or exploring a tunnel even though she's very claustrophobic; or solving a murder when a good friend is the suspect. The author also makes sure Robbie puts in the time required to running her restaurant, instead of letting her co-chef and friend, Danna, handle it all. This small detail added authenticity to the plot, along with the Indiana rural colloquialisms that are sprinkled throughout the book. My in-laws lived in Illinois, ten miles from the Indiana border, so I'm very familiar with the small towns, shops, and mannerisms of the people living there and Maddie Day nails both the setting and the characters.
While the story takes place during winter with lots of snow and ice, I always avoided visiting the Midwest during that season. I'm definitely a fair-weather Southern California type of gal but Maddie paints such a vivid picture with her words I could feel the cold and the terror Robbie experiences upon finding a dead body in an ice fishing hole. The murder mystery is well plotted with a sub-plot revolving around items Robbie finds hidden in the walls of her shop as she knocks them down to remodel. The author expertly weaves them together to reach a very suspenseful and exciting conclusion that will have you on the edge of your seat!
Running Pans 'N Pancakes, Robbie is always cooking up delicious dishes that will have you drooling while reading. Fortunately, the author includes several recipes at the back of the book. Given the cold setting of WHEN THE GRITS HIT THE FAN, I was craving a bowl of soup by the time I finished the book. Maddie has graciously allowed me to share her recipe for Sullo Scio, a warm and nourishing bowl of comfort! Hailing from the Pisa region of Italy, this dish is easy to make using simple ingredients but the results are very satisfying. I had trouble finding tagliatelle pasta so I substituted fresh fettuccine noodles and when my husband asked, "Where's the meat?" I added some shredded rotisserie chicken to his bowl… but I personally didn't think it was necessary as this soup is filling as written. Sullo Scio will become a regular in our household on cold, chilly days!
Amazon Synopsis
Despite the bitter winter in South Lick, Indiana, business is still hot at Robbie Jordan's restaurant. But when another murder rattles the small town, can Robbie defrost the motives of a cold-blooded killer?

Before she started hosting dinners for Indiana University's Sociology Department at Pans 'N Pancakes, Robbie never imagined scholarly meetings could be so hostile. It's all due to Professor Charles Stilton, who seems to thrive on heated exchanges with his peers and underlings, and tensions flare one night after he disrespects Robbie's friend, graduate student Lou. So when Robbie and Lou go snowshoeing the next morning and find the contentious academic frozen under ice, police suspect Lou might have killed him after their public tiff. To prove her friend's innocence, Robbie is absorbing local gossip about Professor Stilton's past and developing her own thesis on the homicide—even if that means stirring up terrible danger for herself along the way . . .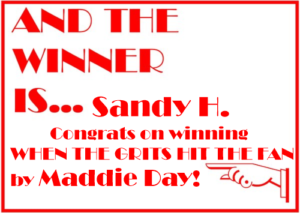 A special thanks to Maddie Day, for providing a copy of WHEN THE GRITS HIT THE FAN for one lucky winner! Contest ends Monday, March 27, 2017 at 11:59 pm PST, and is limited to U.S. residents only. Please use the Rafflecopter box located below the recipe to enter. The winner will be announced on this page and on Cinnamon & Sugar's Facebook page, as well as notified by email (so check your spam folder!)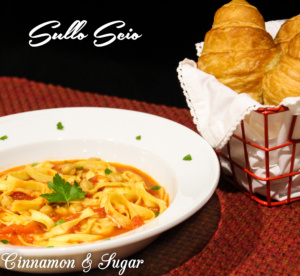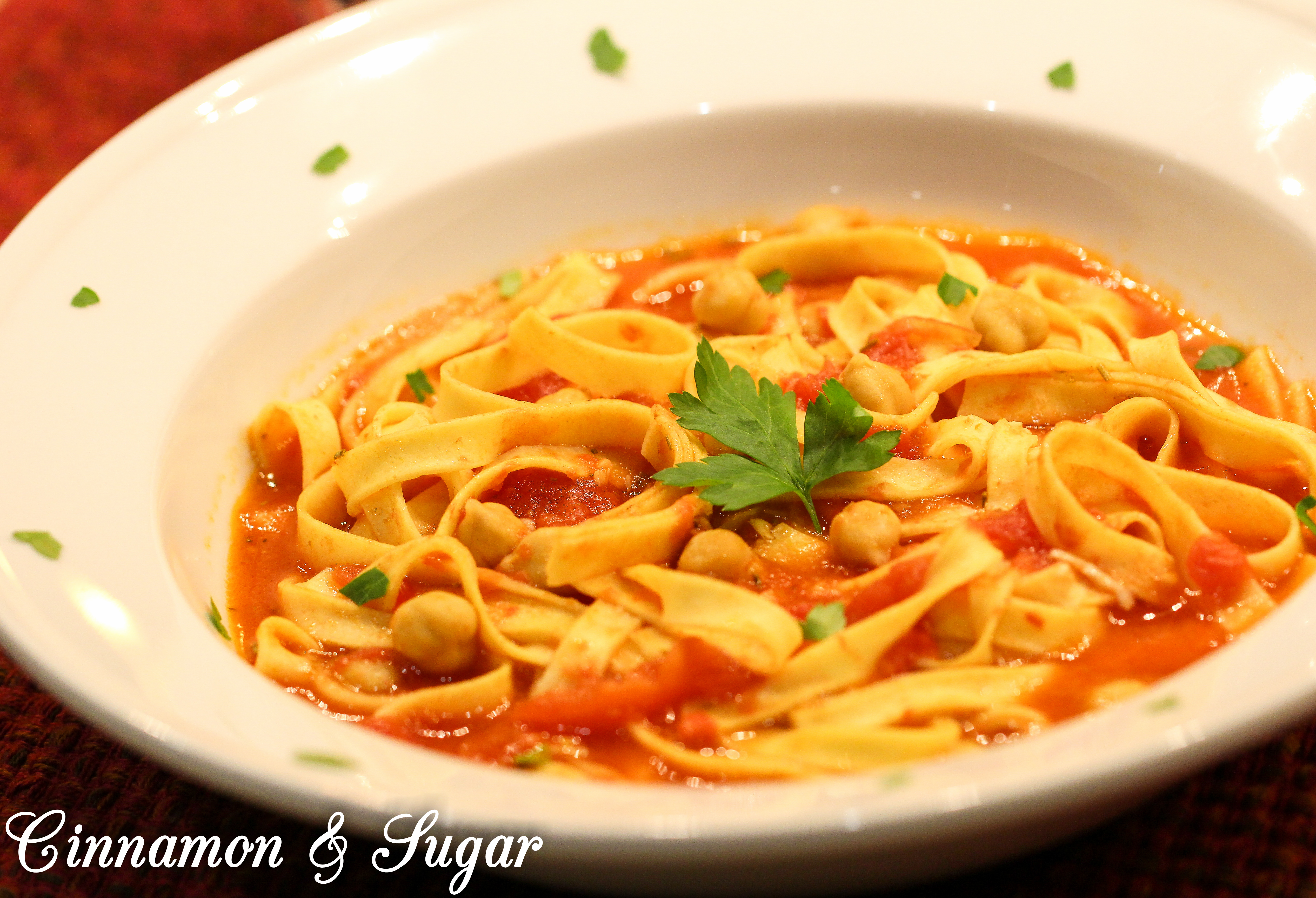 Ingredients
4 fat cloves of garlic, peeled and minced
2 tablespoons olive oil
1 tablespoon minced fresh rosemary
1 large can whole tomatoes, rough chopped in the can
1 15-ounce can chick peas (garbanzo beans), drained and rinsed
1 quart chicken stock
1 package tagliatelle (if you can't find, substitute fettuccini)
1 teaspoon kosher salt
Black pepper to taste
Parmesan, freshly grated
Instructions
In a medium saucepan, sauté the garlic in the olive oil until soft. Do not brown.
Add the rosemary, tomatoes, salt and pepper to taste, and chick peas.
Add the stock and bring to a boil.
Add the tagliatelle and cook until al dente according to the directions on the package.
Serve hot with fresh grated Parmesan.
https://cinnamonsugarandalittlebitofmurder.com/sullo-scio/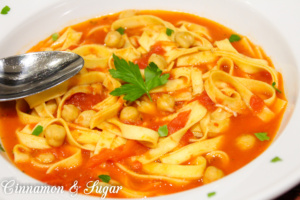 Pin to Pinterest: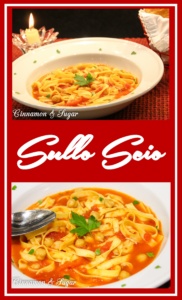 If you receive my blog post via email you will need to visit my website to view the video.
I received a copy of this book and willingly provided a review. All thoughts and opinions are my own.