SIMMERING WITH RESENTMENT is the eleventh book in the Cookbook Nook Mysteries by Daryl Wood Gerber. I've been a longtime fan of this series and I was so excited that it appeared protagonist Jenna Hart's upcoming nuptials to Rhett Baxter were finally going to take place. Adding to the wedding festivities, as she counts down the day to walking down the aisle, is the town's bridal expo where brides and those dreaming of the big day flock to Crystal Cove to take part. But all doesn't go according to plan when an explosion at Rhett's restaurant puts him in the hospital and Jenna narrowly escapes injury herself. Will they ever have the chance to say their vows when it appears someone might be targeting them both? Ms. Gerber's storytelling prowess pulled me in from the very start and kept me glued to the pages. One of the strengths of this series is the growth of characters over the course of books, and this newest release adds to it.
With Jenna having an invested interest in finding out who might have wanted to kill her and Rhett, she begins poking around and asking questions. Certain she's found the culprit who had reasons to exact revenge, her theory vanishes as another explosion kills her suspect. The author's story has twists and turns that kept me guessing, erroneously, about not only who the culprit could be but why. With a suspenseful reveal, the threads came together with a layer of tragic emotion woven in. Thankfully, Ms. Gerber doesn't end there but continues with a couple heartwarming chapters that leaves the reader looking forward to catching up with Jenna and her pals in the next book!
Daryl Wood Gerber expertly captures the culinary cozy mystery genre in more ways than one. Not only are there mouthwatering descriptions of a large variety of dishes and desserts mentioned throughout the story, but with Jenna as the owner of the Cookbook Nook, a culinary bookshop, there are several delightful mentions of actual cookbooks. I honestly have a difficult time restraining myself from purchasing all the cookbooks she mentions… they all sound fabulous! And then there are the actual recipes Ms. Gerber includes at the back of the book. It's almost like getting a mini cookbook and each recipe sounds delicious! With a wedding-themed book, it was hard to pass up the opportunity to try Katie's Wedding Cookies. I found them easy to mix up and the mild, crunchy cashews complements the flaky cookie base. The cookie itself isn't overly sweet, so the extra coating of confectioners' sugar provides the perfect balance. These are so yummy, I won't be waiting for a wedding to make them again and again!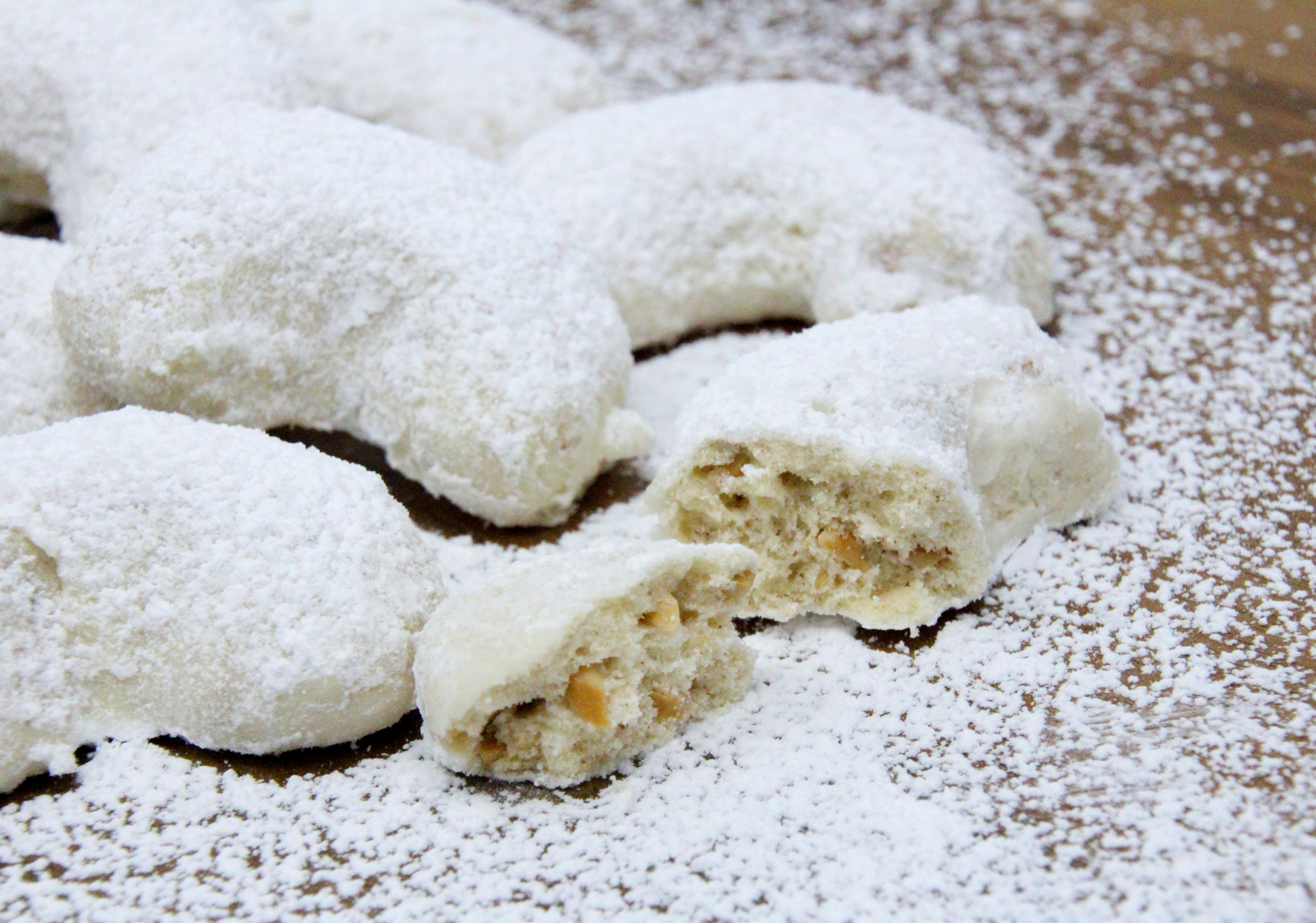 Amazon Synopsis
With Bride's Dream Expo in town, it's all things wedding in Crystal Cove, including at the Cookbook Nook, where owner Jenna Hart is preparing for her own wedding in just a few short weeks. But there's a dark cloud hanging over the festive mood by the name of Sarita Strachline, a woman Jenna helped convict of arson who is now out of jail and bent on revenge. And when Jenna and Rhett's intimate prenuptial dinner is rocked by an explosion that nearly takes Rhett's life, Jenna can't help but think Sarita is to blame.
Desperate to prove Sarita's guilt but consumed by worries over Rhett's condition, Jenna reluctantly lays her case out for the police and leaves the investigation in their methodical hands. Still, she can't help piecing together the clues, and as the evidence begins to mount, Jenna realizes that revenge may be a dish best served cold, but she can cook up a scheme of her own to bring the culprit to justice—she just has to hope it doesn't blow up in her face . . .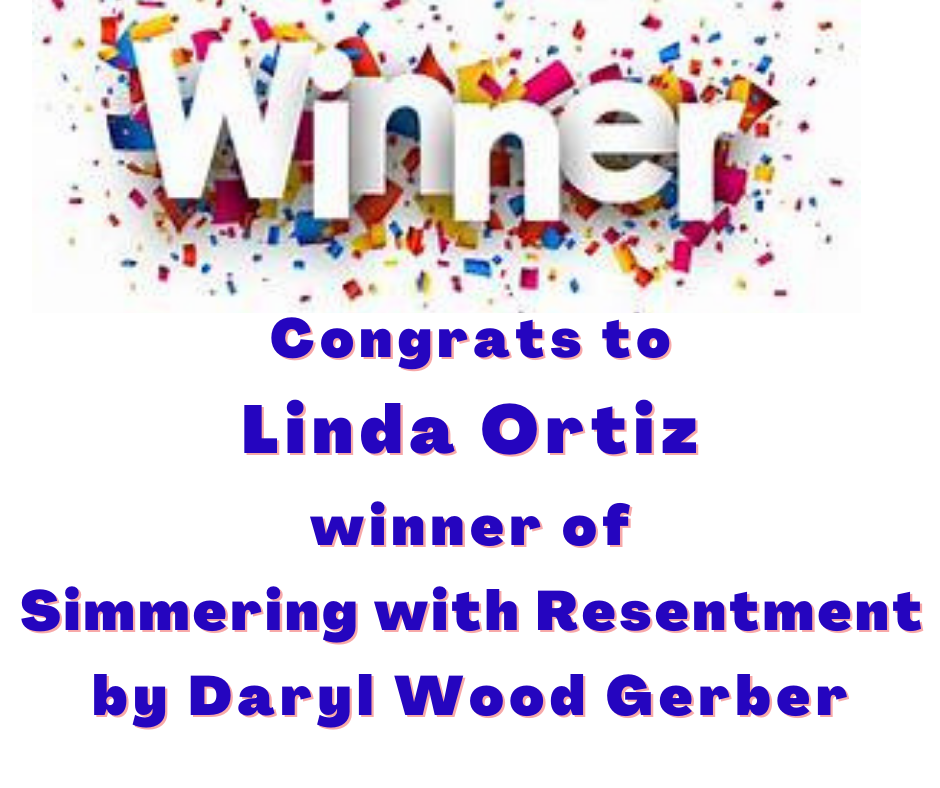 A special thanks to Daryl Wood Gerber for providing a print copy of  SIMMERING WITH RESENTMENT. Contest ends May 3, 2022 at 11:59 pm PST and is limited to U.S. residents only. Please use the Rafflecopter box located below to enter. The winner will be announced on this page and on Cinnamon & Sugar's Facebook page, as well as notified by email (so check your spam folder!)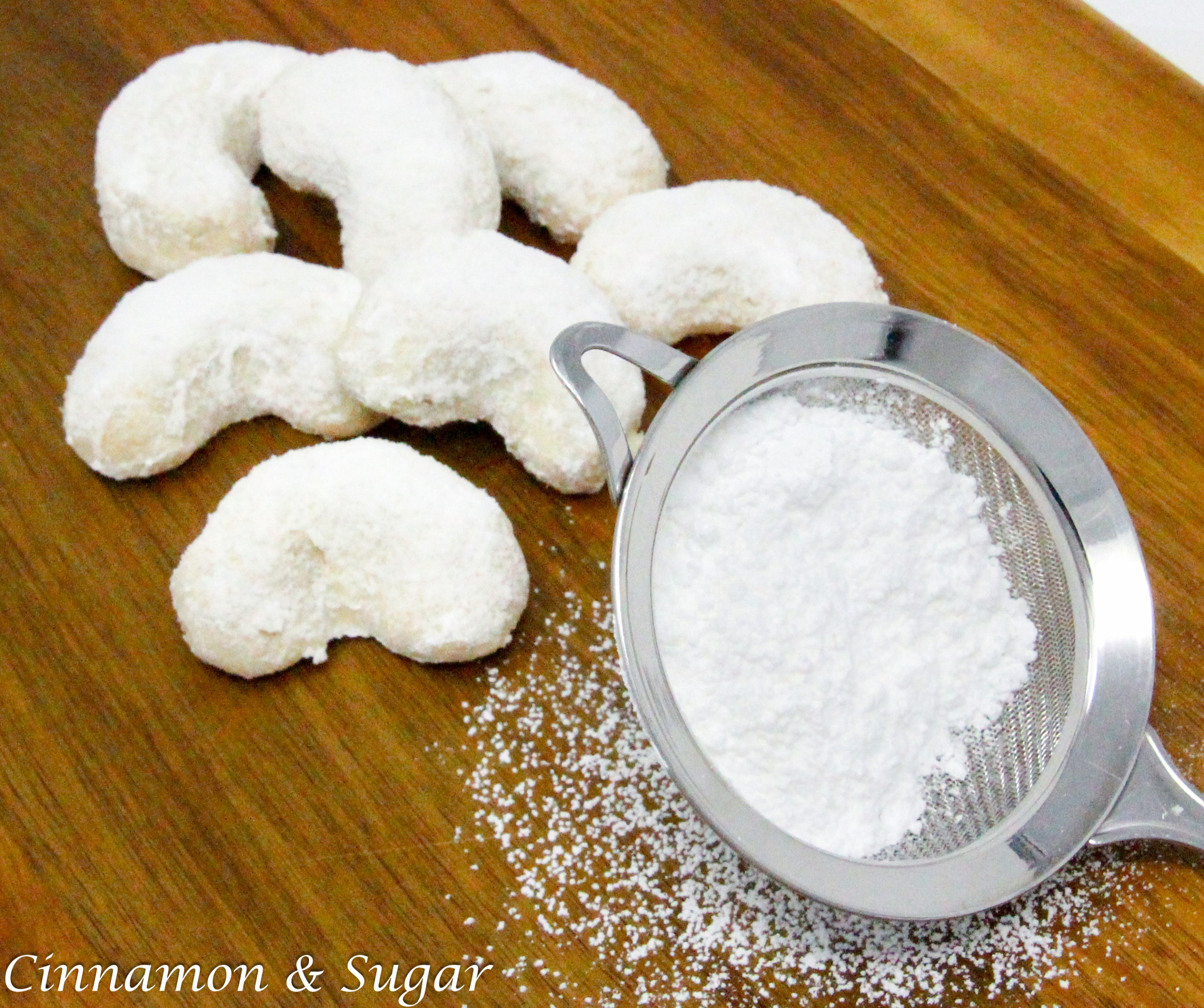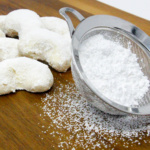 Katie's Wedding Cookies
(Yield: 30 - 36 cookies)
From Katie: These are one of my favorite cookies. They're so easy to make, and they look so elegant on a platter because of the dusting of confectioners' sugar. Make sure you have plenty on hand. They go quickly.
Ingredients
1

cup

unsalted butter, at room temperature

1/2

cup

confectioners' sugar, plus more for coating baked cookies

1-1/2

teaspoons

vanilla extract

1-3/4

cups

all-purpose flour

1/4

teaspoon

cinnamon

1

cup

chopped cashews, chopped into very small pieces

Add water if necessary
Instructions
Preheat the oven to 275 degrees (F). Line cookie sheets with parchment paper.

Using an electric mixer, cream the butter and sugar at low speed until it is smooth. Beat in the vanilla.

At low speed, gradually add in the flour and cinnamon.

To chop the nuts, I used my food processor. You can also use a "whackah-whackah" (manual food chopper) or you can put them in a baggie and smash them with a meat tenderizer hammer.

Mix the nuts into the cookie dough with a spatula.

For each cookie, use about 1 tablespoon of dough and shape it into a crescent. Dust hands with flour, if necessary, as you make more cookies.

Place cookies onto prepared cookie sheets. Bake for 40 minutes.

When the cookies are cool enough to handle, but still warm, roll the cookies in additional confectioners' sugar to coat.

Cool entirely before eating. Store in an airtight container.
Chef's Notes:
If you want, you may substitute your favorite nut for the cashews.

If you're not a cinnamon fan, remove it or switch it out with nutmeg.

If you'd like to make these gluten-free, substitute the all-purpose flour with sweet rice flour and add 1/4 teaspoon xanthan gum to the mixture.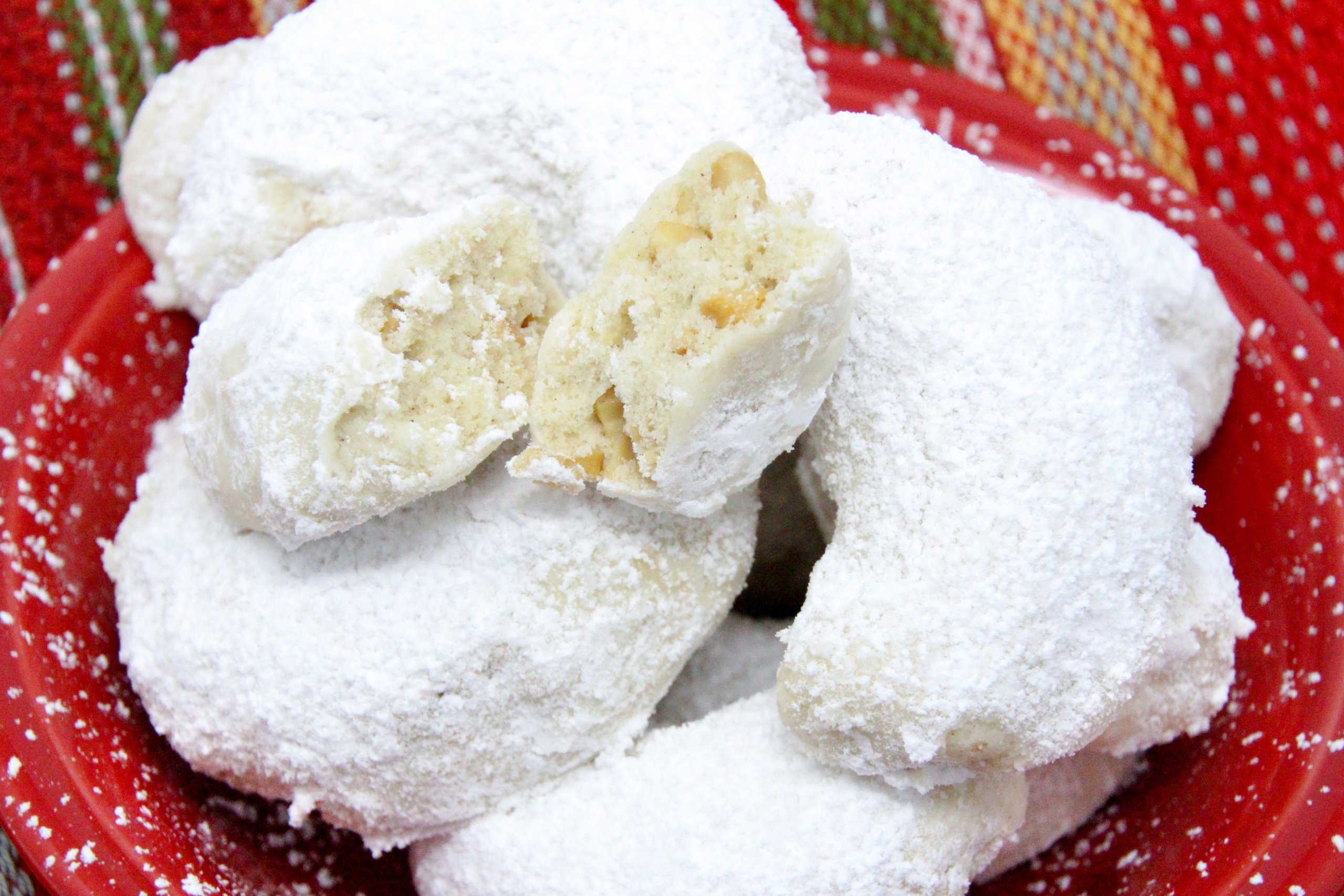 Pin to Pinterest: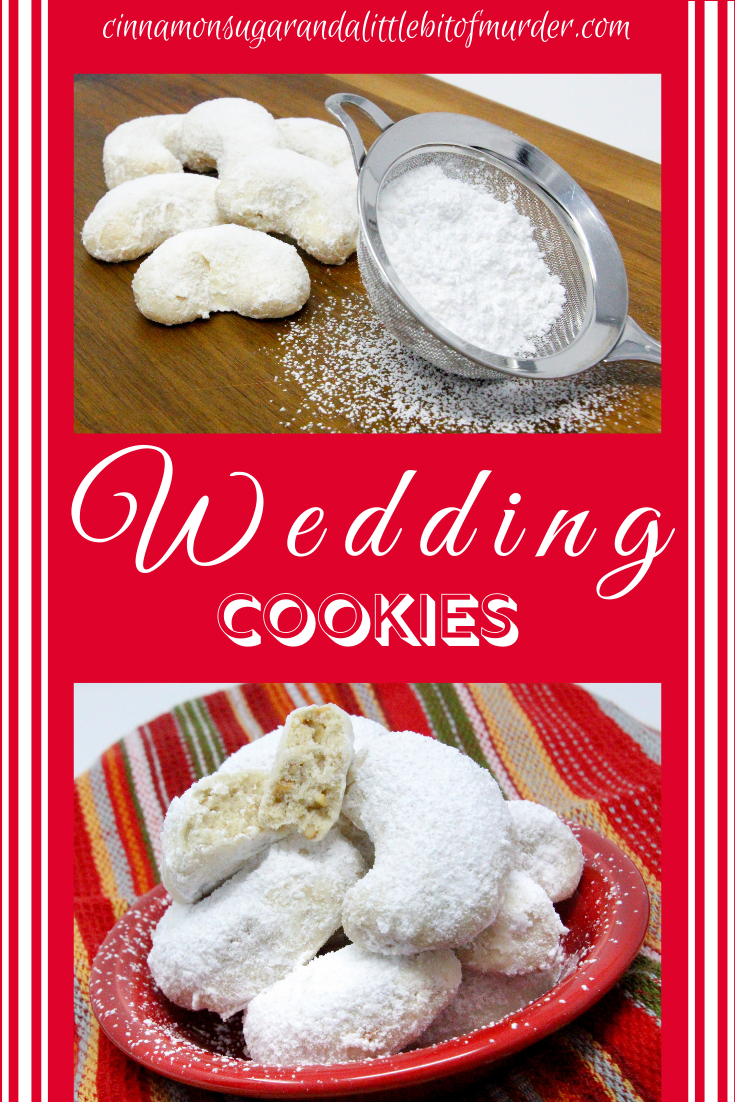 I was provided with an advance copy. All thoughts and opinions are my own.