CHERRY SCONES & BROKEN BONES is the second book in the Very Cherry Mysteries by Darci Hannah but the first I've had a chance to read… and I'm SO very glad I did! From the very first page, protagonist Whitney Bloom's internal humorous dialog had me chuckling. And with the author's strong descriptive voice, each new situation and scene was brought to life further increasing the humor. Whitney has found herself back in her childhood home which has turned into an Inn, and has taken on the job of manager for the Cherry Orchard Inn. After the recent murder (that occurred in book one) the Inn is struggling and rescue appears to come in the form of a famous painter, Silvia Lumiere, who has booked herself in for nine weeks. Except once she arrives, Silvia's prickly personality and penny-pinching meanness has Whitney and the staff running for cover. Ms. Hannah "paints" vivid pictures of the characters and the setting with her words, and I felt like I was right there. She's also created a colorful core cast of characters (including roof climbing goats and a best friend who conducts a goat yoga and all the ensuing mayhem that follows) that had me invested in what happens to them. Their snappy repartee makes the scenes flow and kept me turning pages.
With all the fun going on in the story, it was almost easy to forget that it was a cozy murder mystery… but Ms. Hannah effectively weaves in the crime and gives Whitney's investigative skills a chance to shine. The plot is well-paced and the clues are there if you don't get too caught up in just enjoying the read. With lots of suspects, thanks to the artist bringing a wide variety of admirers to the Inn, I didn't guess who the culprit was until the big reveal. With a hair-raising conclusion, the author had me on the edge of my seat, and I finished the book highly entertained and satisfied that justice had been done.
Not only does Whitney manage the Inn, but she also bakes up all sorts of yummy cherry-based recipes. Her cherry scones have become quite famous and she can barely keep up with the demand. Thankfully, the author has included the recipe for the scones plus a couple other recipes that feature cherries. Scones are a special treat in my household and I had to give Whitney's cherry scones a try. The flaky pastry is studded with plump dried cherries and toasted pecans, making these substantial. A drizzle of cherry juice glaze makes these even more delicious. On their own or smeared with butter and cherry preserves, these scones are the perfect addition to breakfast or an afternoon teatime treat!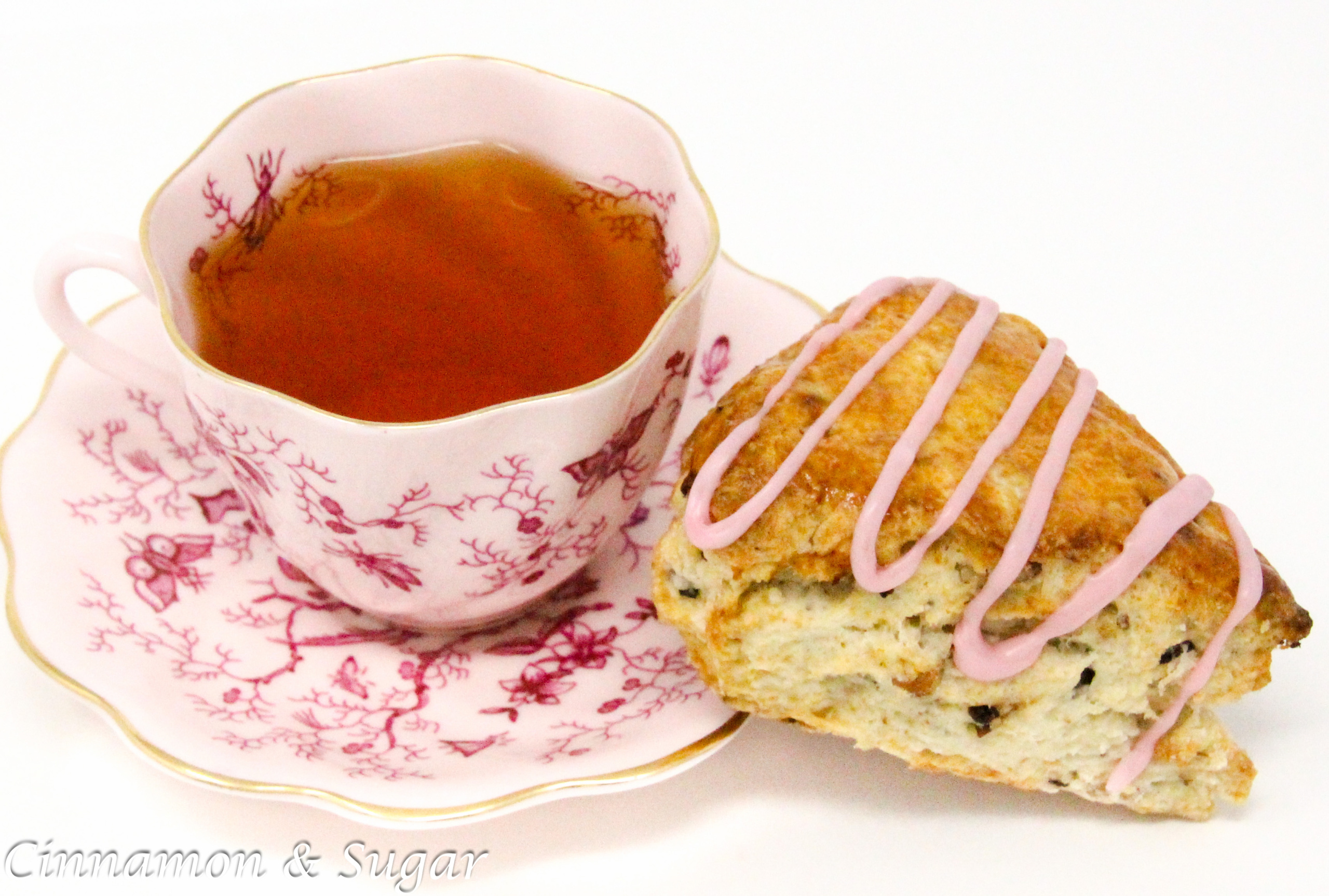 Amazon Synopsis
At the Cherry Orchard Inn, "Cherry Scones to Die For" turns out to be all too true!
Tainted by a recent murder, the Cherry Orchard Inn is struggling to attract guests–until celebrated portrait painter Silvia Lumiere books a room for the summer. Whitney Bloom, the inn's new manager, can't believe her good luck. Between her scrumptious scones and the painter's remarkable talent, the inn swiftly becomes the center of the Cherry Cove art scene.
However, all is not the bowl of cherries it appears. There's a rotten core in the portrait painter that only Whitney and her friends can see. And just as Whitney's baking skills and patience are pushed to their limits, another death occurs at the inn. With all fingers pointing at her, Whitney realizes it will take all her cherry-tastic talents to bake her way out of this one.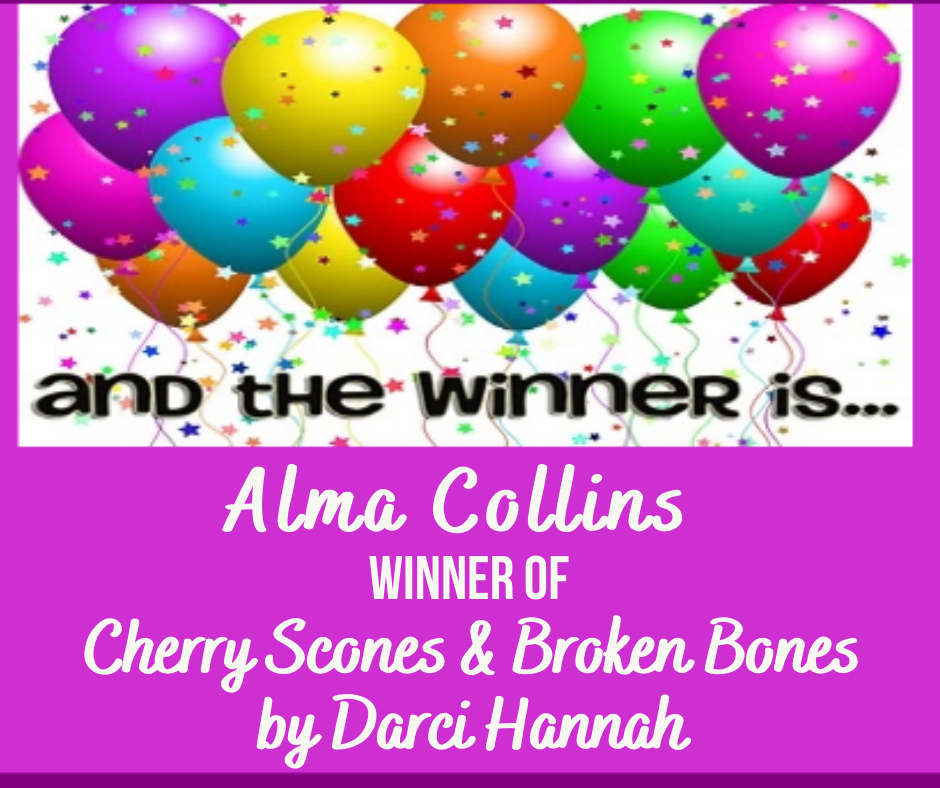 A special thanks to Darci Hannah for providing winner's choice of either an ebook or print copy of  CHERRY SCONES & BROKEN BONES. Contest ends April 24, 2022 at 11:59 pm PST and print is limited to U.S. residents. Please use the Rafflecopter box located below to enter. The winner will be announced on this page and on Cinnamon & Sugar's Facebook page, as well as notified by email (so check your spam folder!)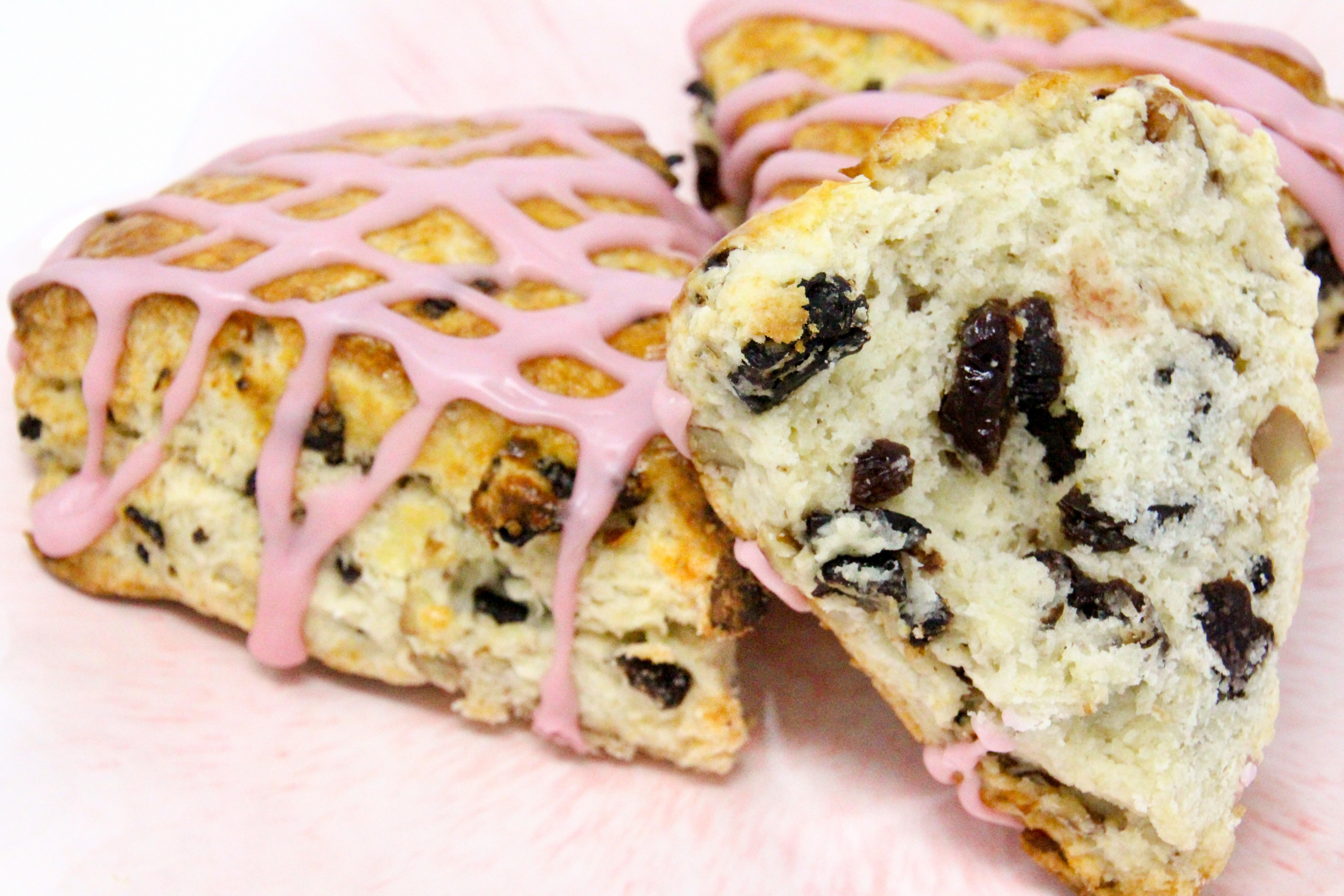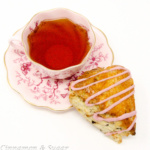 Whitney's Famous Cherry Scones
So good, they're to die for!
Ingredients
For the Scones:
2

cups

all-purpose flour

4

teaspoons

baking powder

1/4

cup

sugar

1/2

teaspoon

salt

5

tablespoon

cold butter

1/2

cup

+ 1 tablespoon heavy cream

1/4

cup

sour cream

1

cup

unsweetened dried Montmorency cherries

1/2

cup

toasted pecans

1

egg

1

tablespoon

milk
For the Glaze:
1

cup

powdered sugar

2

tablespoons

tart cherry juice
Instructions
For the Scones:
Heat oven to 350 degrees (F). Place pecans on baking sheet and bake 10 minutes or until lightly toasted. Remove from oven and set aside.

Increase oven temperature to 450 degrees (F).

In large bowl or mixer, combine flour, baking powder, sugar, and salt. Cut in butter using a pastry blender or mixing attachment until butter is the size of peas.

Add cherries and toasted pecans.

Mix the sour cream into the heavy cream and stir until blended. Pour over dry ingredients and mix gently until well blended. Be careful not to overwork the dough or scones will be tough.

With floured hands, remove dough and place on floured surface. Form into round ball, then gently flatten into round disk approximately six inches in diameter and one inch high. Using a sharp knife, cut into six wedges.

Place scones one inch apart on parchment-covered baking sheet.

Beat the egg with the tablespoon of milk. Brush the top of each scone with the egg wash. Let rest for ten minutes.

Bake 15 minutes in heated oven until tops are golden brown. Remove from oven and let cool.
For the Glaze:
Stir two tablespoons of tart cherry juice into the cup of powdered sugar. Pour over scones and let sit until glaze is set.

The scones are ready to eat! For an extra tasty treat, serve them with clotted cream and lemon curd.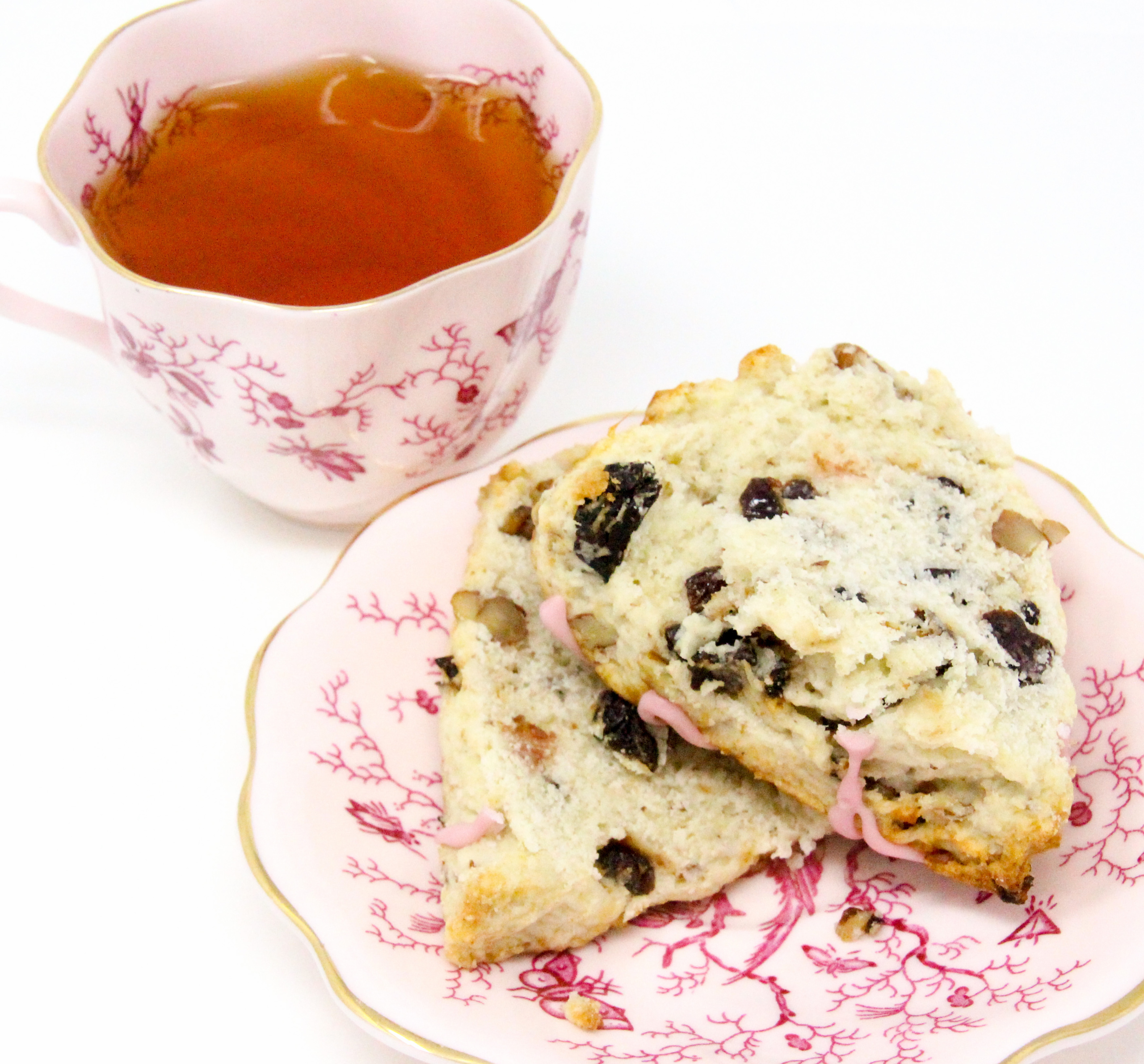 Pin to Pinterest: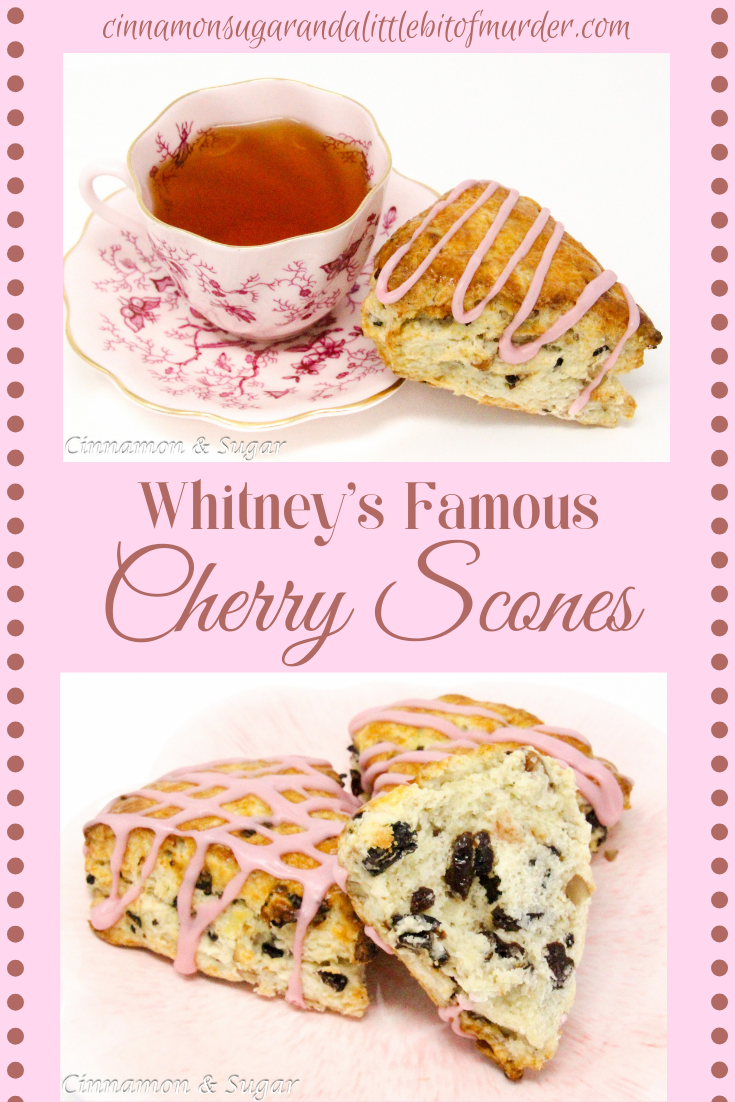 I was provided with an advance copy. All thoughts and opinions are my own.