MURDER AT A CAPE BOOKSTORE is the fifth book in the Cozy Capers Book Group Mysteries by Maddie Day. With spring just around the corner in charming Westham, Maine, a touristy town on Cape Cod, a spring festival seems just the thing to tempt tourists to return to town. Protagonist Mackenzie "Mac" Almeida, owner of Mac's Bikes, is onboard with the festival and does her part to help make it successful. Mac is one of those caring women who lends a helping hand to anyone who needs it. In fact, her entire family is as thoughtful as they come, which lends a sweet disposition to the story. One of the things about Maddie Day's books that I enjoy is the excellent character development, be it the core characters or the passing through characters. Her attention to detail pulls the reader into the story and keeps them there.
However, not everyone is thrilled that the new Chamber of Commerce director, Wagner Lavoie, is pushing the festival and pushing business owners to ante up freebie giveaways to the crowds he hopes to attract. Partway through the festival, the director is found dead in the bookshop, a toppled bookshelf seeming to be the murder weapon. Mac and her crew from their Cozy Capers book club gather to find out who did the dastardly deed. I really like how they divide up potential suspects between themselves to quiz instead of Mac being the only one to investigate. Their use of text threads to share what they've learned makes their interaction more believable in today's world. With a town full of tourists and with so many business owners upset with the director, there are suspects aplenty to keep the armchair detective guessing. At the perilous reveal, I appreciated Mac is self-reliant and rescues herself. As the story concludes, all the threads of the plot and subplots come together in one cohesive unit.
Mac and her family are foodies, so there's lots of mention of food on the pages. And what would a festival be without food? There are several recipes at the back of the book to tempt the home cook. I was tempted by the no-cook recipe for vegetable Spring Rolls with a Thai-inspired taste. Rice paper wrappers, soaked in hot water, are filled with crunchy sliced veggies dowsed with a bit of lime juice, soy sauce, and freshly grated ginger. These delectable spring rolls are made even tastier by the addition of slightly spicy peanut dipping sauce. These versatile spring rolls can be served as an appetizer or a side dish to your favorite Thai noodles or curry. Or, add some protein to the spring rolls to make them an easy summer meal.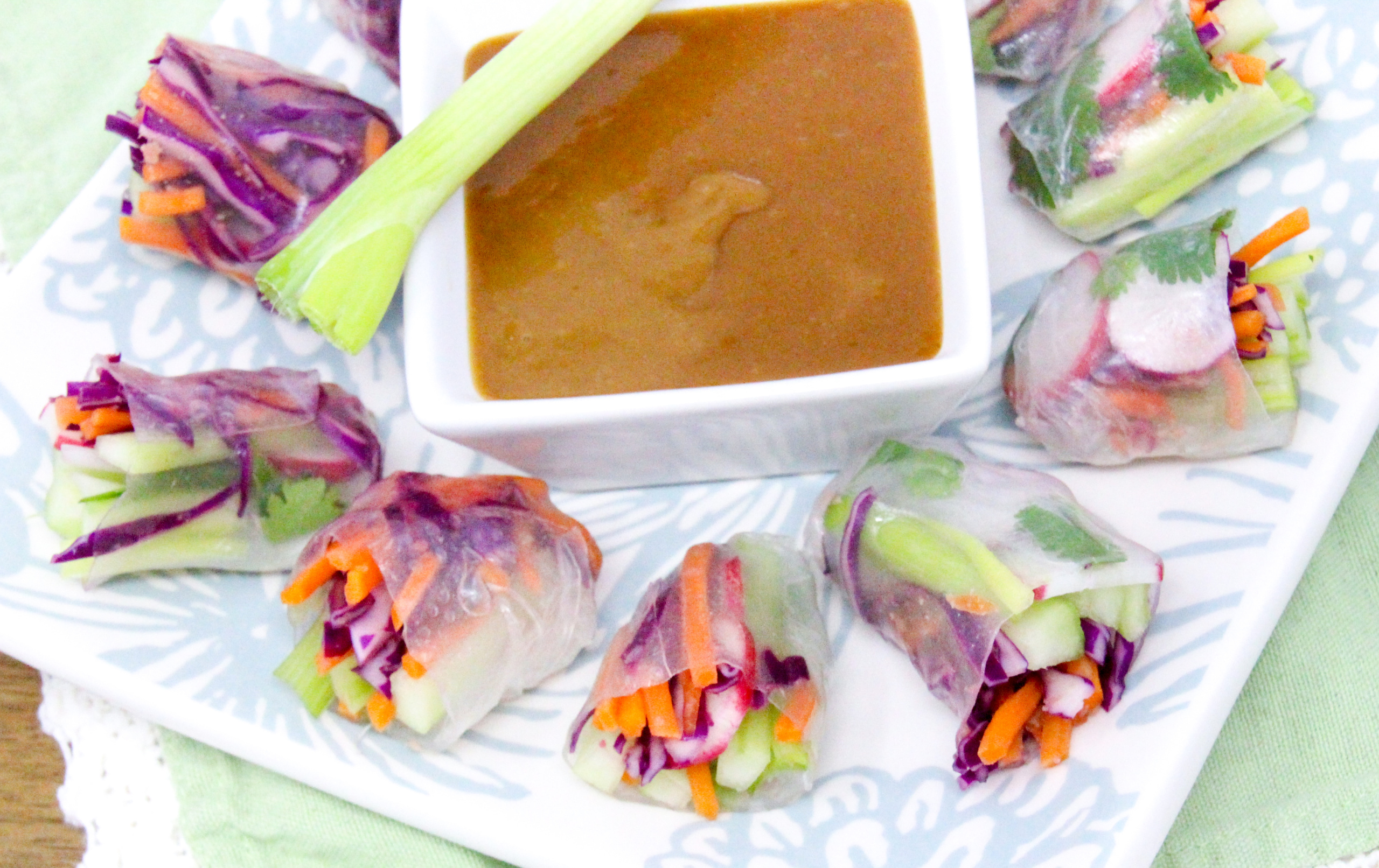 Amazon Synopsis
Everyone loves a festival, though Mac has a few concerns about the Spring equinox event organized by the new Chamber of Commerce director, Wagner Lavoie. After all, March weather is unpredictable. Still, there's plenty to enjoy, between flower-shaped candies at Salty Taffy's, spring rolls at the Rusty Anchor, and a parade of decorated bicycles. But the festivities soon take a stormy turn…
Mac glimpses conflict between Wagner and other locals during the festival, but it's a shock when he's found dead in the Book Nook, pinned beneath a toppled bookshelf. It's an irresistible case for Mac's book group. She and the rest of the Cozy Capers will have to use all their sleuthing skills to bring the killer's story to an end.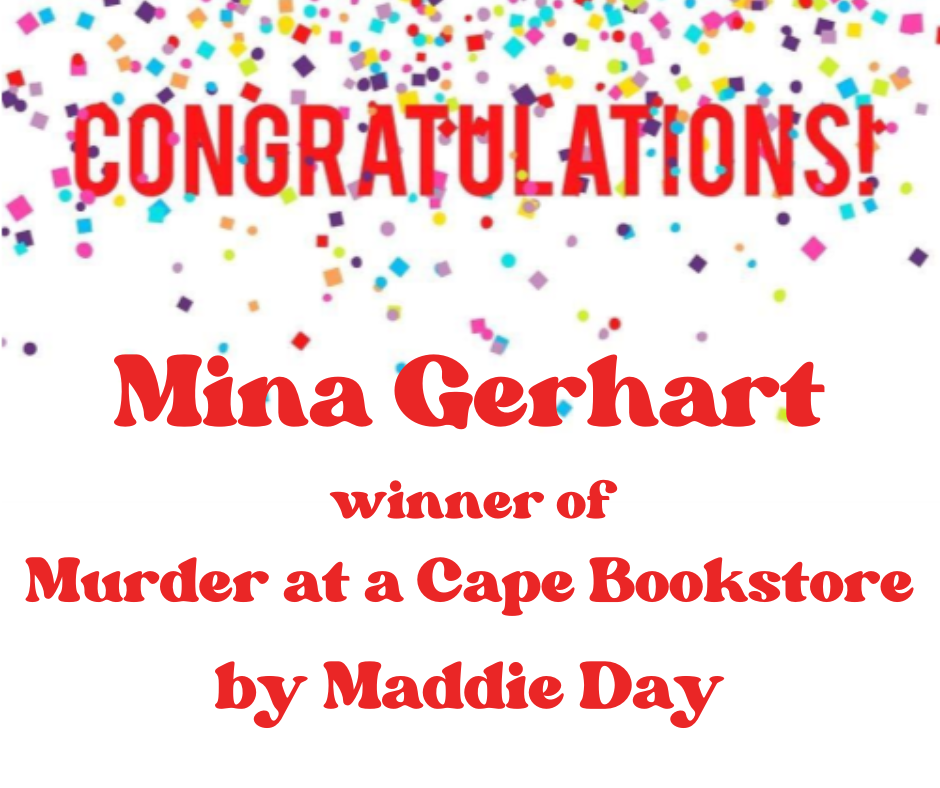 A special thanks to Maddie Day for providing a print copy of MURDER AT A CAPE BOOK STORE. Contest ends August 30, 2023 at 11:59 pm PST and is limited to U.S. residents only. Please use the Rafflecopter box located below to enter. The winner will be announced on this page and on Cinnamon & Sugar's Facebook page, as well as notified by email (so check your spam folder!)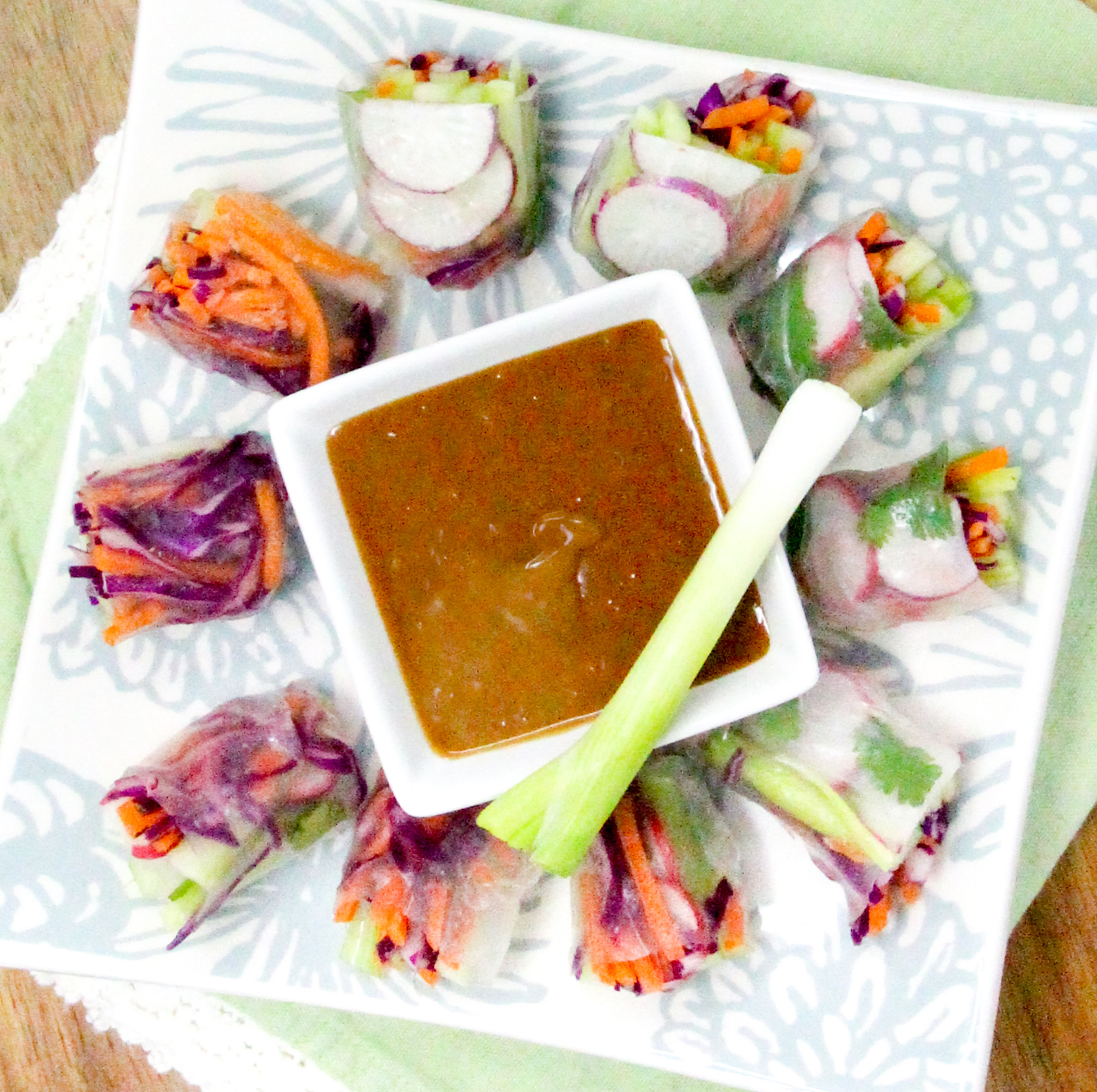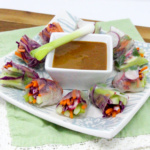 Vegetarian Spring Rolls
Yvonne puts Thai-inspired tastes of spring on the menu at the Rusty Anchor.
Ingredients
Peanut Sauce:
1/2

cup

natural peanut butter, unsweetened

2

tablespoons

soy sauce

1

tablespoon

rice vinegar

2

tablespoons

brown sugar

1

teaspoon

chili garlic sauce (omit if you don't like spicy food)

1

tablespoon

fresh lime juice

1

garlic clove, minced or put through a garlic press

1

tablespoon

ginger root, finely grated (or 1 teaspoon ginger powder)

2 - 4

tablespoons

warm water
Spring Rolls:
1

package

rice spring roll wrappers

1

cup

peeled and finely shredded carrots

1

cup

finely shredded cabbage

2

green onions, finely sliced

1

teaspoon

fresh lime juice

1

teaspoon

soy sauce

1

inch

peeled and finely grated ginger
Cinnamon & Sugar's suggested additional filling ingredients:
Precooked rice noodles or thin spaghetti, fried tofu, thinly sliced radishes, chopped spinach, julienned cucumber, fresh cilantro or basil. Or any of your favorite veggies, whether cooked or raw.
Instructions
Peanut Sauce:
Whisk together all ingredients except water.

Whisk in water, one tablespoon at a time, until desired consistency is reached. Set aside.
Spring Rolls:
Mix vegetables, ginger, soy sauce, and lime juice in a bowl.

Soften the rice paper wrapper in hot water, according to package directions.

Lay the softened wrapper on a damp dishcloth. Spoon two tablespoons vegetable mix along one side. Fold in the ends, then roll and set joint-side down on the towel. Repeat.

Serve at room temperature with peanut sauce.
Cinnamon & Sugar's Note:
You can either chop veggies to uniform pieces or cut in matchstick pieces to layer in the spring roll (as I did). These are super versatile so do whatever inspires you!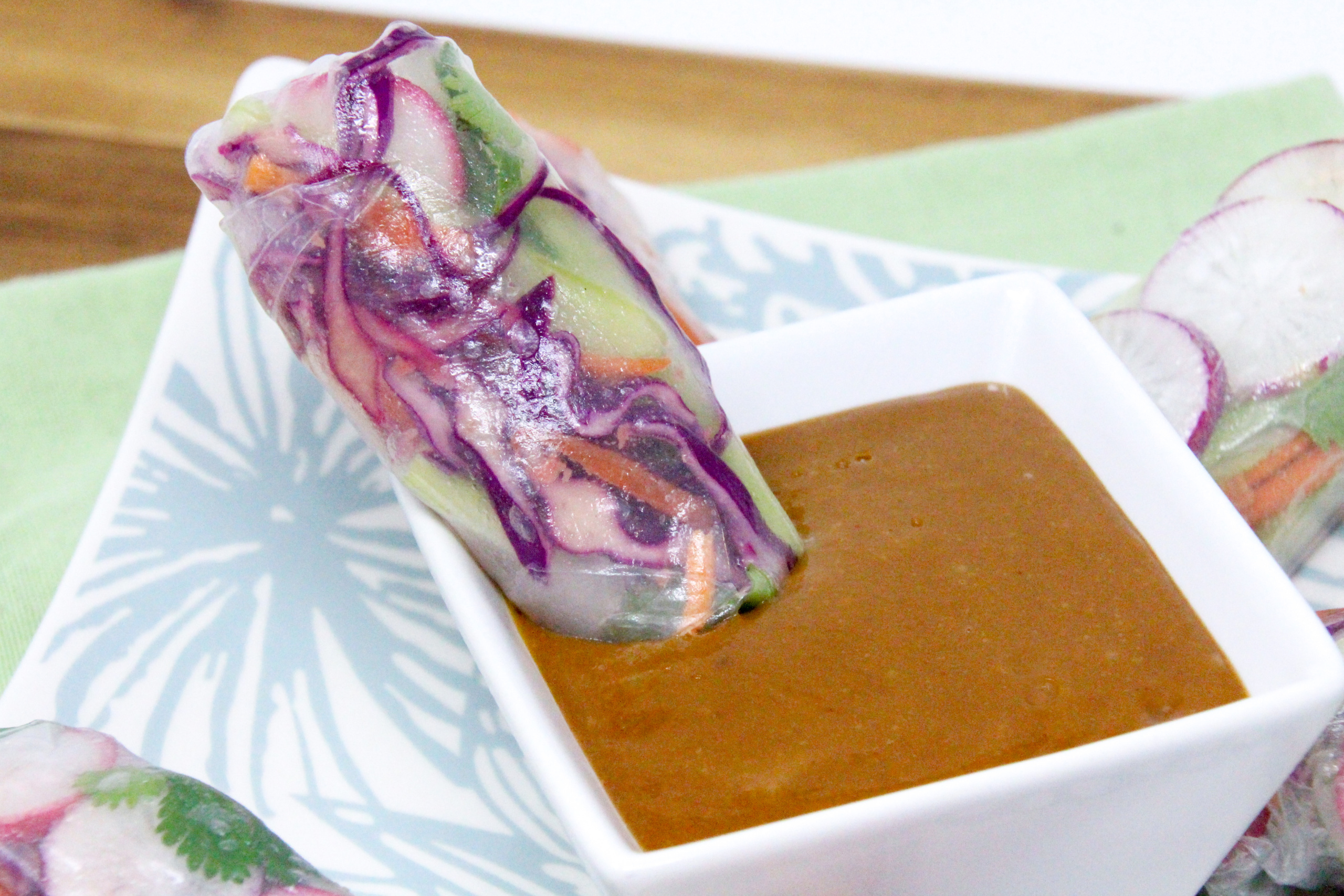 Pin to Pinterest: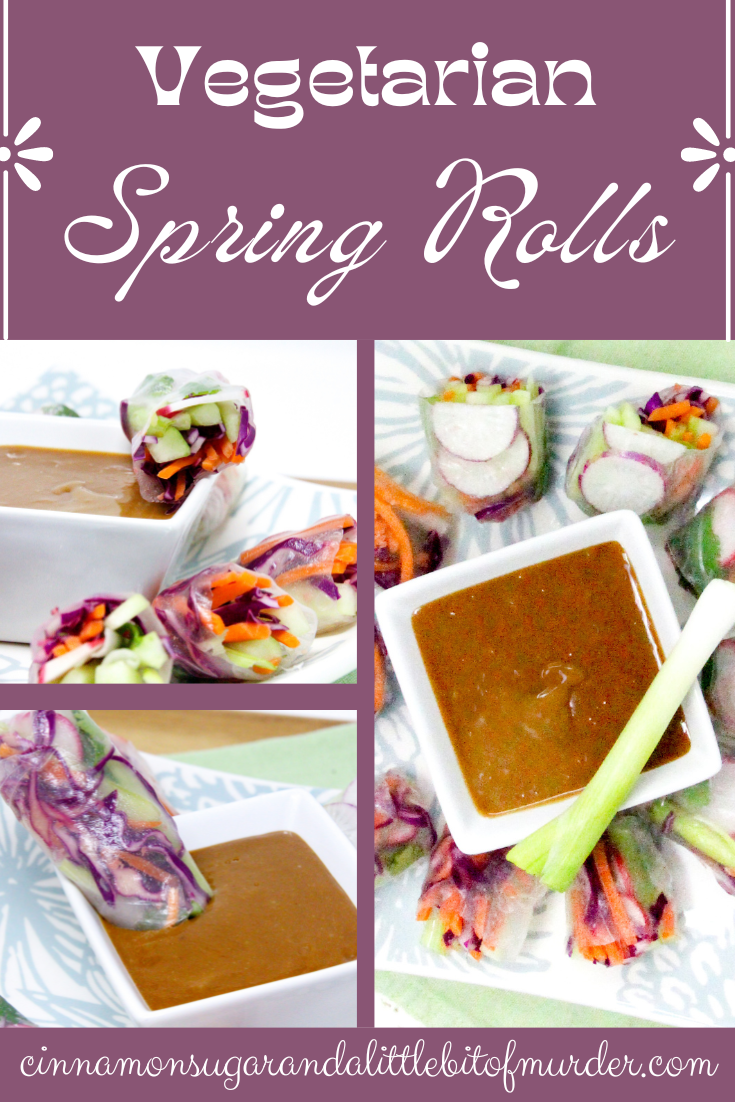 I was provided with an advance copy. All thoughts and opinions are my own.