HALLOWEEN CUPCAKE MURDER is a scary-licious trio of novellas by Carlene O'Connor, Liz Ireland, and Carol J. Perry. The thing that I love about these themed novella books is the opportunity to find new-to-me authors, or catch up with characters that I already know and love. I'm always impressed that each author manages to fit in a full mystery, with enough intrigue, in such short stories!
While I'm quite familiar with author Carlene O'Connor, somehow her Home to Ireland Mystery series escaped my attention. I was delighted to be introduced to her protagonist, Tara Meehan, an American transplant now living in Galway, Ireland. Despite the short length of Halloween Cupcake Murder, there were enough details to make me feel like I was right there and enough clues to keep me guessing. The author deftly provides the setup for the murder and then quickly gets to the action. I enjoyed getting to know Tara and now have to add her full-length books to my TBR pile!
A fan of the Mrs. Claus Mystery series by Liz Ireland from the very beginning, I couldn't wait to dive into Mrs. Clause and the Candy Corn Caper. The author's North Pole world-building is delightful and her use of fun puns adds great humor. Mrs. Claus, a gal from Oregon who just happened to have fallen in love with Nick Claus while he was on vacation, has introduced Halloween to the elves. With a candy corn dessert bake-off, a theft of candy corn resulting in a shortage, a new competing bakery in town, and a disgruntled employee leads to disaster for the festivities. With a strong descriptive voice, Ms. Ireland brings the North Pole and its various characters to life. Mrs. Claus is a tenacious amateur sleuth who states, "I might not have been born Mrs. Claus, but I was born nosy". She still exhibits the caring, tender qualities you'd imagine Santa's wife to have, even while investigating. If you're a fan of this series, this is a great way to get your "fix" before the next book releases. If you haven't read any in the series before, this is a fun way to explore the North Pole and whet your appetite!
A Triple Layer Halloween Murder by Carol J. Perry is a new-to-me author and series. I found it easy enough to get to know the characters and become acquainted with the setting without feeling lost. I'm so impressed with the amount of information the authors can include in the novellas without detracting from the pace of the plot. Protagonist Lee Barrett works as a program director for WICH-TV. There's a touch of paranormal—Lee can see visions, although the meaning is never very clear—along with her cat, O'Ryan, pointing her toward clues. Lee's detective boyfriend isn't all that keen about her "abilities" but still respects her enough to listen to what she finds out. I enjoyed their interaction and the core characters and I'll be seeking out the books in this series to get to know them better!
There is one recipe at the back of the book, provided by Carol J. Perry: Aunt Ibby's Recipe Hack of Pat Duncan's Triple-Layer Halloween Cupcakes. It's quick and easy, and my taste testers enjoyed the combination of chocolate and orange. While the recipe relies on boxed cake mix, the additions make it seem more "homemade". The recipe also calls for canned frosting. Use it in a pinch, but if time allows, make your own frosting… it's worth it. With simple Reese's Pieces used to decorate in orange and brown Halloween colors, these cupcakes will be sure to please your ghosts and ghouls!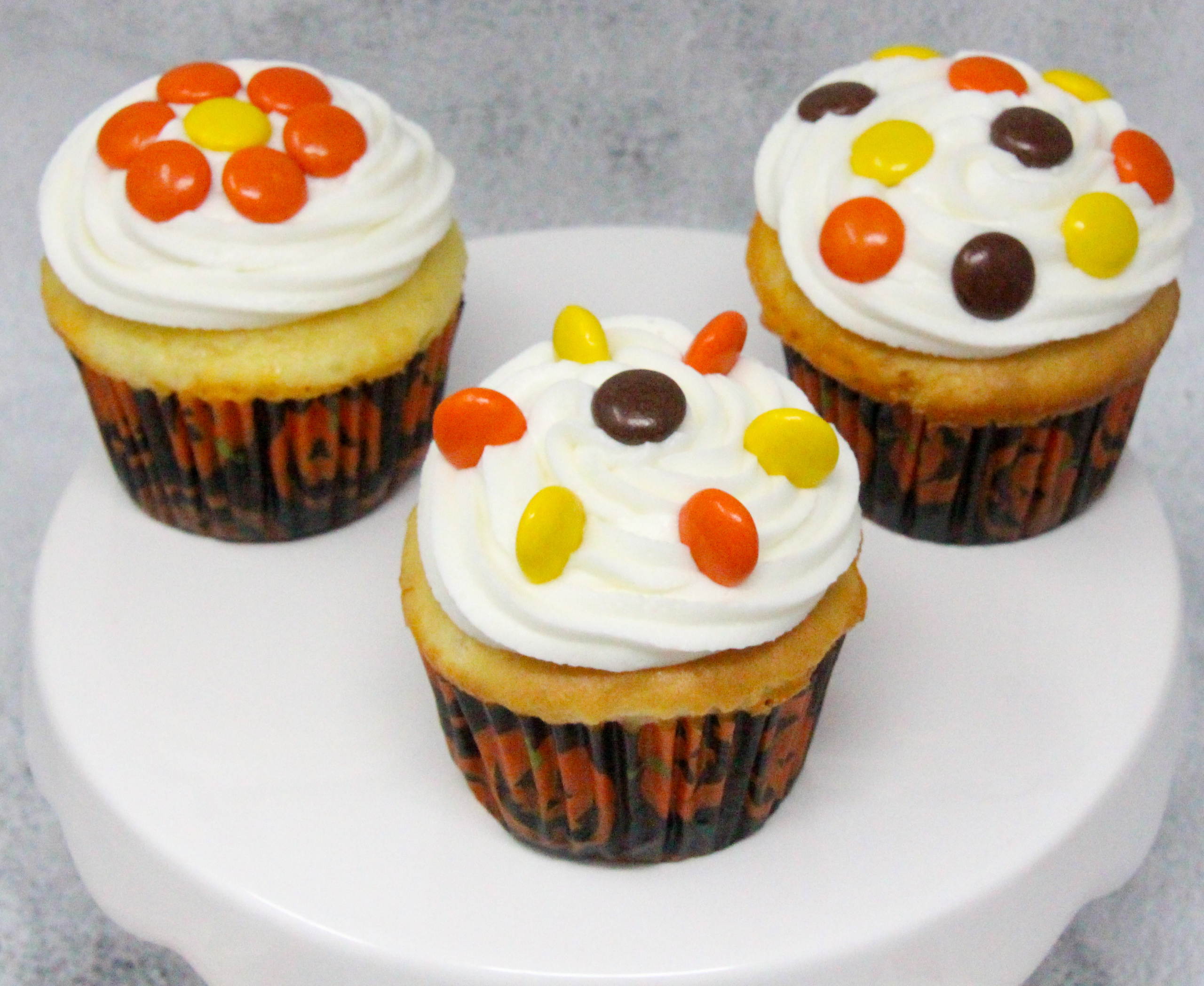 Amazon Synopsis
A trio of sweet-toothed Halloween cozy mystery tales by nationally bestselling authors.
HALLOWEEN CUPCAKE MURDER by CARLENE O'CONNOR
With Galway's Halloween Mystery Tour only a few days away, Tara Meehan is scouring the town's curiosity shops for spooky decorations to draw tourists into her architectural salvage store. But when a stranger appears in her shop bearing a cryptic cupcake and an ominous message, Tara suddenly finds herself tangled in a mystery with ancient Gaelic roots, but very modern—and very deadly—consequences . . .
MRS. CLAUS AND THE CANDY CORN CAPER by LIZ IRELAND
Christmastown is pulling out all the stops for their Halloween celebration, planning a huge carnival with rides, games, and a candy corn-themed bake-off! But the sweet theme stokes the bitterest of rivalries amongst the elves, until tragedy strikes at Santaland's newest bakery. The only clue is a cupcake, leaving Mrs. Claus to sort through tricks and treats as she races to unmask a Halloween fiend . . .
A TRIPLE LAYER HALLOWEEN MURDER by CAROL J. PERRY
Every October, Salem plunges into a month-long celebration of Halloween and WICH-TV's Lee Barrett can't wait to cover the festivities. But rumors swirl after a wealthy bakery owner goes missing—and his beloved cat, Cupcake, is found—under mysterious circumstances. Now, amid Salem's wicked revelry, Lee must conjure clues to reveal the missing millionaire . . . or the truth about his disappearance . . .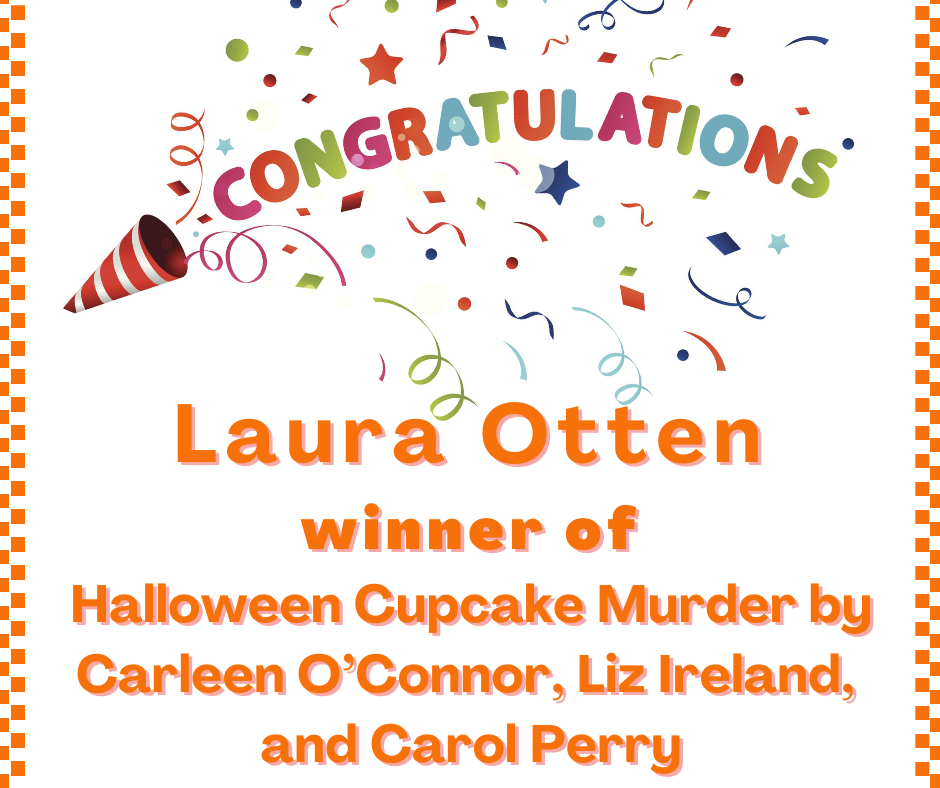 A special thanks to Kensington Publishing for providing a print ARC copy of HALLOWEEN CUPCAKE MURDER. Contest ends September 3, 2023 at 11:59 pm PST and is limited to U.S. residents only. Please use the Rafflecopter box located below to enter. The winner will be announced on this page and on Cinnamon & Sugar's Facebook page, as well as notified by email (so check your spam folder!)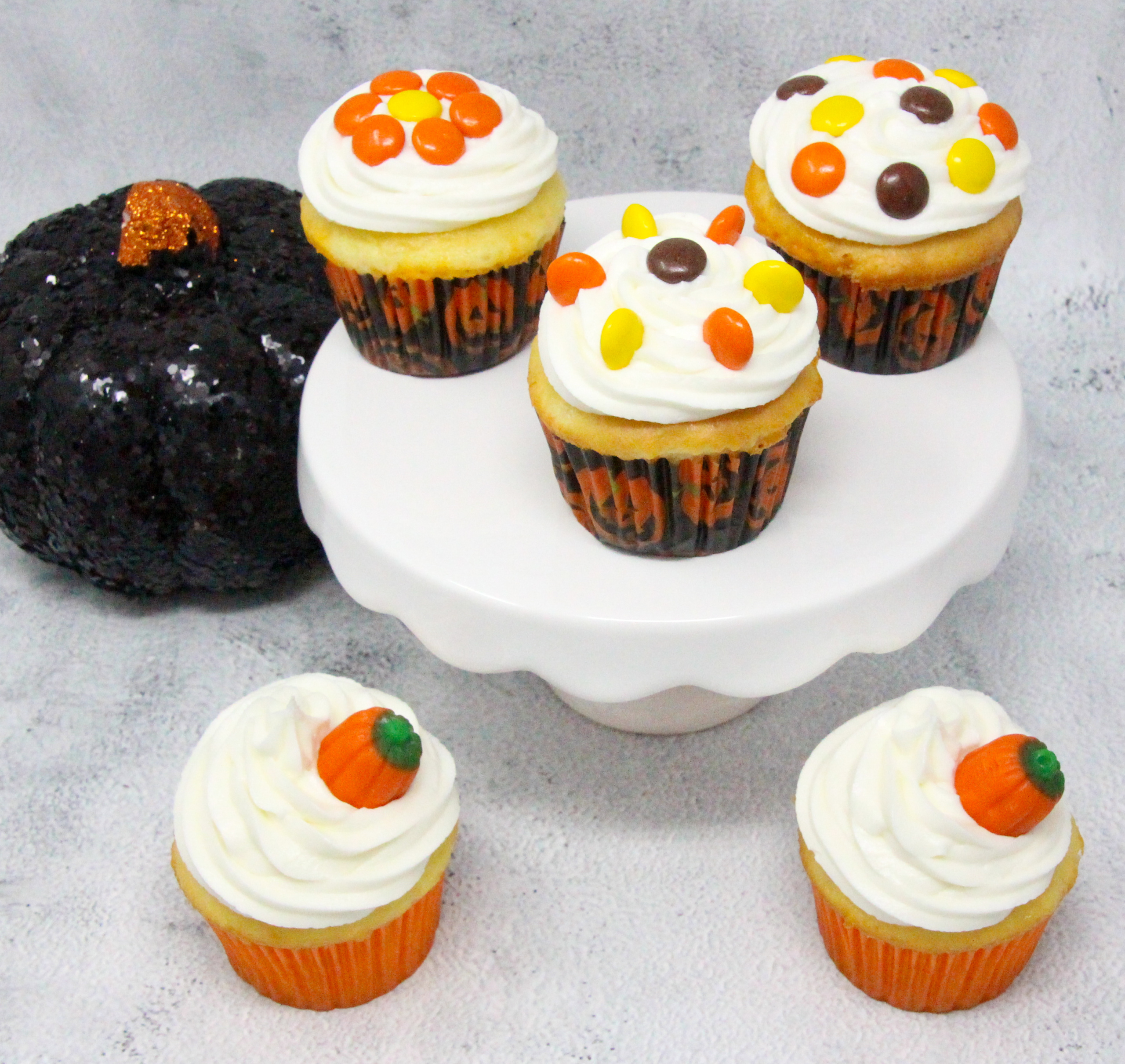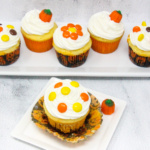 Aunt Ibby's Recipe Hack of Pat Duncan's Triple-Layer Halloween Cupcakes
The real recipe is still a secret, so here's Aunt Ibby's quick and easy cake mix version!
Ingredients
1

package of yellow or white cake mix

2

tablespoons

orange marmalade

2

1/4 oz. squares of baking chocolate, melted

1

can

creamy white frosting

Orange and chocolate Reese's Pieces
Instructions
Preheat oven to 350 degrees (F). Line muffin tin with twelve paper liners.

Prepare cake mix according to directions.

Put about one cup of batter into each of two small bowls.

In one of them, mix in the orange marmalade. In the other, mix in the melted chocolate.

Put a rounded tablespoon of chocolate batter into each cup. Follow with a spoonful of orange marmalade batter. Finish with plain batter. Cups should be abut three quarters full.

Bake according to cake mix package directions.

Cool cupcakes completely on wire rack, then frost with creamy vanilla frosting. Decorate with Reese's Pieces.
Cinnamon & Sugar's Note:
Feel free to add a couple drops of gel orange food coloring to the orange marmalade batter mixture if you want more of contrast in colors.

If you prefer a sweeter chocolate base, substitute semi-sweet chocolate for the baking chocolate.

If you prefer, feel free to substitute your own favorite homemade vanilla frosting for the canned frosting.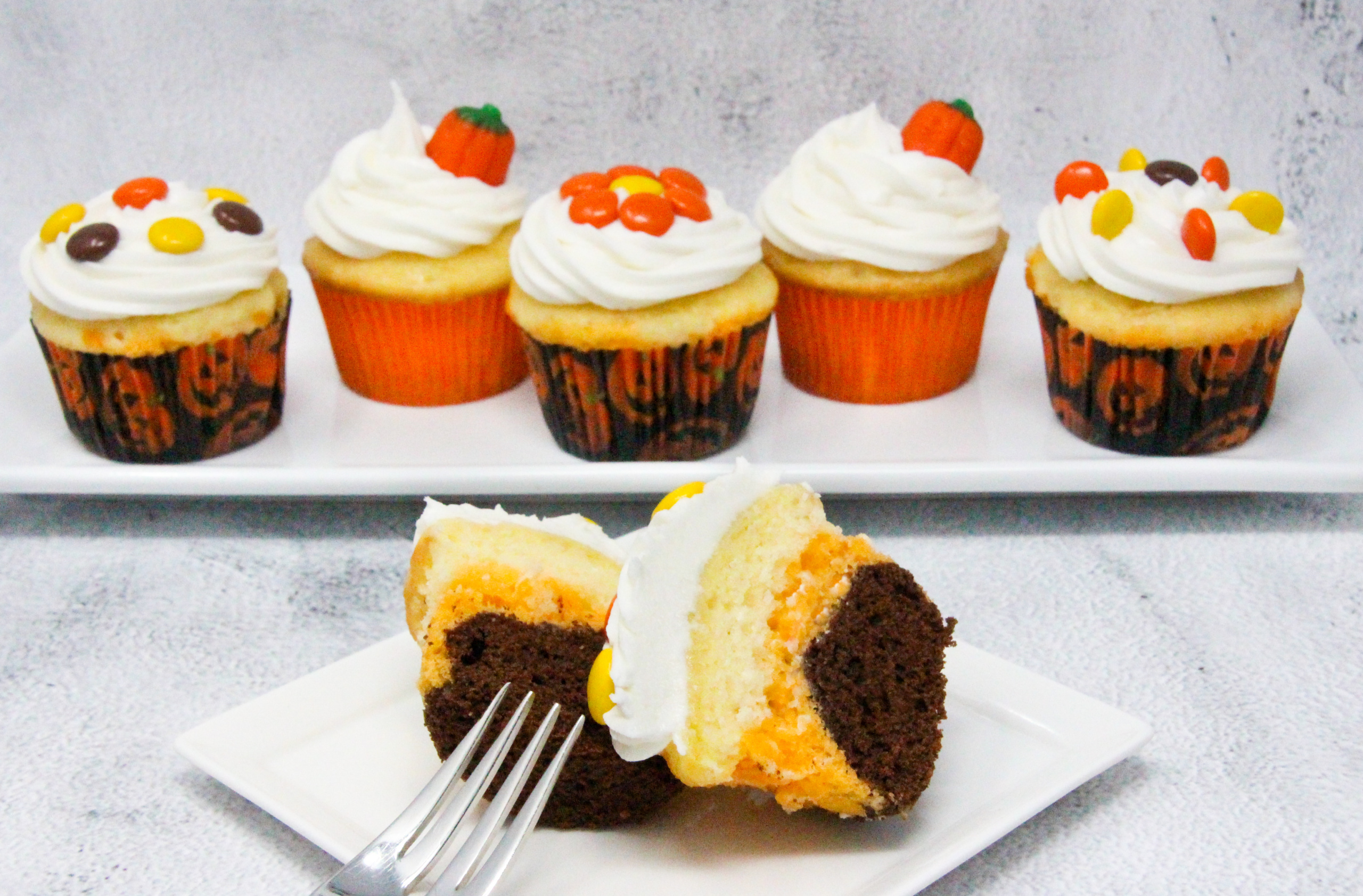 Pin to Pinterest: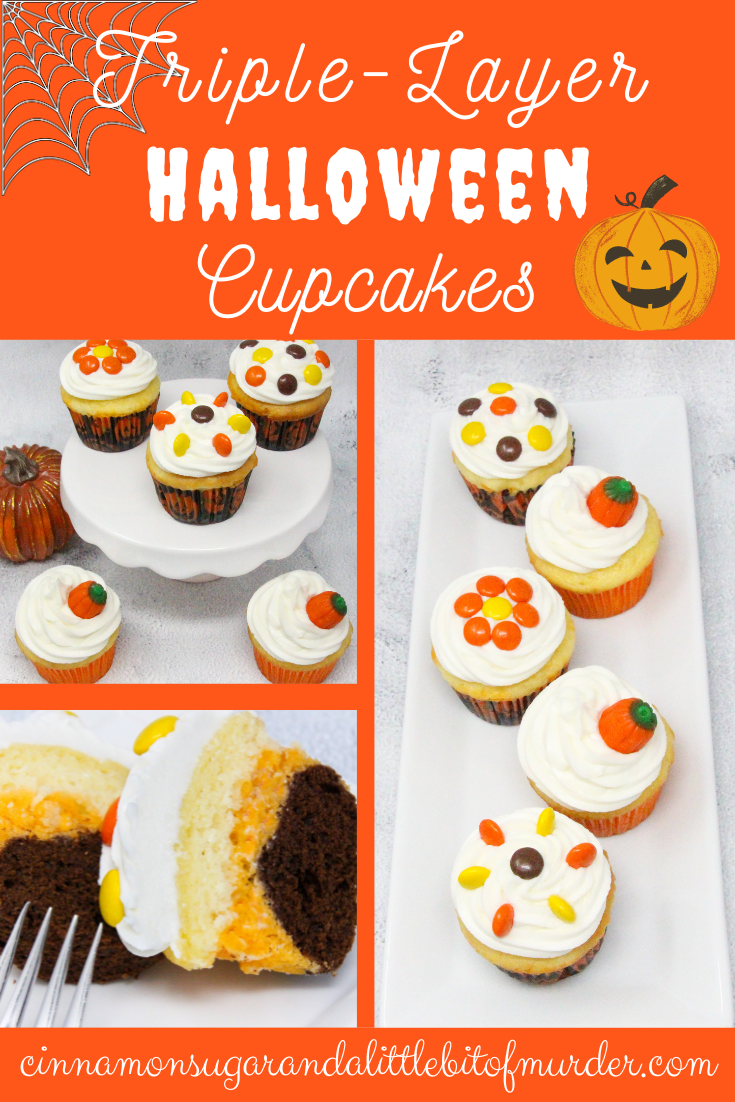 I was provided with an advance copy. All thoughts and opinions are my own.