BETWEEN A WOK AND A DEAD PLACE is the seventh book in the Spice Shop Mystery series by Leslie Budewitz. The author pens a complex, multi-faceted mystery with compelling characters set against the backdrop of an enticing setting! With a setting as appealing as Seattle's Pike Place Market along with the city's Chinatown International District, and a colorful festival commemorating the Chinese Lunar New Year, the reader is in for a sensory treat! Spice Shop owner Pepper Reece is an admirable protagonist. Whip smart, she's the go-to person when anything needs solved or if anyone needs help. She's also compassionate and goes out of her way to assist those in trouble. I also love how she shares her love of spices and herbs on the page, alongside foodie mystery recommendations that match the theme of the book. I found a couple of new authors to try out too! Pepper also surrounds herself with like-minded employees and their interaction is a balm to anyone struggling. I also enjoyed the author's historical look at the area as it pertained to early Chinese immigrants and how they assimilated with the city. It's obvious she's undertaken a lot of research, which adds to the authenticity of the story.
Ms. Budewitz has done a commendable job deftly weaving her research and history into the mystery. The discovery of the century-old Chinese pharmacy hidden in the basement of a defunct hotel that had been closed for decades intrigued me. But how did the Chinese Lion dancer wind up inside the boarded-up pharmacy? And who killed the dancer? (And, if you've never seen a Chinese Lion dance, I highly recommend checking out a YouTube video!) With the discovery of historical artifacts found alongside the body, it would seem like the owners of the property would want to find answers. Instead, they close ranks and discourage any snooping. Of course, Pepper can't leave it alone, so with her ties to the marketplace, she digs for answers. Instead of playing armchair detective, I followed Pepper as she meandered the streets and enjoyed the aromas of exotic spices, the tastes of delicious cuisines, and the beauty of the architecture and costumes. As she narrows in on the killer, she becomes ensnared in a heart stopping predicament. But with the final reveal, all the clues Pepper has gathered comes together to answer all our questions in a highly satisfactory manner.
You can always count on Ms. Budewitz to provide great recipes at the back of the book, featuring spices that correlate to the theme of her book. The second I saw the title of Cayenne's Five Spice French Apple Custard Cake, I just knew I had to try it. I typically associate Chinese Five Spice with Asian dishes so I was more than ready to try it out in a dessert. I'm happy to report that this combination of spices complemented the flavors of the apples perfectly! With an abundance of tart apples, this cake lives up to its custard name. Super moist, super flavorful, and super delicious!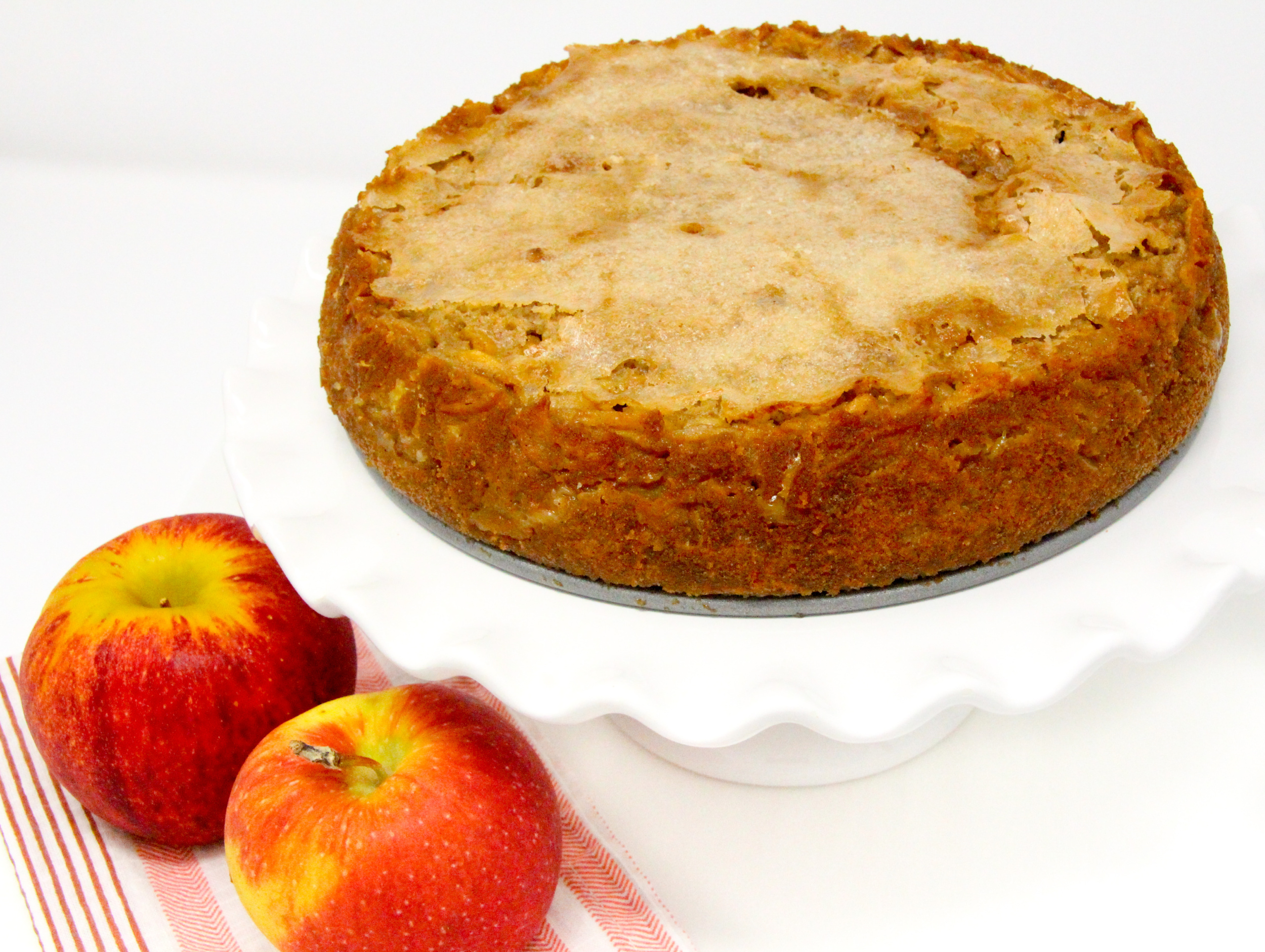 Amazon Synopsis
Pepper Reece, owner of the Spice Shop in Seattle's Pike Place Market, loves a good festival, especially one serving up tasty treats. So what could be more fun than a food walk in the city's Chinatown–International District, celebrating the Year of the Rabbit?
But when her friend Roxanne stumbles across a man's body in the Gold Rush, a long-closed residential hotel, questions leap out. Who was he? What was he doing in the dust-encrusted herbal pharmacy in the hotel's basement? Why was the pharmacy closed up—and why are the owners so reluctant to talk?
With each new discovery, Pepper finds herself asking new questions and facing more brick walls.
Then questions arise about Roxanne and her relationship to Pepper's boyfriend Nate, away fishing in Alaska. Between her worries and her struggle to hire staff at the Spice Shop, Pepper has her hands and her heart full. Still, she can't resist the lure of the Gold Rush and its tangled history of secrets and lies stretching back nearly a century.
But the killer is on her tail, driven by hidden demons and desires. As Pepper begins to expose the long-concealed truth, a bigger question emerges: Can she uncover the secrets of the Gold Rush Hotel without being pushed from the wok into the fire?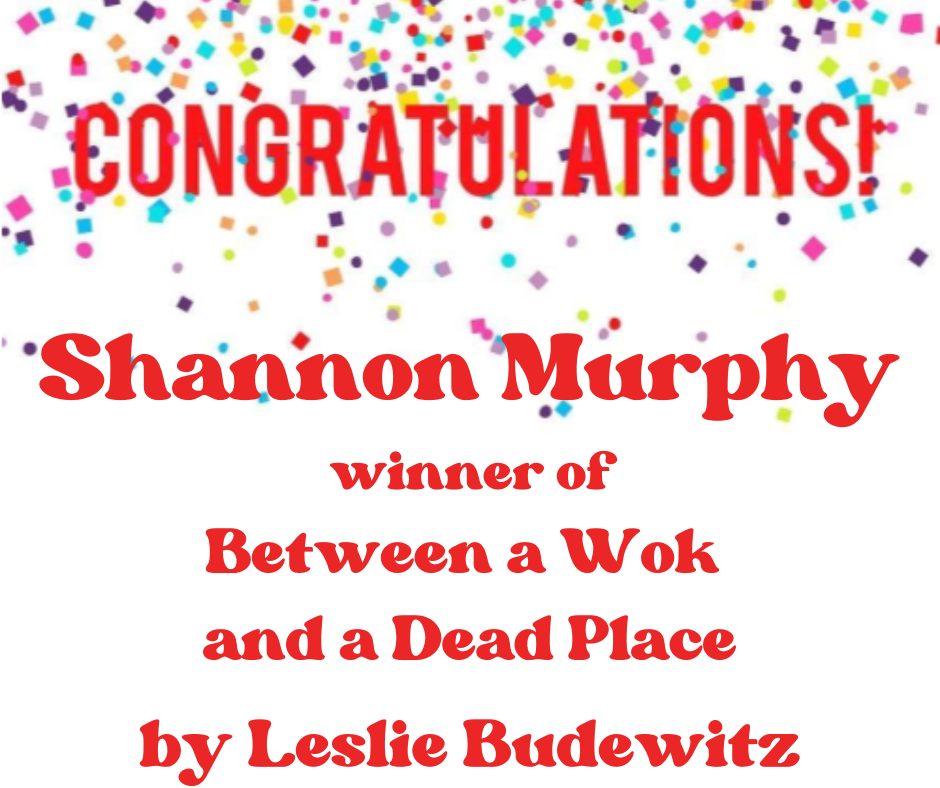 A special thanks to Leslie Budewitz for providing a print copy of BETWEEN A WOK AND A DEAD PLACE. Contest ends September 17, 2023 at 11:59 pm PST and is limited to U.S. residents only. Please use the Rafflecopter box located below to enter. The winner will be announced on this page and on Cinnamon & Sugar's Facebook page, as well as notified by email (so check your spam folder!)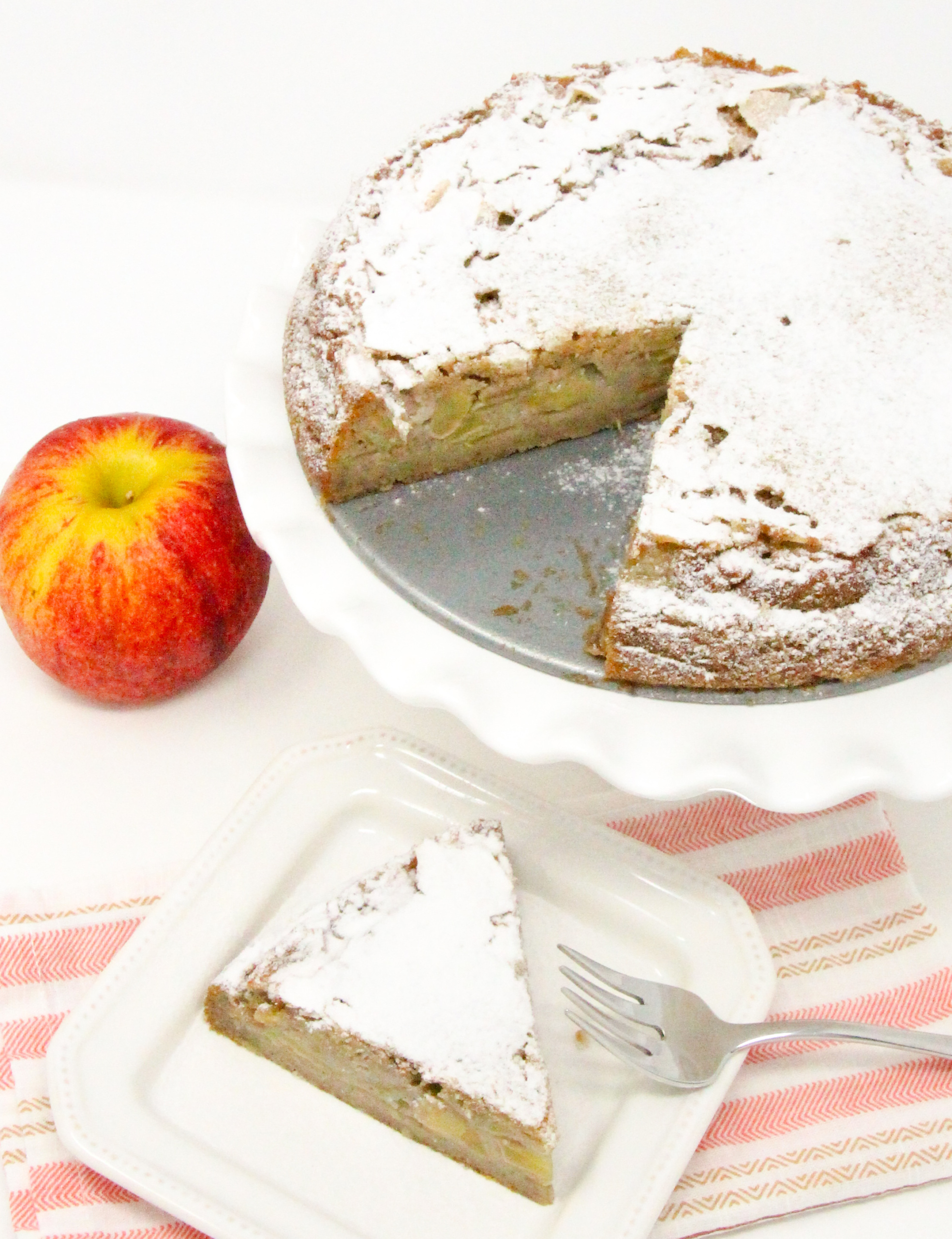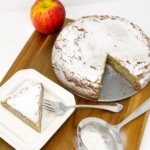 Cayenne's Five Spice French Apple Custard Cake
Cayenne spiced up this classic apple custard cake to demonstrate the versatility of the Chinese five spice blend. The alcohol will bake off leaving a hint of flavor to complement both the apples and spice.
Ingredients
1-1/2

pounds

Granny Smith apples or a mix of Granny Smith and MacIntosh (3 to 4 apples depending on the size.

1

tablespoon

Calvados (apple bandy), brandy, or white rum

1

teaspoon

lemon juice

2

tablespoons

Chinese five spice, divided

1

cup

+ 2 tablespoons all-purpose flour, divided

1

cup

+ 1 tablespoon granulated sugar, divided

2

teaspoons

baking powder

1/2

teaspoon

salt

1

large egg + 2 large yolks

1

cup

vegetable oil

1

cup

milk

1

teaspoon

vanilla extract

Powdered sugar for topping, optional
Instructions
Heat oven to 325 degrees (F).

Lightly coat a 9" springform pan with cooking spray and place pan on a baking sheet.

Peel and core the apples. Cut each in half and place cut side down on the cutting board. Cut each half in 4 pieces then rotate and cut into pieces about 1/8 inch thick. Place apples slices on a microwave safe pie plate cover with plastic wrap and microwave until apples are pliable and slightly translucent, about 3 minutes. This softens the apples in the finished cake. Toss apple slices with Calvados, lemon juice, and 1 teaspoon Chinese five spice, then cool for about 15 minutes.

In a medium-sized bowl, whisk 1 cup flour, 1 cup granulated sugar, baking powder, salt, and the remaining Chinese five spice, 1 tablespoon + 2 teaspoons.

In a second bowl, whisk the whole egg only, oil, milk, and vanilla together until smooth. Add the flour mixture to the wet ingredients and whisk until just combined.

Transfer 1 cup batter to a separate bowl and set aside.

Add the 2 egg yolks to the remaining batter and whisk to combine. Gently fold in the apples. Transfer batter to the pan using a spatula to spread evenly to the edges. Shake lightly to ensure an even layer and smooth surface.

Whisk remaining 2 tablespoons flour into the 1 cup batter. Pour on top of batter in pan. Spread evenly and smooth the surface. Sprinkle remaining tablespoon of sugar evenly over the batter.

Bake until the center of the cake is set, a toothpick or tester inserted in the center comes out clean, and the top is golden brown, about 65 minutes.

Transfer pan to wire rack. Let cool for 5 minutes. Run a knife inside the edge of the pan to loosen the cake. Remove the springform and let the cake cool.

Dust cooled cake with powdered sugar if you'd like. Serve slightly warm or cool.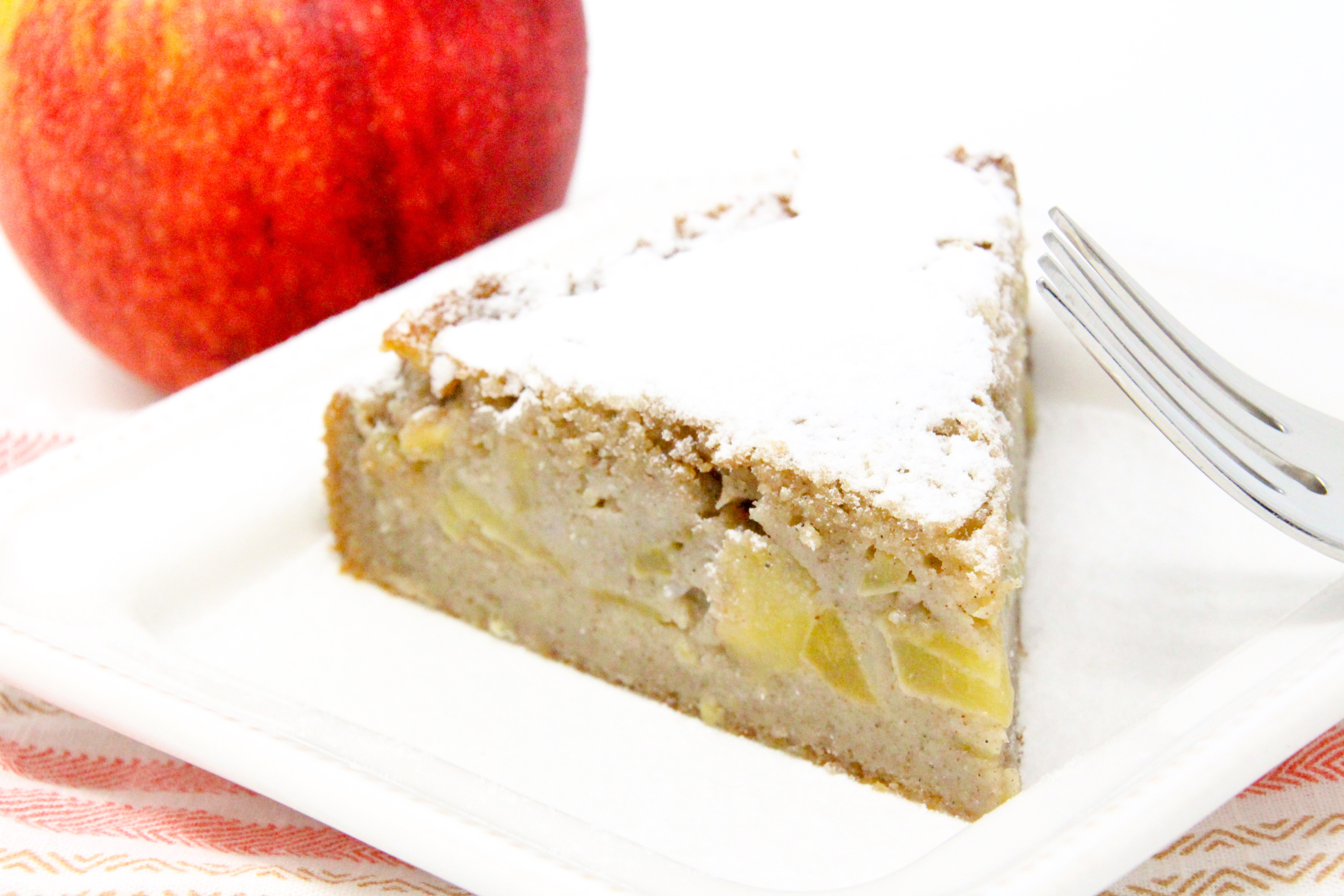 Pin to Pinterest: