HALLOWEEN PARTY MURDER is a compilation of three cozy mystery novellas by three terrific authors: Leslie Meier, Lee Hollis, and Barbara Ross. If you haven't yet read any books by these authors, this Halloween trilogy is a great way to try them out. And if you're already a fan, you'll love catching up with favorite characters via these quick vignettes. Despite the shortened length of each story, the authors do a marvelous job of setting the stage, capturing the essence of Halloween with spooky atmospheres, and creating a murder for the heroines to solve. The short books are well-plotted with a quick pace, yet the stories never feel rushed.
Each author brings their individual styles and strengths to their novella, from Leslie Meier tackling social issues, to the humor and wit imbued by Lee Hollis, to the strong character development and descriptive voice embraced by Barbara Ross. Each of their strengths has a hand in creating stories that captured my attention and kept me glued to the pages all the while adhering to the theme of the title. Another aspect I enjoy about the annual cozy mystery novella trilogy published by Kensington, is that each story is short enough to finish in one evening without feeling the need to stay up half the night to find out the conclusion. Of course, if you have time on your hands, you'll want to gobble up the entire book all at once while munching on trick-or-treat goodies!
Barbara Ross and Lee Hollis are known for adding tempting recipes to their books, and Halloween Party Murder is no exception. With several tempting Halloween treats mentioned on the pages, be prepared to be hungry and be sure to check out the Halloween-themed recipes included. Barbara Ross includes a recipe for Vee's Gluten-Free Pumpkin Cookies, which sounded intriguing because you don't have to roll out the dough to cutout pumpkin shapes. Instead, these cookies are shaped free-form (or patted within the confines of a pumpkin-shaped cookie cutter like I did). You can easily swap out all-purpose flour for the gluten-free blend called for. Full of flavor, these cookies are pumpkiny and spicy, chocolately and cakey, yet moist with a crunch from the walnuts added. Your ghouls and goblins will thank you for this yummy treat!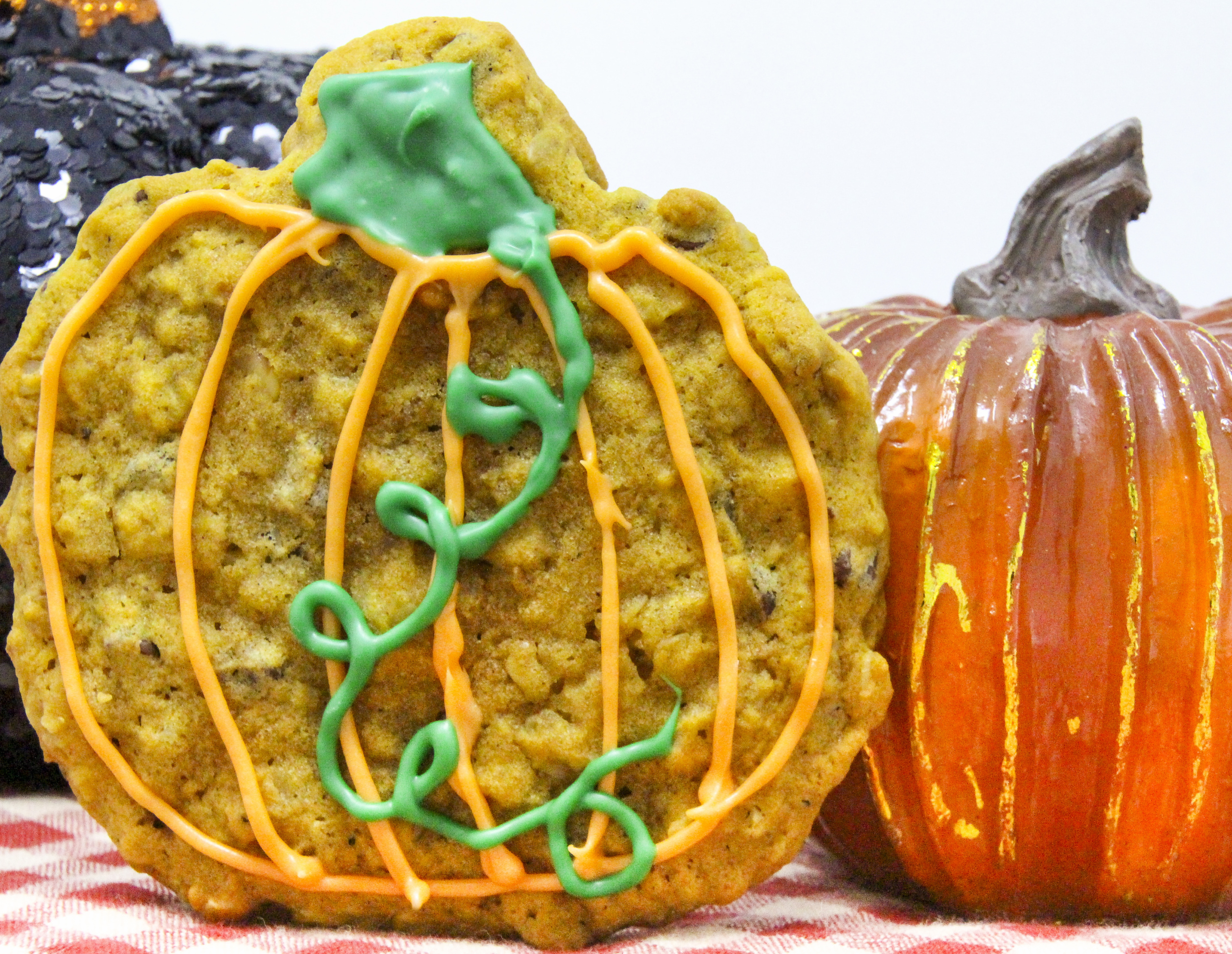 Amazon Synopsis
Small town traditions are celebrated throughout Maine during the holiday season. But when it comes to Halloween, some people are more than willing to reap a harvest of murder . . .
 
HALLOWEEN PARTY MURDER by LESLIE MEIER
Tinker's Cove newest residents Ty and Heather Moon turn their Victorian home into a haunted house to raise funds for charity. But the Halloween fun turns to horrific fright when Heather overdoses on tainted drugs—and Ty finds himself accused of murder. Digging deep into the story, journalist Lucy Stone uncovers some sinister secrets in the Moons' past linked to a conspiracy in her hometown . . .
DEATH OF A HALLOWEEN PARTY MONSTER by LEE HOLLIS
Everyone attending Island Times Food and Cocktail columnist Hayley Powell's Halloween bash is dressed as their favorite movie monster from the Bride of Frankenstein and Jaws to Chucky and Pennywise the clown. But when partygoers stumble upon Boris Candy's bludgeoned costumed corpse, it falls to Hayley to discover who among her guests wanted to stop the man from clowning around permanently . . .
SCARED OFF by BARBARA ROSS
Three teenage girls having a sleepover on Halloween night get spooked when high schoolers crash the house for a party. But no one expected to find a crasher like Mrs. Zelisko, the elderly third floor tenant, dead in the backyard—dressed in a sheet like a ghost. With her niece traumatized, Julia Snowden must uncover who among the uninvited guests was responsible for devising such a murderous trick . . .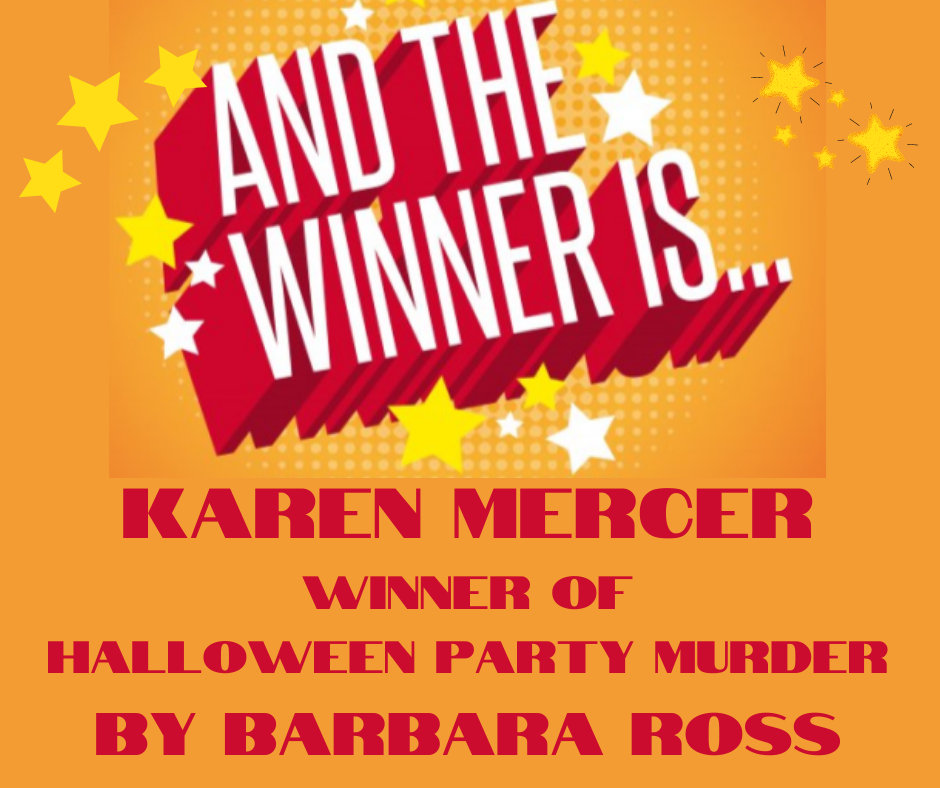 A special thanks to Barbara Ross for providing one lucky winner with a print copy of HALLOWEEN PARTY MURDER. Giveaway is limited to U.S. residents. Contest ends Thursday, September 9 , 2021 at 11:59 pm PST. Please use the Rafflecopter box located below to enter. The winner will be announced on this page and on Cinnamon & Sugar's Facebook page, as well as notified by email (so check your spam folder!)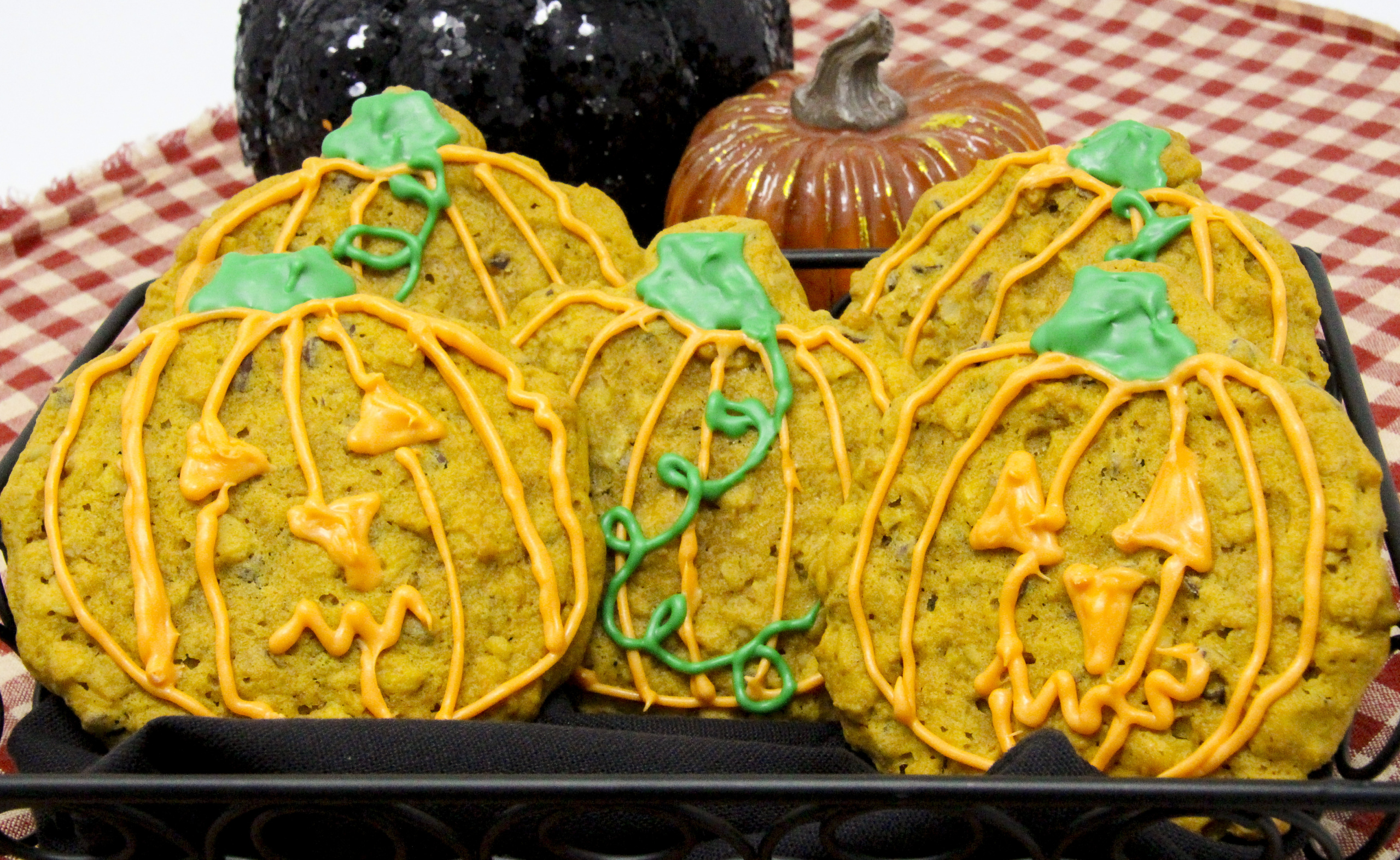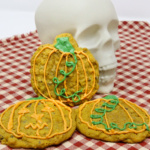 Vee's Gluten-Free Pumpkin Cookies
In the story, Vee Snugg makes her traditional pumpkin cookies gluten-free in an attempt to entice Sergent Tom Flynn. In reality, you can make them either way. Vee's recipe is a twist on the one that used to appear on the Libby pumpkin can. Lots of people make versions of these cookies, but I think Vee's are particularly delicious.
Full of flavor, these cookies are pumpkiny, and spicy, chocolately and cakey, yet moist with a crunch from the walnuts added.
Ingredients
3-1/2

cups

Bob's Red Mill Gluten-Free All-Purpose Baking Flour (or standard all-purpose flour)

2-1/3

cup

old-fashioned oats (if gluten-free is necessary, make certain to use gf oats)

1-3/4

teaspoons

baking soda

2

teaspoons

pumpkin pie spice

1-1/2

teaspoons

salt

3-1/2

sticks butter, softened

1-3/4

cup

sugar

1-3/4

cup

packed brown sugar

1

(15-ounce) can of pure pumpkin

2

large eggs

1-3/4

teaspoon

vanilla extract

1-3/4

cup

chopped walnuts

1-3/4

cup

chocolate chips

Decorator icing (optional)
Instructions
Preheat oven to 350 degrees.

Mix flour, oats, baking soda, pumpkin pie spice, and salt in a medium bowl.

In a large bowl, beat butter, sugar, and brown sugar until fluffy.

Add pumpkin, eggs, and extract. Mix well.

Gradually stir in flour mixture. Add nuts and chocolate chips.

Drop 1/4 cup dough onto a parchment-covered baking sheet. Spread into a pumpkin shape, about 1/4 inch thick. Continue until all dough is used.

Bake for 14 - 16 minutes, until firm and golden brown. Cool on baking sheet for 2 minutes and then remove to wire racks.

Decorate with icing when cool, if desired. Vee uses orange icing to outline the pumpkin ribs and green icing for the stem and leaves.
Makes approximately 40 cookies.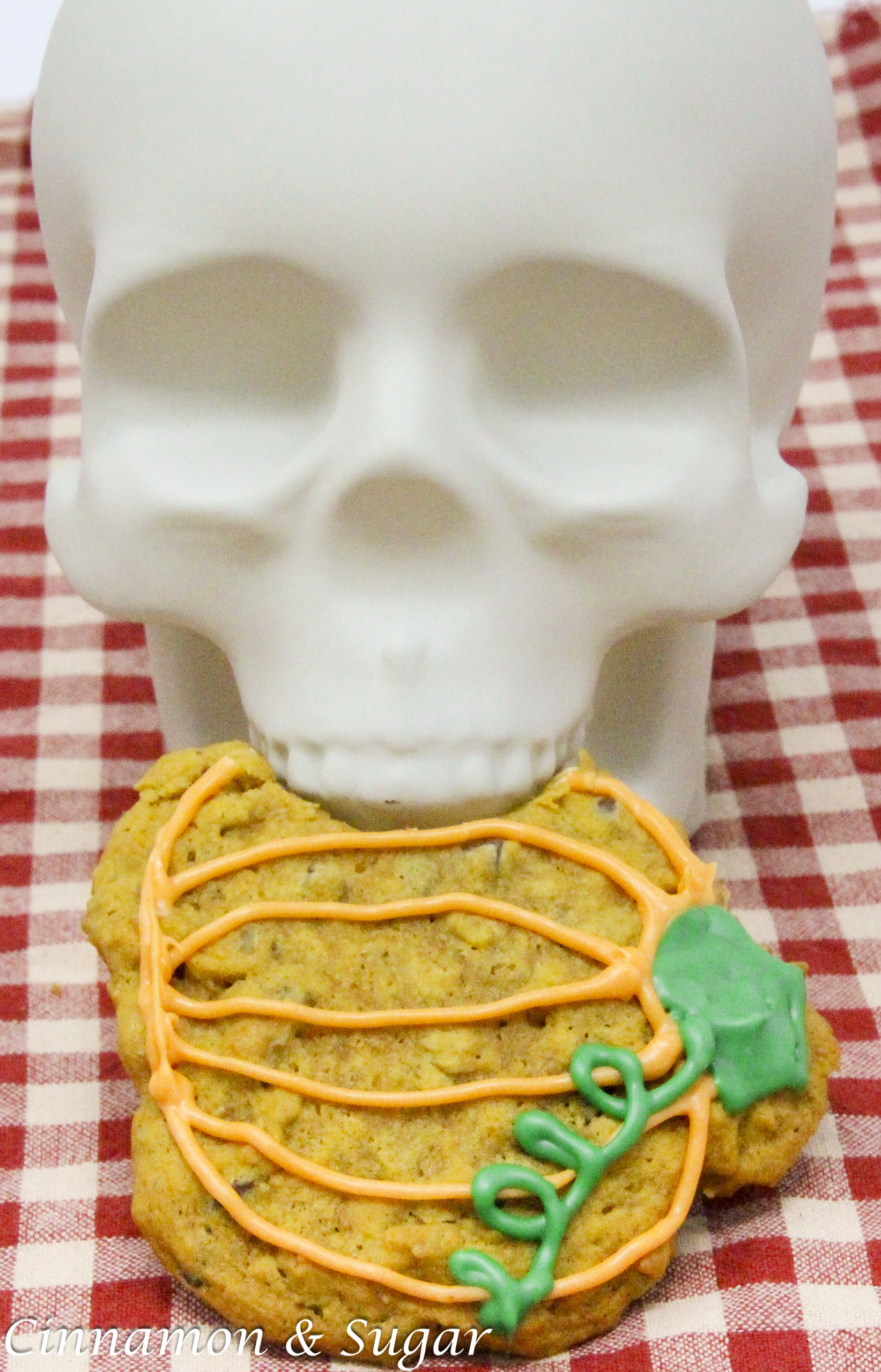 Pin to Pinterest:
I was provided with an advance copy. All thoughts and opinions are my own.