A MIDSUMMER NIGHT'S FUDGE by Nancy Coco is the tenth book in the Candy-Coated Mystery series. This newest release is another fun return to Mackinac Island where summer is in full swing with the Midsummer Night's Festival. The author does a marvelous job of bringing the unique island setting to life, with its shops, tourists, and no motorized vehicles (aside from emergency vehicles). Instead, the sound of birds, lakeside waves, and the clomping of horses pulling carriages can be heard, and the aroma of chocolate fudge fills the air. The protagonist Allie McMurphy owns the McMurphy hotel and fudge shop and is elbow deep in fudge as she caters to the tourists pouring in. Another strength of Ms. Coco is the development of her characters over the course of the series. Allie is genuinely likeable and you can't help but adore her bichonpoo pup, Mal. The entire cast of core characters, including Jenn, her best friend, and Officer Rex Manning, her boyfriend, have shown growth and change over the years, making them relatable. It's like catching up with old friends whenever you pick up the newest book.
Unfortunately, Mal has a penchant for sniffing out dead bodies. However, this time around, Allie is the one to find the first victim floating in the lake right after the festival's fireworks show. Who could have wanted the festival's chairwoman dead? Thrown into the list of suspects is a disqualified beauty pageant contender. As Rex investigates, Allie is determined to let him do his job without interfering… except Mal sniffs out another victim and another committee member is threatened. Allie can't stand by and risk becoming a victim herself, having joined the committee. There are plenty of suspects to question and regrettably, despite Rex's admonishment to not put herself in danger, Allie seems to put herself at risk by constantly taking Mal for a walk. She even strays from the "safer" populated areas of downtown. As she susses out secrets and digs to find the truth, the list of suspects grows. At the hair-raising reveal, I was shocked by the culprit… which always makes me happy when I'm fooled by misdirection and a well-plotted story!
Allie spends a lot of time in her fudge shop, making a multitude of flavors. On top of that, she gives two fudge-making demonstrations a day. All I can say is yum! I loved reading all the descriptions and couldn't wait to try several of the recipes included in the book. Chocolate, caramel, and pecans called to me first, in the Turtle Fudge recipe. It did not disappoint and was every bit as delicious as I'd expected. One of the things I love about Nancy Coco's recipes is that they are so doable. Candy caramel pieces, chocolate chips, and sweetened condensed milk are effectively used to keep the fudge becoming grainy like some finicky recipes happen. Since everything is melted in the microwave, the fudge comes together quickly and the only hard part is waiting the two hours until it sets. But once it does, it's difficult to limit yourself to just a piece or two or ten!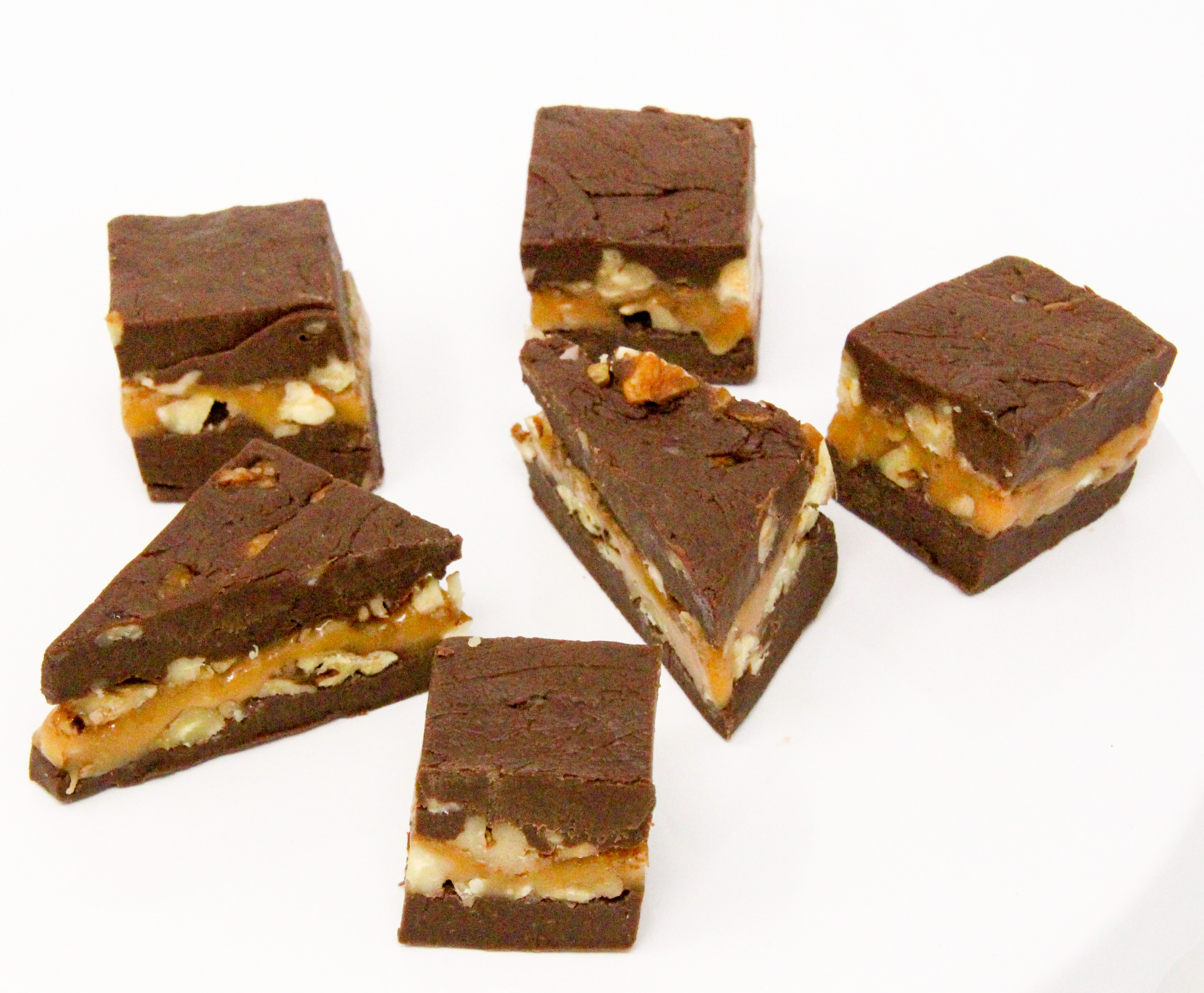 Amazon Synopsis
After a summer celebration on Michigan's Mackinac Island ends in murder, hotel and fudge shop owner Allie McMurphy puts on her sleuthing hat . . .THERE'S NO SUGARCOATING A KILLER'S SCHEME
During the Midsummer Night's Festival, Allie decides to take her bichonpoo, Mal, home to spare her furry little ears from the sounds of fireworks. But on her way back, Allie spots a body in the lake. Just minutes ago, Winona Higer was crowning the event's Queen—could the competition have really been that deadly?
While she ponders the mystery the next morning, Allie prepares her favorite dark chocolate cherry fudge recipe. But she's soon recruited to sub for the late Winona and serve as parade float judge, among other duties. As she hears rumors and gossip, and learns of mean pranks and threatening notes, her instincts kick in—despite her boyfriend the cop's disapproval. Now, between managing a new hire and keeping the tourists filled with fudge, she's dealing with a case that's boiling over . . .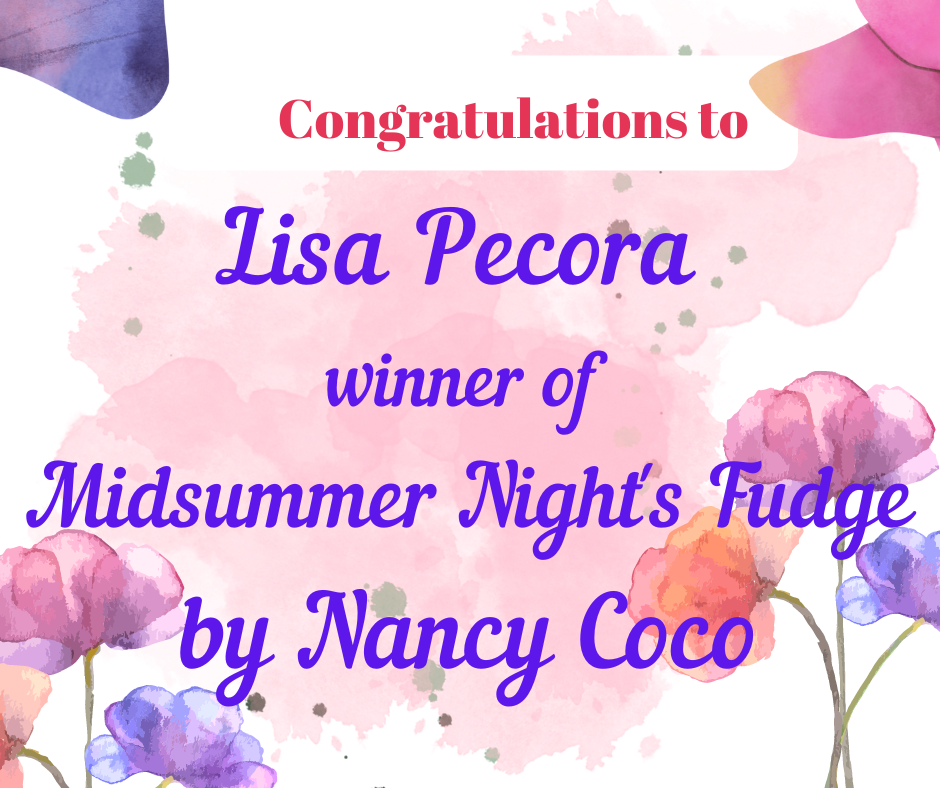 A special thanks to Nancy Coco for providing a print copy of  A MIDSUMMER NIGHT'S FUDGE. Contest ends June 19, 2022 at 11:59 pm PST and is limited to U.S. residents only. Please use the Rafflecopter box located below to enter. The winner will be announced on this page and on Cinnamon & Sugar's Facebook page, as well as notified by email (so check your spam folder!)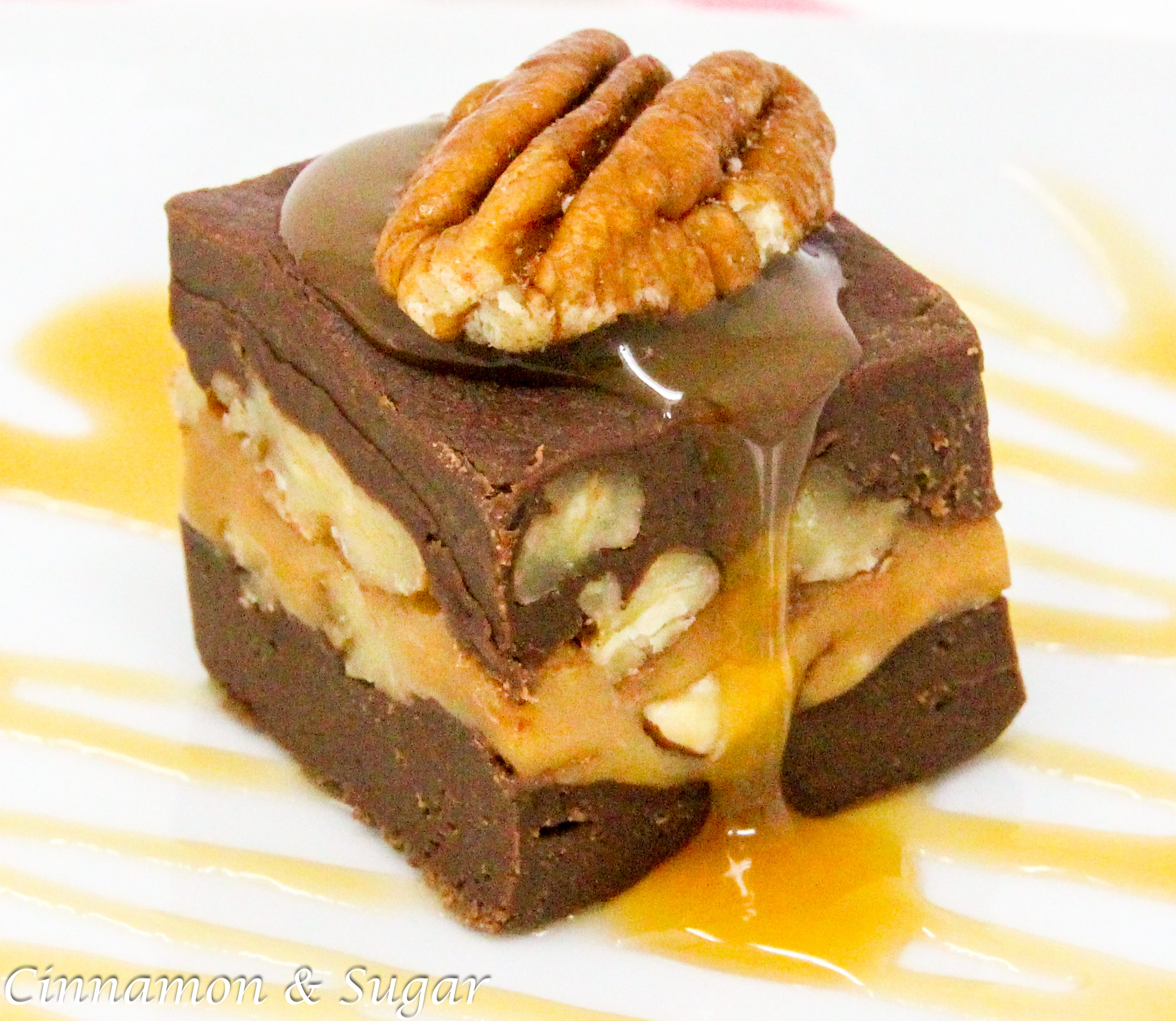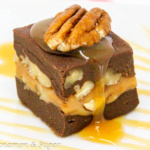 Turtle Fudge
Ingredients
14

ounces

soft caramel pieces

1

tablespoon

heavy whipping cream

3

cups

semisweet chocolate chips

1

(14-ounce) can sweetened condensed milk

1/4

teaspoon

salt

2

teaspoon

vanilla

1-1/2

cups

chopped pecans
Instructions
In a microwave safe bowl, microwave on high, caramel pieces and heavy whipping cream - stir every thirty seconds until melted and smooth.

In a microwave safe bowl, combine chocolate chips and sweetened condensed milk. Microwave on high, stirring every thirty seconds until chocolate is nearly all melted. It will continue to melt after you take it out. Stir until smooth. Add salt and vanilla. Stir.

Line an 8x8-inch pan with parchment paper. Pour in half the chocolate fudge. Add half the nuts. Pour caramel on top. Add remaining nuts and cover with remaining fudge.

Cool for 2 hours until set. Cut into one-inch pieces.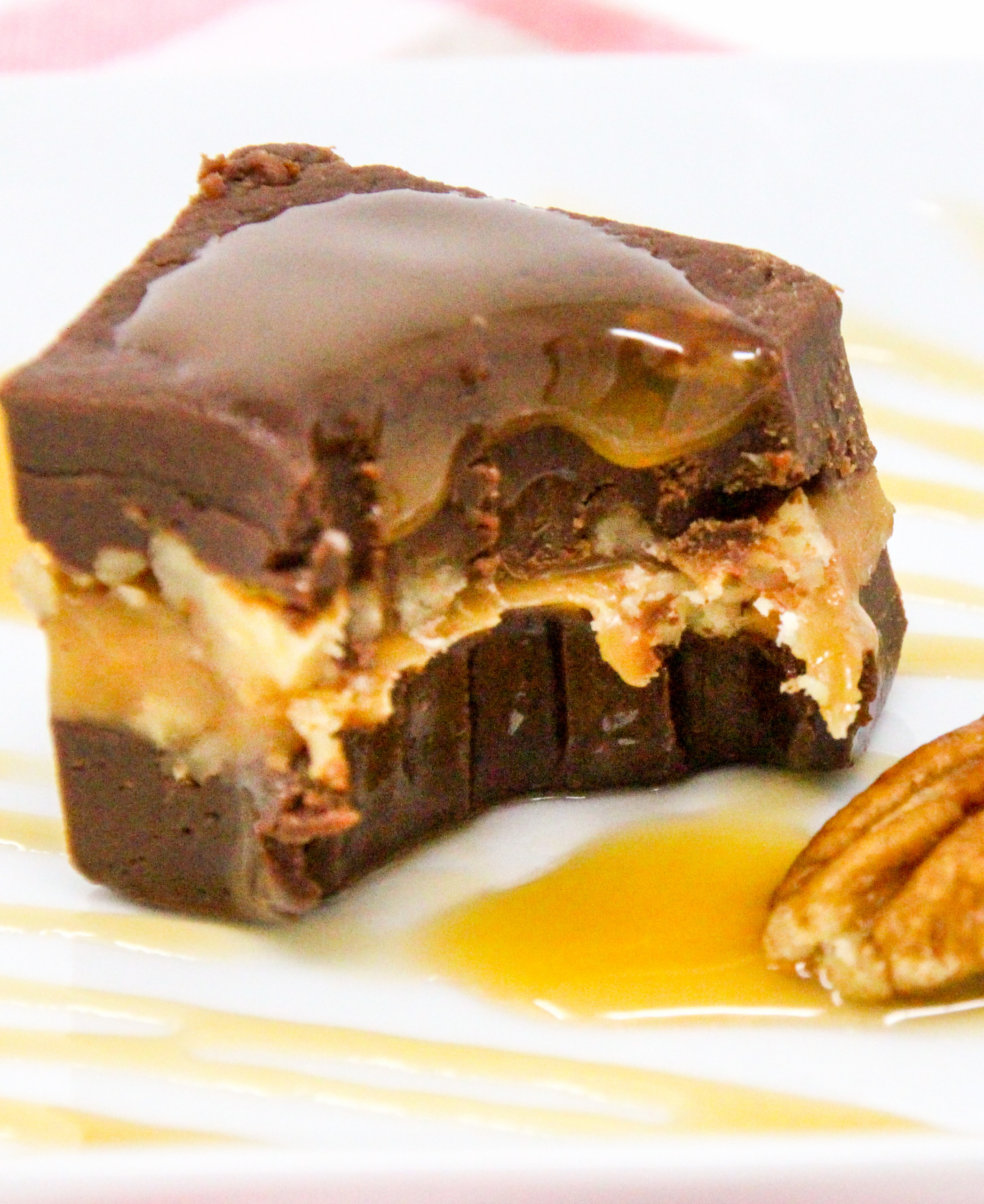 Pin to Pinterest: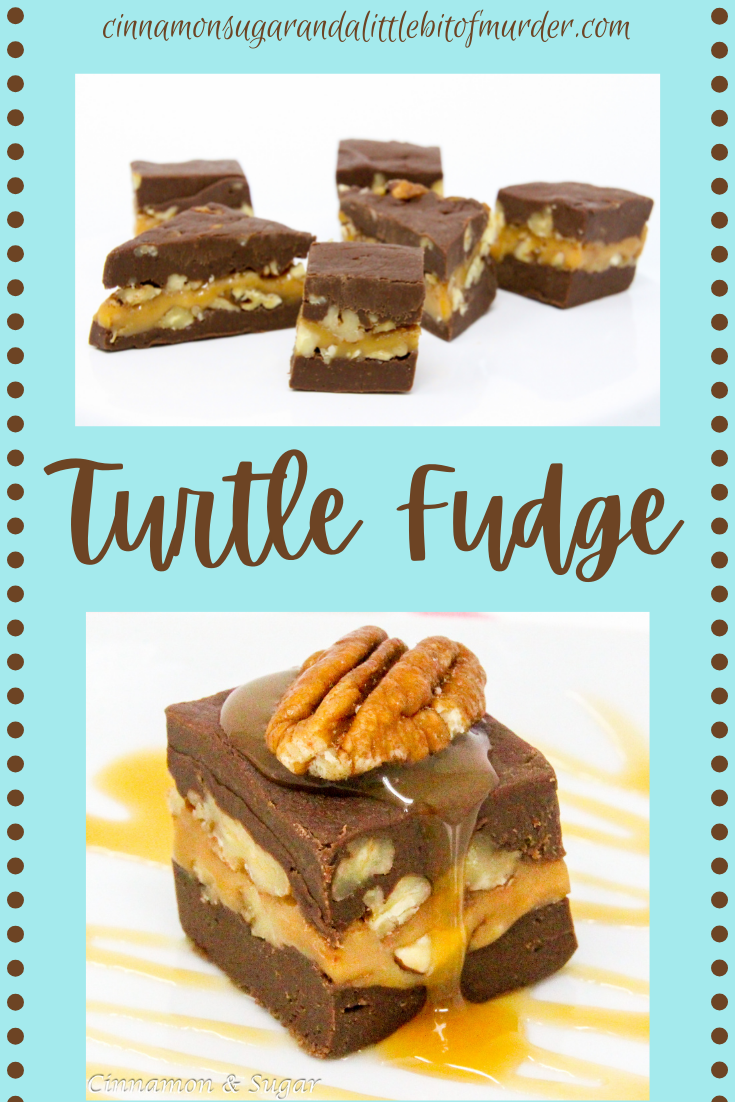 I was provided with an advance copy. All thoughts and opinions are my own.