Back in March when Linda Reilly released OUT OF THE DYING PAN, the second book in her Deep Fried Mystery series, I was intrigued and wanted to read it. I made myself a note to purchase the book but then saw she had some contests going on with a chance to win a copy….so I entered…and then I actually won! Thank you, Linda! It's such a fun way to be introduced to an author that I haven't read before.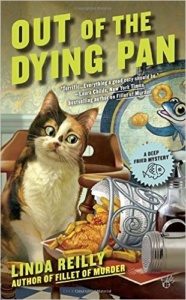 In addition to a great cozy read, Linda has some deep-fried recipes and she's allowed me to share Talia's Deep-Fried Meatballs recipe with you! Now while I was very excited to read the book I was very hesitant to contact Linda and ask if I could share her recipe…I've NEVER deep-fried anything and the prospect terrified me. However, I do like a good challenge and decided to take the plunge, so to speak. We have friends who are deep-fry fanatics and have set up a beautiful outdoor deep frying station. They often have Fry-day Fridays and I've attended their parties, but somehow never watched them deep-fry since I was having fun hanging out with my granddaughters. I figured if my attempt didn't go well on my own I had some experts to back me up for the second round. Luckily the recipe was a success on my own and I thank Linda and her well-written, easy-to-follow recipe for stretching my culinary capabilities. On top of that, these delicious golden-brown morsels are perfect as an appetizer or a meal! I've included a video tutorial below so you can see how I overcame my terror!
Synopsis
Talia Marby's new business, Fry Me a Sliver, is doing brisk business in the quaint Berkshires' town of Wrensdale. Talia is expanding her menu from just fish and chips and has added two employees to help with the increase in business. One of her new hires is Martha Hoelscher, a grumpy older woman who is overly qualified for the job and has a mysterious past. Talia is participating in the town's annual Santa fundraiser and has set up a deep-fried station alongside other booths. Her booth neighbor is Ria, owner of the new vintage shop in town, Once or Twice. Ria is extremely rude to Talia and demands another booth away from the "fry cook". When told she has to stay where she's at, Ria ends up accusing Talia of stealing her Christmas ornaments. But the tables are turned when Talia spies her deceased grandmother's scarf on Ria's sale rack. Talia had made the scarf for her beloved grandmother, from special yarn that was impossible to find. She demands that Ria tell her where she got the scarf and then tries to buy it. Ria refuses to sell and instead, wraps the beautiful scarf around her neck and stomps off.
After the conclusion of the fundraiser, Talia finds Ria stuffed into a closet, strangled to death with her grandmother's scarf. The police are taking a close look at Talia because of the argument the two were seen having over the scarf and then it comes out that the day of the murder Ria had posted nasty Facebook reviews about Fry Me a Sliver, which hurt her business. Knowing she must clear her name or lose both her freedom and her shop, Talia starts asking questions. As she digs deeper into the murder, she finds that events from her childhood are coming back to haunt her.
My Review
There was a certain sweetness to the book and in Talia's character. No matter how nasty or unlovely some of the other characters were in the book, Talia would remind herself that she shouldn't judge since she didn't know what all the circumstances were with the person. And I find that to be a very true observation for real life and a good reminder to have more compassion for those we come in contact with. I enjoyed the interaction Talia has with those surrounding her and how she's slowly progressing in her relationship with Ryan, giving herself time to grow as a person. OUT OF THE DYING PAN is a strong character driven book which pulled me in and made me feel like I had connected to them. The murder mystery was well thought out and had plenty of red herrings to keep me guessing. With several subplots woven into the theme, my interest was held and I kept turning pages for "just one more chapter". The ending was especially touching…while the author could have skipped tying up one of the brief subplots, she chose to address it and left me with tears in my eyes. I am definitely looking forward to the next book in the series!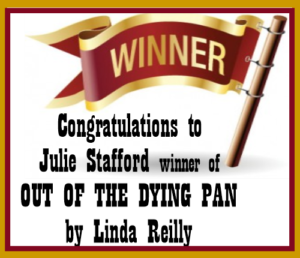 A special thank you to Linda Reilly for providing an autographed copy of OUT OF THE DYING PAN to one winner! Please use the Rafflecopter box located below the recipe to enter. Contest ends Monday, May 30, 2016 at 11:59 pm PST. Winners will be announced on this page and on Cinnamon & Sugar's Facebook page, as well as notified by email (so check your spam folder!)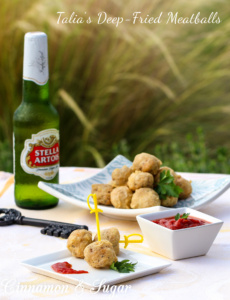 Talia's Deep-Fried Meatballs
Talia spent her childhood at her nana's elbow watching her make homemade meatballs. She knew that Nana tweaked the recipe depending on whom she was feeding. Ingredients such as fresh garlic, Parmesan cheese, and herbs can be adjusted to suit your taste.
If you'd like to cut down on preparation time for the deep-fried meatballs, there are many frozen brands that are quite good.
Ingredients
Meatballs
3/4 pound hamburger
1 tablespoon finely minced onion
1 teaspoon crushed garlic (more if you're a garlic lover!)
1/4 cup Parmesan cheese
1/8 teaspoon coarse black pepper
1 egg
1/4 teaspoon crushed basil
1/8 teaspoon crushed oregano
1 cup panko crumbs
5 tablespoons high-quality marinara sauce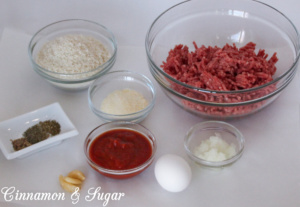 Batter
1/2 cup flour
1/4 cup cornstarch
1 teaspoon baking powder
1/4 teaspoon salt
2 teaspoons grated Parmesan cheese
1/2 teaspoon finely crushed basil
1/2 cup plus 1 tablespoon water
1 tablespoon beaten egg
1 tablespoon vegetable oil
Oil for frying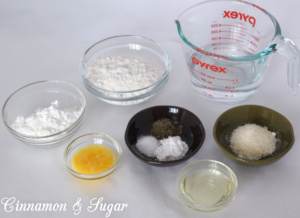 Instructions
Meatballs
Preheat oven to 425 degrees F.
Mix all of the ingredients with a fork until well blended. (I actually like using my hands…)
Form into small- or medium-sized meatballs (about 1-1/2-inch diameter works well, but you can make them smaller if you'd like.)
Roast in a roasting pan coated with nonstick cooking spray for 10 to 12 minutes. The meatballs should be browned but not overdone.
Chill in the fridge for at least a few hours or preferably overnight. They can also be frozen ahead of time.
Batter
Combine together in a mixing bowl the flour, cornstarch, baking powder, salt, Parmesan, and basil.
In a separate bowl, combine the water, egg, and oil.
Add the wet ingredients to the dry ingredients and whisk until well blended.
In a deep fryer or heavy pan, heat additional vegetable oil to 350 to 375 degrees, using just enough oil to cover the meatballs.
A candy/deep-fry thermometer will help gauge the oil temperature.
One by one, coat the chilled meatballs in the batter.
Using tongs, remove each meatball from the batter and lower each one slowly into the oil, but avoid crowding the pan.
Fry until golden brown, about 3 minutes, then remove and drain on paper towels.
Don't worry if your deep-fried meatballs end up with little batter "tails". They're crispy and delicious!
Serve immediately with warm marinara sauce.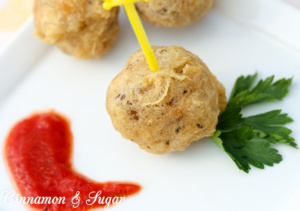 If you receive my blog post via email you will need to visit my website to view the video.