While I was growing up my parents always had a garden, typically planting both summer and winter produce. Weekends and summer days were spent weeding, watering and harvesting, then helping my mom prepare the fresh fruits and vegetables which we ate at almost every meal. In addition, my parents bartered with local farmers for fresh milk (I adored the cream that rose to the top!), eggs, and honey, and purchased whole wheat grain from a co-op so my mom could grind it and then bake hearty bread for our family. Once I moved away from home I missed those wholesome meals since store-bought produce couldn't compare to just picked fruits and vegetables. I tried planting a garden on my own once or twice, but the soil in beach towns wasn't conducive to healthy crops. Fortunately with the rise of farmers' markets over the last couple of decades I have ready access, once again, to wholesome fruits and vegetables.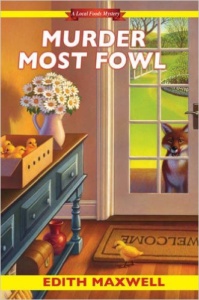 I felt right at home with the farming theme when I started reading MURDER MOST FOWL by Edith Maxwell. Cam Flaherty owns Attic Hill Farm, an organic farm in Westbury, Massachusetts. Cam is expanding her farm to include a small flock of chickens and when two chicks die she visits poultry farmer, Wayne Laitinen, to see if he can figure out what's wrong. While at his house, Cam witnesses an argument between Wayne and his wife over money. Apparently their poultry farm is losing money and a wealthy neighbor wants to buy some of the their land. Wayne is dead set against selling while his wife wants to. Later that night, an animal activist group vandalizes Wayne's poultry farm and the next morning Wayne is found murdered in his own home.
Cam finds out that the sister of one of her friends, Alexandra, has been involved with an extreme animal activist group and tells her boyfriend, Detective Pete Pappas. The young woman is picked up for questioning and insists that even though she was involved with the vandalism, she and the group had nothing to do with the murder. Pete's new boss is breathing down his neck and threatening to demote him if he doesn't solve the murder soon. Alexandra begs her to help find the killer and clear her sister's name. Cam soon finds herself asking questions and digging into the unsolved thirty-year-old disappearance of a young Irish exchange student. With so many of the townspeople hiding secrets, can she find the real killer before her boyfriend loses his job and an innocent young woman goes to jail? When her farm is vandalized and some of her chickens killed, she knows she needs to find the truth before there's another victim.
MURDER MOST FOWL, the fourth book in the Local Food Mystery series, was a delightful read! While I have not read any of the previous books in the series (and I will be remedying that) I found it easy to follow the story and felt like I knew the realistic characters. The plot had plenty of twists and turns to keep me guessing and I enjoyed how there were strong sub-plots and a mini-mystery. The small-town location was quaint with extremely creative, fun names for the local roads and farms which made me feel like I was traveling the countryside. The farming information was nicely woven into the story so it didn't feel forced…in fact, it made me want to try my hand at growing a vegetable garden again!
Edith also includes several farm-fresh recipes at the back of the book. While they all look delicious, I chose to make Alexandra's Carrot Muffins because they reminded me of something my mother would have made. Using 100% whole wheat flour, these carrot muffins are loaded with fresh, earthy carrots, a bit of honey to sweeten, and some cinnamon to flavor, making them perfect for a healthy breakfast or snack. My husband liked his toasted with a bit of butter while my granddaughter preferred to drizzle her muffin with extra honey. No matter how you choose to eat them, these wholesome muffins are light and tasty and will find a regular rotation in your household. Thank you, Edith, for allowing me share your healthy muffin recipe!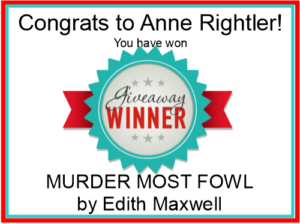 A special thank you to Edith Maxwell for providing an autographed hardcover of MURDER MOST FOWL to one winner! Please use the Rafflecopter box located below the recipe to enter. Contest ends Thursday, June 2, 2016 at 11:59 pm PST and is limited to U.S. residents only. Winners will be announced on this page and on Cinnamon & Sugar's Facebook page, as well as notified by email (so check your spam folder!)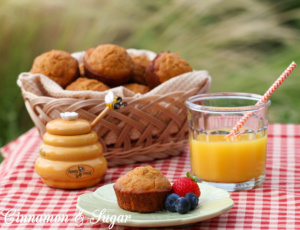 Alexandra's Carrot Muffins
Use as many locally produced ingredients as possible.
Makes one dozen.
Ingredients
2 eggs
1/4 cup honey
1/2 cup safflower or canola oil
1/4 cup buttermilk
1 teaspoon vanilla
1-1/2 cups whole wheat flour (I used King Arthur White Whole Wheat Flour)
1-1/2 teaspoons baking powder
1/2 teaspoon baking soda
1/2 teaspoon salt
1 teaspoon cinnamon
1/2 teaspoon nutmeg
1-1/2 cups (7-1/2 ounces) grated carrots (about four medium)
1/2 cup chopped walnuts (may omit)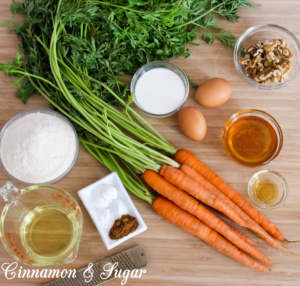 Instructions
Preheat oven to 400 degrees (F).
In a large bowl, beat eggs lightly, and then mix in honey, oil, buttermilk, and vanilla.
In a large measuring cup, combine flour, baking powder, baking soda, salt, and spices.
Add dry ingredients, carrots, and nuts to the egg and honey mixture and mix lightly with a fork until just mixed.
Bake in greased muffin pan for 20 to 25 minutes or until golden brown on top.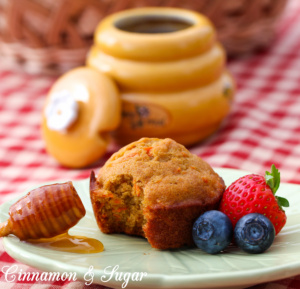 Tips
If you don't have buttermilk on hand you can substitute regular milk mixed with 1/2 teaspoon apple cider vinegar. Mix the milk and vinegar together and allow to sit while collecting the rest of the ingredients to give it time to curdle.
Don't be tempted to substitute pre-shredded carrots from the refrigerated section at the grocery store. They are too dry and tasteless and the recipe won't turn out as delicious as it should be.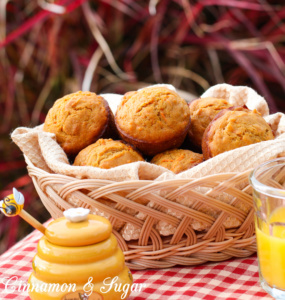 If you receive my blog post via email you will need to visit my website to view the video.
I was given an ARC in exchange for a fair and honest opinion. All thoughts and views are my own.