I'm very happy to be a part of the Great Escapes Virtual Book tour with Laura Bradford's brand new book, ÉCLAIR AND PRESENT DANGER, the first book in her brand new Emergency Dessert Squad Mystery series! When I started seeing the promotions for this book, I immediately knew I had to read it…the amazing cover and the incredibly clever title drew me in. I just love titles with word play and I was a huge fan of the original book and movie by Tom Clancy! When I received my advanced copy and started reading I immediately realized the cover and title was only the beginning of the fun and it continued non-stop for several delicious hours!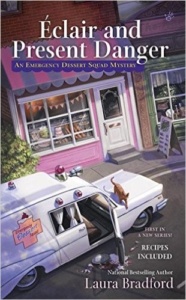 Winnie Johnson is closing the doors on her beloved bakery, thanks to her greedy landlord. She had hoped that an inheritance from a dear, elderly friend would save her bakery but instead of cash, her friend bequeathed her a temperamental cat and a vintage ambulance. After meeting Master Sergeant Hottie, aka the new paramedic in town, who is interested in buying her vintage ambulance, Winnie has a brilliant idea: she can deliver desserts via the ambulance! She calls her new business The Emergency Dessert Squad. With help from her best friend, Renee, the two women launch the business with its emergency themed desserts, such as 'Don't Be Blue, Blueberry Pie' or my personal favorite, 'Hot Flash Fudge Sundae'.
Winnie has also been delivering a peach pie to a recently widowed neighbor once a week. She arrives with her pie in hand to find that the man has been suffocated to death. The small town police are not all that interested in finding the killer since the victim was old and probably ready to die anyway. Winnie's elderly neighbors and friends are terrified someone is targeting them so she decides to bring the culprit to justice. As she begins asking questions she finds that the murdered man had several people who may have wanted to see him dead. As alibis are confirmed she's no closer to the truth but the killer knows she's after them. Can she solve the crime or will the murderer make sure her amateur sleuthing is permanently over?
I'm embarrassed to admit that I haven't read any books by Laura Bradford before. Sure, I've wanted to but that "to read pile" just keeps getting taller and taller and I never got around to it. Well let me tell you, Laura just gained herself a new lifelong fan! ÉCLAIR AND PRESENT DANGER is a smart, snappy read and I was struck over and over again how absolutely creative the author is. The clever plot and setting enhances the theme of caring…Winnie has a very kind heart and a soft spot for the elderly. While society and media promotes youth, and senior citizens are at best ignored or at worse ridiculed, the author weaves their valuable contributions to their community and Winnie into the story. The results left me craving more and I will certainly be reading other series by Laura Bradford.
You can't have an Emergency Dessert Squad without desserts and Laura provides several delectable treat recipes at the back of her book. She's graciously allowed me to share her You're a Peach Pie recipe. With juicy sweet peaches in season now, this pie is absolutely mouth-watering! Brown sugar, cinnamon, and nutmeg gives the filling a depth of flavor that will make you want to lick your plate clean. The lattice crust adds visual appeal…and while I had never attempted a lattice crust before, I found it easier than I thought. I have included a video tutorial below to show you the easy steps.

A huge thanks to Laura Bradford for providing a chance to win three of her books: Éclair and Present Danger, A Churn for the Worse, and Needle and Dread! Please use the Rafflecopter below the recipe to enter.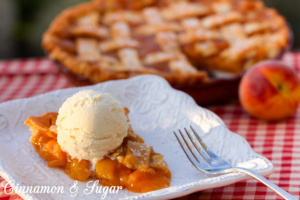 You're a Peach Pie
Ingredients
Pastry for a double-crust 9-inch pie
1/2 cup sugar
1/4 cup packed brown sugar
4-1/2 cups sliced and peeled peaches
3 tablespoons cornstarch
1/4 teaspoon ground cinnamon
1/4 teaspoon ground nutmeg
1/8 teaspoon salt
2 teaspoons lemon juice
1 tablespoon butter
Instructions
In a large bowl, combine both sugars.
Add peaches and gently toss. Cover and let stand for one hour.
Preheat oven to 400 degrees (F).
Line a 9-inch pie plate with the bottom pastry. Trim and set aside.
Drain peaches and reserve juice.
In a small saucepan, mix the cornstarch, cinnamon, nutmeg, and salt.
Slowly add in reserved juice and stir.
Bring to a boil, then cook and stir for 2 more minutes to thicken.
Remove from heat. Add in lemon juice and butter, and stir.
Gently fold in peaches and pour all into the crust.
With a rolling pin, make a lattice crust from the remaining pastry.
Seal edges and flute if desired.
Cover edges loosely with foil.
Bake at 400 degrees for 50 – 60 minutes or until crust is golden brown and filling is bubbly.
Remove foil and cool on a wire rack.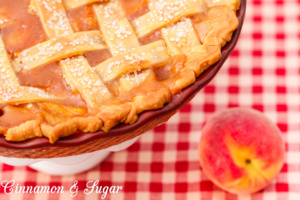 Tips
To easily peel the skin from peaches, dip the peaches in boiling water for 30 seconds and then rinse in cold water. Peel and seed, then proceed with recipe.
No matter how careful I am, my pies always seem to bubble over the edges creating a smoky mess in my oven. I found this tool to be very helpful when baking pies: Chicago Metallic Pie Drip Catcher
And instead of fighting aluminum foil to keep the crusts from over browning, I use this pie crust shield: Mrs. Anderson's Pie Crust Shield I did notice, when looking for the link for this crust shield, that there are now adjustable silicon models available…one just might make its way on to my birthday wish list :).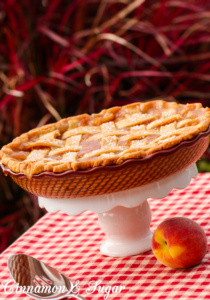 If you receive my blog post via email you will need to visit my website to view the video.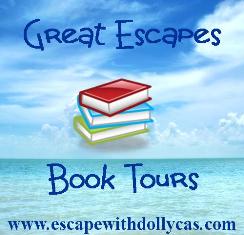 Be sure to visit other stops in the Great Escapes Book Tour for ÉCLAIR AND PRESENT DANGER!
June 2 – The Self-Rescue Princess
June 2 – cherylbbookblog
June 3 – Shelley's Book Case
June 3 – Texas Book-aholic
June 3 – Cozy Up With Kathy
June 4 – 3 Partners in Shopping, Nana, Mommy, &, Sissy, Too!
June 4 – Brooke Blogs
June 5 – Island Confidential
June 5 – Kaisy Daisy's Corner
June 6 – The Book's the Thing
June 6 – Reading Is My SuperPower
June 6 – fuonlyknew
June 7 – Classy Cheapskate
June 7 – Sapphyria's Book Reviews
June 7 – Books Direct
June 8 – A Holland Reads
June 8 – Jersey Girl Book Reviews
June 8 – Community Bookstop
June 9 – Melina's Book Blog
June 9 – deal sharing aunt
June 9 – Mystery Playground
June 10 – Lisa Ks Book Reviews
June 10 – Booklady's Booknotes
June 11 – LibriAmoriMiei
June 11 – Mystery Thrillers and Romantic Suspense Reviews
June 11 – The Girl with Book Lungs
June 12 – Book Babble
June 12 – I Read What You Write
I was given an ARC in exchange for a fair and honest opinion. All thoughts and views are my own.