When I was in Phoenix this past February for Left Coast Crime I sat in on a panel titled, "Serving Up Murder: Culinary Mysteries". Sharon Arthur Moore was one of the authors that participated in the panel and I had a chance to meet her afterwards. While I had not read any of Sharon's books, her discussion and her attire, dressed in a vintage apron, were so cute I was intrigued by her publications. She was kind enough to gift me her book, MISSION IMPASTABLE. While I didn't have a chance to read it during the conference, I did browse through it and was impressed…it's like getting a mini-cookbook with a fun story!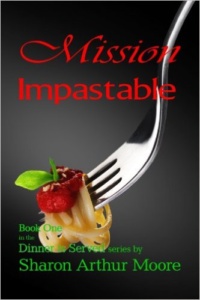 Alli Wesson lives in Phoenix, Arizona and is opening Dinner is Served, a personal chef business with her best friend, Gina Smithson. Gina is a hospital dietitian and calls her boss Dragon Lady behind her back. Dragon Lady has been axing personnel left and right so when Gina is called to her office, she fears the worst. Instead, Dragon Lady wants to hire Gina and Alli as personal chefs for her family. After a stressful first day on the job (a faulty electrical switch ruined their crock-pot meal, unbeknowst to them, requiring them to come back and prepare a meal for the starving Dragon Lady) they receive a second call from Dragon Lady. Her priceless jade dragon is missing and they are the only ones who could have taken it.
The police take them in for questioning but with no real evidence Alli and Gina are released. But then Dragon Lady is found murdered. Alli and Gina are suddenly murder suspects. They know there are several disgruntled employees and ex-employees, including Dragon Lady's personal assistant, who would have motives to kill the victim. But the police seem fixated on them, especially Gina, which begins tearing the friends apart. Can they find the killer and the thief to clear their name or will their family, business, and freedom become another casualty?
MISSION IMPASTABLE is a cute, quick cozy mystery with interesting, quirky characters. There are some surprising twists to the plot that I didn't see coming. The one thing that caught me off-guard and I wasn't sure what to make of it early on, is the run-on dialog by Gina's mother, Maria. However, once Alli and Gina address it, I realized that it's just Maria's style of talking…and I have personally met people like that. It added to the quirkiness of Maria's character instead of detracting from it. According to Sharon, "Maria is actually modeled after my own mother who often got "flusterated" and had to take "ibuffeferin". She just didn't hear the sounds in words very well and it showed in her speech. Plus she was a talker! LOL!"
Alli was abandoned and on her own since the age of fourteen, after a tragic childhood. There's a mystery surrounding her story and piques my interest. I hope that the author gives more insight into Alli's past in following books. Maria took Alli in and allowed her to live in a casita on her property. Alli ended up bonding with Maria over cooking, which became a life passion and it deeply shows in Sharon's writing. Food is a central theme in this culinary cozy and the author provides many delicious sounding recipes. It really was hard to choose which one to showcase here…I wanted to try them all! In the end I chose Three-Cheese Stuffed Shells with Alli's Marinara Sauce. The marinara sauce combines easy pantry and produce staples but with its long simmer a superbly flavored sauce is created. Three types of cheeses combine for such a rich filling that even meat-lovers won't miss the lack of meat in this dish. I loved that despite the time it took to simmer the marinara sauce (which can be made the day before and refrigerated until needed) this was an easy, delicious meal to make. It reheats nicely for leftovers too! Thank you, Sharon, for allowing me to share your Three-Cheese Stuffed Shells recipe!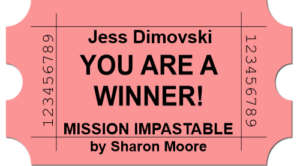 A special thank you to Sharon Arthur Moore for providing a print copy of MISSION IMPASTABLE to one winner! Please use the Rafflecopter box located below the recipe to enter. Contest ends Monday, June 6, 2016 at 11:59 pm PST and is limited to U.S. residents only. Winners will be announced on this page and on Cinnamon & Sugar's Facebook page, as well as notified by email (so check your spam folder!)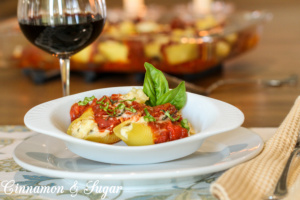 Three-Cheese Stuffed Shells & Alli's Marinara Sauce
Serves 6
Alli learned how to make the sauce from Maria, but the combination of cheeses in the shells is her own invention.
Ingredients
Marinara Sauce
2 tablespoons best-quality olive oil
1 medium onion, diced
5 cloves garlic, crushed
2 cans diced tomatoes (or use 12 Roma tomatoes, mashed)
1 can tomato paste
1 teaspoon granulated sugar
2 teaspoons dried basil (or more to taste)
1/2 cup red wine
1/2 cup pasta water
Salt & Pepper to taste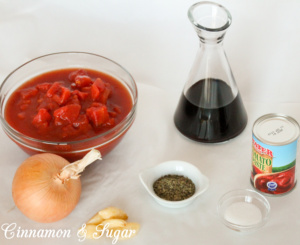 Stuffed Shells
16 ounces large pasta shells
1 quart ricotta cheese (some people use cottage cheese, but it is different)
1 cup shredded mozzarella
1 cup shredded Asiago cheese plus more to sprinkle on top
1 egg
1 tablespoon dried basil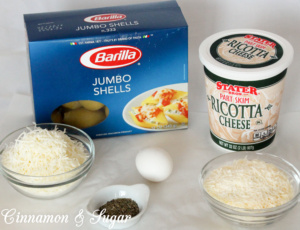 Instructions
Marinara Sauce
Saute onions in olive oil over medium heat in a pan.
When just turning translucent, add garlic and cook about 1 minute.
Add tomatoes, tomato paste, sugar, and basil. Stir together.
Add wine and pasta water.
Cover and simmer for about 2 hours. Even better made the day before.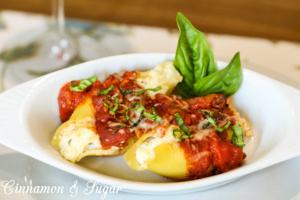 Stuffed Shells
Cook pasta shells to al dente in boiling salted water as directed.
Drain, reserving a half-cup of pasta water for the sauce.
Mix together the ricotta, mozzarella, and Asiago cheeses.
Add the egg and basil and blend well.
In a large baking dish sprayed with non-stick cooking spray, ladle enough marinara sauce to just cover the bottom.
Fill shells to heaping with cheese mixture. Place cheese-side up in the baking dish.
Spoon the remaining marinara over the top. Sprinkle on more Asiago cheese.
Cover with foil and bake at 350 degrees (F) for about 25 – 30 minutes or until cheese is bubbly.
Garnish with fresh basil if desired.
If you receive my blog post via email you will need to visit my website to view the video.
I was provided a copy of the book in exchange for a fair and honest opinion. All thoughts and views are my own.