I love when a new release comes out in a series that I enjoy! BERRY THE HATCHET, by Peg Cochran, is the second book in the Cranberry Cove Mystery series and is set around the town of Cranberry Cove and Sassamanash Farm. With the book's cranberry theme, the author has a variety of jewel-toned recipes to share. I most often think of cranberries as a seasonal fruit to cook with but Peg has enticed me to broaden my thinking especially with readily available cranberry products no matter what time of year it may be. Such is the case with her recipe for Cranberry Balsamic Pork Chops! The sweet tartness of dried cranberries (which I generally have leftover from the holiday season) pairs beautifully with the syrupy sweet acidic flavors of balsamic vinegar. A thinly sliced shallot adds a slight garlic and onion zing to round out the dish and then is served over quick pan-fried pork chops. I wasn't sure my husband was going to like this dish…he's more of a savory dish belongs with savory sauce kind of guy. But let me tell you, he loved it! And since it cooks so quickly I'll be adding it to my regular weeknight dinner rotation and enjoying cranberries year round. A special thank you to Peg for allowing me to share her recipe for Cranberry Balsamic Pork Chops!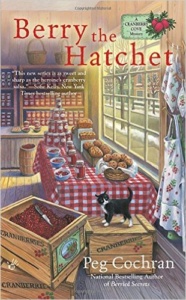 And just as Peg has written several delicious recipes for her book she's also written a delicious mystery to savor as you lose yourself in Cranberry Cove!
Synopsis
Monica Albertson helps her half brother, Jeff, with his cranberry farm in Cranberry Cove and bakes all the cranberry goodies for the farm's shop. The town is preparing for the Winter Walk festival, hoping to draw in tourists during the quiet and cold month of January. Jeff's mother, Gina, (who is Monica's step-mom) has opened an aromatherapy shop in town and is starting to date again after Monica's dad dumped her for a younger model…much like he dumped Monica's mom for Gina. Monica finds out that Gina is dating the mayor, Preston, but wants to keep it quiet. Monica is in for a huge shock when her mother, who lives in Chicago, decides to drop into town and surprise the man she's been dating…and it turns out to be Preston! Monica hasn't had a close relationship with her mother but with the hotel and B & B fully booked because of the festival, Nancy has no choice but to stay with her.
Sparks are about to fly when Nancy and Gina come face to face and find out they are both dating the same man. When Preston is found murdered right before the Winter Walk starts, both Nancy and Gina are questioned and considered suspects. Monica knows neither is capable of murder but circumstantial evidence may indicate otherwise. She starts asking questions around town, trying to find out who may have wanted their mayor dead. Unfortunately, there seems to be plenty of people who were angry at him and she must weed through all the gossip going around. Can she get Nancy and Gina to put aside their grievances and help clear their names or will they be their own worst enemies, allowing the real killer to get away with murder?
My Review
I love Cranberry Cove and the setting for this cozy mystery! The descriptions are so vivid I feel like I'm right there. The author also includes some insight on what it takes to be a cranberry farmer…it sounds like a very difficult job to have and will make me appreciate those gorgeous ruby-hued fruit whenever I eat them from now on! However, her bits and pieces about cranberries does not detract from this well written mystery with its parade of suspects that kept me guessing until the very end. I enjoyed getting to know the characters surrounding Monica, especially the interaction between her mother and step-mom and how Monica feels caught in the middle. She's also working on trying to move past the death of her fiancé, showing growth and opening the door for future story developments. I'm impatiently looking forward to the next book!!!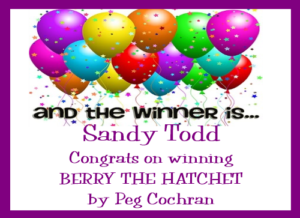 As a bonus for my readers, one winner will have the choice of either a print copy or an e-book copy of BERRY THE HATCHET! Please use the Rafflecopter box located below the recipe to enter. Contest ends Thursday, May 26, 2016 at 11:59 pm PST. Winners will be announced on this page and on Cinnamon & Sugar's Facebook page, as well as notified by email (so check your spam folder!)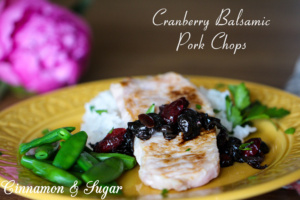 Cranberry Balsamic Pork Chops
Ingredients
2 tablespoons olive oil
1/2 cup dried cranberries
1 large shallot, thinly sliced
3 or 4 boneless pork chops (I used thin cut pork chops which cook very quickly)
1/2 cup balsamic vinegar (use a good quality vinegar)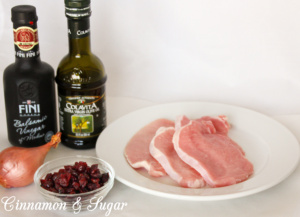 Instructions
Heat oil then add cranberries and shallot.
Cook over medium heat until soft.
Season pork chops with salt and pepper to taste.
Add pork chops to pan and brown on both sides. Cook until desired doneness is reached** (If your skillet isn't large enough to fit all the pork, remove the cranberry mixture and then cook the pork in batches. Be sure to not crowd them in the pan.)
When done, remove pork chops and set aside, covered with aluminum foil to keep warm.
Add the cranberry mixture back to the pan if you removed it.
Lower heat and add balsamic vinegar to pan.
Heat while scraping up browned bits from the bottom of the pan.
Cook until reduced by half.
Pour over the pork chops and serve.
**The USDA recommends pork reach an internal temperature minimum of 145 °F.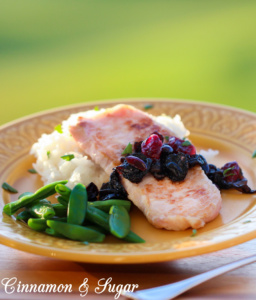 What are shallots? A member of the allium family, shallots have a sweet and mild, although assertive flavor, with a hint of garlic. Shallots lack the bite that yellow or white onions have.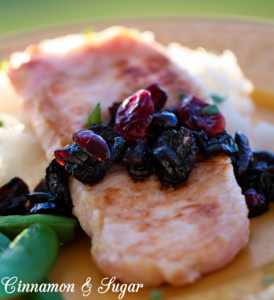 If you receive my blog post via email you will need to visit my website to view the video.