I have read and reviewed a couple of the books in A. Gardner's Poppy Peters Mystery series and was delighted when I saw she had a new series, the Bison Creek Mysteries. I picked up ICED SPY, the second book in the series and was captivated!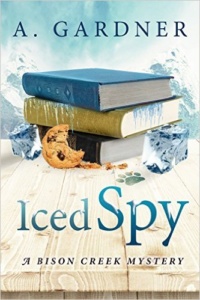 Synopsis
Essie Stratter is the lead fitness trainer at Pinecliff Mountain Resort in Bison Creek. Her younger sister, Joy, along with Joy's ex-husband (and now back to being a boyfriend) are her roommates. Joy decides she needs to test her maternal instinct and brings home a Cocker Spaniel puppy, Miso. Somehow as the resort prepares for the Sugar Mountain Bake-off, Essie is left caring for the puppy. While on a walk, Miso gets away from her and runs towards the lake. He leads Essie towards a body, half buried in the snow. The victim is Sarah Henson, one of Essie's clients. It's apparent she's been murdered and her two dogs have disappeared into thin air.
The local Sheriff has hired Essie as a consultant to bring him all the town's gossip to help solve crimes. However, the mayor has hired his young nephew as the new detective, who is at odds with Essie and doesn't want her involved. When Essie finds that Sarah had been spying on the town's residents and logging all the juicy details in journals, she realizes the suspect pool could be huge. To make matters worse, both the mayor and his wife's escapades are in the discovered journals. When Essie is attacked and left for dead, Miso comes to her rescue and saves her life. Essie realizes she's getting close to the truth but can she find the killer before they strike again? Can she trust the new detective or will he hinder the investigation to protect the reputation of his family?
My Review
I loved this new series and the characters pulled me in! Even though I started with the second book it was easily read as a stand-alone. There is an underlying mystery surrounding Essie, who was adopted as a very young child, that appears to run throughout the series…and it certainly has piqued my curiosity! The murder mystery provided plenty of suspects and red herrings, which kept me guessing until the very end. The premise of "rooming" with her sister and ex-husband lent itself to some humorous, laugh out loud moments while Miso, the adorable Cocker Spaniel puppy, made the story more endearing. The author is setting up some romance for Essie which, in my opinion, will add to the story in future books. Book 3, FROSTED BAIT, is already available on e-book and is on my to read list!
The author always has amazing recipes included with her books and ICED SPY is no exception! I chose to make Anne's Mississippi Mud Bites…a brownie-like cake chock-full of chocolate chips and pecans, then topped with baked marshmallows and a decadent chocolate buttercream frosting. The author "warned" me that these were rich and to serve in very small pieces… I made them for my granddaughter's school for Teachers' Appreciation Week and I think a few teachers swooned! Thank you, A. Gardner, for allowing me to share these very delicious bars!
Thank you to A. Gardner for providing an e-book copy of ICED SPY for one lucky winner! Please use the Rafflecopter box located below the recipe to enter. Contest ends Monday, May 23, 2016 at 11:59 pm PST. Winners will be announced on this page and on Cinnamon & Sugar's Facebook page, as well as notified by email (so check your spam folder!)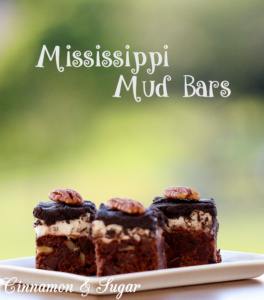 Anne's Mississippi Mud Bites
A sweet southern treat! This dessert is very rich, and best served in bite-size squares after sitting in the refrigerator overnight.
Ingredients
Chocolate Squares
1 cup (2 sticks) unsalted butter, softened
2 cups sugar
4 eggs
2 teaspoons vanilla extract
1/2 cup unsweetened cocoa powder (I used Hershey's natural cocoa)
1-1/2 cup all-purpose flour
1/4 teaspoon salt
1 cup pecans, chopped
1 cup chocolate chips
3 cups mini marshmallows
Chocolate Frosting
1/2 cup (1 stick) unsalted butter, softened
6 tablespoons unsweetened cocoa powder (I used Hershey's Special Dark cocoa, but regular is fine)
3 cups powdered sugar
1/4 cup milk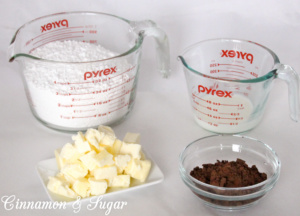 Instructions
Preheat oven to 350 degrees (F).
Chocolate Squares
In a large mixing bowl, cream together the butter and sugar.
Add the eggs, and vanilla extract, and mix well.
In a separate bowl, sift together the flour, cocoa powder, and salt.
Add the dry mixture to the butter mixture, and stir until it forms a chocolate batter.
Stir in the pecans and chocolate chips.
Pour batter into a large, greased casserole dish (9″x13″), and bake at 350 degrees Fahrenheit for 35 – 40 minutes, or until a toothpick comes out clean.
Place the mini marshmallows on top, and bake for an additional 3 – 5 minutes.
Let the dish cool completely before frosting.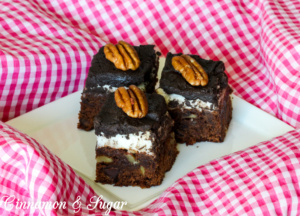 Chocolate Frosting
Whisk together butter, and half the powdered sugar.
Add the cocoa powder, milk, and the rest of the powdered sugar, and mix until smooth.
Gently frost over the melted, cooled marshmallows, and set the dish in the refrigerator for at least 30 minutes.
Cut into small squares and serve.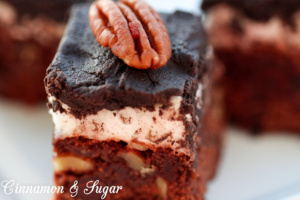 Tips
Remove the pan from the oven before adding the marshmallows to the top of the bars and then return the pan to the oven for additional baking. I will neither confirm nor deny whether a small fire may or may not have occurred when a few marshmallows fell on the bottom of my hot oven.
If you receive my blog post via email you will need to visit my website to view the video.