I've been aware of Janet Cantrell's Fat Cat Mystery series for some time (and have them loaded on my Kindle) but up until now I haven't read any of them. I've meant to but it's been the case of too many books and too little time. But when I saw Janet's third book in her series, FAT CAT TAKES THE CAKE, both the title and the cover made me want to read it NOW! And it proved what I had long suspected…I've been missing out on a delightful cozy read!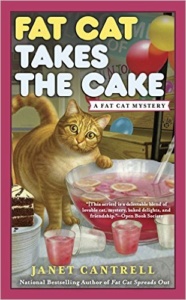 Synopsis
Charity "Chase" Oliver co-owns Bar None, a dessert bar shop, with her surrogate grandmother, Anna Larson. Chase, along with her best friend and Anna's granddaughter, Julie, are attending an impromptu class reunion. While at the party a very drunk Ron North, a stalker from their high school days, tries to kiss Julie. Julie gets angry and shoves him away before her boyfriend can intervene. Ron was the high school paper's reporter and is now working for the city newspaper. After Julie's angry reception to his attempted kiss, Ron accuses her of being involved in a real estate scandal. When she denies any involvement Ron snatches Julie's favorite scarf and takes off.
The following day Chase decides it's time to start leash training Quincy, her pudgy butterscotch tabby. Everyone's been telling her that she needs to be walking her cat and she's finally ready to try. All seems to be going well until Quincy figures out how to slip out of the harness and runs away. He leads Chase to some thick bushes before disappearing inside. Chase follows and finds Ron, strangled to death with Julie's scarf.
Julie is the police's number one murder suspect and people are believing Ron's lies that she is involved in the real estate swindle. Chase knows she will have to find not only the killer but also the person behind the swindle involving vulnerable senior citizens in order to save Julie's reputation.
My Review
Even though this is the third book in the Fat Cat Mystery series, it was still easy to read as a stand-alone. The story flowed and I enjoyed getting to know the characters that are close to Chase. Feisty 72-year-old Anna and her long-time feud with her nemesis, Grace, lends a bit of humor to the story. Of course Quincy steals whatever scene he happens to be in and I loved how we got a paragraph here and there from his point of view. With blackmail, real estate swindles, embezzlement, and the Minny Batter Battle woven throughout this book, I was kept guessing about what was going to happen next and who the culprit was with the clever plots. Janet does a wonderful job tying all the threads together so the story has a cohesive conclusion that I did not see coming!
Another bonus with FAT CAT TAKES THE CAKE is the Blueberry Muffin Bars recipe along with tips on how to leash-train your cat. Janet has graciously allowed me to share her recipe and it couldn't have come at a better time. My granddaughter's school recently celebrated Teachers' Appreciation week and I was asked to make goodies for the staff. The Blueberry Muffin Bars were the perfect choice since they are easy to prepare and transport. The teachers LOVED them! A light, delicate cake packed full of fresh, juicy blueberries, then topped with a vanilla drizzle. They are perfect for making ahead for any occasion …like breakfast, snack, or dessert!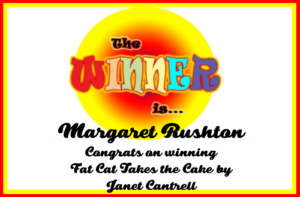 Thank you to Janet Cantrell for providing a print copy of FAT CAT TAKES THE CAKE for one lucky winner! Please use the Rafflecopter box located below the recipe to enter. Contest ends Thursday, May 19, 2016 at 11:59 pm PST, and is open to U.S. residents only. Winners will be announced on this page and on Cinnamon & Sugar's Facebook page, as well as notified by email (so check your spam folder!)
Blueberry Muffin Bars
Ingredients
Muffin Bars
2-1/2 cups unbleached flour
2 teaspoons baking powder
Pinch of salt
1/2 cup butter, room temperature
1 cup sugar
2 eggs, beaten
1/2 teaspoon sherry flavoring*
1/2 cup milk
1 cup fresh rinsed blueberries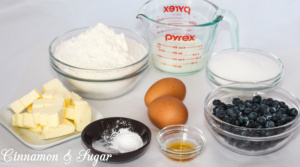 Drizzle Topping
1-1/2 cups powdered sugar
2-3 tablespoons milk
1/4 teaspoon vanilla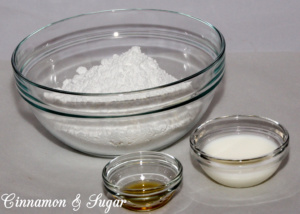 Instructions
Muffin Bars
Preheat oven to 375 degrees (F).
Mix flour, baking powder, and salt in a small bowl.
In a large bowl, cream the butter and sugar.
Add beaten eggs and sherry flavoring.
Beginning with the milk, add one-third to the batter and then add one-third of the flour mixture, alternating until all is added. Mix well after each addition.
Rinse and pat the blueberries dry. Fold into mixture.
Spread in greased 8-1/2 x 11-inch pan.
Bake 15 – 20 minutes.
Cool completely before adding drizzle.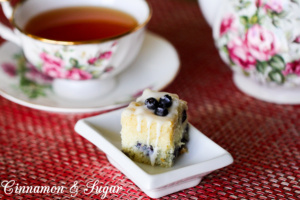 Drizzle Topping
Mix thoroughly until thin enough to drizzle, adjusting milk. Drizzle over the cooled muffin bars, then cut into squares.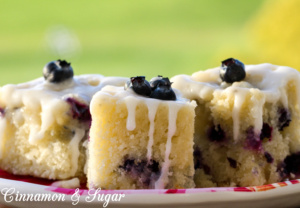 Tips
*I couldn't find sherry flavoring so I substituted vanilla extract. I think I will try lemon extract in both the batter and the drizzle next time! Lemon is a natural compliment to sweet blueberries!
Store any leftovers tightly covered in the refrigerator.
If you receive my blog post via email you will need to visit my website to view the video.