I follow many blogs and authors, always on the lookout for new books. I was intrigued when I read the interview with debut author Marla Cooper on Jungle Red Writers and was introduced to her new release TERROR IN TAFFETA. Marla was giving away an advanced reader's copy and her questions for entering the contest were: Have you ever been to a destination wedding? Or have you ever been to a wedding where things went really wrong?
I knew I needed to enter the contest, (and I did win — thank you, Marla!) if only to answer those questions…since my answers were both YES and YES…my own memorable wedding. If you're interested in my extended answer, I've added it to the bottom of the page…and I should clarify that at least we didn't have any dead bodies like the author's bride!
TERROR IN TAFFETA was memorable too, and Marla Cooper makes a splash with her debut novel!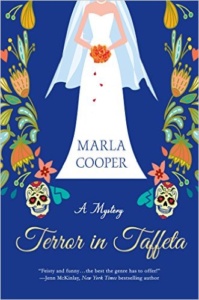 Synopsis
Destination wedding planner, Kelsey McKenna, has meticulously planned Nicole and Vance's wedding set to be held in San Miguel de Allende, Mexico. Nicole has added a last minute bridesmaid, Dana. She is high maintenance and has done nothing but create problems for Kelsey and irritate the rest of the wedding party. Dana creates the ultimate disruption when she drops dead at the end of the marriage ceremony. Most people think she just fainted but the bride's mother, Mrs. Abernathy, who is paying for the wedding and for Kelsey's services, tells Kelsey to take care of it and make sure no one else knows so the reception isn't tainted.
When the police determine that Dana was murdered, they arrest Zoe, the bride's sister, when incriminating evidence is found. Mrs. Abernathy demands that Kelsey, as the wedding planner, "fix" it and get Zoe released. Kelsey has no idea what to do but starts asking questions and finds that Dana had made enemies left and right, wherever she went. But with time running out and Zoe facing certain conviction in the Mexican judicial system, Kelsey must delve deeper into the secrets people are hiding and find the real killer.
My Review
TERROR IN TAFFETA is a well plotted, humorous mystery with an exotic location that adds to the panache of this debut novel! The protagonist, Kelsey, is fun-loving, but takes her job very seriously and at heart, believes it is her job to fix any problem that comes along. I enjoyed the dashes of humor and the situations that arise from the mixture of personalities the characters exhibit, but there is still a kindness in the concern Kelsey shows towards her clients, no matter how irritating they may be. I'll have to admit that when I found a moment to sit down and start this book, I only planned on reading for a half hour….but this well written mystery kept me turning pages late into the night! I will be anxiously awaiting for the next installment in this series!
While TERROR IN TAFFETA does not have recipes included with the book, Kelsey and her clients enjoyed amazing meals during their stay in San Miguel de Allende. The bride chose Snapper Veracruz for the wedding reception and I have a wonderful recipe that Marla was happy for me to share. Firm Red Snapper is baked with a fresh cherry tomato sauce, flavored with green olives and capers. This dish comes together quickly but is beautiful and tasty enough to serve to guests.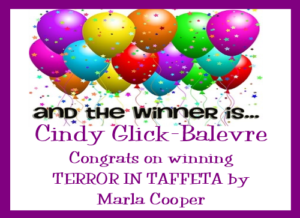 Thank you to Minotaur for providing a hardcover copy of TERROR IN TAFFETA for one lucky winner! Please use the Rafflecopter box located below the recipe to enter. Contest ends Monday, May 16, 2016 at 11:59 pm PST, and is open to U.S. residents only. Winners will be announced on this page and on Cinnamon & Sugar's Facebook page, as well as notified by email (so check your spam folder!)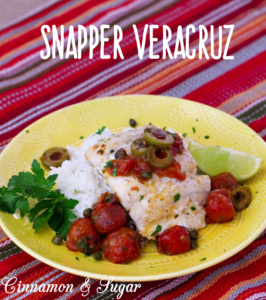 Snapper Veracruz
Ingredients
4 6-8 ounce Red Snapper fillets
2 pints cherry tomatoes
1 tablespoon olive oil
1/4 cup onion, finely diced
2 cloves garlic, minced
1/4 cup green olives, sliced
1 tablespoon capers, drained
2 tablespoons golden raisins
1/2 teaspoon dried oregano
2 tablespoons fresh parsley, chopped and divided
Salt and pepper to taste
Lime wedges for serving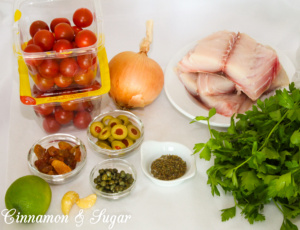 Instructions
Preheat oven to 350 degrees (F).
Add the olive oil to a large oven-proof skillet and heat until shimmering over medium heat.
Add the onion and sauté for one minute.
Add the tomatoes and cook until they begin to soften and split, about 5 – 6 minutes, stirring occasionally.
Add the raisins and cook for 1 minute, stirring frequently.
Reduce the heat to low and add the garlic and dried oregano. Cook for one minute, stirring constantly.
Stir in the olives, capers, and parsley. Cook for two minutes, until thoroughly heated. Be sure to scrape up the browned bits from the bottom of the skillet. Remove from heat.
Season the Red Snapper with salt and pepper, then place on top of the tomato mixture, spooning some of the sauce on top of the fish.
Bake for 14 – 22 minutes, uncovered, just until the fish is opaque in the center and begins to flake.
Sprinkle remaining tablespoon of chopped parsley over dish and serve with passed lime wedges and steamed rice.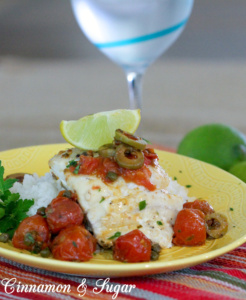 Tips
Regular raisins can be substituted for golden raisins.
If you don't have an oven-proof skillet, transfer the tomato mixture to a 9″x13″ casserole dish coated with non-stick cooking spray. Add the Red Snapper fillets and cook as directed.
If the snapper fillets are not equal thickness, check the thinner fillets for doneness early. Remove cooked fillet(s) from pan and place on a plate, covering with aluminum foil to keep warm until the remaining pieces are cooked through. My thinnest fillet was cooked in 14 minutes while my thickest fillet took 21 minutes to cook.
If your snapper has the skin still attached 'score' the skin to keep it from curling in the heat. Place the fillets, skin side up, on a cutting board. Using the tip of a sharp knife, make several shallow slashes in the skin, about 1-inch apart. Be sure to not cut too deeply since you don't want to cut the actual fish.
My Wedding Story
Having both been around the "block" a time or errrr….two, my fiancé and I decided we wanted our wedding to be something intimate, without a lot of fanfare, but still memorable (and we got that!). We went to Hawaii with his daughter and her husband, and our wedding coordinator chartered a helicopter to land us at a very remote waterfall on Kauai, along with the minister and photographer. We woke up to pouring rain on our wedding day. Typically rain showers in Hawaii blow over in an hour or so, but this one dumped for hours and hours. Obviously the helicopter couldn't fly and there wasn't any indoor place we could hold the ceremony at such a late notice. (I nixed the idea of the hotel lobby…not my idea of memorable…) As our coordinator searched for someplace we lost our minister to other duties.
It was suggested we reschedule for later in the week, but I was determined to get married that day (some might call me stubborn). Finally around 4 o'clock in the afternoon the sun came out. My coordinator found a new minister, we hiked to the outer edges of Shipwreck Beach and stood on the cliffs and got married. However, during the ceremony a surfer dude (obviously smoking some Maui Wowie) walked in between my husband and myself, saying "A wedding…righteous dudes…." before wandering off. After the ceremony we stood on the edges of the cliff to take photos and as we looked down behind us, there were several nudists still catching the sun and our ceremony. We truly had a memorable wedding and I now believe what the Hawaiian locals all told us: It is good luck to have rain on your wedding day!