My brief encounters with sweet potato pies have left me feeling like they were second-class citizens to autumn's star, pumpkin pie. And in reality, I am the only one in our family who likes pumpkin pies so I rarely make them. Now don't get me wrong, we like sweet potatoes…simply baked with a bit of butter, or roasted with fresh rosemary and sprinkled with Parmesan cheese. But in pie? Pumpkin seemed just fine.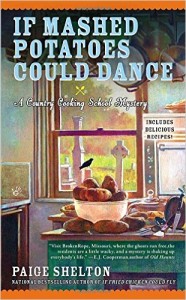 Then I picked up the book IF MASHED POTATOES COULD DANCE by Paige Shelton and found her recipe for Sweet Potato Pie with Marshmallow Meringue. I've made Paige's Lemon Meringue Pie which is to die for and her ultra lemony cupcakes, Basha's Pucker-Ups, are still my granddaughter's choice for birthday celebrations….so I decided to give her sweet potato recipe a closer look. Gone were the brown-colored traditional pumpkin pie spices and instead were bright, fresh lemon juice and lemon zest. I was intrigued…and made the pie. After my family sampled the gorgeously bright orange pie sitting on a bed of crispy brown crust and topped with the fluffiest, creamiest meringue ever, I realized pumpkin pie had probably been banished from our feasts. And when my lemon-loving granddaughter went for seconds I knew it was a done deal. But that's okay because I agree that a new autumn star has been found!
In addition to providing tasty recipes, Paige creates a very intriguing story in IF MASHED POTATOES COULD DANCE. Betts Winston and her Gram run Country Cooking School in Broken Rope, Missouri. The town caters to tourists and when a bus carrying a foodie group breaks down, Betts and Gram are asked to take the tourists in and provide shelter and distraction in the way of a cooking class. Betts has her hands full trying to manage the tourists who aren't so happy when they find they could be sleeping on cots and then one of them seems to be missing money. On top of that Sally Swarthmore shows up. Dead for more than 100 years and accused of murdering her parents with an ax, Sally wants to find her old diary which could prove she is innocent. Since Betts and Gram are the only ones who can see and talk to ghosts, Betts feels compelled to help Sally.
After finding better accommodations for the group, three of the members disappear overnight and then Jake, Bett's best friend and the town's fake sheriff, finds one of them murdered, a rope knotted around the body's neck. It's not long before Betts is pulled into the middle of trying to find the remaining two missing tourists before they're found murdered and trying to help Sally find her diary and exonerate her before the ghost's time is up in this realm.
I love how the author weaves both historical settings and mysteries into current day mysteries. The "old west" comes alive through Sally's eyes and hearing her stories. There were plenty of twists and turns to keep me guessing who the culprit was in both intertwined plots which kept me turning the pages faster and faster!
I also had the wonderful opportunity to read the first book in Paige Shelton's new series debuting next March, THE CRACKED SPINE. Scroll to the bottom for a sneak peak!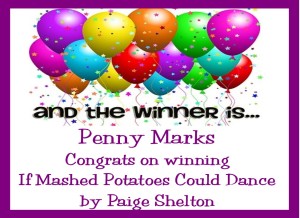 A huge THANK YOU to Paige Shelton for providing an autographed copy of IF MASHED POTATOES COULD DANCE to one lucky winner randomly chosen! Please comment below for a chance to win. Contest ends Thursday, October 15th at 11:59 pm PST. Winner will be announced on this page and on Cinnamon & Sugar's Facebook page, as well as notified by email (so check your spam folder!) Open to U.S. residents only.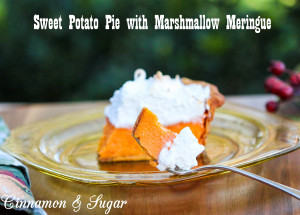 Be sure to take a look at the video showing you how to make the pie, located below the recipe. If you subscribe to receive the email version you will need to click on the actual website to view.
Sweet Potato Pie with Marshmallow Meringue
Author's note: There is absolutely nothing I like about sweet potatoes – except for sweet potato pie. Those poor sweet potatoes, they sometimes do get a bad rap, but their popularity is growing. They are a healthy food, and cooks and chefs are getting more and more creative developing recipes that include them. Although I have an aversion to sweet potatoes, many of my family and friends are recommending ideas that make them more…interesting.
But without hesitation, I adore sweet potato pie. Hope you enjoy this recipe, too.
Ingredients
For the Crust
1/2 package refrigerated pie crust
Parchment paper
1 egg yolk, lightly beaten
1 tablespoon, whipping cream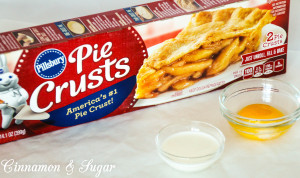 For the Filling
1/4 cup salted butter, melted
1 cup granulated sugar
1/3 teaspoon salt
3 large eggs
3 cups, cooked, mashed, sweet potatoes, lightly packed (this is three to four scrubbed potatoes, each poked with a fork a few times and baked in a 400 degree oven for 45 minutes)
(My note: I found I needed about 2-1/2 pounds of sweet potatoes. I also cooked them in the microwave which sped up the process.)
1 cup half-and-half
1 tablespoon lemon zest
3 tablespoons fresh lemon juice
1/4 teaspoon ground nutmeg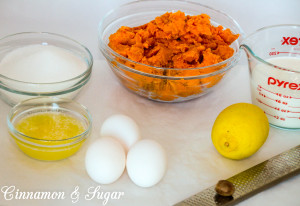 For the Marshmallow Meringue
3 egg whites
1/2 teaspoon vanilla extract
1/8 teaspoon salt
1/4 cup granulated sugar
1 jar (7 ounces) marshmallow cream (such as Fluff)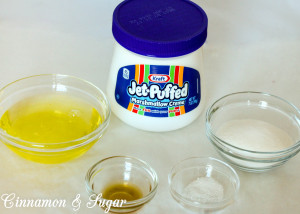 Instructions
Preheat the oven to 425 degrees F.
For the Crust
On a lightly floured surface, roll the piecrust into a 13-inch circle.
Fit the crust into a 9-inch, deep dish pie plate. Fold the edges under and crimp.
Prick the bottom and sides of the crust with a fork.
Line the crust with parchment paper and fill with pie weights or dried beans.
(My note: at this point I refrigerate my crust for about 10 minutes to firm it back up. This helps keep it from slumping during baking.)
Bake 9 minutes.
Remove the crust from the oven and take out the weights and parchment.
Whisk together the egg yolk and cream, and brush the mixture on the bottom and sides of the crust.
Bake 6 – 8 minutes more or until the crust is golden.
Transfer to a wire rack and cool.
Reduce the oven temperature to 350 degrees F.
For the Filling
In a large bowl, stir together the melted butter, sugar, salt, and eggs until well blended.
Add the sweet potatoes, half-and-half, lemon zest, lemon juice, and nutmeg.
Stir until the mixture is well blended.
(My note: for super smooth consistency and to speedily mix it up, use an immersion stick blender.)
Pour the mixture into the prepared pie crust.
Shield the exposed crust edges from the heat by covering it with aluminum foil.
Bake for 50 – 55 minutes or until a knife inserted in the center comes out clean.
Remove the pie to a wire rack and cool completely – about 1 hour.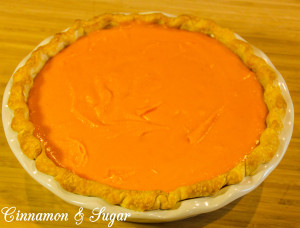 For the Marshmallow Meringue
Preheat oven to 350 degrees F.
In a large metal or glass bowl, beat the egg whites, vanilla extract, and salt with an electric mixer at high speed until foamy.
Gradually add the sugar, 1 tablespoon at a time, beating until stiff peaks form.
Author's note: When making meringue, I prefer to use a heavy-duty stand mixer, but a hand mixer works as well. I always use metal bowls to make meringue as these yield high-volume beaten egg whites; some people use only copper. Glass bowls are also acceptable, but do not use a plastic bowl, as it may contain grease or fat residue that will inhibit the foaming of the egg whites!
Beat a quarter of the marshmallow cream into the egg white mixture.
Repeat three more times with the remaining marshmallow cream, beating until smooth.
Spread the meringue over the pie.
Author's Note: I spread it to about an inch away from the sides of the pie and make a pointy peak (or a few) in the middle. I think it's prettier that way.
My note: I use the back of the spoon to make lots of pointy peaks over the meringue because that's how my mom taught me to make it…
Bake for 6 – 7 minutes or until the meringue is lightly browned.
Tips
Precook the sweet potatoes a day or two in advance (I used the microwave to cook), mash then refrigerate. Warm the mashed sweet potatoes for a couple minutes in the microwave until slightly warm, just prior to using. Make sure to not get them steaming hot otherwise they may scramble the eggs in the sugar mixture if added too quickly. If the sweet potatoes are added directly from the refrigerator cold, extra baking time will be necessary which results in overly-browned crust.
Separate the eggs while they are still cold, then allow the whites to come to room temperature while the pie is cooling. Room temperature whites whip up fluffier than cold whites.
Sneak Peak of Paige's new series debuting March…..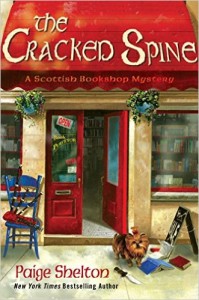 THE CRACKED SPINE is the first in the Scottish Bookshop Mystery series from author Paige Shelton and the story starts off with a bang from the very first paragraph! You know you're in for a wonderful ride following the protagonist, Delaney Nichols, as she begins a new adventure leaving her old life behind in Wichita, Kansas and moving to Edinburgh, Scotland.
Delaney is laid off from her position at a small museum in Wichita and answers a help wanted ad placed by the owner, Edwin MacAlister, for a position at a book and rare manuscript shop in Edinburgh. Upon reaching Scotland, she meets and befriends the other two employees who work in the shop: Hamlet, the young man who has had a rough life and Rosie, the elderly woman who is quite the character and takes her adorable dog, Hector, everywhere with her.
Delaney from Kansas in America, as everyone in Scotland seems to call her, is barely getting settled in when Edwin's sister is brutally murdered. Edwin had entrusted his sister, who battled drug addiction most of her life, with an extremely rare and valuable manuscript which is now missing. With Edwin grieving both the loss of his sister and the manuscript, Delaney decides to start asking questions and see if she can help her new boss. It's not long before she is pulled in to wanting to find the murderer, especially when her young co-worker, Hamlet, becomes one of the suspects.
THE CRACKED SPINE was a charming read and I loved how the author used Scottish words and accents in the dialog. It added authenticity. Paige also portrayed the new people in Delaney's life as warm, caring, openly friendly people which is exactly what I experienced firsthand during a wonderful visit to Scotland. There were also a lot of twists and turns in the plot so I was kept guessing about the real culprit. I certainly will be following The Scottish Bookshop Mystery series closely and wait in anticipation for the next installment!
I received an ARC from the author in exchange for an honest review. All views and opinions are my own.