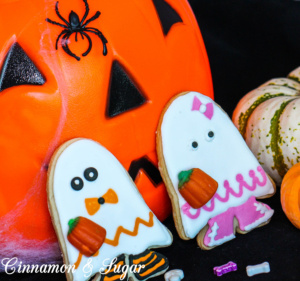 The month of October marks the beginning of the "holiday season" ….starting with Halloween. One of my favorite ways to acknowledge whatever particular holiday to be celebrated is with decorated sugar cookies! I've come up with a tasty cookie dough that is quick to mix up and is almost fail-proof. I love the fact that this dough makes a large amount so I can mix up once and freeze portions of it to use as I need during the holidays! It tastes WAY better than store bought too!
I have also included three videos of Halloween Cookies to give you inspiration to create your own cookie masterpieces! I'm not a professional decorator or videographer so please bear with me during my learning process…I love to experiment and hope you enjoy learning with me!
My cookie recipe is below the Halloween Cookies videos.
WAWA'S SUGAR COOKIE DOUGH RECIPE
Ingredients
6 cups all-purpose flour
1 teaspoon salt
3 teaspoons baking powder
2 cups (1 pound) unsalted butter, room temperature (not margarine)
2 cups sugar
2 eggs, room temperature
1/2 teaspoon Fiori di Sicilia or 2 teaspoons vanilla or any other favorite flavoring
Instructions
Cream butter and sugar together until light and fluffy, approximately 3 minutes. Add eggs, one at a time, and beat until thoroughly incorporated. Add Fiori di Sicilia (or choice of flavoring) and mix until blended. Measure and whisk dry ingredients together in a separate bowl, then slowly add to the butter and sugar mixture while the mixer is running on very low speed. Mix until flour is completely incorporated and dough comes together.
Divide dough into thirds and wrap tightly in plastic wrap. Chill for 1 hour or overnight. I make my dough several days in advance and keep refrigerated. If you made the dough ahead of time and it's super firm, let it sit on the counter for an hour before rolling out, or soften in microwave for 15 seconds.
Preheat oven to 350 degrees – make sure it reaches that temperature before baking.
Sprinkle your rolling surface lightly with flour and dust your rolling pin with flour. I like using a silicone rolling mat and rolling pin. Roll to desired thickness and cut into desired shapes. Place on a parchment lined baking sheet and put into the refrigerator for at least ten minutes prior to baking. This will help keep the cookie shapes intact. If your dough is warm before baking, your shapes may spread too much.
Use as little flour as necessary to keep cookies from sticking. That's why I like working with a silicone mat and rolling pin.
Bake at 350 degrees for 10 to 12 minutes, rotating pan half way through baking time. The edges of the cookies should just be starting to turn golden. Cool on baking sheet for five minutes then remove to a wire cooling rack until completely cool. Store at room temperature in an air tight container.
We like our cookies on the thin side and I can get 70 – 80 3-inch cookies.
Tip
You can freeze this dough to use at a later time. Double wrap a portion of dough with plastic wrap then place in a freezer safe ziplock bag. Remove from the freezer the day before you need it and let defrost in the refrigerator overnight, leaving tightly wrapped. Roll out and bake as directed once fully defrosted. If the dough seems too firm, let it sit on the counter for 1/2 hour or so to soften before rolling out.
ROYAL ICING
Ingredients
3 tablespoons Meringue Power (I use Wilton brand)
4 cups, 1 pound confectioners' sugar
5 tablespoons warm water
Instructions
Beat all ingredients until icing forms peaks (7-10 minutes at low speed with a heavy-duty mixer, 10-12 minutes at high speed with a hand-held mixer).
Tips
It is imperative that your bowls, spoons, spatulas, beaters and any thing else that comes in contact this icing is grease free. I use Dawn Liquid Dish soap on these items because I know it will remove any trace of residual grease.
For stiffer icing, use 1 tablespoon less water.
Cover the icing bowl with a damp paper towel or plastic wrap in between working with it.
For longer storage, store in ziplock bag in the refrigerator. Icing will keep for one week.