Not long ago I happened upon a video on a food blog about Madeleines. I was intrigued by these scalloped-edged, cake-like cookies. They look so elegant yet substantial and I am embarrassed to say I have never even eaten a Madeleine much less tried to bake one. So I set about to remedy that despite my worries that these were complicated. Thanks to my friend, Cynthia, I didn't have to spring for a Madeleine pan and then find a place to store it. She graciously allowed me to borrow the pan and even offered to let me borrow it again whenever I desired to bake more of these tender, cakey cookies…but after making these I might just need to ask "Santa" for my own pan!
Given the season I knew I wanted something to celebrate autumn and I quickly decided pumpkin with pumpkin pie spices would be the perfect cookie combination. The batter came together ultra quick – much like mixing up quick bread or muffins – and there was nothing complicated about it at all! The Madeleines cooked up in about the same time as a traditional cookie but instead of being flat and shapeless, they puff up with a beautiful scalloped pattern. Pretty enough to serve with a light dusting of powdered sugar or dressed up even more dipped in white chocolate and then drizzled with a darker chocolate these cookies will be certain to impress your guests and your family!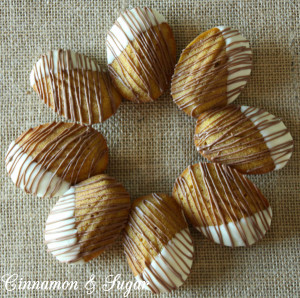 Chocolate Drizzled Pumpkin Spiced Madeleines
Ingredients
Cookies
3/4 cup (4 ounces) all-purpose flour
1/2 teaspoon baking powder
1/4 teaspoon salt
1/2 teaspoon pumpkin pie spice
6 tablespoons butter, melted
2 eggs, room temperature
1/4 cup granulated sugar
1/4 cup brown sugar, packed
1/4 cup pumpkin puree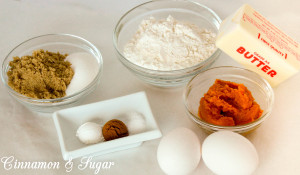 Drizzle
1 cup (6 ounces) white chocolate chips
1 teaspoon vegetable shortening
1 tablespoon dark or semi-sweet chocolate chips
Instructions
Preheat oven to 350 degrees (F).
Cookies
Spritz a 12 cookie Madeleine pan with non-stick baking spray that contains flour, or grease pan with vegetable shortening and dust with flour.
Whisk the flour, baking powder, salt and pumpkin spice together in a medium-sized bowl. Set aside.
Beat the eggs, granulated sugar and brown sugar together on medium-high speed until thickened, about 3 to 4 minutes.
Add the pumpkin puree and beat until full incorporated.
Add 1/3 of the flour mixture to the sugar mixture and stir just until flour is moistened. Repeat until all flour has been added.
Add 1/3 of the butter to the batter and fold until incorporated. Repeat until all the melted butter has been added.
Divide the batter between the 12 Madeleine cookie wells. I used a 2-tablespoon spring-loaded cookie scoop for this.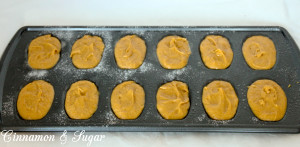 Bake for 12 – 14 minutes or until cookie springs back slightly when gently pushed. These cookies are more cake-like than cookie so will feel similar to a cupcake.
When done, remove from oven and transfer from the pan to a wire rack. Allow to completely cool.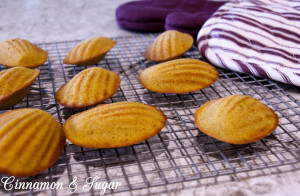 Drizzle
Place 1 cup white chocolate chips with 1 teaspoon vegetable shortening into a microwave safe glass dish.
Microwave on high heat for 30 seconds. Remove from microwave and stir vigorously. Reheat in additional 10 second intervals until the chips are melted, stirring well after each heat cycle.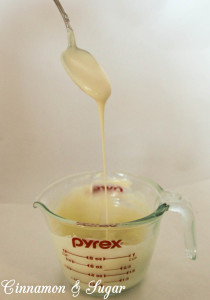 Dip the cooled Madeleines into the melted white chocolate, scalloped side down, about 1/3 of the lower part of the cookie.
Place the dipped cookie on to a parchment lined baking sheet.
Once all the cookies have been dipped, place the baking sheet into the refrigerator to allow the chocolate to set, about 10 minutes.
While the Madeleines cool in the refrigerator, add 1 tablespoon dark chocolate chips to the leftover melted white chocolate.
Heat in the microwave for 15 seconds on high power. Remove and stir vigorously to melt the dark chocolate chips.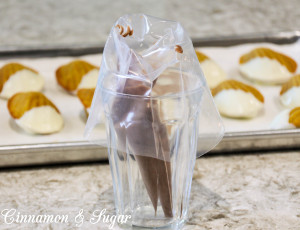 Place the melted chocolate into a disposable pastry bag or small ziplock bag. Snip a corner of the bag and drizzle over the white chocolate dipped Madeleines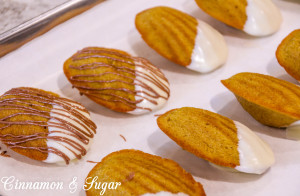 Allow the chocolate to set, about 30 minutes at room temperature, before serving.