MISTLETOE, MOUSSAKA & MURDER is the fifth book in the Kebab Kitchen Mystery series by Tina Kashian. As a Christmas cozy mystery, this book hits all the right marks for a delightful read, starting with the adorable cover depicting a sandy snowman on the iconic Jersey shoreline. One of the draws in this series is the special familial bond the protagonist, Lucy Berberian, has with her parents, sister, and friends. Despite the bickering her parents exhibit from time to time, there's still love between them that flows over to how Lucy interacts with those around her. I also have enjoyed watching Lucy grow over the course of the series, especially with her relationship with Azad, the chef at their restaurant and am excited to see what happens in future books as they plan their nuptials. Other core characters are Kate, Lucy's long-time best friend and her landlady, elderly Eloisa. Kate, married to a detective, brings humor to situations as Lucy's sidekick and sleuthing partner, while larger-than-life Eloisa brings outright hilarity.
The murder mystery of who killed a local reception hall owner in sight of scores of people during the annual Polar Bear Plunge was cleverly done. Ms. Kashian writes a tightly plotted tale with clues sprinkled throughout to keep a sharp reader on their toes. With the interjection of holiday cheer, descriptions of the quintessential boardwalk and the businesses that thrive on tourism, and adorable Gaddoo (which is cat in Armenian), this book is a cozy, lighthearted read. The reveal caught me unawares as I was caught up in the holiday celebration, which added to my enjoyment in this well-crafted story.
With the family's Mediterranean restaurant, the Kebab Kitchen, being a central setting, there are plenty of mentions of delicious ethnic foods throughout the book. I really liked that Ms. Kashian expanded the plot to also include a delectable bakery in the mix and includes recipes from both venues at the back of the book. Since my granddaughter is a huge lemon dessert fan, I couldn't pass up the opportunity to try the recipe for lemon meringue pie! It was every bit as sweet-tart as I had hoped and the meringue whipped up nice and fluffy with no problems at all. Since I used a pre-made refrigerated pie crust (Pillsbury is highly rated) this scrumptious dessert didn't take that long to make much to the delight of my family!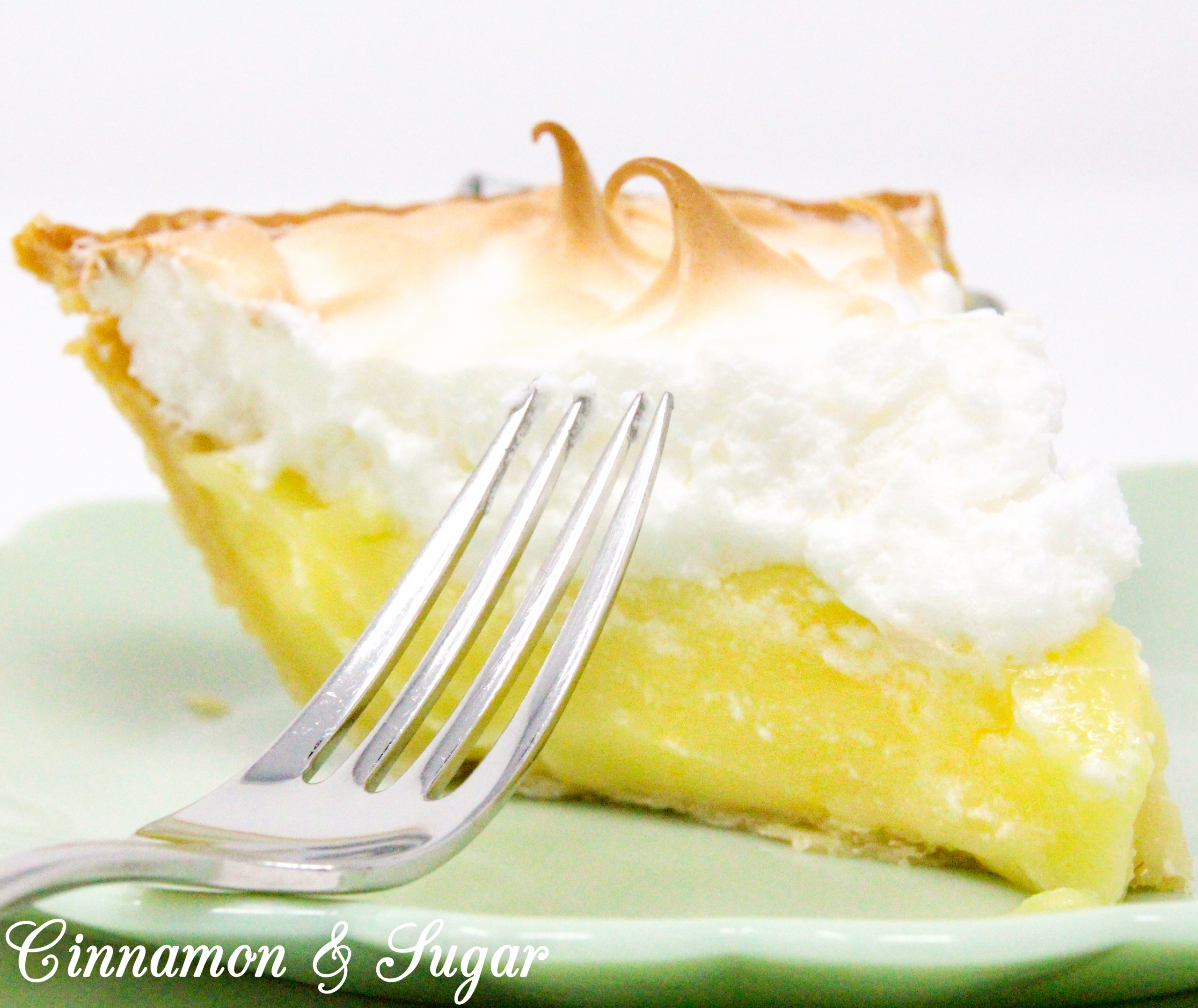 Amazon Synopsis
Not even her impending nuptials can keep Lucy Berberian, manager of her family-owned Kebab Kitchen, from the Jersey Shore's annual Polar Bear Plunge. But her dive into the icy ocean is especially chilling when she finds a fellow swimmer doing the dead man's float—for real . . .
 
Who would kill a man in cold blood during Ocean Crest, New Jersey's most popular winter event? When Lucy learns the victim is Deacon Spooner, the reception hall owner who turned up his nose—and his price—at her wedding plans, she can't help wondering who wouldn't kill the pompous caterer . . .
Perhaps the culprit is the wedding cake baker whose career Deacon nearly destroyed? Or the angry bride whose reception he ruined? With her maid of honor, Katie, busily planning Lucy's wedding without her, Lucy will have to get to the bottom of this cold-hearted business in time for Kebab Kitchen's mouthwatering Christmas celebration—and before her hometown's holiday spirit washes out to sea . . .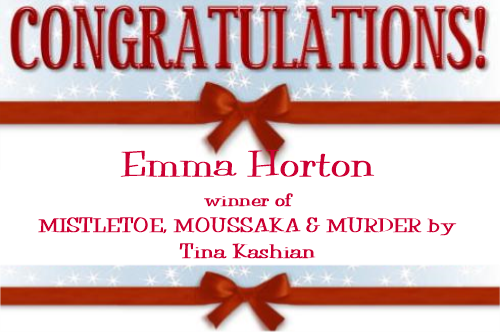 A special thanks to Tina Kashian for providing one lucky winner with a print copy of MISTLETOE, MOUSSAKA & MURDER! Giveaway is limited to U.S. residents. Contest ends Sunday, October 11, 2020 at 11:59 pm PST. Please use the Rafflecopter box located below to enter. The winner will be announced on this page and on Cinnamon & Sugar's Facebook page, as well as notified by email (so check your spam folder!)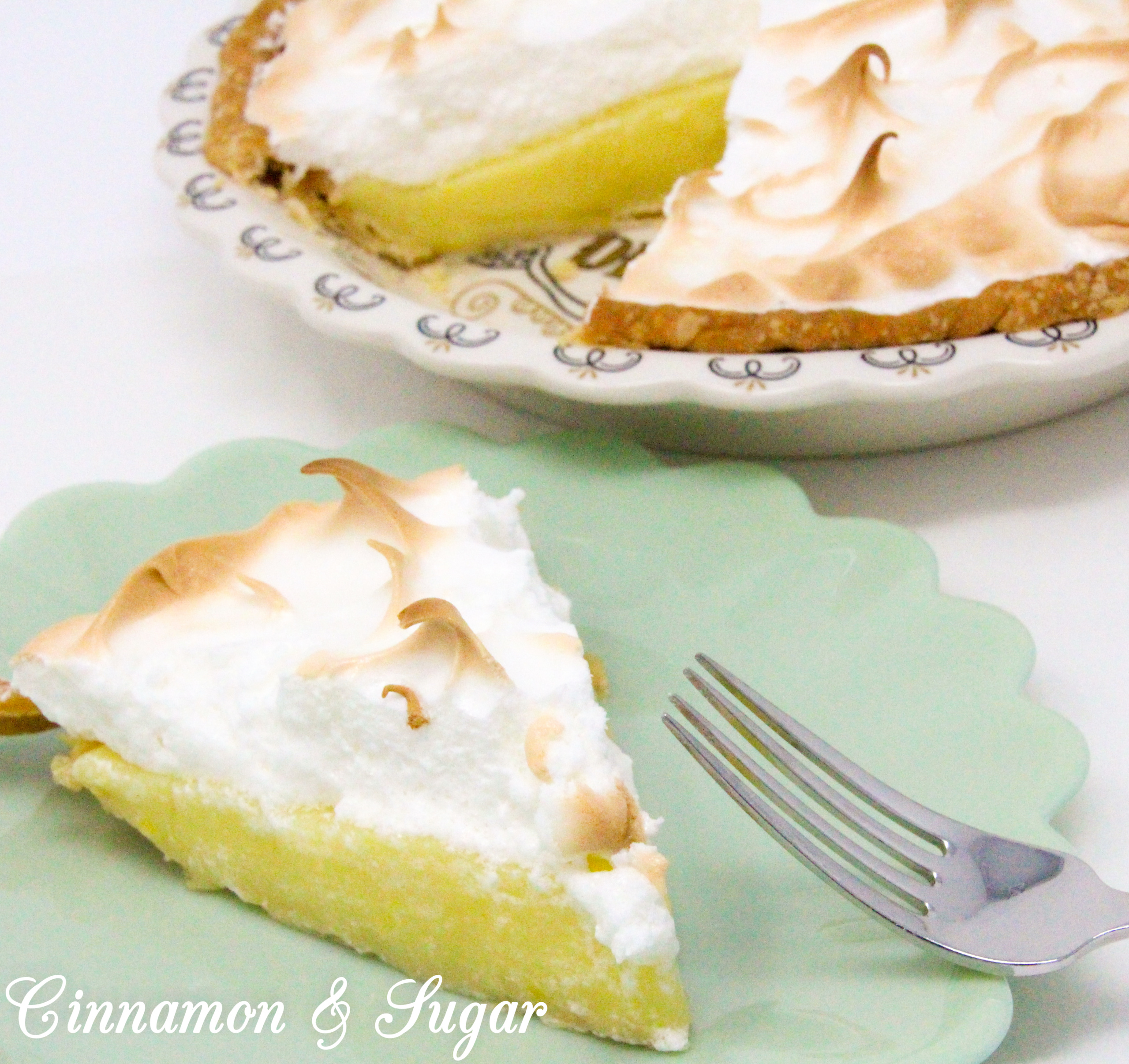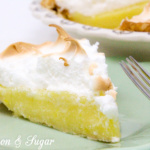 Susan Cutie's Lemon Meringue Pie
Ingredients
For the Lemon Filling:
1

cup

sugar

1/4

cup

flour

5

tablespoons

cornstarch

1/2

teaspoon

salt

2

cups

water

3

eggs, separate yolks from whites and keep both

1

tablespoon

butter

1/4

cup

lemon juice

Grated rind of 1 lemon

Baked and cooled pastry pie shell
For the meringue:
3

egg whites (reserved from the filling)

1/2

teaspoon

salt

1/4

teaspoon

cream of tartar

1

teaspoon

vanilla extract

6

tablespoons

sugar
Instructions
For the Lemon Filling:
Combine the sugar, flour, cornstarch, and salt and mix together.

Gradually add the water, stir and cook the ingredients over low heat until the mixture gently boils. It should thicken and become smooth.

Beat the egg yolks together in a bowl, then slowly and constantly whisking, add in 1 cup of the hot sugar mixture. Once incorporated, slowly add the warmed egg mixture back to the saucepan containing the remaining sugar mixture, whisking the entire time. Cook over low heat for three minutes, constantly stirring.

Stir in the butter, lemon juice, and lemon rind.

Allow to cool on stovetop, then pour custard into the baked pie shell and cool in the refrigerator.
For the meringue:
Preheat oven to 425 degrees (F).

It's easiest to use an electric mixer to make the meringue. Beat the egg whites with the salt in a small bowl until light and frothy.

Add the cream of tartar and continue to beat at high speed until the mixture will stand in peaks, about 4 - 5 minutes.

Add the vanilla extract and beat in the sugar, 1 tablespoon at a time.

Cover the chilled pie filling with the meringue until it touches the edges of the pastry to prevent the meringue from shrinking.

Bake at 425 degrees (F) for five minutes. Cool and then refrigerate until cold before serving.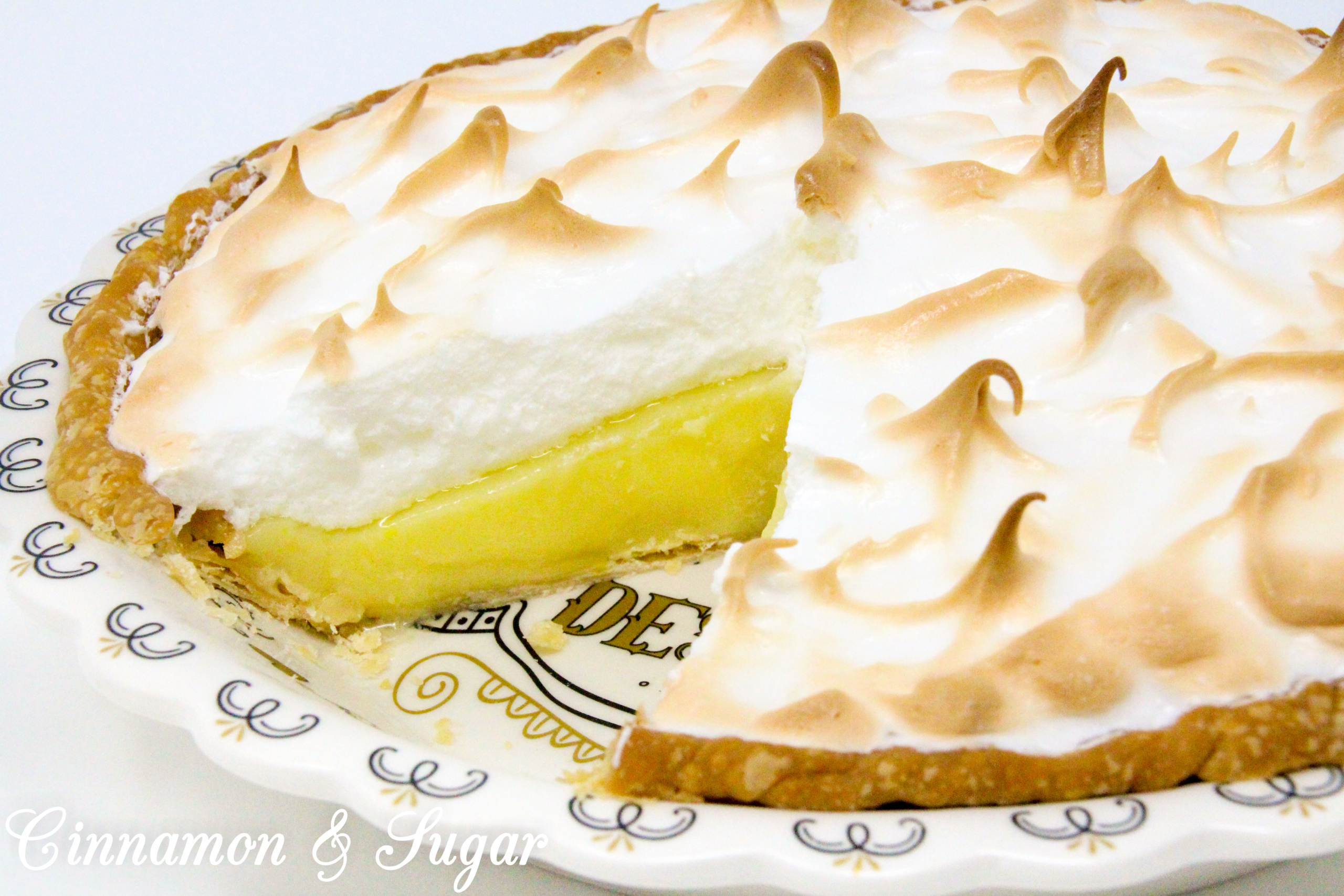 Pin to Pinterest: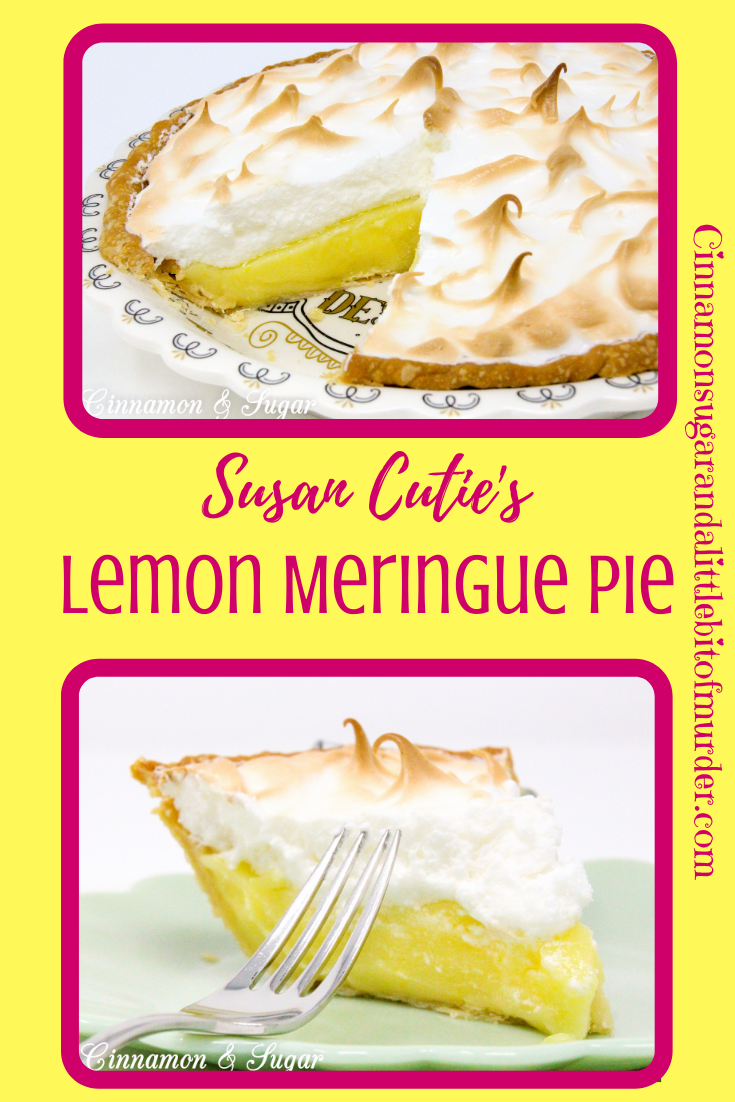 I was provided with an advance copy. All thoughts and opinions are my own.