The reviews are pouring in for CAKE POPPED OFF! Thank you to everyone who has made my new book release such a great success!!! If you haven't picked up the book yet, it's still only $0.99 for the ebook or free on Kindle Unlimited.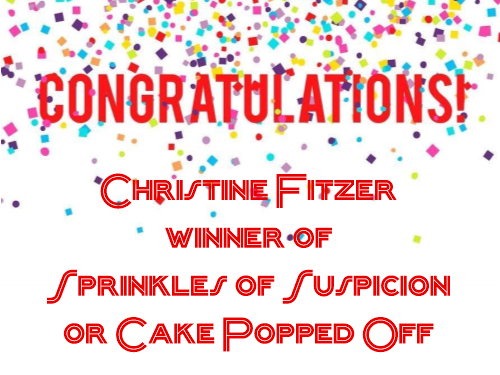 I'm celebrating the release with another giveaway, winner's choice of SPRINKLES OF SUSPICION, the first book in the Cupcake Catering Mystery series or CAKE POPPED OFF (use the Rafflecopter below to enter). Contest ends Wednesday, October 14, 2020 and print is limited to U.S. residents. All others will be awarded an ebook.
Plus scroll down for another recipe from the book just in time for Halloween:
Poison Apple Cocktail Cupcakes!
(You'll find the recipe for Poison Apple Cake Pops,
with detailed instructions on how to make them, in the book.)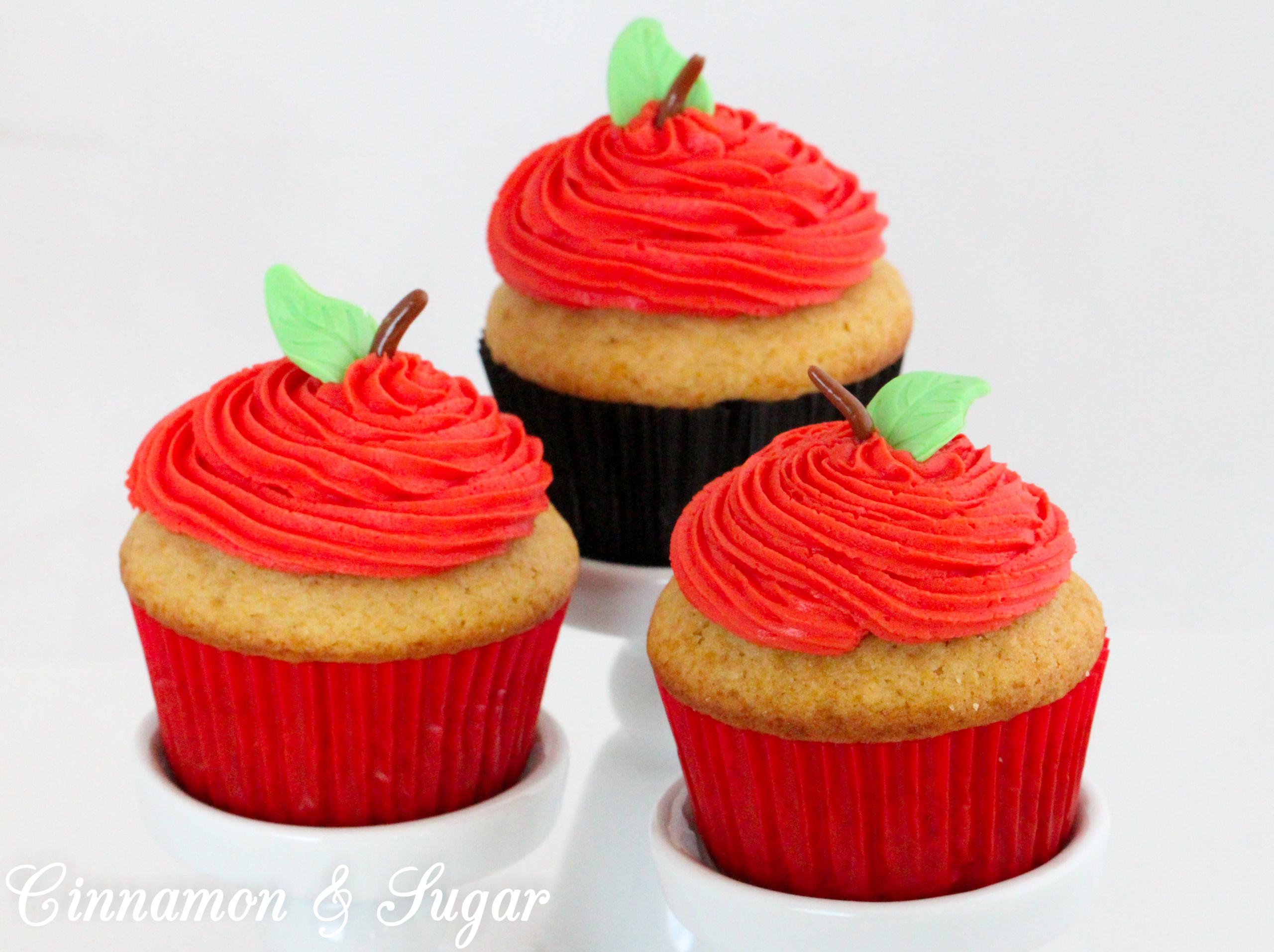 Praise for Cake Popped Off!
I recently featured CAKE POPPED OFF on the Great Escapes Virtual Blog Tour. Many thanks to Lori Caswell for facilitating the tour and to the bloggers who hosted me!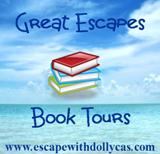 . . . let me tell you when the killer was revealed the word surprised doesn't cover it! Blown away! Astonished! Thunderstruck! And this is not the first time Kim Davis has done this to me! Dang! she is an incredible storyteller!!
~Escape With Dollycas Into A Good Book
With loads of family drama, charismatic and genuine characters, and a delectable mystery (or two) to solve, Cake Popped Off! is a wonderful cozy mystery with a Halloween theme.
~Diane Reviews Books
What a great Cozy read! I have to say this one gets my vote for favorite of the year (so far the years not over yet!) and will be featured on my fav's list.
~My Reading Journeys
This is the second cozy I've read recently that floored me when the killer was revealed. Normally I have a clue as to who might be guilty but in this case? Nada, zip, zilch, nothing.
~StoreyBook Reviews
The characters are well developed and well rounded. I really enjoy the relationship between Emory and Tillie. Although they have not known each very long, they have become very close.
~MJB Reviewers
Great characters, a layered plot, and an engaging writing style combine with all the traditional elements of a cozy – plus the added bonus of delicious baked goods!
~Reading Is My SuperPower
Cake Popped Off by Kim Davis is an intriguing book about a wealthy family that has hit a bit of a rough patch with bodies being found near them…I am giving this book five stars and recommending it to all culinary cozy mystery readers out there.
~Baroness' Book Trove
With characters you can relate to, situations that bring about all sorts of emotions, yummy food, and keep you guessing mystery you won't be able to put this cozy down. Makes for a fantastically fun read. I totally loved it so I give it 5/5 stars.
~Books a Plenty Book Reviews
I believe that the Cupcake Catering Mystery Series is going to become one of my favorites. With its gorgeous setting, heavenly cupcakes, baffling mysteries, and entertaining characters, you'll love this cozy mystery book and series too!
~Christy's Cozy Corners
Cake Popped Off! is an entertaining and fast-paced cozy whodunit tale that has enough quirky characters, witty banter and humor, romance, family secrets and drama, danger, and intriguing twists and turns.
~Jersey Girl Book Reviews
I found the character growth and the relationship growth to be fantastic, and I hope to see that continue in future books in the series.
~Carstairs Considers….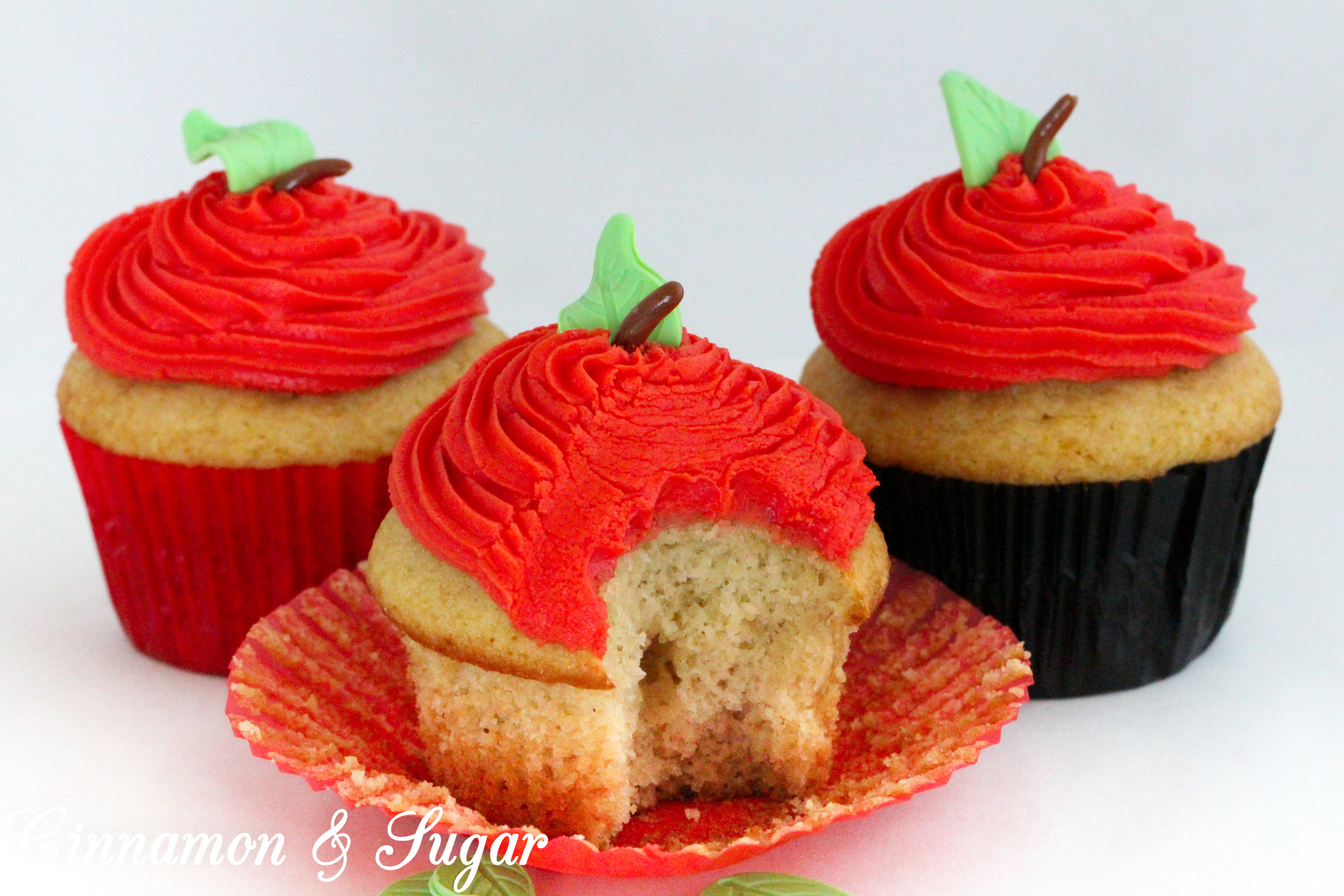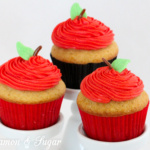 Poison Apple Cupcakes
Poison Apple Cocktail Cupcakes, with generous amounts of boozy libations in both the batter and the frosting, are a fun and tasty addition to grownup Halloween celebrations.
Makes 12–14 cupcakes
Ingredients
Cupcakes
1

cup

(5 ounces by weight) cake flour

1

cup

(5 ounces) all-purpose flour

1-1/2

teaspoons

baking powder

1/2

teaspoon

baking soda

1/2

teaspoon

salt

1

cup

(7 ounces) granulated sugar

1/2

cup

vegetable oil

2

eggs

1/4

cup

sour cream

1/2

cup

applesauce

3

tablespoons

Crown Royal

2

tablespoons

Sour Apple Pucker

1

tablespoon

cranberry liqueur (or cranberry juice)
Frosting
1/2

cup

(4 ounces) unsalted butter, room temperature

4-1/2

cups

(20.5 ounces) confectioners' sugar

1/4

teaspoon

salt

3

tablespoons

Sour Apple Pucker

2

tablespoons

cranberry liqueur

or cranberry juice

1

tablespoon

Crown Royal

Red food coloring
Garnish
Tootsie Rolls or fondant tinted brown and formed into apple stems

Leaves formed from fondant tinted green or cut from sour apple fruit leather
Instructions
Cupcakes
Preheat oven to 350 degrees (F).

Line cupcake tins with paper liners.

Whisk flours, baking powder, baking soda, and salt together in a small bowl and set aside.

Mix Sour Apple Pucker, Crown Royal, and cranberry liqueur together in a measuring cup and set aside.

In the bowl of a standing mixer, mix the vegetable oil and sugar together on medium speed for about 1 minute.

Add the sour cream and applesauce and mix until smooth. Scrape down the sides of the bowl as necessary.

Add the eggs one at a time and beat until incorporated.

Add half the flour mixture to the sour cream mixture and beat on low until mostly incorporated.

Add half the Sour Apple Pucker mixture and stir to combine.

Repeat with remaining flour and Sour Apple Pucker mixture and beat until smooth for about 30 seconds.

Fill cupcake liners 2/3 full and bake for 16–20 minutes. Cupcakes should be golden brown and a skewer inserted into the center comes out with just a few moist crumbs clinging to it.

Remove from oven and allow to cool in the cupcake tin for 5 minutes.

Move the cupcakes to a wire rack. Allow to completely cool before frosting.
Frosting
Mix the Sour Apple Pucker, cranberry liqueur, and Crown Royal together. Set aside.

Place butter and salt into the bowl of a standing mixer and whip until creamy, approximately 2–3 minutes on medium-high speed.

With the mixer running on low speed, add half the confectioners' sugar a little at a time, mixing until sugar is coated with the butter.

Slowly add 3/4 Sour Apple Pucker mixture.

Repeat with remaining confectioners' sugar and 1 tablespoon Sour Apple Pucker mixture.

Add red food coloring until desired shade of red is obtained.

Increase the speed to medium-high and whip for approximately 5 minutes until the frosting is light and fluffy. If needed, add the remaining Sour Apple Pucker mixture if frosting is too thick and additional Sour Apple Pucker 1 teaspoon at a time until desired consistency is reached.

Frost the cooled cupcakes.
Garnish
Form leaves from green-tinted fondant or cut leaf shapes from Sour Apple fruit leather.

Roll small pieces of the Tootsie Roll or brown-tinted fondant to form stems.

Insert a leaf on top of the frosted cupcake and accent with a stem.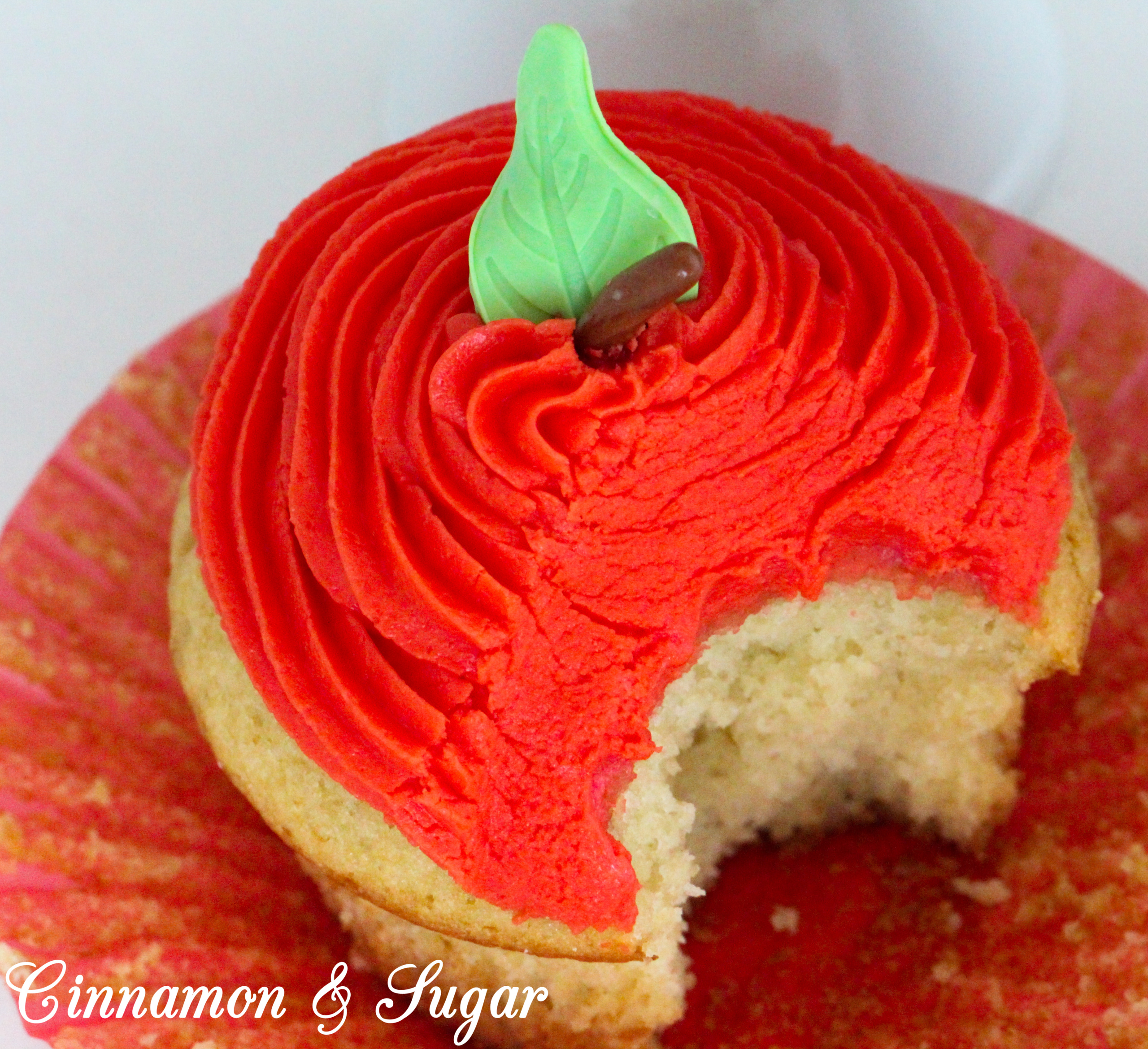 Pin to Pinterest: