DEATH OVER EASY, the fifth book in the Country Store Mystery series by Maddie Day is an entertaining read which immerses the reader in a Bluegrass music festival set in Southern Indiana. The author captures the setting perfectly from the colloquialisms spouted by the locals to the descriptions of the town and the open country surrounding the area. The protagonist, Robbie Jordan, is an admirable character. Not only is she a successful restaurant owner and chef, but she's more than proficient in carpentry and creating crossword puzzles! I love that she remodeled the floor above her restaurant to create a bed & breakfast. The incoming guests bring added character to the story and provides ample material for twists and turns to the central plot. I truly enjoyed getting to know Robbie's father and his wife, who are visiting from Italy. It's a joy seeing her get to know them and create a deeper bond after finally finding out who her father was.
When it's discovered that the murder victim, Pia Bianchi, grew up in the small Italian town where Robbie's father and step-mother are from, an added layer of emotional tension develops for the characters. The local police are suspicious of foreigners and makes them focus on Robbie's family. It doesn't help that Robbie's talented boyfriend, Abe, was seen having a loud disagreement with Pia at the music festival right before they were supposed to perform together. The author provides compelling reasons for Robbie to get involved in solving the mystery. I truly enjoyed the way Ms. Day weaves the setting, the main plot and several subplots together into one cohesive story. The heart-stopping finale had me turning pages faster and faster until I was finally able to give a sigh of contentment as I read the last word.
Robbie cooks up some amazing dishes at Pans 'N Pancakes and I love that Ms. Day provides several recipes at the back of the book. A side note: one of the breakfast specials Robbie serves is fried mush. That one scene had me flashing back to childhood, suddenly remembering that was a dish my mother served to us while I was a kid! I haven't had it since my early childhood and while the recipe isn't included in the book, I will definitely be tracking down a version to try for myself and take a taste down memory lane. One of the recipes Ms. Day does share is Sugar Cream Pie, as supplied from Hoosiers Max and Jane Carter. Sometimes simple is best and this pie proves the point. Simple ingredients combine into a creamy, delectable dessert that provides both comfort and indulgence. A rich dairy custard with a sprinkling of warm cinnamon sits atop pastry. The chilled pie is refreshing yet deeply satisfying and will make the recipients think of home-cooked meals and sitting around grandma's kitchen.
Amazon Synopsis
Restaurateur Robbie Jordan is ready for the boost in business a local music festival brings to South Lick, Indiana, but the beloved event strikes a sour note when one of the musicians is murdered . . .

June's annual Brown County Bluegrass Festival at the Bill Monroe Music Park in neighboring Beanblossom is always a hit for Robbie's country store and café, Pans 'N Pancakes. This year, Robbie is even more excited, because she's launching a new bed and breakfast above her shop. A few festival musicians will be among Robbie's first guests, along with her father, Roberto, and his wife, Maria. But the celebration is cut short when a performer is found choked to death by a banjo string. Now all the banjo players are featured in a different kind of lineup. To clear their names, Robbie must pair up with an unexpected partner to pick at the clues and find the plucky killer before he can conduct an encore performance . . .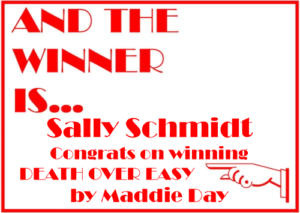 A special thanks to Maddie Day for providing a winner with a print copy of DEATH OVER EASY. Contest ends Tuesday, August 7, 2018 at 11:59 pm PST and is limited to U.S. residents only. Please use the Rafflecopter box located below to enter. The winner will be announced on this page and on Cinnamon & Sugar's Facebook page, as well as notified by email (so check your spam folder!)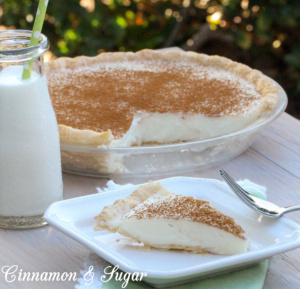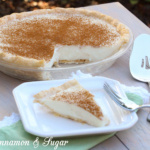 Sugar Cream Pie
A Hoosier favorite, this recipe is kindly shared by Jane Carter. Robbie makes the pies for her restaurant customers.
Ingredients
1

stick butter

1

scant cup sugar

1/4

cup

cornstarch

2

cups

milk

1/2

cup

half-and-half

1/4

teaspoon

salt

1

teaspoon

vanilla

Cinnamon

1

pre-baked and cooled pie crust
Instructions
In a medium-sized saucepan, melt butter, sugar, and cornstarch, stirring to dissolve.

Add milk, half-and-half, salt, and vanilla. Cook until thick, stirring constantly.


Pour into prepared crust and sprinkle with cinnamon.


Chill at least two hours before serving.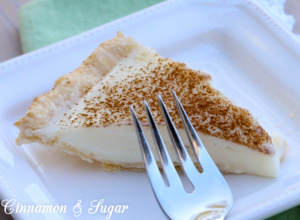 Pin to Pinterest: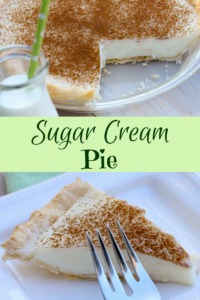 If you receive my blog post via email you will need to visit my website to view the video.
I was provided an advance copy with the hopes I would review. All thoughts and opinions are my own.