I love the premise for the plot of S'MORE MURDERS, the fifth book in the Five-Ingredient Mystery series by Maya Corrigan! Who can resist a re-creation of the last dinner served on the doomed Titanic? Throw in a murder mystery game for the invited guests to participate in aboard a luxurious yacht and it sounds like an ideal evening. Protagonist Val Deniston was given an offer she couldn't refuse (although she'd have liked to) by the yacht's owner, Otto Warbeck, to prepare the ten-course dinner for his guests that he has meticulously researched. Needing help to make the dinner a success, she drags her granddad, Don Myer, and her best friend, Bethany, to the yacht to help out. Instead of a fun-filled evening, Val is greeted by a group that doesn't like each other. The author weaves together an unlikely group of a chicken industry lobbyist, an animal's right activist, an older ex-wife and a new young wife along with a Titanic enthusiast. When the host disappears from the boat during dinner, Val has a real-life mystery on her hands and soon finds out that the dinner party mystery could have been based on an unsolved murder from long ago.
Ms. Corrigan has created an intriguing plot that is well-paced with well-developed characters. Her twists and turns that incorporate details from the Titanic captured my imagination and I was pulled into the story, unable to put the book down. As a fan of Agatha Christie, I appreciated the author's use of the 'closed room' style of mystery. The suspects were limited to the dinner guests and the yacht's captain, but as Val digs deeper, finds they all had reasons to commit a crime. I've always enjoyed Val's granddad, also known as the Codger Cook, because he adds both humor and chances for banter which allows the nature of the characters to be shown. The suspenseful conclusion wraps up the threads of both mysteries in a satisfying way which left me wanting to read more by this author.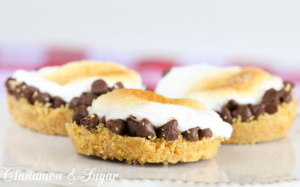 The Codger Cook writes a newspaper column that features five-ingredient recipes. Val's granddad might "borrow" her recipes to write his column but she doesn't complain. Ms. Corrigan includes several five-ingredient recipes at the back of the book that Granddad would approve of. She also includes the menu of what was actually served at the Titanic's last dinner along with what Val tweaked to serve aboard the yacht. While s'mores weren't served aboard the Titanic, the new Mrs. Warbeck insisted that this casual fun-filled dessert be served at the party. The author includes some delightful twists to this yummy campfire classic and I'm sharing her recipe for S'mores Tartlets. I loved that these could be made ahead of time and you don't have to have an open flame available for toasting the marshmallows. I've always been a tad bit disappointed with the old style of s'mores because the graham cracker, chocolate, and marshmallow ratio always seemed off. These tartlets are perfect and my guests snatched them off the serving platter faster than I thought possible! I tweaked the author's recipe just a bit, using vegan chocolate chips and vegan margarine for some so that my dairy-intolerant husband could enjoy. They turned out amazing and I liked the ease of using chocolate chips, although they didn't melt quite as nicely as the chocolate bars. S'mores Tartlets will definitely become a classic summer dessert in my household!
Amazon Synopsis
Managing a fitness club café and collaborating on a cookbook with her grandfather are Val Deniston's usual specialties, but she's about to set sail into nearby Chesapeake Bay—straight into a murder case . . .

Since catering themed events is a good way to make extra cash, Val agrees to board the Titanic—or at least cater a re-creation of the doomed journey on a yacht. The owner of the yacht, who collects memorabilia related to the disaster, wants Val to serve the last meal the Titanic passengers ate . . . while his guests play a murder-mystery game. But it is the final feast for one passenger who disappears from the ship. And that's only the tip of the iceberg.

Now Val has to reel in a killer before s'more murders go down . . .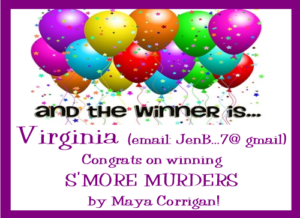 A special thanks to Maya Corrigan for providing a winner with a print copy of S'MORE MURDER. Contest ends Sunday, August 5, 2018 at 11:59 pm PST and is limited to U.S. residents only. Please use the Rafflecopter box located below to enter. The winner will be announced on this page and on Cinnamon & Sugar's Facebook page, as well as notified by email (so check your spam folder!)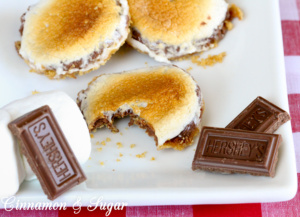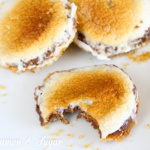 S'mores Tartlets
These treats bake in a mini muffin pan, no campfire or grill needed. They're more buttery than the classic s'mores, and less messy. You're likely to have crumbs instead of gooey marshmallows on your fingers and clothes.
Ingredients
1

cup

plus 2 tablespoons graham cracker crumbs

3

tablespoons

sugar

6

tablespoons

melted butter

2

milk or dark chocolate candy bars (approx. 1.55 ounces each), divided into rectangles*

12

standard size marshmallows, each cut in half to make two circular pieces
Instructions
Preheat oven to 350 degrees (F).

Combine the crumbs and sugar in a medium bowl. Stir in the melted butter and mix until blended.

Lightly grease 24 cups (1-3/4-inch diameter) in a mini muffin pan.

Divide the crumbs among the cups. Press the crumbs down and around the sides with a tart tamper, a spoon, or your fingers.

Remove the pan from the oven. Put one chocolate rectangle** in each cup and top with a marshmallow, cut side down, on top of it. Return pan to the oven for 3 minutes or until the marshmallows are softened. To brown the marshmallows, put the pan under the broiler for a minute.

Cool the pan on a rack for 15 minutes. Carefully lift each tartlet from it's cup. Serve warm immediately or serve at room temperature after the tartlets have cooled down.
Tips
*Or substitute 2 - 3 teaspoons mini chocolate chips for the chocolate bars. I found that the tartlets were easier to remove from the pan and stayed intact using the chips.

**I used 2 chocolate rectangles since my mini-muffin pan has a large diameter for each cup.

If marshmallows cool too much making it difficult to remove tartlets from pan, place the pan back into the warm oven for a minute or two to soften edges.

Store leftover marshmallows in a freezer-safe ziplock bag and place in the freezer to keep them fresh.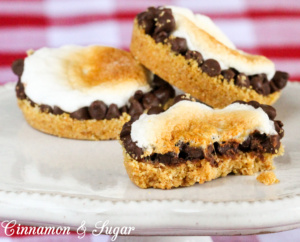 Pin to Pinterest: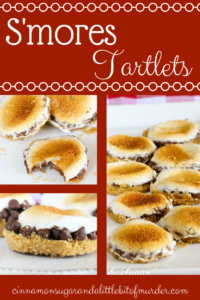 If you receive my blog post via email you will need to visit my website to view the video.
I was provided an advance copy with the hopes I would review. All thoughts and opinions are my own.