BURIED IN BOOKS, the twelfth book in the Bibliophile Mystery series by Kate Carlisle is one that fans have long been waiting for: protagonist Brooklyn Wainwright is getting ready to marry heart-throb Derek Stone. I love how the author has developed their relationship over the series and while this is a mystery and not a romance, it echoes what most readers want: real life with a happy ending… well, except for the dead bodies that Brooklyn seems to find. Her own mother calls her a murder magnet and Brooklyn's future mother-in-law is starting to agree. While I adore Brooklyn and Derek as characters, Brooklyn's mother, Becky, and Derek's mother, Meg, steal each scene they are in. They add zany humor to the story that kept me laughing out loud, yet beneath that is unconditional love and support for their offspring which I find refreshing. In fact, both Brooklyn's family and Derek's family are close-knit and seem to get along well together with the impending wedding. I enjoy that Ms. Carlisle focuses the dysfunction on the murderer and not on family.
Amongst the backdrop of wedding plans and a workshop on rare book restoration that Brooklyn is presenting at the National Librarians Association Conference, the murder of one of her old college friends takes place. The theme of betrayal and trust plays throughout the story which I found poignant with Brooklyn's wedding right around the corner. It also touches on regret of losing friends over the course of years and the joys of reconnecting. There were plenty of suspicious characters introduced and I didn't want to put the book down until I found out the culprit at the suspense reveal. I also couldn't wait to find out if Brooklyn was going to get her dream wedding! Ms. Carlisle provides a page-turning story that will thrill her many fans and gain her new ones!
Brooklyn isn't much of a cook and one of these days hopes to try to conquer some simple recipes. Ms. Carlisle has complied with Brooklyn's wishes and adds several easy-to-make recipes at the back of the book. I was drawn to the Stuffed Mushroom Caps which uses only four simple ingredients and are a snap to put together. They look elegant and are a delicious appetizer for any type of party! They pair amazingly well with a nicely chilled bottle of champagne and I'll be making these again and again for family celebrations.
Amazon Synopsis
In the latest in this New York Times bestselling series, matrimony and murder collide as San Francisco book-restoration expert Brooklyn Wainwright walks down the aisle…
Brooklyn has it all covered. She's triple-checked her wedding to-do list, and everything is on track for the upcoming ceremony with the love of her life, security expert Derek Stone.
Not everyone has been as lucky in love as Brooklyn. Her old college roommates Heather and Sara lost touch twelve years ago when Sara stole Heather's boyfriend. Brooklyn was caught in the middle and hasn't seen her former besties since their falling-out. When they both show up at her surprise bridal shower, Brooklyn is sure drama will ensue. But she's touched when the women seem willing to sort out their differences and gift her rare copies of The Three Musketeers and The Red Fairy Book.
Brooklyn's prewedding calm is shattered when one of her formerly feuding friends is found murdered and Brooklyn determines that one of the rare books is a forgery. She can't help but wonder if the victim played a part in this fraud, or if she was targeted because she discovered the scam. With a killer and con artist on the loose, Brooklyn and Derek—with the unsolicited help of their meddling mothers—must catch the culprit before their big day turns into a big mess.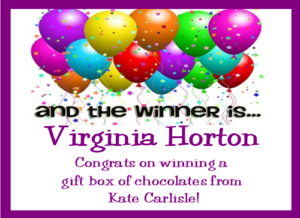 A special thanks to Kate Carlisle for providing one winner with a Buried in Books gift box filled with chocolates! Contest is limited to U.S. residents only and ends Monday, July 2, 2018 at 11:59 pm PST. Please use the Rafflecopter box located below to enter. The winner will be announced on this page and on Cinnamon & Sugar's Facebook page, as well as notified by email (so check your spam folder!)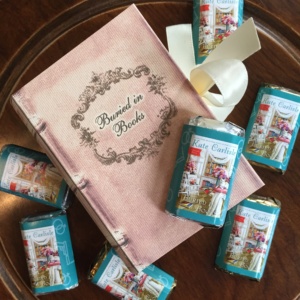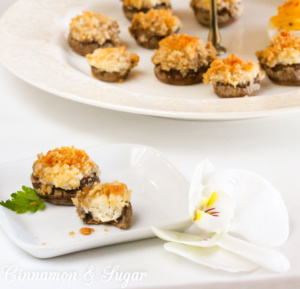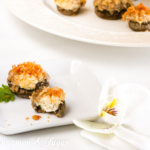 Stuffed Mushroom Caps
Ingredients
8

ounces

mushrooms, stems removed

5

ounces

Boursin garlic and fine herbs cheese

1/4

cup

bread crumbs

1

tablespoon

butter, melted
Instructions
Preheat the oven to 400 degrees (F).

Discard the mushroom stems. Stuff each mushroom cap with cheese.

Mix together bread crumbs and melted butter, then sprinkle over the mushroom caps.

Roast until brown, 20 - 25 minutes.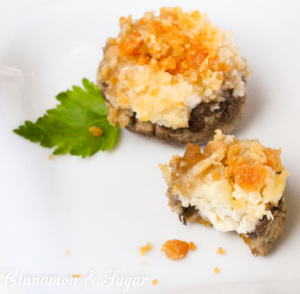 Pin to Pinterest:
If you receive my blog post via email you will need to visit my website to view the video.
I was provided an advance copy with the hopes I would review. All thoughts and opinions are my own.