FIREWORK FIASCO, the 29th book in the Zoe Donovan Cozy Mystery series, by Kathi Daley starts out with a bang, living up to its title, and left me with my mouth hanging wide open! I think this is the best book in the series so far, and that's saying something because all of Ms. Daley's books are enjoyable. Zoe Donovan Zimmerman is as kindhearted as protagonists come. While most people try to avoid her husband's grandmother, Nona, Zoe embraces the pink Harley driving, whiskey drinking, wild, elderly woman. I found her to be a hoot and thoroughly enjoyed her antics. When Nona wakes up beside her date after a night of partying, she finds her Elvis impersonator is dead, stabbed to death. She begs Zoe to help her out but when they return to the scene of the crime, Elvis has left the building and there is no evidence of a murder. The rookie sheriff filling in for the town has Nona in his sights: either she's crazy and needs serious help, or she's covered up the murder and needs to be arrested. Zoe finds that despite having a six-month-old baby, she can't give up her sleuthing until Nona is exonerated.
I found that the story alternated between humorous capers with Nona and the Elvis impersonators and sweet, sentimental interludes with the main cast of characters. I also liked learning a bit of backstory about Nona which gives her an added depth. Ms. Daley has done a wonderful job of developing both the protagonist and her supporting characters so that the reader feels like they are visiting family each time they pick up one of her books. The plot is well developed with several twists and it flows throughout the story and character development. The ending provides a satisfactory conclusion wrapping the threads up yet leaves you wanting to read the next book just as soon as possible.
Ms. Daley provides several recipes at the back of the book that incorporates the 4th of July theme. I was drawn to the Fudge Sundae Pie for a couple reasons: I love the idea of using Rice Krispies for the crust and my favorite flavor combination is chocolate and peanut butter. Once you add creamy, cold ice cream you've got a winning dessert on your hands! I found the recipe easy to make and best of all, I made it the day before I had guests arriving. Since it stores in the freezer, there isn't a worry that it could get stale or soggy like some desserts can when made ahead of time. Fudge Sundae Pie is a cool, refreshing dessert perfect for a hot summer day!
Amazon Synopsis
Summer has come to Ashton Falls and with it a focus on the beach, the lake, and family time outdoors. School is out so Zak is holding down the fort at home, and Zoe and Charlie are working full time at the Zoo, while Tiffany is on her honeymoon and Jeremy is out on maternity leave. Life, it seems, is just about perfect. Or is it?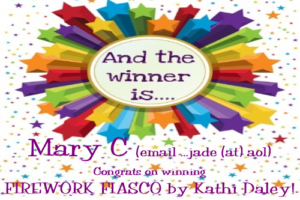 A special thanks to Kathi Daley for providing a winner with their choice of a print or e-book copy of FIREWORK FIASCO! Print is limited to U.S. residents and ends Thursday, July 5, 2018 at 11:59 pm PST. Please use the Rafflecopter box located below to enter. The winner will be announced on this page and on Cinnamon & Sugar's Facebook page, as well as notified by email (so check your spam folder!)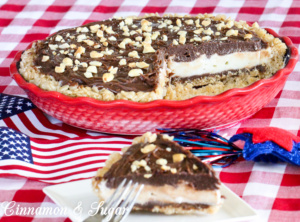 Fudge Sundae Pie
Ingredients
Crust
1/4

cup

light corn syrup

2

tablespoons

brown sugar

3

tablespoons

butter

2-1/2

cups

Rice Krispies cereal
Topping
1/2

cup

peanut butter

1/2

cup

chocolate fudge sauce or syrup*

3

tablespoons

corn syrup
Middle Layer
1

quart

softened ice cream: your choice of vanilla, chocolate, coffee
Instructions
Crust
Combine corn syrup, brown sugar, and butter in saucepan. Cook over medium heat until it boils.

Pour over Rice Krispies. Stir together and then press into a buttered pie plate.
Topping
Mix all the topping ingredients together and spread half on top of the pie crust.
Putting it together
Spread softened ice cream on top of crust.

Spread remaining topping over ice cream.

If desired, garnish with chopped peanuts just before serving.

Notes:
You can make extra topping and pile it on thick. It's up to you.

*Hershey's Chocolate Syrup in a can works well with this recipe. If you use hot fudge sauce, your topping will be thick and more difficult to spread, but it will still be delicious! If you find the topping is too thick to spread, add an additional tablespoon or two of corn syrup.

If ice cream is too soft to spread the topping, freeze at least 60 minutes then add topping.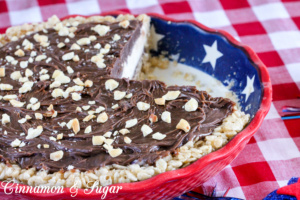 Pin to Pinterest: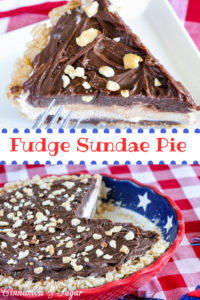 If you receive my blog post via email you will need to visit my website to view the video.