KILLER GREEN TOMATOES by Lynn Cahoon is the second book in the Farm-to-Fork Mystery series and is a worthy addition to a delightful series. Protagonist Angie Turner owns the County Seat restaurant with her best friend, Felicia, in the small town of River Vista, Idaho. Angie's life centers on preparing delicious food and treating her employees like family. In fact, there is a very strong theme of family that is woven into both the plot and the subplots of the book, from her employees, to her elderly neighbors, to her adorable pets. You can't help but love her giant St. Bernard puppy, Dom! I also greatly enjoyed the descriptions of food and cooking and how it connects families and friends together. Ms. Cahoon also provides an emotional connection between Angie and her deceased grandmother by involving recipes passed down. I loved her idea of creating a cookbook from those handwritten, food stained treasured papers!
With characters you can love and relate to, the story also contains a well-written mystery. When Angie's sous-chef's cousin is accused of murder and then disappears, Estebe begs her to find him and clear his name. The author weaves in bits and pieces about the Basque culture and the festival organized by Estebe's family. There were plenty of suspects and a strong plot that kept the pace flowing and the conclusion wrapped up the threads of the subplots nicely. I look forward to reading more books in this series!
Angie creates so many delicious farm-fresh recipes for her restaurant and works on perfecting her grandmother's recipe for fried green tomatoes. Ms. Cahoon includes a recipe for Viola's Fried Zucchini at the back of the book instead of fried green tomatoes because according to her, "We didn't do Fried Green Tomatoes. Tomatoes were for canning to be used later for chilis, stews, and spaghetti sauces. Mom cooked a different summer treat, Fried Zucchini." Deliciously crispy, these delectable rounds of fried squash are a great way to use up some of summer's bounty!
Amazon Synopsis
The time seems ripe for success as Angie Turner opens her farm-to-table restaurant in her Idaho hometown-until her new tomato supplier is accused of murder and Angie has to pick the real killer…
To Angie, nothing tastes more like summer than her Nona's fried green tomatoes. Eager to add the recipe to the menu at the County Seat, she's found the perfect produce supplier-her sous chef Estebe's cousin, Javier. Just one problem: ladies' man Javier's current hot tomato, Heather, has turned up dead, and he's the prime suspect. Somehow, between managing her restaurant and navigating a romantic triangle between Estebe and Ian, the owner/manager of the farmer's market, Angie needs to produce evidence to clear Javier-before this green tomato farmer gets fried . . .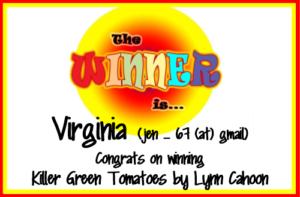 A special thanks to Lynn Cahoon for providing a winner with an e-book copy of KILLER GREEN TOMATOES! Contest ends Monday, July 9, 2018 at 11:59 pm PST. Please use the Rafflecopter box located below to enter. The winner will be announced on this page and on Cinnamon & Sugar's Facebook page, as well as notified by email (so check your spam folder!)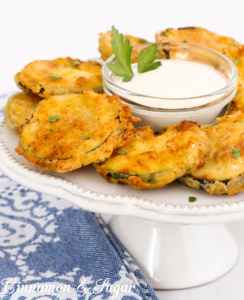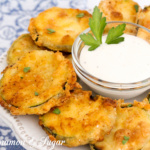 Viola's Fried Zucchini
Note from author Lynn Cahoon: Mom cooked a different summer treat, Fried Zucchini. Breaded and battered, the crispy treat made my mouth water, and even now I don't have much luck getting the appetizer on the table before the slices are stolen from the paper towel where they sit waiting to be plated.
Ingredients
1

large zucchini*

3

eggs

1/4

cup

water

Seasoning to taste: whatever you like, such as garlic salt, pepper, Season-all

Flour, seasoned as you wish

Panko breading that's been seasoned. Optional but not needed.

Vegetable oil
Instructions
Wash the zucchini then slice into fairly thin rounds.

Beat the eggs with the water and season to taste and place in a flat bowl or container.

Make a breading station with eggs in one container, the seasoned flour in another, and if using the panko breading in a third container.

Heat oil in a cast iron skillet. (Mom used Crisco or lard, depending on what she had. I like the cleaner taste of vegetable oil.)

Dip zucchini in flour, egg mixture, then flour again (or in panko breading if using).

Place each slice carefully in the hot oil. You only need to cook these a few seconds on each side. The thinner the rounds, the faster the zucchini inside will cook. Get a nice brown crunch on the outside, take them out, and lay on a paper towel. Season with sea salt (my addition) while hot, and then serve.

Repeat with the rest of the slices.

Enjoy! Fair warning: This is not a diet food.
Notes
*Zucchini are typically too small in the grocery store. Look for ones about 12-inches long and 3-inches around. But get them fresh, before the seeds harden.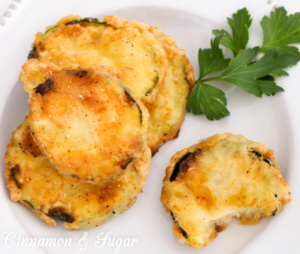 Pin to Pinterest: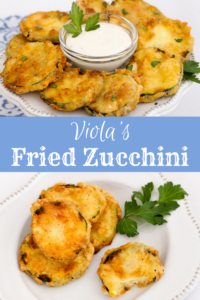 If you receive my blog post via email you will need to visit my website to view the video.
I was provided an advance copy with the hopes I would review. All thoughts and opinions are my own.