A Soufflé of Suspicion, the second book in the French Bistro Mystery series by Daryl Wood Gerber, pulled me in with its charming cover and then kept me turning pages until the very last word was read! The protagonist, Mimi Rousseau, owns both Bistro Rousseau and Maison Rousseau, the inn next to her bistro. All I can say is Mimi is extremely fortunate with her location, location, location! Set in Napa Valley, the author paints a gorgeous picture with words, describing views, tastes, and sounds, so that the reader will feel like they've been on vacation… except for the murder. When the Sweet Treats Festival organizer is murdered, Mimi finds herself pulled into helping solve the crime. The victim was Mimi's chef's sister and the festival is being held at Maison Rousseau. There are plenty of suspects to keep the reader guessing, including the victim's abandoned husband who runs a chicken farm. The twists and turns of the plot kept me guessing and just when I thought I had it figured out, another twist changed my mind.
In addition to great story-telling, I love the way Ms. Gerber develops her characters. Mimi is kindhearted, treating her employees like family. It is refreshing to see the caring interaction she has with each of them. I also greatly enjoyed how Mimi's relationship is blossoming with Nash. She's had some emotional hurdles to overcome in her past, but the author allows Mimi to grow like a real person would which makes her relatable. I look forward to reading more in this highly entertaining series!
I am always amazed at the amount of recipes Ms. Gerber provides with her books and A Soufflé of Suspicion is no exception. Her mouthwatering French dishes are well written with easy to follow directions so I didn't feel intimidated. I have never made a soufflé so I opted to challenge myself and try the ­­­­­­­­­­­­­Soufflé à l'Orange. First off I liked that this recipe makes small, manageable portions. The airy, pillow-y souffle isn't overly sweet and the orange flavor isn't overpowering. I loved the lightness of the dessert and the added crunch of buttery sugar around the edges provided some additional texture. The only downside to soufflés in general (if you want to call it that) is once you take them from the oven, it will start deflating immediately. I felt the need to eat it right away and enjoy the airiness… but I didn't mind at all and instead, whipped up another batch the next evening for dessert!
Amazon Synopsis
The buoyant mood at Bistro Rousseau deflates when Chef Camille's sister, Renee, turns up dead in the chef's kitchen, and Mimi Rousseau must tease the real killer out of a mélange of menacing characters.
Crush Week in Nouvelle Vie is a madhouse—in a good way. Tourists pour into town for the pressing of the Napa Valley's world-renowned grapes and all the town's businesses get a nice lift, including Bistro and Maison Rousseau. Mimi is raising the ante this year with a Sweet Treats Festival, a wonderland of croissants, cakes, tarts, and soufflés crafted with expert care by the area's top talents.
Chef Camille's sister Renee is managing the festival with a cast-iron fist, upsetting everyone, including her sister. Which is bad for Camille when Renee turns up dead in the chef's kitchen. Mimi is still building her business, so her first course of action is to whip up answers and catch the unsavory perpetrator before Camille takes a dusting and gets burned.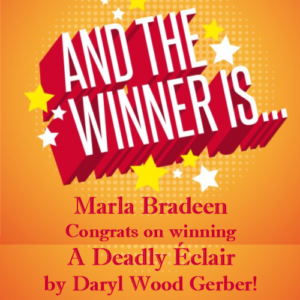 A special thanks to Daryl Wood Gerber for providing a winner with a choice of either print or an e-book copy of A Deadly Éclair! Print copy is limited to U.S. residents only and ends Sunday, July 15, 2018 at 11:59 pm PST. Please use the Rafflecopter box located below to enter. The winner will be announced on this page and on Cinnamon & Sugar's Facebook page, as well as notified by email (so check your spam folder!)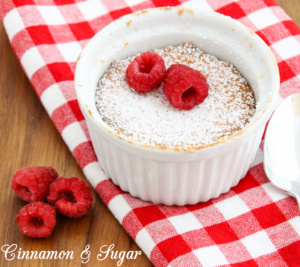 Soufflé à l'Orange
From Mimi: Give me an orange, eggs, and sugar, and I can whip up a soufflé in minutes. That's why I love this particular soufflé. So easy. So quick. So delicious. I use triple sec in this recipe, but you could use any of your favorite orange-flavored liqueurs.
Ingredients
1

teaspoon

butter, for ramekins

1

teaspoon

sugar, for ramekins

1

orange

for 1 teaspoon orange zest and 2 tablespoons orange juice

1

egg

yolk

2

egg

whites

2

tablespoons

+ 2 teaspoons sugar, divided

1

tablespoon

cornstarch

1

teaspoon

triple sec

powdered sugar
Instructions
Preheat the oven to 400 degrees (F).

Brush 2 (4-ounce) ramekins or 1 (8-ounce ramekin with 1 teaspoon soft butter, then coat with 1/2 teaspoon sugar each or 1 teaspoon for the larger ramekin. Pour out extra sugar. Set ramekins aside.

Using a grater, grate the zest from the rind of an orange and reserve.

Separate the 2 eggs and toss out one of the yolks so you have 1 egg yolk in a bowl and 2 egg whites in another bowl. Whisk the egg yolk with 2 tablespoons sugar and the cornstarch until smooth. Whisk in the 2 tablespoons orange juice.

Place the mixture in a saucepan and heat over medium heat, stirring constantly until it thickens, about 2 minutes. Remove from heat and add the orange zest and triple sec. Let this mixture cool.

Meanwhile, in a small bowl, whisk the egg whites until they form soft peaks. Gradually add 2 teaspoons sugar and keep whisking until they form stiff peaks. Fold the egg whites into the orange mixture and then pour the mixture into the prepared ramekin(s).

Bake small ramekins for 15 - 17 minutes or bake the larger ramekin for 20 - 22 minutes, until soufflés are golden on top.

Remove from the oven and sprinkle with powdered sugar. Serve immediately.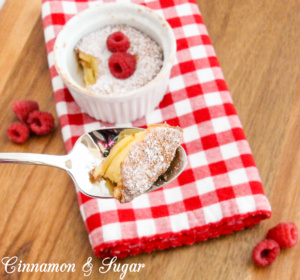 Pin to Pinterest:
If you receive my blog post via email you will need to visit my website to view the video.
I was provided an advance copy with the hopes I would review. All thoughts and opinions are my own.