DIAL M FOR MOUSSE, the third book in the Emergency Dessert Squad Mystery series by Laura Bradford, is just as adorably delightful as the very first book! The puns entertained me while the plot kept me speculating on 'whodunnit', and the characters warmed my heart. Protagonist, Winnie Johnson, is an extremely likeable young woman with a heart of gold. I so enjoy her close relationship with her elderly neighbors and how she is involved in their lives on a daily basis. They, in turn, are eager to help her out when she and her best friend, Renee, stumble across the body of the woman who hired them to provide desserts for five artists. Winnie's business, Emergency Dessert Squad, is one of the cleverest business ideas I've come across. Winnie creates custom desserts and delivers them in a vintage ambulance that she inherited from an elderly neighbor (along with a cantankerous cat that does not like her new owner). What makes it even better are the super fun names Winnie creates for her desserts: Your Jokes Make Me Snicker-doodle Cookies; Apple Kootchy-Kootchy-Koo Kuchen; You're A Peach Pie, to name a few.
Laura packs the story with so many clever scenes such as Winnie having a "conversation" with a mime and gives such vivid descriptions that you feel like you're living the moment. Winnie's budding relationship with single dad, Jay, might be hitting a snag when his teenaged daughter tries to drive a wedge between them. Can Winnie find a way to win over both the surly teen and her cat while finding a killer? I devoured this book until I finished the very last page and eagerly look forward to reading more of Winnie's story!
Winnie creates so many delightfully clever desserts and luckily for the reader, Laura includes a couple recipes at the back of the book. I was drawn to Your Jokes Make Me Snicker-doodle Cookies for a couple of reasons. My mother-in-law used to make Snickerdoodle Cookies years and years ago. Unfortunately I don't have her recipe and it's a cookie my husband has fond memories of. Secondly, since he cannot consume dairy, it's nice to find a recipe that doesn't contain any butter so I didn't have to do any adjustments so he could eat it. Then, of course, there's the cookie itself: a bit crunchy on the outside, soft and chewy on the inside. A burst of spiced flavor from the cinnamon and sugar on the outside giving way to a sweet cookie on the inside. It's a bite of comfort in a small package, bringing back wonderful memories and creating new memories with our granddaughters.
Amazon Synopsis
The Emergency Dessert Squad business is booming, with owner and baker Winnie Johnson working overtime to satisfy the emergency cravings of Silver Lake, Ohio. Her latest order, a plate of motivational desserts for an artists' retreat, is just what she needs to keep her mind off her own relationship woes.

But Winnie's problems seem like trifles when she discovers the body of retreat owner Sally Dearfield mere inches away from five oh-so-eccentric and viable suspects. Now, this baking detective must uncover the inspiration behind Sally's murder before another creative genius is iced.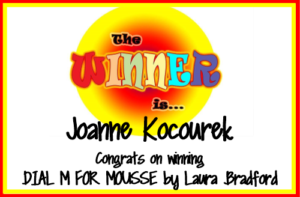 A special thanks to Laura Bradford for providing one winner with a print copy of DIAL M FOR MOUSSE! Contest ends Sunday, January 21, 2018 at 11:59 pm PST and is limited to U.S. residents only. Please use the Rafflecopter box located below the recipe to enter. The winner will be announced on this page and on Cinnamon & Sugar's Facebook page, as well as notified by email (so check your spam folder!)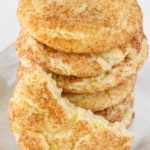 Your Jokes Make Me Snicker-Doodle Cookies
Ingredients
1

cup

shortening

1-1/2

cups

sugar

2

eggs

2-3/4

cups

all-purpose flour

1

teaspoon

baking soda

2

teaspoons

cream of tartar

1/2

teaspoon

salt

2

tablespoons

sugar

2

teaspoons

ground cinnamon
Instructions
Preheat oven to 375 degrees (F).

Grease or line cookie pans with parchment paper.

In a medium-sized bowl, cream together the shortening and sugar.

Add eggs, mixing after each one.

In a separate bowl, sift together the flour, baking soda, cream of tartar, and salt.

Stir into the creamed mixture.

In a smaller bowl, stir together the 2 tablespoons of sugar with the cinnamon.

Roll the dough into balls, then roll in the bowl with sugar mixture.

Place cookies on prepared cookie pan, about 2 inches apart.

Bake for 8 - 10 minutes. Cool on wire racks.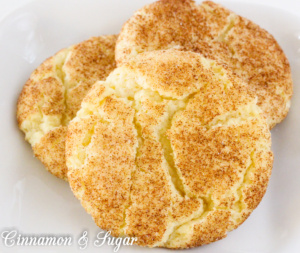 Pin to Pinterest: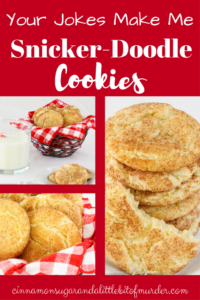 If you watch the video, be on the lookout for my oopsie in starting my mixer… accidentally going full speed after adding the flour instead of gently starting it. Guess I was a bit distracted but it sure made my granddaughter laugh 🙂
If you receive my blog post via email you will need to visit my website to view the video.
I was provided an advance copy with the hopes I would review. All thoughts and opinions are my own.