ESCAPE CLAWS, the first book in the brand new Cat Lady Mystery series by Linda Reilly is a charming visit to Whisker Jog, New Hampshire and is chock-full of memorable characters, human and feline alike! I loved that the very beginning starts with a list of the feline cast with their adorable names and characteristics. The protagonist, Lara Caphart, is an admirable woman with a generous, thoughtful personality. After showing up to help her invalid aunt care for the eleven cats she has taken in, Lara finds her aunt is being harassed by the town's wealthy bully, Theo Barnes. When Lara is led to Theo's murdered body by Blue, the Ragdoll cat from her childhood, she realizes she needs to stay in town and protect her aunt. There is a subplot mystery woven around the murder mystery of why Lara had become estranged from her beloved aunt after being so close to her as a young child. The author explores familial relationships and how they can go awry.
There is also an ongoing mystery of just who Blue, the Ragdoll cat is and where he came from, especially since Lara's aunt claims she never had a Ragdoll cat. The murder mystery has plenty of suspects and the author provides enough clues to keep you guessing and turning pages. The reveal was a surprise that I didn't see coming! I greatly admired that Ms. Reilly brings to light the plight of unwanted cats and the lack of facilities to humanely care for them. She provides a heartwarming conclusion to the story that will make you want to come back and read the next story in this series just as soon as it's available.
While the book didn't have any recipes, Lara's aunt used to make her Butterscotch Brownies when she was a child and this treat brings back precious memories. I love how food can connect us to our past and to those who are dear to us. I was honored to create a recipe for Butterscotch Brownies to share with you and hope that I captured the taste as Lara remembers them!
Amazon Synopsis
For the first time in sixteen years, Lara Caphart has returned to her hometown of Whisker Jog, New Hampshire. She wants to reconnect with her estranged Aunt Fran, who's having some difficulty looking after herself-and her eleven cats. Taking care of a clowder of kitties is easy, but keeping Fran from being harassed by local bully Theo Barnes is hard. The wealthy builder has his sights set on Fran's property, and is determined to make her an offer she doesn't dare refuse.
Then Lara spots a blue-eyed ragdoll cat that she swears is the reincarnation of her beloved Blue, her childhood pet. Pursuing the feline to the edge of Fran's yard, she stumbles upon the body of Theo Barnes, clearly a victim of foul play. To get her and Fran off the suspect list, Lara finds herself following the cat's clues in search of a killer. Is Blue's ghost really trying to help her solve a murder, or has Lara inhaled too much catnip?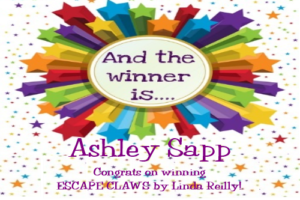 A special thanks to Linda Reilly for providing one winner with an e-book copy of ESCAPE CLAWS! Contest ends Sunday, January 14, 2018 at 11:59 pm PST. Please use the Rafflecopter box located below the recipe to enter. The winner will be announced on this page and on Cinnamon & Sugar's Facebook page, as well as notified by email (so check your spam folder!)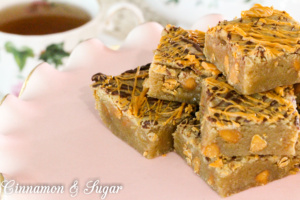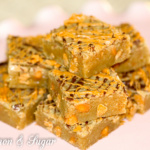 Butterscotch Brownies
Ingredients
Brownies
1/2

cup

unsalted butter, melted

1

cup

brown sugar, packed

1

egg, room temperature

1

tablespoon

vanilla extract

1

cup

(4.5 ounces) all-purpose flour

1/4

teaspoon

sea salt

1

cup

butterscotch chips
Drizzle (optional)
2

tablespoons

butterscotch chips

2

tablespoons

semi-sweet chocolate chips

1

teaspoon

vegetable oil, divided
Instructions
Brownies
Preheat the oven to 350 degrees (F).

Line an 8 x 8-inch pan with aluminum foil. Spritz with non-stick cooking spray.

In a large mixing bowl, whisk together the melted butter and brown sugar until well combined.

Whisk in the egg, vanilla and salt.

Using a spatula, fold the flour into the sugar mixture, just until combined. Don't over mix.

Stir in the butterscotch chips, then spread in the prepared pan.

Bake 20 to 23 minutes. The top will look shiny and the edges will start to crack a bit. Don't over bake.

Allow the brownies to cool completely in the pan, then using the foil, remove from the pan and place on a cutting board.
Drizzle
In a small bowl melt the semi-sweet chocolate chips with 1/2 teaspoon vegetable oil in the microwave. Start with 30 seconds, remove and stir the chips then heat in 15 second increments stirring each time until chips are fully melted.

Drizzle over the cooled brownies.

In a small bowl melt the butterscotch chips with 1/2 teaspoon vegetable oil in the microwave. Start with 30 seconds, remove and stir the chips then heat in 15 second increments stirring each time until chips are fully melted.

Drizzle the butterscotch perpendicular to the chocolate drizzle or channel Jackson Pollock.

Allow the drizzle to harden then slice into 16 squares. (You can place in the refrigerator to harden the chocolate more quickly.)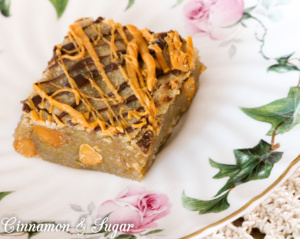 Pin to Pinterest: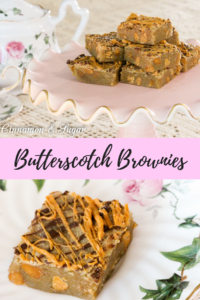 If you receive my blog post via email you will need to visit my website to view the video.
I was provided an advance copy with the hopes I would review. All thoughts and opinions are my own.