Be sure to check out how you can get a FREE copy of Catherine's original short story, Formals, Fortune Cookies & Fraud!
Details at the bottom of the page.
SILENCED BY SUGAR, the fifth book in the Cookies & Chance Mystery series by Catherine Bruns finds protagonist, Sally Muccio Donovan, celebrating six months of blissful marriage to Mike. This newest book shows a more emotional side to Sally, with a different focus than previous books. Instead of detracting, it reflects the natural progression in real life and adds to the story. I love how the author has allowed Sally to grow over the course of the series and how she now exhibits an inner strength that wasn't apparent at the beginning. Even her best friend, Josie, notices. And that's saying a lot because Josie is quite the spitfire!
Sally's strength and determination are soon put to the test when Josie is arrested, accused of murdering her former nemesis. I loved how, in addition to Sally getting involved in trying to prove her friend's innocence, her entire family rallies behind Josie. It's just one example of the close-knit relationship Sally and her family have, despite the hijinks of her parents… who, by the way, are quite a hoot! Sally's investigation into the murder turns up lots of suspects. So many people could have wanted the witch (with a capital B) dead! Sally must sift through a lot of clues to find the truth and I'll have to admit, I didn't see the suspenseful ending coming. Ms. Bruns provides enough twists and drama (the good kind!) to keep the reader turning pages until the very last word is read.
Sally owns the bakery, Sally's Samples, where Josie bakes up all sorts of delectable cookies. I had the honor of providing a recipe for Lemon Crinkles for the book, that Sally serves to their customers. These tart-sweet treats are a bit crunchy on the outside and chewy on the inside. My youngest granddaughter is a huge lemon fan and these are one of her favorite cookies. In fact she'd be happy if these Lemon Crinkles made it onto our Christmas cookie platter annually, and for Valentine's Day, and birthdays, and… well, you know what I mean! Fortunately they are easy to mix up and since the dough must be chilled, you can make them a few days in advance of baking them. I've included directions on how to freeze for long-term storage so you can enjoy spur-of-the-moment freshly-baked cookies when you need them. I hope you enjoy these cookies as much as we do!
Amazon Synopsis
Full-time baker and sometime-sleuth Sally Muccio is enjoying life as a new bride and only wishes that sales in her bakery would pick up. So when popular TV host Donna Dooley invites her and best friend, Josie, to be guests on Someone's in the Kitchen with Donna, it's the answer to their prayers. The pair is excited about the opportunity until they discover Donna's new assistant is none other than Josie's former nemesis from culinary school, Kelly Thompson.
Like cookies in a hot oven, temperatures rise, and their animosity escalates into a food fight during the taping—which then goes viral! But when a dead body is then discovered on the set, fingers immediately point to Josie, and Sal's usual sassy partner is at a loss of how to defend herself. Sal's world is once again plunged into chaos as she attempts to keep her friend out of jail, control a blast from the past that threatens to harm her marriage, and keep her crazy parents at bay as they film a commercial for a funeral home. Already knee deep in dough, Sal discovers a possible link between the current murder and an unsolved one from the past. But she'll have to work fast because a killer is on her trail and determined to silence Sal…forever.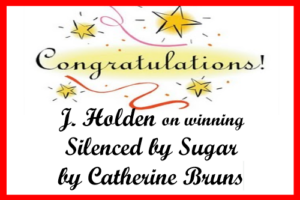 A special thanks to Catherine Bruns for providing one winner with a print copy of SILENCED BY SUGAR! Contest ends Wednesday, January 24, 2018 at 11:59 pm PST and is limited to U.S. residents only. Please use the Rafflecopter box located below the recipe to enter. The winner will be announced on this page and on Cinnamon & Sugar's Facebook page, as well as notified by email (so check your spam folder!)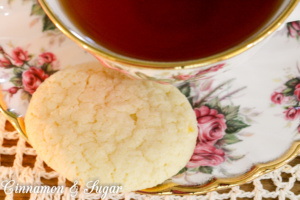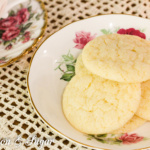 Lemon Crinkles
Ingredients
1/2

cup

unsalted butter, room temperature

1

cup

(7.1 ounces) granulated sugar

1

egg, room temperature

1/2

teaspoon

vanilla extract

1/2 to 1

teaspoon

lemon extract, depending on how lemony you want

1

teaspoon

lemon zest

1

tablespoon

fresh lemon juice

1-1/2

cups

(7.2 ounces) all-purpose flour

1/2

teaspoon

salt

1/4

teaspoon

baking powder

1/4

teaspoon

baking soda
Instructions
Don't preheat the oven yet. The cookie dough will need to chill first.




Line baking sheet with parchment paper and set aside.




In a medium-sized bowl, whisk together the flour, salt, baking powder, and baking soda. Set aside.




In the bowl of a standing mixer, whip the butter and granulated sugar together until fluffy, about 2 minutes on medium speed.




Add the egg and beat until fully incorporated.




Mix in the vanilla, lemon extract, lemon zest, and lemon juice.




With the mixer running on lowest speed, slowly add the flour mixture. Beat just until it is fully incorporated.




Cover the cookie dough with plastic wrap and allow to chill in the refrigerator for 1 hour or even overnight.




Preheat oven to 350 degrees (F).




Place remaining 1/2 cup granulated sugar in a shallow bowl.




Form cookie dough into small balls, about a heaping teaspoon.




Roll the balls in the granulated sugar and place on the parchment-lined baking sheet, at least 2 inches apart. Don't crowd the cookies as they spread. You should have 12 cookies per baking sheet.




Bake for 9 to 11 minutes. The edges should just be turning light golden and the tops should be crackled.




Remove from the oven and allow to cool on the baking sheet for 5 minutes before transferring to a wire cooling rack.




Cool completely and store leftovers in an airtight container at room temperature for up to 3 days.



Tip
These cookies are ideal for making ahead of time and freezing for spur-of-the-moment freshly-baked cookies! Simply roll the dough balls in the sugar, then freeze them on a parchment-lined baking sheet. When solid, transfer the dough to a freezer-safe ziplock bag. When ready to bake, place the dough on a parchment-lined baking sheet and allow to sit at room temperature while pre-heating the oven. You may need to bake an additional minute, depending on how chilled the dough is when you start baking.

Notes
Makes 30 - 40 cookies depending on size.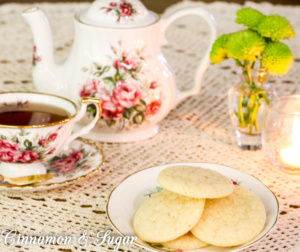 Pin to Pinterest: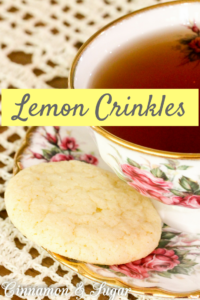 If you receive my blog post via email you will need to visit my website to view the video.
For a short time, the e-book for SILENCED BY SUGAR is on sale for $2.99! Be sure to grab it before the price increases.
For anyone who purchases Silenced by Sugar, Catherine is giving away her original short story, Formals, Fortune Cookies & Fraud for FREE! This is a lighthearted mystery novella that's a prequel to Tastes Like Murder and takes place on Sally's fateful prom night. For details on how to obtain your copy, please click on the book below:
I was provided an advance copy with the hopes I would review. All thoughts and opinions are my own.