CLASS REUNIONS ARE MURDER, the first book in the brand new Poppy McAllister Mystery series by Libby Klein, is sure to be a mega-hit! From the beginning, I was drawn into the story and the life of the protagonist, Poppy McAllister. Like a favorite dessert, I wanted to gobble the book up all at once in one sitting but real life sometimes doesn't allow that so I had to put it down frequently. However, those interludes allowed me to savor every delicious word and scene in the story, making my reading time all the more meaningful and enjoyable. Ms. Klein has created a compelling character in Poppy, who is struggling with grief caused by widowhood. Despite her loss, Poppy's dialog and introspection is humorous and at times laugh-out-loud funny. Poppy starts out being an insecure pushover, bullied by her former mother-in-law and walked over by everyone else. Her journey back to her hometown to visit her Aunt Ginny and attend (unwillingly) her class reunion is the catalyst for Poppy's transformation. Ms. Klein accurately captures the angst of the insecurities of high school, with the descriptions of interaction between students: the popular kids, the mean girls, the nerds, those trying to just get through without being noticed. Yet through it all, the author writes with a witty sense of humor that truly adds to the entertainment of this engaging read.
Of course amazing characters need a terrific plot and Ms. Klein delivers. The pace is steady and the murder mystery well thought out. Almost the entire student body attending the class reunion are suspects, Poppy included, when one of the mean girls from their class is murdered during the party. The author also weaves in another layer of mystery surrounding Poppy's Aunt Ginny and why she's being harassed by social services. It brings to light the tragic situations surrounding senior citizens and how often they are targeted for defrauding. As I read, I had to cheer for Aunt Ginny and her spunky, free spirit. She is a delightful sidekick for Poppy. The various threads of plot, suspects, and subplots are all nicely wrapped up in an exciting, suspenseful conclusion. I am counting down the days until the next installment in this terrific new series!
In the book Aunt Ginny sets Poppy up with a holistic doctor who convinces her to go gluten-free and try to give the Paleo diet a try. As difficult as it is for Poppy to adhere to the diet, she does find great relief from several physical discomforts when she eats within the guidelines. In researching the author for this post, I found that she suffers from an autoimmune disease and as such eats a gluten-free diet. I discovered several years ago that I must also follow a strict gluten-free diet so I was very happy to find that Ms. Klein provides several gluten-free recipes at the back of the book. They all look quite delicious but I was especially drawn to the Paleo Strawberry Vanilla Muffins. I don't often make baked goods for myself, so it was a treat being able to eat something I made. The muffins are quite flavorful and the lemon zest adds a nice zing to the strawberries. The texture is nice and moist but I did notice that after a couple of days the leftover muffins turned crumbly… which isn't unusual for gluten-free products. I've included a tip to combat that in the recipe below. The topping, oh my! I loved the nice crunch of toasted almonds and the coconut sugar added just enough sweetness. In the book Poppy also makes these muffins substituting blueberries for strawberries and I will certainly be giving that variation a try!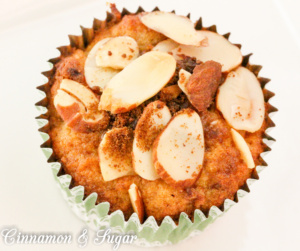 Amazon Synopsis
Newly widowed and stuck in a middle-aged funk, Poppy has been running on cookies, infomercials, and one-sided chats with her cat for months. There's no way on earth she's attending her twenty-five-year class reunion—especially after receiving a very bizarre letter from Barbie, the popular cheerleader who taunted her all through high school. At least, not until Poppy's best friend practically drags her to the event . . .

Using the dreaded homecoming as an excuse to visit her eccentric Aunt Ginny, Poppy vows to leave Cape May with pride and Spanx intact. Too bad Barbie is still the queen of mean at the reunion. And worse, that her dead body is lying right in front of Poppy's old locker. Singled out as the killer, it's up to Poppy to confront her past and clear her name. But between protecting her aunt from disaster and tackling a gluten-free diet, can Poppy crack the case before she's voted "Most Likely to Die" by the murderer?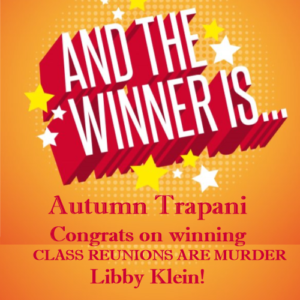 A special thanks to Libby Klein for providing one winner with a print arc of CLASS REUNIONS ARE MURDER! Contest ends Wednesday, January 31, 2018 at 11:59 pm PST and is limited to U.S. residents only. Please use the Rafflecopter box located below the recipe to enter. The winner will be announced on this page and on Cinnamon & Sugar's Facebook page, as well as notified by email (so check your spam folder!)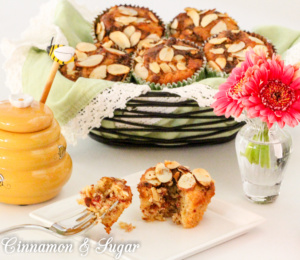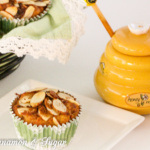 Paleo Strawberry Vanilla Muffins
Ingredients
Topping
1/4

cup

sliced almonds, toasted

2

tablespoons

coconut sugar
Muffins
1/4

cup

coconut oil

4

tablespoons

honey

1

scraped vanilla bean (I used Tahitian) or 1 teaspoon pure vanilla extract *

1

tablespoon

lemon zest

3

tablespoons

full-fat, unsweetened coconut milk

2

eggs

1-3/4

cups

almond flour

1

teaspoon

gluten-free baking powder

1/4

teaspoon

sea salt

1

cup

dried or fresh strawberries
Instructions
Preheat oven to 350 degrees (F).

Line a muffin pan with 12 foil muffin liners or grease with coconut oil.

In a small bowl, toss toasted almonds with coconut sugar. Set aside.

In a large bowl, beat together the coconut oil, honey, lemon zest, vanilla bean paste or extract, and coconut milk. Beat in eggs. Add almond flour, salt, and baking powder and beat until combined. Scrape down the bowl as needed. Fold in the strawberries using a rubber spatula.

Generously fill each muffin tin and sprinkle toasted almonds/sugar mixture on top of each muffin.

Bake for 18 - 20 minutes until golden brown and toothpick comes out clean.
Tips
* If you do use a vanilla bean, be sure to put the husk of the scraped vanilla bean in a bottle of vodka or rum and make your own vanilla extract.

Rub some coconut oil into your measuring spoon before measuring the honey. It will keep the honey from sticking to your spoon.

I found freeze-dried, unsweetened and unsulphered, strawberries at Trader Joe's. They worked amazingly well!

If you're not going to consume the muffins within a day or two of baking them, allow them to completely cool, then tightly wrap individually in plastic wrap. Place wrapped muffins in a freezer-safe ziplock bag and freeze. Defrost muffins as you need them and then gently reheat in the microwave.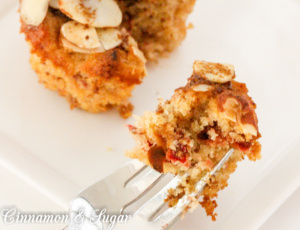 Pin to Pinterest: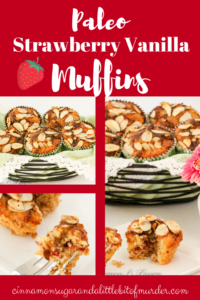 If you receive my blog post via email you will need to visit my website to view the video.
I was provided an advance copy with the hopes I would review. All thoughts and opinions are my own.