With Father's Day fast approaching and summer entertaining heating up I like to have easy, do-ahead recipes on hand so that I can enjoy my guests. That's why I love having a smoker in our outdoor kitchen instead of a standard barbecue (or grill depending on what region you live in) because you can put the meat on and walk away. No standing over a broiling hot grate flipping chicken, hoping it won't be a charred, semi-raw, mess necessitating the pizza delivery guy having to show up. Ummm…. should I admit I've lived that scenario a few times!
If you don't have a smoker you can still enjoy this juicy, slightly spicy, Brown Sugar Rubbed Chicken. I have included instructions on how to make this using a gas grill. However, to produce an unbelievable, succulent flavor, you may have to make use of an infrared grill or something similar.
So treat Dad to a cold one and flavorful smoked chicken on his special day!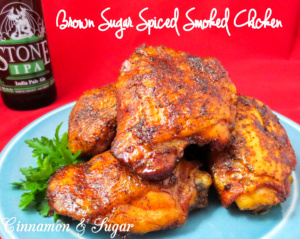 Brown Sugar Spiced Smoked Chicken
Ingredients
5 pounds chicken thighs and/or drumsticks (chicken quarters can be used but it will increase the cooking time)
Brown Sugar Rub
1 cup brown sugar
4 tablespoons kosher salt
2 tablespoons sweet Hungarian paprika
2 tablespoons chili powder
1 tablespoon cumin
2 teaspoons garlic powder
1 teaspoon onion powder
1 teaspoon fresh ground pepper
1 teaspoon dried thyme
1 teaspoon dried basil
pinch of cayenne pepper
If using a smoker
Refer to the smoker's manufacturer's directions on the amount of wood needed. I prefer applewood or oak, which can be purchased from Cutting Edge Firewood (https://www.cuttingedgefirewood.com/cooking-firewood/smoking-chunks/) and its likes. However, if you can, then avoid mesquite as it can overwhelm the chicken.
If using a gas grill
3 cups wood chips. I prefer applewood or oak, but avoid mesquite as it will overwhelm the chicken.
Instructions
Rub
Whisk the rub ingredients together in a medium-sized bowl.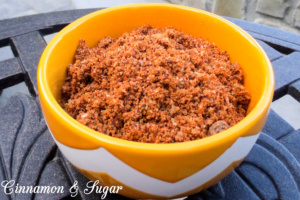 Chicken
Trim excess fat and skin from the chicken pieces.
Place chicken on a foil lined baking sheet.
Generously rub spice mixture all over chicken pieces.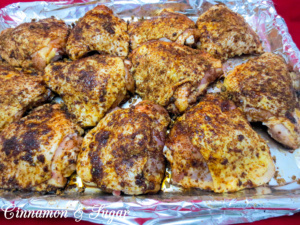 Refrigerate 2 – 8 hours before cooking. (If you're short on time, skip this part and let the spice rubbed chicken sit at room temperature for 20 – 30 minutes before cooking.)
If you refrigerated the chicken, allow to sit at room temperature 20 – 30 minutes before placing on grill.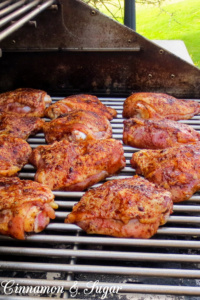 For Smoker
Add wood chips per manufacturer's directions.
Preheat smoker to 225 – 250 degrees.
Clean grates and spritz with grilling non-stick cooking spray.
Once smoker reaches 225 degrees, place chicken on grates and close lid.
Smoke 2 – 2-1/2 hours, spritzing chicken with apple juice every 30 minutes.
Chicken will be done when a meat thermometer inserted into the thickest part of the thigh reaches 175 degrees.
Remove from smoker, cover with aluminum foil and let rest 10 minutes before serving.
For Gas Grill
Soak 2 cups wood chips in water for 30 minutes, drain, then place in heavy duty aluminum foil. Add 1 cup dry wood chips with wet chips and seal foil packet. Poke several vent holes in the top and place on grill's primary burner.
Add 2 cups of water to a disposable pie plate and place on secondary burner.
Turn all burners on high, close lid, and heat grill until hot and wood chips begin smoking.
Clean grates and spritz with grilling non-stick cooking spray.
Turn primary burner to medium-high. Turn all other burners off.
Place chicken as far from primary burner as possible and close lid.
Cook 1-1/4 – 1-1/2 hours until the thickest part of the chicken thighs register 175 degrees on a meat thermometer.
Remove from grill, cover with aluminum foil and let rest 10 minutes before serving.