If you love cheesecake then you really should try these easy goat cheese cookies. And best of all, they are gluten-free! Even if you don't need to eat gluten-free, these cookies are still worth a try (or you can substitute regular flour per the author's instructions below.) The cookies are crispy on the outside yet soft and chewy on the inside with a delicate tang reminiscent of cheesecake…I found them highly addicting and had a difficult time sharing with my taste testers!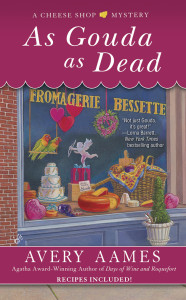 I discovered this wonderful cookie recipe when I read AS GOUDA AS DEAD by Avery Aames (pseudonym for Daryl Wood Gerber). I knew I wanted to read this book the second I saw the title. I love everything about cheese and usually have 4 or 5 varieties in my refrigerator (not counting the American Cheese slices my granddaughters like.) And of course goat cheese is a staple in my house. I used to be the only one who ate it but that has changed thanks to this cookie recipe!
AS GOUDA AS DEAD is the story about Charlotte Bessette, who owns Fromagerie Bessette in a small town in Ohio. Charlotte is preparing to marry the man of her dreams over Valentine's weekend. Her fiancé, Jordan Pace, is an artisan cheese farmer and when one of their friends is found murdered on his farm he decides to postpone their wedding. Charlotte is extremely upset by the postponement, but understands Jordan's reasoning. She decides to find the killer so that her dream wedding can take place. But then she stumbles across the body of the woman who owns Patisserie and she's even more determined to stop the killer before they strike again.
I enjoyed this book and loved reading descriptions about so many varieties of cheese! Avery includes several delicious sounding recipes at the back of her book incorporating those cheeses. The author does a wonderful job creating characters that keep the story interesting and kept me guessing until the end about who the culprit was.
Many thanks to Avery for allowing me to share this very delicious recipe with you!
Goat Cheese Cookies
Ingredients
2-1/2 cups gluten-free flour (I used equal amounts of sweet rice flour and tapioca starch)
1/2 teaspoon baking soda
1 teaspoon baking powder
1/2 teaspoon xanthan gum
1/2 teaspoon salt
1-1/2 cups sugar
1/2 cup crumbled goat cheese, room temperature
6 tablespoons unsalted butter, melted
1/4 cup vegetable oil
1 large egg, room temperature
2 tablespoons milk
1 teaspoon vanilla extract (make sure it's gluten-free if necessary)
1/2 cup of sugar for coating cookies
Instructions
Preheat oven to 350 degrees F.
Line a baking sheet with parchment paper.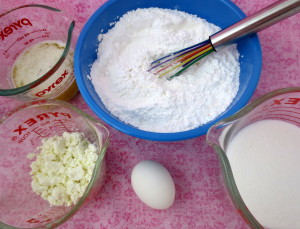 In a small bowl, whisk together gluten-free flour, baking powder, baking soda, xanthan gum, and salt. Set aside.
In a large bowl, combine the sugar, crumbled goat cheese, and the melted butter. Whip the mixture for 1 minute.
Add in the vegetable oil and stir.
Add the egg, milk, and vanilla extract and stir the mixture until smooth. (You might still see a few lumps; that's okay.)
Add the flour mixture and stir well.
The dough will be soft but should be workable. If not, refrigerate the dough until it stiffens up, about 15 minutes.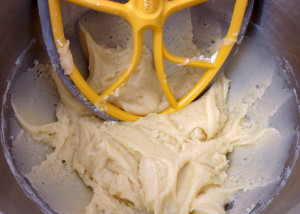 Pour the 1/2 cup of sugar for coating cookies into a small cereal-sized bowl.
Using your fingers, take a tablespoon of cookie dough, roll it into a ball, and roll it in the sugar to coat.
Set the cookie on the prepared baking sheet. Remember to leave about 2 inches between cookies. They will spread.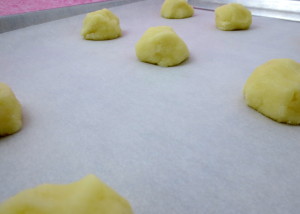 Bake each batch for 10 – 12 minutes, until the cookies are just set and slightly cracked. DON'T overcook.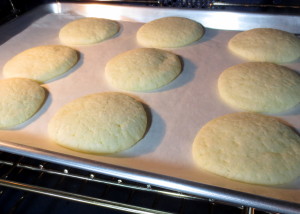 Cool on the baking sheet for 3 minutes, then transfer the cookies to a wire rack or paper towels to cool.
Store the cookies in an airtight container for up to 1 week. They may be frozen if wrapped individually in plastic wrap.
Note from Avery Aames
Goat cheese, like buttermilk, adds a delicate tang to these cookies, almost like lemon, which is a perfect balance for all the sugar. Trust me. They are chewy, yet crisp.
For regular cookies, substitute out the gluten-free flour with regular flour and omit the xanthan gum.
My Variation
When the cookie dough starts to spread in the oven, about 5 minutes into the baking time, sprinkle colored sanding sugar over the cookies. Finish baking and cooling as directed above.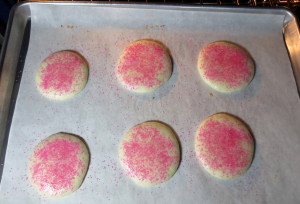 Coming August 4, 2015 Fudging The Books, a Cookbook Nook Mystery, by Daryl Wood Gerber.