I love desserts that can be made way ahead of time when I'm entertaining guests. That way my time is free to take care of last minute dinner preparations and then I'm able to relax and enjoy the rest of the evening.
This lime cheesecake is one of those desserts. Thanks to its secret ingredient, white chocolate, it is super creamy and rich while delicately tart. Refreshing after a meal. It can also be made a day or two ahead of time, freeing up valuable time to prepare dinner. A quick garnish on precut slices and you'll be listening to oohs and aahs over your culinary creation in no time at all. I've included my gluten-free adaptation for this lime cheesecake, so those with special dietary needs can also enjoy!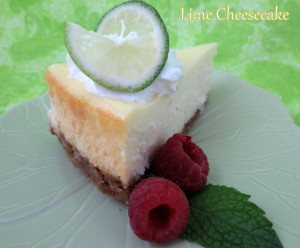 Lime Cheesecake
Ingredients
Crust
1-3/4 cups graham cracker crumbs (for gluten-free use Kinnikinnick brand)
1/4 cup powdered sugar
1/2 teaspoon salt
6 tablespoons melted butter
Filling
1/2 cup heavy cream
4 ounce bar premium white chocolate, chopped into small pieces
3 cups (3 8-ounce packages) cream cheese, room temperature
1 cup granulated sugar
1/4 teaspoon salt
3 tablespoons fresh lime juice
Lime zest from 3 limes
1/2 teaspoon lime oil (optional)
4 large eggs, room temperature
Instructions
Preheat oven to 350 degrees and lightly spray a 9″ springform pan with non-stick cooking spray.
Crust
Whisk the graham cracker crumbs, salt and powdered sugar together in a medium-sized bowl, then stir in the melted butter.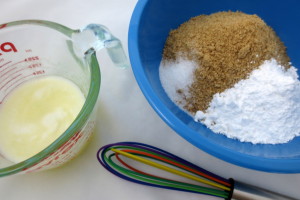 Tamp the crust mixture into the bottom of the springform pan, forming half inch crust up the sides of the pan.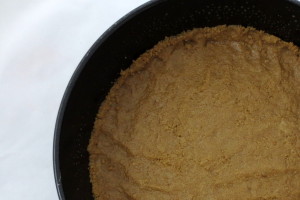 Bake the crust 12 – 15 minutes, until starting to lightly brown. Keep a close eye on the crust if using the gluten-free graham cracker crumbs since they can quickly overcook.
Remove crust from oven and reduce oven temperature to 275 degrees.
Filling
Place the heavy cream and white chocolate pieces into a microwave safe dish and heat for 30 seconds on high.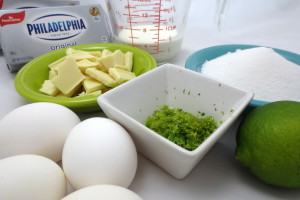 Remove chocolate mixture and vigorously stir. If chocolate pieces remain unmelted, heat in additional 10 second intervals, stirring each time, until mixture is smooth. Set aside and allow it to come to room temperature.
In the bowl of a standing mixer, beat the cream cheese on low until it is smooth.
Add the granulated sugar, salt, lime juice, lime zest and lime oil (if using). Beat on low until incorporated.
Beat in the eggs, one at a time, and mix until thoroughly incorporated, taking care to scrape down the sides and bottom of the mixing bowl.
Slowly add the white chocolate mixture to the batter, mixing on low until smooth.
Pour the batter over the graham cracker crust and bake for 60 – 70 minutes. Make sure your oven has been turned down to 275 degrees.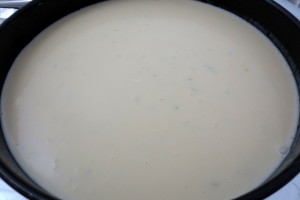 The center of the cheesecake will still jiggle a bit and the internal temperature should be about 165 degrees or more.
Turn the heat off and crack the oven door, allowing the cheesecake to cool in the oven for 1 hour.
Remove from oven and place in the refrigerator and chill at least 4 hours or overnight.
To serve
Run a knife around the edges of the cheesecake to loosen then remove the springform sides of your pan.
Cut into 12 wedges and garnish with whipped cream and fruit right before serving.

Tips
If using a dark-colored springform pan, reduce the oven temperature to 325 degrees when baking the crust.
To make clean cut edges when slicing the cheesecake, in between cuts dip the knife into a container of hot water, wipe it dry then slice. Repeat each time you cut.
Recipe adapted from King Arthur Flour