With my husband, Dan, being unable to consume dairy products, it's often a challenge to find desserts that he can eat that are rich, decadent and company worthy. I've learned some substitution tricks along the way but sometimes they fall short of being just as yummy as the original recipe. I was more than intrigued when I found this vegan chocolate cake recipe with vegan chocolate ganache. Ganache is a mixture of heavy whipping cream and rich dark chocolate…two simple ingredients that when put together are the epitome of decadent! I was curious to see if A. Gardener, the author of Southern Peach Pie and and a Dead Guy, could pull it off using canned coconut milk.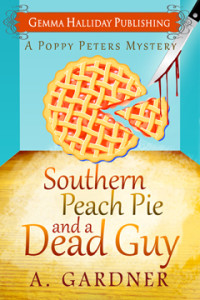 I was not disappointed and licked the bowl clean after glazing the equally decadent cake! My husband is not a big fan of coconut but he couldn't detect the coconut flavor thanks to the dark chocolate. The vegan chocolate cake is a snap to whip up and if you have kids helping in the kitchen, it's safe for them to lick the bowl since there are no raw eggs in the batter. Even if you can consume dairy, this cake deserves a place in your recipe file since it's delicious, easy to make and company worthy!
A special thanks to A. Gardener for allowing me to share her wonderful recipe that she so thoughtfully included in her fun book! Her story is about Poppy Peters, a dancer whose injury forces her to find a new career. Poppy, at the age of 30, decides to follow in her grandmother's footsteps and enrolls in Calle Pastry Academy, even though she isn't much of a cook. She faces many challenges after moving from California to the small Georgia town where the academy is located and has to learn to trust herself. Soon after she is accused of stealing valuable truffles from the school's kitchen and almost expelled, someone from the school is murdered. Poppy is forced to find the culprit and clear her name or her new life will be over before it's even started.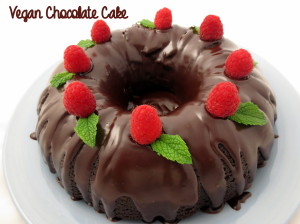 Vegan Chocolate Cake
Ingredients
Cake
2-1/4 cups all-purpose flour
1/2 cup cocoa powder
1-1/2 cups granulated sugar
1 teaspoon baking soda
1/4 teaspoon baking powder
1/2 teaspoon salt
1 cup warm water or coffee
1/2 cup vegetable oil
2 teaspoons vanilla extract
1 teaspoon white distilled vinegar
Dark Chocolate Ganache
1/2 cup coconut milk
4-5 ounces dark chocolate*
Preheat oven to 350 degrees Fahrenheit
Instructions
Cake
Mix together the flour, cocoa powder, sugar, salt, baking soda and baking powder in a large bowl.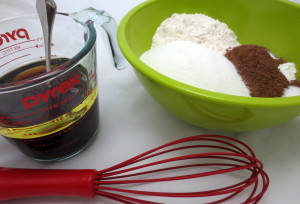 In a separate bowl, combine the vegetable oil, vanilla, vinegar and water or coffee.
Slowly add the wet ingredients into the dry mixture.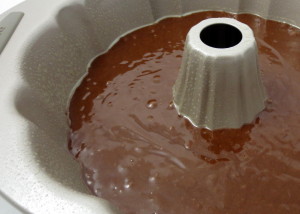 Pour the batter into a greased, 9-inch Bundt pan, baking dish, or cake pan.
Bake at 350 degrees Fahrenheit for 30 – 35 minutes until a toothpick comes out clean.
Ganache
Melt dark chocolate and coconut milk together in a saucepan or the microwave. If using the microwave start out with 1 minute on high, then whisk. If chocolate is not melted, heat in 10 second intervals, whisking after each time until smooth.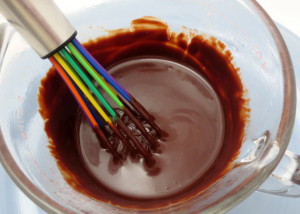 The ganache should be thin enough to pour across the top of the cake.
Remove the cake from the pan and drizzle the ganache over the warm cake and let it all cool before serving.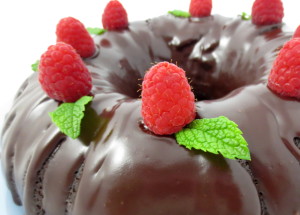 Tips
*I used 70% cacao dark chocolate for the ganache and while it was delicious, unless you are a true dark chocolate aficionado, most people will probably prefer a sweeter chocolate such as a 50% cacao ratio.
I keep small instant coffee packets on hand (such as Starbucks Via) for when I'm baking and don't want to brew coffee just for the dessert I'm mixing up.
Vigorously shake the can of coconut milk before opening, to distribute the separated coconut cream.
You can freeze the remaining coconut milk, after making the ganache, in ice cube trays, then use in smoothies or curries later when you need it. Here's a link for other ways to use leftover coconut milk: 17 Ways to Cook with Coconut Milk