Anytime there is a holiday or celebration, be it Father's Day, 4th of July, or a birthday, I like to start the morning off with a special breakfast instead of the usual cereal or fruit smoothie. Pancakes are at the top of my list for a special breakfast that can be put together quickly, without special planning. Plus, it's one of the easiest things for kids to learn to make early on. Since Father's Day is right around the corner I knew I wanted to have my granddaughter, Emory, make these blueberry pancakes for her dad.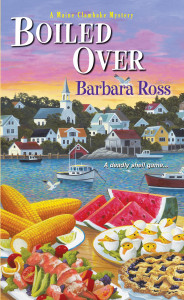 I found the recipe in the book BOILED OVER (A Maine Clambake Mystery) by Barbara Ross. The story is about Julia Snowden who has returned to her family's small Maine town to save their clambake business. She only plans to stay for a short time but ends up being drafted to help organize the town's new Founder's Day weekend celebration, with the hopes it will draw more tourists. A successful weekend would go a long way towards helping their clambake business survive. But before the event can even get started, one of her fellow committee members is murdered and the body is found in the Snowden's family clambake oven. The police suspect the family's young employee, Cabe, who fled the scene and can't be found. Julia is certain Cabe is innocent and begins investigating on her own so the boy can come home and the Snowden Clambake business can get back to business.
I enjoyed Boiled Over very much. Maine is known for its blueberries and I loved the way Barbara wove interesting facts on how blueberries are harvested into the plot. In addition to Vee's Blueberry Pancake recipe, the author has also included traditional clambake recipes – all which sound quite delicious! My note on making the pancake recipe: Wild Maine blueberries are much smaller than cultivated blueberries…something I didn't know. My first attempt at making Barbara's recipe (which is delicious, by the way, and the errors were entirely my own!) I used California blueberries, which are huge. As Emory said, "Epic fail, WaWa, epic fail." So on to plan B: I chopped my huge blueberries but didn't account for the additional liquid when returning them to the batter. The pancakes still tasted great, just didn't look all that appealing. So, I tracked down some FROZEN wild blueberries at Trader Joe's and my granddaughter finally got pancakes that both looked and tasted wonderful. I think her dad is going to be a pretty happy guy on Father's Day when served such a delicious treat for breakfast!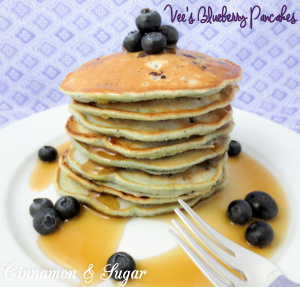 Vee's Blueberry Pancakes
At the Rotary breakfasts, Viola Snuggs cooks up blueberry pancakes for a crowd. This delicious recipe has been adapted for home use.
Ingredients
2 cups cake flour (scoop & level method)**
1/4 cup sugar
4 teaspoons baking powder
1/2 teaspoon salt
2 cups milk
1 egg, lightly beaten
4 tablespoons melted butter
2 cups Maine wild blueberries, fresh or frozen. If frozen, thaw thoroughly.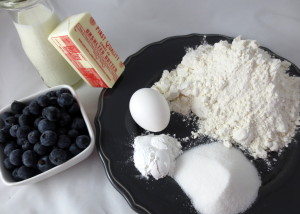 Instructions
Heat oven to 200 degrees.
Whisk cake flour, sugar, baking powder and salt together.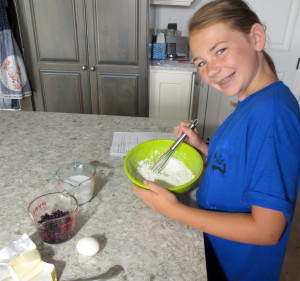 Add milk, egg and melted butter to the flour mixture and stir.
Fold in blueberries.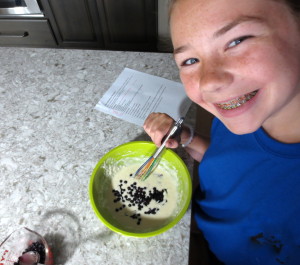 Melt additional butter on medium high heat in pan or on a griddle.
Spoon out pancake mix in 1/4 cupfuls.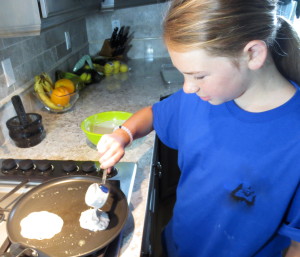 Flip pancakes when lightly browned on bottom.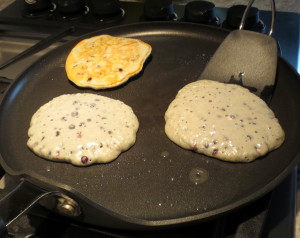 Adjust heat, if necessary, to keep from burning.
Put finished pancakes on ovenproof platter.
Top with butter and keep warm in the oven.
Serve with real maple syrup, or other syrup of your choice.
**Here's a link to Joy The Baker's site for her method of substituting all-purpose flour for the cake flour, should you not have any on hand: Cake Flour Substitution