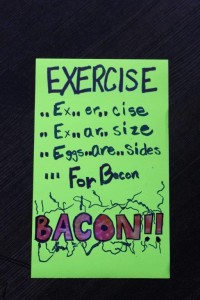 My family LOVES bacon! Especially my son-in-law, Danny, and my granddaughter, Emory. The sign above is one that Em made to cheer her dad on when he was training and then running in the Boston Marathon…not one, but TWO years in a row! Danny is not a runner but he challenged himself to run the marathon to raise funds and awareness to find a cure for Rett Syndrome which his oldest daughter, Jaidyn, lives with every single day. I have a great son-in-law and my granddaughters have a great dad!
So as Father's Day approaches, I wanted to make something that I knew he would enjoy…something sweet…something with BACON! And I came up with Maple Bacon Cookies. My husband looked at me like I was crazy when I mixed up the dough, but the combination of sweet maple and salty bacon with crunchy buttery pecans complimented each other in this soft, chewy cookie. Not only did Danny and Em gobble up a cookie, or two, or three, somehow Em convinced her dad to let her share some with her friends. Since there wasn't even one crumb left over within a matter of minutes of the container being opened, I'd say I need to add this recipe to my regular cookie rotation file!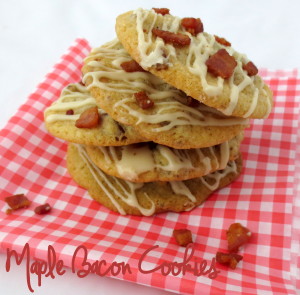 Maple Bacon Cookies
Ingredients
Cookies
1/2 cup unsalted butter, room temperature
3/4 cup granulated sugar
1 egg, room temperature
1/2 teaspoon maple extract
1 tablespoon pure maple syrup
1 cup + 2 tablespoons (5.8 ounces) all-purpose flour
1/2 teaspoon salt
1/2 teaspoon baking soda
1 cup roughly chopped pecans
1/4 cup (4 ounces) bacon pieces, cooked until crispy + additional 1/4 cup bacon if you wish to garnish the tops of the cookies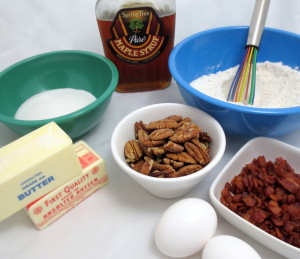 Icing
1/2 cup confectioners' sugar
3 tablespoons pure maple syrup
1/4 – 1/2 teaspoon water
Instructions
Cookies
In a medium-sized bowl, whisk the flour, salt and baking soda together. Set aside.
Cream the butter and sugar together in the bowl of a standing mixer, until the mixture is fluffy, approximately 2 minutes.
Add the egg and beat until well incorporated.
Mix in the pure maple syrup and the maple extract.
Slowly add the flour mixture to the maple mixture and stir until thoroughly combined. Dough will be sticky.
Stir the chopped pecans and 1/4 cup bacon pieces to the dough.
Place dough in the refrigerator and chill at least 1 hour.
Preheat oven to 350 degrees.
Scoop 1 tablespoon-sized dough rounds onto a parchment lined baking sheet.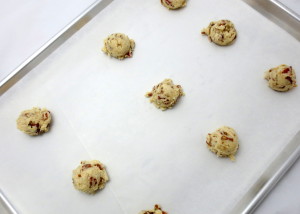 Bake cookies for 10 – 12 minutes, rotating pans half way through baking.
Cookies will be done when the edges are golden brown and the centers are set.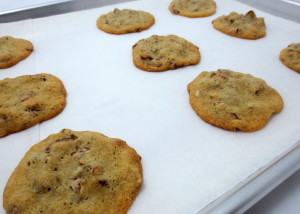 Remove from oven and allow to cool on the baking sheet 5 minutes, then remove cookies to a wire rack and cool completely before icing.
Icing
Mix the confectioners' sugar with the pure maple syrup. Whisk until smooth.
If the icing is too thick, add water, 1/4 teaspoon at a time, and whisk thoroughly.
Drizzle icing over completely cooled cookies.
Garnish with additional bacon pieces if desired, while the icing is still wet.
Allow the icing to completely dry if you can resist!
Any leftovers not consumed within 8 hours should be stored in the refrigerator in an airtight container…but we didn't have that problem!
Tips
I prefer to cook my bacon pre-chopped since I can use a smaller skillet and there's less bacon grease popping on me than when trying to flip the large slices over.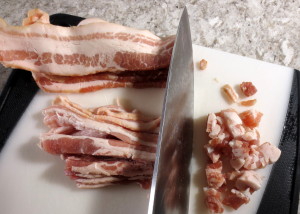 Place the raw bacon slices (sealed in a container) in the freezer for 10 – 15 minutes before chopping into pieces. The firm bacon will be much easier to slice.