The first day of autumn arrived this week and I wish I could say so did cooler weather. Unfortunately, Southern California has another heat wave with temperatures in the 80's to 90's. While the calendar makes me wish for heartier dishes, braised slowly in the oven, I just can't bring myself to add additional heat to my kitchen. Thankfully with a crockpot/slow cooker I can have comfort food without the discomfort.
One of my favorite slow cooker meals is Pork Chile Verde. Fork tender pieces of pork that melt in your mouth and is smothered in an earthy, slightly spicy, tomatillo sauce, known as Salsa Verde. My Salsa Verde serves a dual purpose: Part of it is used to braise the pork until it is meltingly tender then a bit more is added to finish the dish to bring bright freshness. I serve the remaining Salsa Verde with crisp tortilla chips as part of my pre-dinner appetizers. And the best part? Pork Chile Verde is even better reheated in the microwave the next night or two as leftovers!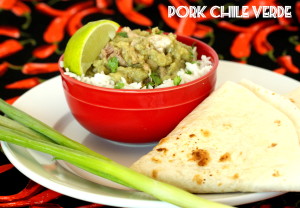 SLOW COOKER PORK CHILE VERDE
Ingredients
Pork Chile Verde
3-1/2 to 4 pounds pork stew meat, trimmed and cut into similar sized pieces (pork blade roast or country style ribs will work as well*)
3 – 4 teaspoons salt, divided
1 teaspoon fresh ground pepper, divided
1 tablespoon cumin
3 tablespoons vegetable oil, divided
1 cup (3 ounces) crushed tortilla chips
5 cups Salsa Verde, divided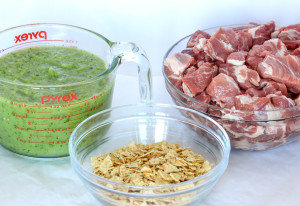 Salsa Verde
1-1/2 pounds tomatillos, husks removed and washed
2 fresh jalapeno peppers, seeded (if you prefer spicy, leave some of the seeds)
1 (7-ounce) can diced green mild Ortega Chiles
1 large onion
4 green onions
6 cloves fresh garlic
1 lime, juiced
1 bunch cilantro leaves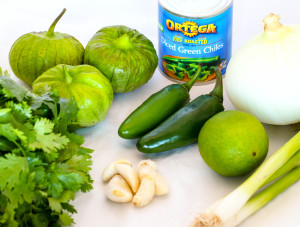 Instructions
Salsa Verde
Rough chop the tomatillos, jalapeno peppers and onions. Place vegetables in the jar of a blender (or food processor) along with garlic, Ortega Chiles, lime juice, 1-1/2 teaspoons salt and 1/2 teaspoon fresh ground pepper.
Puree the salsa until smooth.
Taste and add additional salt if needed.
Add the cilantro leaves and pulse until finely chopped, but not pureed.
Measure out 4 cups of the Salsa Verde and refrigerate the remaining salsa.
Pork Chile Verde
Sprinkle pork with 1-1/2 teaspoons salt and 1/2 teaspoon fresh ground pepper.
Heat 1 tablespoon oil in a large skillet** over medium-high heat until almost smoking.
Add 1/3 of the pork to the skillet and brown 2 to 3 minutes on each side. Remove meat to a separate container and repeat with remaining oil and pork.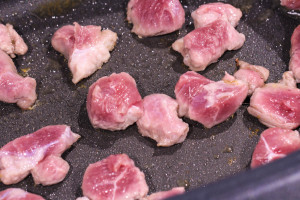 About 1 minute before the last batch of pork finishes cooking, sprinkle the cumin over the pork and stir for a minute.
Remove from skillet and place in the slow cooker along with all the browned pork and any accumulated juices.
Add tortilla chips and 4 cups of Salsa Verde and stir to combine.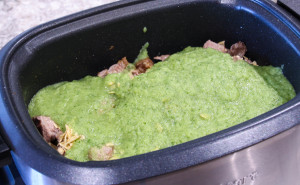 Cook the mixture on high for 30 minutes, then reduce to low and cook 8 – 9 hours until pork is fork tender. If cooking blade roast or country style ribs, turn them over and rotate half way through cooking so they cook evenly.
If the sauce is super thin remove the pork with a slotted spoon and place in a large bowl and cover with foil. ***  (If the sauce has a thick consistency skip the additional cooking time and proceed to seasoning and adding the reserved Salsa Verde.)
Turn the slow cooker to high heat and cook uncovered for 20 to 30 minutes until sauce thickens.
Taste and season with remaining 1 teaspoon of salt if needed.
Return pork and 1 cup of the reserved Salsa Verde to the slow cooker.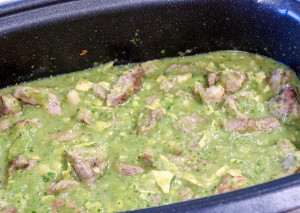 Heat for few minutes then serve over steamed rice passing flour and corn tortillas, remaining Salsa Verde and lime wedges.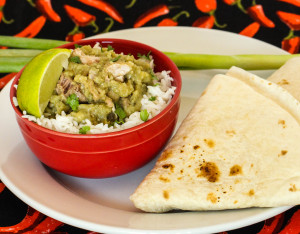 *If using pork blade roast, cut the roast into 4 or 5 equal sized pieces if possible, leaving the bone in. Cook as directed above. Once fork-tender remove the meat from the slow cooker and shred, discarding the bone and fat. Return the meat to the sauce and serve.
*If using country style ribs leave them intact and layer in the slow cooker and cook as directed above. Once fork-tender remove the meat from the slow cooker and shred, discarding the bone and fat. Return the meat to the sauce and serve.
**If your slow cooker has a brown/sauté feature by all means brown the pork in the base of your slow cooker instead of using another skillet. You can even skip the browning instructions but it does add additional flavor to the dish.
***I found that when using either pork blade roast or country style ribs the sauce ends up thinner than when using pork stew meat.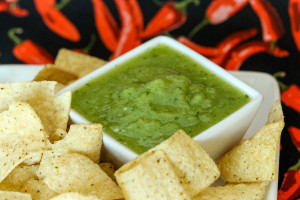 Tips
Salsa Verde can be made a few days ahead of time and refrigerated until needed. Heat the 4 cups in the microwave for a couple of minutes before adding to the slow cooker.
The extra Salsa Verde is the perfect dip for tortilla chips!
Pork Chile Verde freezes quite well for future meals. I place 1 or 2 servings into a freezer-safe ziplock bag then thoroughly chill in the refrigerator before placing in the freezer. Defrost in the refrigerator overnight then reheat in the microwave before serving.