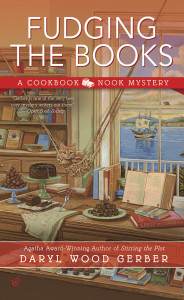 Having to eat gluten-free and then having a husband who has to eat dairy-free means that we rarely get to share the same dessert. More often than not either I'm watching him indulge or he gets to sit and watch me eat because I would rather not cook two desserts at one time. I was beyond excited when I saw a naturally gluten-free/dairy-free White Chocolate Macaroon cookie recipe in FUDGING THE BOOKS by Daryl Wood Gerber and found that we could both eat the cookies! I've never made macaroons (not to be confused with Macarons – a French style meringue-based cookie sandwich with a layer of buttercream) and I'm not sure I've ever eaten one either….I know, strange for someone who is a cookie monster like I am! Macaroons are a meringue-based cookie as well but uses lots of coconut for structure. They are light and delicate and the drizzled white chocolate (I used dairy-free white chocolate for my hubby) added a subtle sweetness with creaminess. While not colorful on their own, these cookies can be dressed up with sprinkles to suit your occasion if desired.
FUDGING THE BOOKS is a fun rollicking cozy mystery read full of pirates, chocolate and murder. Jenna Hart runs the Cookbook Nook, a cookbook shop in Crystal Cove which is a small coastal town in California. Celebrating Pirate Week in the tourist town is frantic enough but in addition Jenna and her assistant and best friend, Bailey, host the monthly Chocolate Cookbook Club's meeting. Their good friend Coco Chastain, chocolatier and cookbook author, is the guest of honor along with Coco's publisher, Alison Foodie. Before the evening is over Coco and Alison are seen arguing and the next morning Alison is found dead…murdered.
Coco is the prime suspect but even though she swears she has an alibi she won't tell anyone who she was with all night long. Jenna starts asking questions around town, wanting to clear her friend's name. Before long she has several people who may have had motives for killing the publisher and each of them appear to be lying one way or another.
The author's characters come to life on the pages and I would love to spend time in Crystal Cove and especially the Cookbook Nook! FUDGING THE BOOKS is the fourth book in the Cookbook Nook series but is easily read as a stand-alone. And as can be expected with Daryl's books, there are several delicious recipes included with a wonderful story! Thank you, Daryl, for allowing me to share your yummy White Chocolate Macaroons!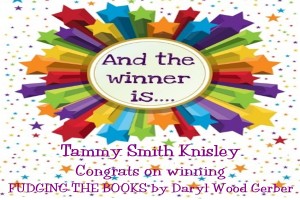 As a bonus for my readers, I'm giving away a copy of FUDGING THE BOOKS. Please comment below and one lucky winner will be randomly chosen. Contest ends Wednesday, September 23, 2015 at 11:59 pm. Winner will be announced on this page and on Cinnamon & Sugar's Facebook page, as well as notified by email (so check your spam folder!) Open to U.S. residents only.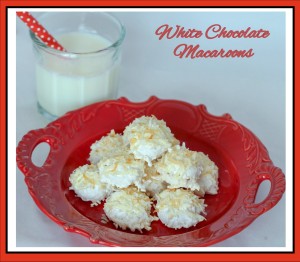 White Chocolate Macaroons
Ingredients
5 egg whites, room temperature
3/4 cup ground almonds
5-1/4 cups flaked coconut, toasted, divided
1/2 teaspoon vanilla extract
1-1/3 cups sugar
6 ounces white baking chocolate, chopped
Instructions
Bring the egg whites to room temperature. This takes about 30 minutes.
Grind the almonds and set aside. (I used my food processor.)
To toast the coconut, lay parchment paper on a 15-by-9-inch jell roll pan.
Spread the coconut on the parchment paper and toast in a slow oven, 300 degrees F., for 15 minutes until lightly browned.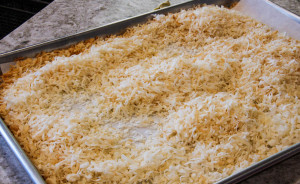 Remove from oven and cool. Set aside 1/4 cup of the toasted coconut for garnish.
Meanwhile, place the egg whites in a large bowl.
Add vanilla extract and beat the mixture on medium until soft peaks form, about 3 – 4 minutes.
Gradually beat in the sugar on high, until stiff glossy peaks form, about 4 – 6 minutes.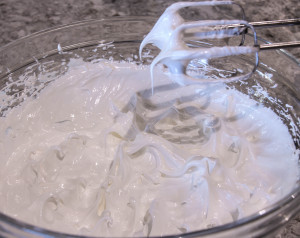 Gradually fold in 5 cups of the toasted coconut and ground almonds.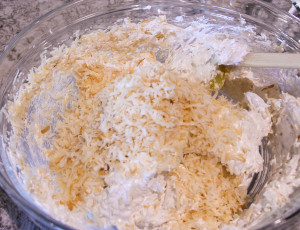 Line the jelly roll pan again with a new sheet of parchment paper.
Drop the mixture by rounded tablespoons full, 2 inches apart.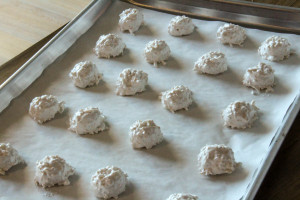 Bake the cookies at 275 degrees F for 20 – 25 minutes, until firm to the touch.
Remove the cookies to wire racks or paper towels to cool completely.
Meanwhile, in a microwave-safe bowl, melt the white chocolate, at half power, for about 30 seconds at a time until it can be easily stirred. Do not over-zap.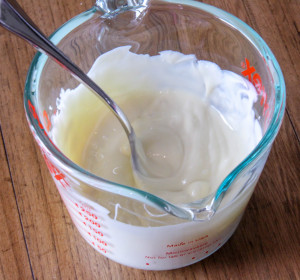 Spoon 1/4 teaspoon of melted white chocolate onto each cookie.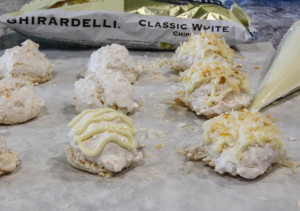 Sprinkle with the reserved toasted coconut.
Refrigerate for approximately 1 hour, until chocolate is set.
Store in an airtight container.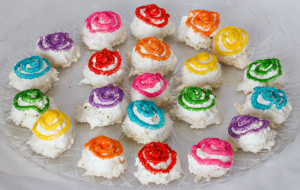 Tips
Separate the eggs while they are still cold then bring the whites to room temperature.
Refrigerate the egg yolks and use them to make Crème Brûlée within 2 days.
It took over 20 minutes for my coconut to toast…keep a close eye on it as it starts to brown and stir often because it can easily burn. If the coconut starts getting too brown, transfer the coconut to a cool baking sheet to stop the cooking process.
I used Bob's Red Mill ground almond meal instead of grinding my own almonds.
If you need the cookies to be dairy-free use a dairy-free white chocolate brand such as King David OR use dark, bittersweet chocolate that has no added milk instead.
I spooned the melted white chocolate into a disposable pastry bag (or a heavy duty ziplock bag will work) and snipped off the end to drizzle over the cookies. If the white chocolate cools off too much to drizzle, zap in the microwave for 5 – 7 seconds then knead the chocolate before applying.
Sprinkle assorted nonpareils, jimmies or colored sparkling sugar on top of the wet white chocolate for festive cookies. I piped spiral shapes with the white chocolate then sprinkled with sparkling sugar.