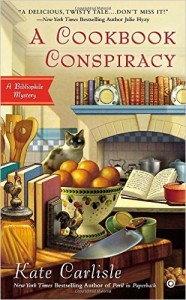 I love books, especially mysteries and cookbooks, so when I came across A COOKBOOK CONSPIRACY, the seventh book in the Bibliophile Mystery series by Kate Carlisle, I was sure I had found the best of both worlds. Brooklyn Wainwright restores books and manuscripts for a living and when her chef sister, Savannah, brings her a cookbook from the 18th century to restore, she is thrilled. However, Savannah is planning on giving the valuable historical cookbook to her ex-boyfriend, celebrity chef Baxter Cromwell. Baxter's ego is as large as his fame and Brooklyn is afraid he won't appreciate or treasure the gift. Savannah argues that Baxter is the one who gave her the book in the first place, so it rightfully belongs to him now that they are no longer an "item".
To celebrate the opening of his new San Francisco restaurant, Baxter has invited Savannah along with some of their fellow Cordon Bleu culinary school graduates to be guest chefs. Savannah invites Brooklyn and her boyfriend, Derek Stone, to attend the dinner. When Savannah presents the restored cookbook to Baxter, Brooklyn is appalled that not only does Baxter not appreciate the gift, he is angry that her sister gave it to him. Savannah, needless to say, is very upset and later when Brooklyn and Derek return to the restaurant to pick her up, find Baxter murdered with Savannah standing over him clutching a bloody knife. In addition to the dead chef the valuable cookbook is also missing.
The police have every reason to think Savannah could be the murderer but Brooklyn is just as certain of her sister's innocence. Brooklyn begins asking questions, digging deeper into the secrets Baxter and Savannah's chef friends seem to be hiding. She finds that all of them had reasons to hate Baxter and when another chef is found murdered Brooklyn knows she must solve the case before there is another victim.
A COOKBOOK CONSPIRACY did not disappoint. The murder mystery and the disappearance of the historical cookbook were skillfully woven together and kept me turning the pages late into the night. In addition to providing some information on restoring books, Kate provides a few recipes at the back of the book as well, including an historical recipe for Syllabub. While I found it very interesting to read about Syllabub (and want to try it one of these days), I opted instead to try Brooklyn's Mom's Crazy Delicious Apple Crisp recipe. Oh my goodness, absolutely delicious! And the topping stayed crisp even the next day which I appreciated…I really dislike soggy crusts and toppings. My granddaughter gobbled up more than her fair share which means I will need to make another dish of it soon!!! Be sure to scroll down to the bottom of the page for my video showing step-by-step directions. I love video tutorials so am trying to learn how to incorporate them when I can. Bear with me while I learn!
Thank you, Kate, for allowing me to share your wonderful recipe!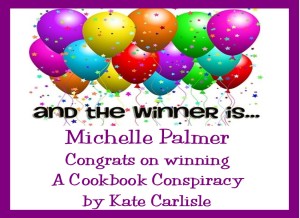 As a bonus for my readers, I'm giving away a copy of A COOKBOOK CONSPIRACY. Please comment below and one lucky winner will be randomly chosen. Contest ends Wednesday, September 30, 2015 at 11:59 pm. Winner will be announced on this page and on Cinnamon & Sugar's Facebook page, as well as notified by email (so check your spam folder!) Open to U.S. residents only.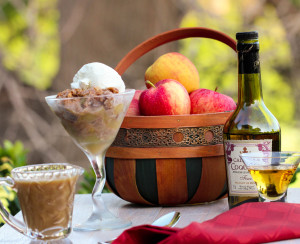 Brooklyn's Mom's Crazy Delicious Apple Crisp
Ingredients
Topping
1/4 cup plus 2 tablespoons all-purpose flour (I substituted gluten-free tapioca and rice flours…and no one knew!)
1/4 cup light brown sugar
1/4 cup granulated sugar
1/4 teaspoon cinnamon
1/8 teaspoon nutmeg
1/4 cup cold salted butter
1 ounce extra-sharp Cheddar cheese, finely shredded
1/2 cup chopped pecans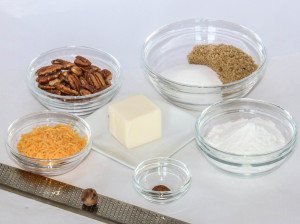 Filling
6 assorted apples, peeled and cut into 1/2-inch chunks
2 tablespoons apple liqueur, apple brandy, or apple cider
1/2 teaspoon lemon zest
1/4 cup sugar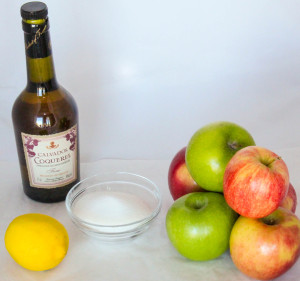 Caramel Sauce
1 cup brown sugar
1 tablespoon cornstarch
1 cup heavy cream
2 tablespoons apple liqueur, apple brandy, or apple cider
1 tablespoon butter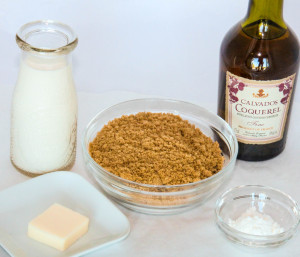 Instructions
Prepare the topping at least a couple of hours before you plan to bake the dessert.
Topping
Mix together the dry ingredients.
Cut in the cold butter until the mixture resembles wet sand. You can use a food processor and pulse it a few times for one second at a time.
Add the cheese and nuts and mix well.
(My note: I goofed and added the cheese and nuts with the flour and sugar before pulsing in the food processor…it still turned out amazing!)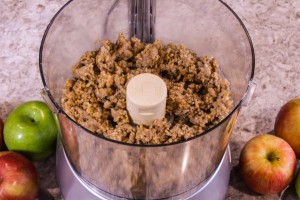 Form a ball of dough, wrap it in plastic wrap, and let it chill in the refrigerator for at least two hours.
Filling
Preheat oven to 375 degrees.
Mix together the filling ingredients in a large bowl and pour into a round or square dish with deep sides. I used an eight-inch-square pan.
Break apart the topping and spread it evenly on top of the filling.
Bake until the filling is bubbly and the top is nicely browned, about 40 minutes.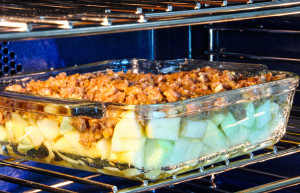 While the crisp is baking, make the caramel sauce.
Caramel Sauce
Mix together all ingredients in a heavy-bottom pan and place over low heat.
Stir frequently as it thickens to a rich golden brown.
Remove from heat and serve warm.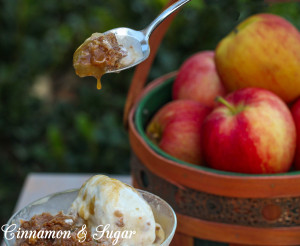 Brooklyn's mom serves the crisp in a bowl with a scoop of vanilla ice cream and pours caramel sauce over the whole luscious concoction.
Be sure to subscribe for email delivery of my recipes, video tutorials and giveaway opportunities!