I'm always on the lookout for new muffin recipes to try and experiment with. It's like eating cupcakes for breakfast except that there's a bit of healthiness in muffins, generally in the form of fruit. Plus they are easy to eat on the go, be it for breakfast or a snack. I have my "go-to" muffin recipes that I make frequently for my granddaughters, but since it's apple season I decided to broaden our horizons. Cinnamon seems to have been made for apples, so I added some warming spices to both the batter and the streusel topping and loaded the batter up with moisture providing apples. So even if my family thinks they're getting a decadent treat for breakfast or snack, I know that in reality we're still on track for eating healthy.
Be sure to scroll down to the bottom of the page to view my latest video tutorial for my Cinnamon Apple Streusel Muffins.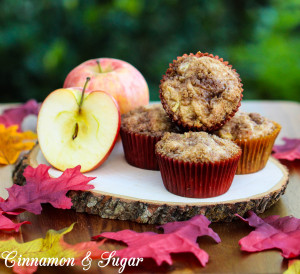 Cinnamon Apple Streusel Muffins
Makes 20 – 22 muffins
Ingredients
Muffins
1/2 cup butter, room temperature
1/2 cup (3.6 ounces) granulated sugar
1/2 cup (3.7 ounces) light brown sugar)
2 eggs, room temperature
1 teaspoon vanilla extract
3 apples, peeled and finely chopped
1/2 cup cinnamon chips (optional)
2-1/3 cup (11.5 ounces) all-purpose flour
1 teaspoon baking powder
1/2 teaspoon baking soda
1/2 teaspoon salt
1 teaspoon ground cinnamon
1/4 teaspoon ground cloves
1/4 teaspoon ground ginger
Streusel topping
2/3 cup (4.8 ounces) light brown sugar
2 tablespoons all-purpose flour
1/2 teaspoon ground cinnamon
2 tablespoons butter, cold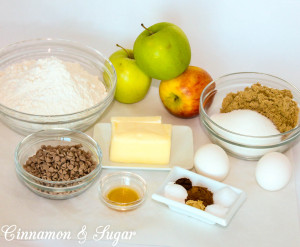 Instructions
Preheat oven to 375 degrees.
Streusel topping
In a small bowl, mix together brown sugar, flour and cinnamon.
Using a fork or pastry cutter, cut in the cold butter until the mixture looks like wet sand. Set the bowl aside.
Muffins
Line 2 muffin tins with paper liners.
In a medium-sized bowl, whisk together the flour, baking powder, baking soda, salt, cinnamon, cloves and ginger. Set aside.
In a large bowl, cream the butter with an electric mixer then add the sugar and beat until incorporated.
Add the eggs, one at a time, and beat until smooth.
Add the vanilla and mix.
Add chopped apples and cinnamon chips if using, and stir until incorporated.
Add the flour mixture to the apple batter and stir until combined. The batter is very thick.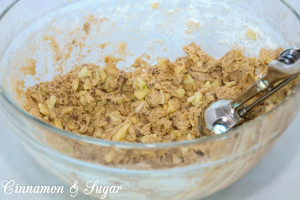 Divide the batter evenly between the lined muffin tins and sprinkle the streusel mixture over the tops of the batter.
Gently poke the streusel mixture into the top of the batter 4 or 5 times.
Bake in a preheated oven 14 – 16 minutes. The tops should be golden brown and spring back when pressed. A wooden skewer inserted into the middle of the muffin should come out mostly clean. The amount of apples may cause the skewer to be slightly sticky so as long as there is not gooey batter attached, the muffins should be cooked through.
Remove the muffins from the tin and allow to cool on a wire rack.
Store in an airtight container in the refrigerator for 5 days.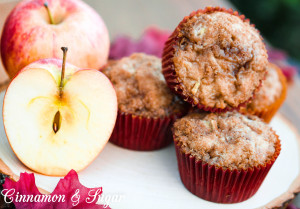 You may also freeze extras: wrap each muffin in plastic wrap then place in a freezer-safe Ziplock plastic bag. To defrost, remove muffins as needed from freezer and keep wrapped in the plastic. Allow to come to room temperature while wrapped. Reheat for a few seconds in the microwave and enjoy!