I have been a longtime fan of New York Times bestselling author Linda Fairstein and have read the majority of the books in her Alexandra Cooper series. While not the typical cozy mysteries I usually review, KILLER LOOK combines just the right amount of realism with emotional connection to the protagonist, Alex Cooper, which makes me excited about the opportunity to share this book with you. Be sure to scroll down to the Rafflecopter box for a chance to win a hardcover copy of KILLER LOOK!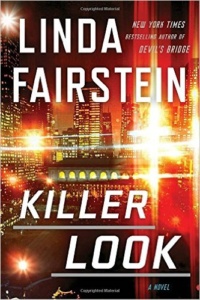 Synopsis
Alex Cooper is trying to recuperate from her harrowing ordeal after being held captive by crazed killers for several days. She's taken leave from her job as a Sex Crimes Prosecutor in Manhattan and is seeking comfort from her beau, Homicide Detective Mike Chapman…and comfort from a bottle. Things take a turn for the worse when Mike is called back to work and Alex is left on her own to struggle with her waking nightmares.
Lily, a friend from high school, contacts Alex to beg her to have someone look into her fashion mogul father's suicide. Lily is certain Wolf Savage was murdered. Due to the prominence of Wolf, Mike is assigned to the case. Isolated from her job and co-workers due to a rift she's had with her boss, Alex is drawn to helping Mike with the case. She brings insight into the fashion industry along with the ability to get people to relax and talk around her. Her search takes her to the gritty side of high fashion, to corporate fraud, to voodoo and hexes. Can Alex overcome her own demons in order to find the truth for her friend? Or will her involvement in the case put her back into the crosshairs of a killer and shatter her fragile recovery?
My Review
I thoroughly enjoyed KILLER LOOK! It is a fast paced suspense with layers of subplots and even though it is the eighteenth book in the Alexandra Cooper series, it is easily read as a standalone. The author provides enough backstory without dragging down the plot. One of the things I enjoy about Linda Fairstein's writing is that she effortlessly incorporates so many historical facts and interesting tidbits surrounding the area where the setting takes place. In KILLER LOOK the location centers on New York's garment district. It is obvious that the author takes great pride in her city and it shows in the impressive research undertaken to weave those facts about the garment district and the fashion industry that developed in that area without detracting from the pace.
Alex comes across as a sympathetic protagonist and there is an emotional current that pulled me in as she struggled to overcome her traumatic event. There is a strong theme of comfort…the need to receive comfort and the need to give comfort. Alex displays both sides in this book making her character multi-faceted as she interacts with those she has a relationship with along with the victims she comes in contact with. Her strong sense of finding justice for victims is admirable. The mystery is well crafted with enough suspects to keep readers guessing until the reveal. And then there's the surprise ending…. while not a cliffhanger it definitely has me waiting on pins and needles for the next release!
Alex Cooper is not a cook, so she doesn't have any recipes to share. In past books, Alex loved to frequent the many fine restaurants of New York City and enjoy delightful meals but in KILLER LOOK she is feeling so traumatized from her ordeal that she has no appetite and scarcely thinks about food. Now in my family when tragedy hits (and thankfully we have never experienced anything like Alex survived!) we cook and we eat. Even when friends and neighbors dropped off dishes after the deaths of close family members, my sisters and I were still in the kitchen cooking. It's our way to relax, to connect to each other, and the food we prepare connects to our emotions and memories.
When I think of the ultimate comfort food I immediately think of Macaroni and Cheese. I realize comfort food can't cure heartache and trauma but in our family, it's a step in the right direction. So I'm sharing my own recipe for Slow Cooker Macaroni and Cheese. It's not fussy or fancy and doesn't require much hands on time, but it is creamy, delicious, and comforting. You can view the recipe below the Rafflecopter box.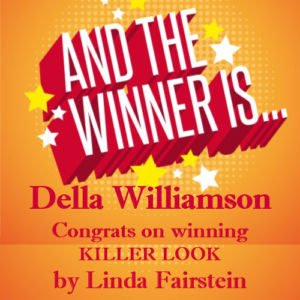 A special thank you to Penguin Random House for providing a hardcover copy of KILLER LOOK by Linda Fairstein! (U.S. Residents only.) Please use the Rafflecopter box to enter. Contest ends Friday, July 29, 2016 at 11:59 pm PST. Winners will be announced on this page and on Cinnamon & Sugar's Facebook page, as well as notified by email (so check your spam folder!)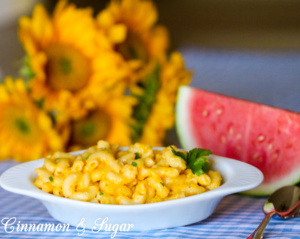 Slow Cooker Macaroni and Cheese
Growing up in California, I always ate Macaroni & Cheese without a crumb topping. However, I realize it is a regional taste so I've included a topping recipe that is added after the dish is fully cooked in the slow cooker. No baking in the oven is required. Using Panko bread crumbs toasted in a skillet with butter produces a golden brown crunch that can be sprinkled on just before serving.
Ingredients
Macaroni and Cheese
16 ounces uncooked elbow macaroni
2 (10-3/4 ounce) cans condensed Cheddar cheese soup
1 cup sour cream
1/2 cup unsalted butter, melted
2 cups whole milk
10 ounces sharp cheddar cheese
10 ounces Monterrey Jack cheese
1 teaspoon dry mustard
1/2 teaspoon fresh ground white pepper
1/8 teaspoon cayenne pepper
Salt to taste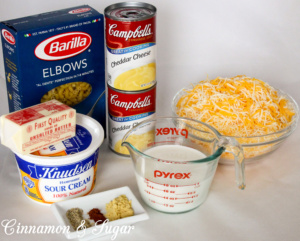 Crunchy Crumb Topping – Optional
3/4 cup Panko bread crumbs
2 tablespoons unsalted butter
2 pinches salt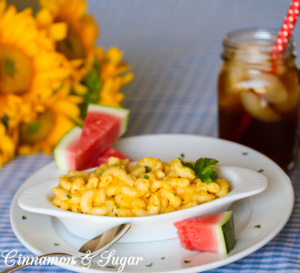 Instructions
Bring a large pot of water to boil and then add the macaroni. Stirring occasionally, cook the pasta for seven minutes, then drain.
While the pasta is cooking, add the soup, melted butter, milk, sour cream, dry mustard, white pepper, and cayenne pepper to the base of a slow cooker. Stir until smooth.
Mix in the grated cheese then stir in the cooked and drained pasta.
Cover and cook on low setting for 3 hours, stirring occasionally.
If the mixture appears too thick during cooking, add additional milk, 1 tablespoon at a time, until desired consistency is reached.
Season to taste with salt and additional pepper and if desired, sprinkle the crumb topping on just before serving.
Crunchy Crumb Topping
Melt the butter in a medium-sized skillet over medium heat until it begins to foam.
Add 2 pinches of salt and the Panko bread crumbs to the butter.
Stirring constantly, toast the bread crumbs. Just as they begin to develop color, lower the heat to low.
Continue stirring and when they reach golden brown remove from the heat and use immediately.
If the Macaroni and Cheese is not ready to serve, immediately place the crumb topping on a cool plate to keep it from burning in the hot skillet.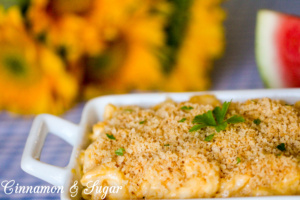 If you're looking for a healthy macaroni and cheese recipe, click on SNEAKY MAC & CHEESE and take a look at my recipe that uses an entire head of cauliflower in the sauce. It tastes so creamy no one will ever know it's healthy for them! As my granddaughter explained to me, Sneaky Mac & Cheese is really good, the Slow Cooker Macaroni and Cheese is really, really good… so there you go, a culinary review from an eleven-year-old 🙂
Pin to Pinterest: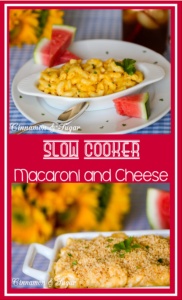 I received a copy of this book in exchange for my honest review. All thoughts and opinions are my own.