GONE WITH THE WOOL, by Betty Hechtman, is the fourth book in her Yarn Retreat Mystery series but the first one I've had the pleasure of reading. Since I began writing my blog I've mostly gravitated towards culinary cozies. Even though I don't knit or crochet (I tried when I was in my early teens but didn't have the patience to sit still), I was drawn to the cover art and title of GONE WITH THE WOOL. I was even more delighted when I found Betty includes a recipe along with her knitting and crochet patterns at the back of her book.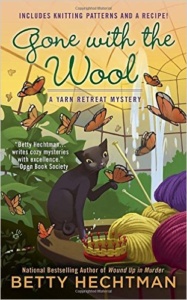 Synopsis
Casey Feldstein inherited a Cadbury by the Sea house and yarn retreat business after her aunt was killed in a hit and run accident. She moved from Chicago to claim her inheritance but her parents, both doctors, are unhappy with her underachieving life, as they see it. But Casey seems to be settling into Cadbury by the Sea and has organized another yarn retreat centered around the town's Monarch Butterfly Celebration along with baking goodies for several of the town's businesses. Things are going well until she has a run-in with three-time Butterfly Queen winner turned judge and town busybody, Rosalie Hardcastle.
Rosalie tells the town that Casey's muffins made some of the star football players sick, resulting in the team losing their homecoming game. The town takes their football extremely serious and they stop buying Casey's baked goods, putting her livelihood in jeopardy. Then Rosalie disqualifies Casey's almost boyfriend's younger sister, Chloe, from the Butterfly Queen competition. Not long after, Rosalie is found stabbed to death during the Blessing of the Butterflies service and fingers point towards Casey and Chloe. The Lieutenant in charge of the investigation is determined that one of them is guilty so Casey starts asking questions, looking for the real killer so she can clear their names. As she delves into the townspeople's secrets she finds numerous others had reasons to want Rosalie dead and she must figure it out before the celebration ends or the murderer might just fly away.
My Review
GONE WITH THE WOOL has an underlying subplot involving the town's founding family that has me intrigued and wanting to read from the beginning of the series. This fourth book is still easily read as a standalone and I had no problems getting to know the characters and how they related. The mystery flowed with plenty of suspects that kept me guessing (wrongly!) until the end. I enjoyed the bits and pieces about the Monarch butterflies wintering in Cadbury by the Sea, which never detracted from the pace. And even though I am not a knitter, the knitting scenes held charm and didn't overwhelm the story. It was fun to know that Casey isn't a knitter either…but she's trying to learn. Fortunately, Casey has a good support system around her to help with both her knitting and her yarn retreats when she's busy chasing down killers. The scenes with Casey's ex-boyfriend and his overbearing parents provided humor and had me laughing out loud, which added to the enjoyment of the book. GONE WITH THE WOOL is a wonderful read and I look forward to catching up on the series and reading the next installment!
If you are a knitter and/or a crocheter, you'll enjoy the projects included with the book. While Casey is a beginner at knitting she is an accomplished baker. Betty includes a Monarch Muffin recipe that Casey created to celebrate the Monarch Butterfly Festival. These moist pumpkin muffins are sweetened with brown sugar and flavored with cinnamon. Crunchy, rich walnuts add texture while optional pumpkin seeds sprinkled on top carry the pumpkin theme. Thank you, Betty, for allowing me to share these delicious breakfast treats!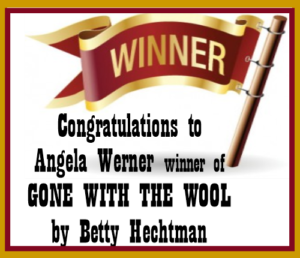 A very special thank you to Betty Hechtman for providing an autographed copy of GONE WITH THE WOOL! (U.S. residents only.) Please use the Rafflecopter box located below the recipe to enter. Contest ends Friday, July 29, 2016 at 11:59 pm PST. Winners will be announced on this page and on Cinnamon & Sugar's Facebook page, as well as notified by email (so check your spam folder!)

Monarch Muffins
Ingredients
2 cups unbleached all-purpose flour
2 teaspoons aluminum-free double acting baking powder
1-1/2 teaspoons ground cinnamon
1/2 teaspoon baking soda
1/2 cup chopped walnuts
1 egg
3/4 cups buttermilk
3/4 cup canned pumpkin
2/3 cup packed brown sugar
2/3 cup melted salted butter
1/4 cup spiced (or plain) pumpkin seeds (optional)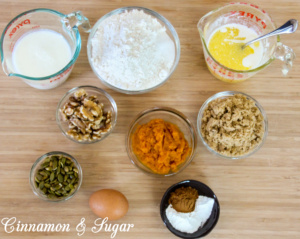 Instructions
Preheat oven to 375 degrees (F).
Line 12-cup muffin pan with paper baking cups.
Sift flour, baking powder, baking soda, and cinnamon into a medium bowl. Add nuts and stir.
In another bowl, beat egg lightly with a fork then stir in buttermilk, pumpkin, brown sugar, and melted butter.
Make a well in the middle of the dry ingredients and add the wet ingredients all at once.
Stir just until moistened. Batter will be lumpy.
Spoon into prepared pan and sprinkle pumpkin seeds over each muffin (if using).
Bake for approximately 17 – 20 minutes, until a toothpick comes out clean.
Makes 12 muffins. (I got 18 regular-sized muffins out of the recipe.)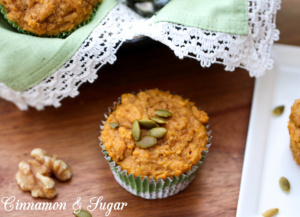 Pin to Pinterest: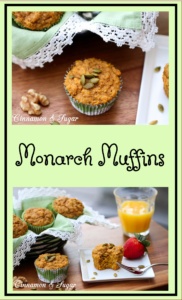 If you receive my blog post via email you will need to visit my website to view the video.
I was provided a copy in exchange for my honest review. All thoughts and opinions are my own.