The brand new release, GRILLING THE SUBJECT, the fifth book in the Cookbook Nook Mystery series by Daryl Wood Gerber, is the perfect summer-themed book and I am so happy to have the chance to help Daryl celebrate on her release day!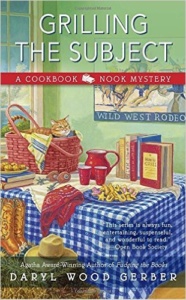 Synopsis
Crystal Cove is hosting a Wild West Extravaganza and Jenna Hart, owner of The Cookbook Nook, is caught up in the theme. Her shop is promoting all sorts of barbecue related cookbooks while her friend Katie, chef at The Nook Cafe, is creating a variety of barbecue goodies to share with their patrons. Jenna's life seems to be perfect: her shop is successful, her relationship with Rhett is progressing, and she's surrounded by a loving father and aunt along with wonderful friends.
But why is Jenna feeling like she's being watched? Why is she feeling so jumpy? When one of her father's neighbor's Sylvia Gump, is found murdered, Jenna's life starts a downward spiral. Her gentle father, Cary, had a very verbal argument with Sylvia and was overheard threatening her. Now he's the main suspect in the murder and Jenna feels like she must clear his name. Only he doesn't want her help and distances himself from her. Undeterred, Jenna starts asking questions around town anyway and finds there were many reasons many people would have wanted Sylvia dead. A "ghost" from Jenna's past shows up and her relationship with Rhett is put to the ultimate test. Can she unravel the tangled murder suspects and clear her father's name while resolving her own issues of the heart? Or will she lasso up a sticky mess that will result in losing everything she holds dear, including her own life?
My Review
I always enjoy a visit to Crystal Cove and especially a visit to The Cookbook Nook. However, GRILLING THE SUBJECT is probably my favorite in the series! I loved the theme of the Wild West Extravaganza and how the author wove western themed activities, cookbooks, and food into the story. The town, and especially The Cookbook Nook, is charming and invites the reader to visit and linger.
But it's more than just a charming setting, GRILLING THE SUBJECT is about family connection and loyalty. When Jenna's past comes calling she has choices to make. She learns to grow and accept support by those she holds dear, even when she fears the worst. While this book can be read as a standalone, it answers questions that have been woven throughout the four previous books. Answers I've been wanting to know and Daryl supplies them in a worthy manner.
And then there's the food which makes this a mouthwatering book! So many delicious recipes are included along with so many references to dishes and cookbooks…I want to try them all. I plan on checking out some of the amazing cookbook titles mentioned by Daryl too, and add to my own cookbook collection. Thanks to Daryl for allowing me to share her Barbecue Muffins recipe with you. Fluffy homemade biscuit dough is pressed into muffin cups then stuffed full of tangy barbecue-sauce laced beef and topped with flavorful cheddar cheese. A fun hand-held dish that is perfect as an appetizer or a main dish. I made the Barbecue Muffins in both a regular-sized muffin tin and made a few mini-muffin sized ones to snack on. I especially loved the ease of making the biscuit dough, which is very similar to the refrigerated biscuit dough you can purchase (and yes, you can use that dough too). I will be making these biscuits for other dishes I prepare as well…definitely a keeper!
A very special thank you to Daryl Wood Gerber for providing an autographed copy of GRILLING THE SUBJECT! (U.S. residents only.) Please use the Rafflecopter box located below the recipe to enter. Contest ends Thursday, August 4, 2016 at 11:59 pm PST. Winners will be announced on this page and on Cinnamon & Sugar's Facebook page, as well as notified by email (so check your spam folder!)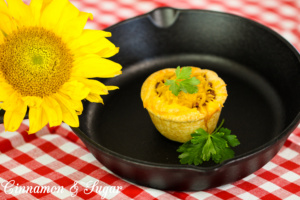 Barbecue Muffins
From Katie: These aren't really muffins. They're biscuits stuffed with goodness, but because they're baked in muffin pans, and that kind of cooking is all the rage, I decided to call them muffins. They are hearty enough for a meal. Enjoy! By the way, you can go the simple route and use Pillsbury refrigerated biscuits in the can, or you can make the biscuits from scratch. I have included a gluten-free substitution as well.
Makes 10 muffins
Ingredients
Muffins
2-1/2 cups all-purpose flour (or substitute 2-1/2 cups gluten-free flour mixed with 1/2 teaspoon xanthan gum)
1-1/2 tablespoons baking powder
1 teaspoon baking soda
1/2 teaspoon coarse sea salt
6 tablespoons cold butter, cut into small cubes
3/4 cup milk
1 tablespoon cider vinegar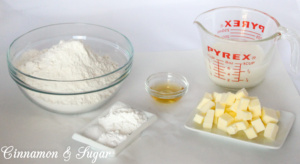 Filling
1 pound ground beef
1/2 cup ketchup
3 tablespoons brown sugar
1 tablespoon cider vinegar
1/2 teaspoon chili powder
1 cup (4 ounces) cheddar cheese, shredded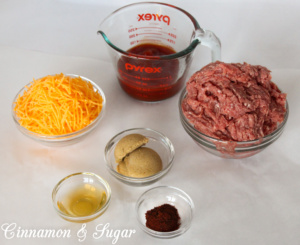 Instructions
Muffins (or use Pillsbury refrigerated biscuit dough)
In a pastry blender, mix the flour (or gluten-free substitution), baking powder, baking soda, and sea salt.
Add the butter and pulse until the mixture looks like the size of peas.
Now add the milk and cider vinegar. The mixture will quickly form a dough.
Remove the dough and divide into 10 equal portions.
Set out a piece of parchment paper and, using a rolling pin, flatten each dough portion into a 5-inch circle. Note: I like to fold the parchment over the dough so it won't stick to the rolling pin.
OR: roll the dough out and cut with round cookie cutters. Extra large cutters for regular muffin tins and medium-small for mini-muffins.
(If you are using Pillsbury refrigerated biscuits, pull them apart into 10 portions.)
Press each portion into a greased muffin cup, pressing down on the bottom and up the sides to form a "cup" and set aside.
Preheat the oven to 375 degrees (F).
Filling
In a skillet, cook the ground beef over medium heat until it is no longer pink, stirring it and breaking it up into little chunks as it cooks.
When done, drain and pat with paper towels to remove the excess fat.
In a small bowl, combine the ketchup, brown sugar, cider vinegar, and chili powder.
Add the mixture to the cooked beef and mix well.
Using a 1/4-cup measuring cup, divide the mixture among the dough-lined muffin cups.
Sprinkle with 1 to 2 tablespoons shredded cheese.
Bake for 13 to 18 minutes, or until the dough is golden brown and the cheese lightly browned.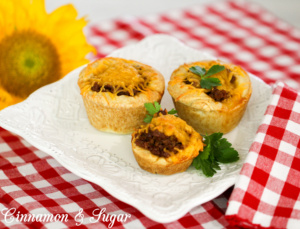 From Katie, a postscript:
By the way, I made a major mistake when I first created the biscuit portion of this recipe. I incorrectly made the milk mixture 1-3/4 cups. Oops! Well, guess what? The mixture started to really rise, and since i don't like to throw things away, I spooned the dough into popover cups just to see how they would turn out, filling the cups halfway. Ta-da! Perfect "popover" biscuits! I baked them at 400 degrees (F) for 15 minutes. They cam out incredibly flaky. Yield: 6 to 10 biscuits.
Pin to Pinterest: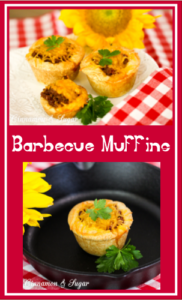 If you receive my blog post via email you will need to visit my website to view the video.
I was provided a copy in exchange for my honest review. All thoughts and opinions are my own.