I was excited when I was offered the chance to review DEATH AT THE DAY LILY CAFE, the second book in the Rosalie Hart Mystery series, by Wendy Sand Eckel. I had not read the first book…but definitely plan to. However, this second book is easily read as a standalone and I had no problems getting to know the characters or figuring out the references from the first book.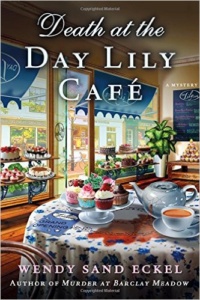 Synopsis
After being blindsided by a divorce, Rosalie Hart moved to the small town of Cardigan and into an inherited 200-year-old farm house. She settles in and opens the Day Lily Cafe, serving fresh, organic food, some of it supplied from her own farm being managed by Tyler. Within minutes of her grand opening, one of her friends, Doris Bird, rushes in and begs Rosalie to help clear her sister, Lori, of murder. Lori's husband of 31 years, Carl, has been shot to death and the local sheriff is determined to prove Lori guilty.
Rosalie feels obligated to Doris because of her past help, plus Rosalie doesn't like how the sheriff is bullying Lori. As she begins asking questions around town, she finds Lori has secrets from her past that are better off left hidden. Lori's husband was also keeping secrets and the more she searches for answers the more people she finds had motives for murdering Carl. Can she piece the puzzle together before the sheriff convicts Lori and still keep her inaugural cafe running? Or will the killer set their sights on her and her family before she solves the crime?
My Review
DEATH AT THE DAY LILY CAFE was a good mystery with a great protagonist. Rosalie Hart, in her forties, decides to grow and better herself instead of wallowing in self-pity after an unforeseen divorce. The book delves into relationships: between parents and children and between spouses, and Rosalie provides plenty of introspection. The author seemed to genuinely portray Rosalie's relationship with her college-aged daughter and the difficulties of wanting to hang on but knowing you must let go and let them make their own decisions. It added to the appeal of the book and made Rosalie seem relatable.
Wendy also provides some humorous moments to break the tension. I loved some of the scenes between Rosalie and her want-to-be love interest, Tyler, and one scene in particular had me laughing out loud. The friends she has surrounding her also brought entertainment and thought-provoking enrichment to the story. The mystery itself had me guessing right along with Rosalie, as she sifted through all the suspects that paraded across the pages and the book had a satisfying conclusion.
Of course it wouldn't be a cafe if there wasn't food and the author provides plenty of mouthwatering descriptions and recipes! Since my eleven-year-old granddaughter, Emory, and her cousin, Alex, were spending the day with me recently, they voted to try Kevin's Key Lime Bars. The recipe was easy enough for them to follow and make with minimal input from me. Kevin's Key Lime Bars combines tart key lime filling with a flaky shortbread crust to create a dessert that will make you feel like you're in the tropics and was the perfect dish to start the summer off with. Thank you to Wendy and Minotaur Books for allowing me to share the recipe with you!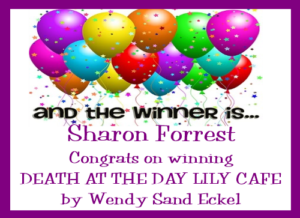 A very special thank you to Minotaur Books for providing a hardcover copy of DEATH AT THE DAY LILY CAFE! (U.S. residents only.) Please use the Rafflecopter box located below the recipe to enter. Contest ends Monday, August 8, 2016 at 11:59 pm PST. Winners will be announced on this page and on Cinnamon & Sugar's Facebook page, as well as notified by email (so check your spam folder!)
Kevin's Key Lime Bars
Ingredients
Crust
6 tablespoons chilled butter
3 tablespoons sugar
1/2 teaspoon salt
1 organic egg yolk (save the egg white for the filling)
1/2 teaspoon Mexican vanilla
1 cup flour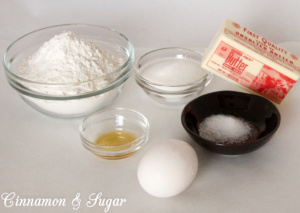 Filling
1-1/2 cups sugar
1/4 cup flour, packed
4 organic egg whites
Juice from 3 to 5 key limes (enough to make 6 tablespoons of juice)
Powdered sugar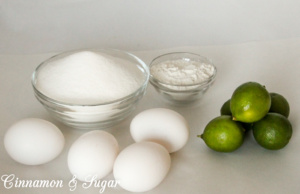 Instructions
Preheat oven to 350 degrees (F).
Crust
Blend the butter, sugar, and salt on low speed in a mixer until creamy.
Add the yolk and vanilla, and blend until combined.
Add the flour and mix again.
Spread into an 8″ x 8″ baking dish and tamp down with your fingers and the palm of your hand until it is evenly spread and firm.
Bake for 20 – 25 minutes or until starting to brown a little around the edges.
Remove from oven and let cool completely.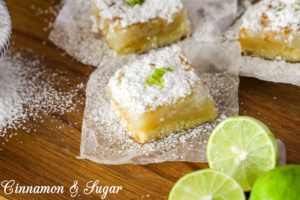 Filling
Whisk flour and sugar together.
Add egg whites and lime juice and whisk for another minute or two.
Pour over crust and bake at 350 degrees for 20 minutes.
Remove from oven and allow to cool.
If filling isn't quite set, refrigerate for up to 2 hours.
Sift the powdered sugar over the cooled filling and slice into squares.
Pin to Pinterest: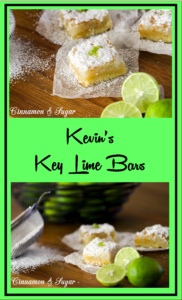 If you receive my blog post via email you will need to visit my website to view the video.
I was provided a copy in exchange for my honest review. All thoughts and opinions are my own.