I so enjoy finding debut authors writing culinary cozy mysteries! Such was the case of ON THE CHOPPING BLOCK, A Callie's Kitchen Mystery Book by Jenny Kales. A good story, a determined protagonist, and a variety of yummy recipes!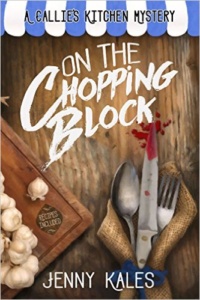 Synopsis
Single mom Calliope Costas, better known as Callie, owns Callie's Kitchen in Crystal Bay, Wisconsin. She serves up fresh Mediterranean inspired food and contends with her father, George, who is a typical over-protective Greek father. Callie has started dating again and she's been invited over to Drew's house for a home-cooked dinner to celebrate his winning the $10,000 grand prize for the Taste of Crystal Bay contest. A prize that Callie herself desperately wanted to win.
When Callie arrives at Drew's spacious home she finds him dead, stabbed to death. New to the area, Detective Sands is in charge of the case and immediately tells Callie she's a suspect since she stands to win the prize money now that Drew is dead. The police confiscate her knives, which are her livelihood, and as word spreads about her being a suspect, she loses all her customers making her worry she will have to close her business. Determined to find the real killer in order to clear her name and save her business Callie starts asking questions and snooping around some with the help of her elderly grandmother. But the answers trouble Callie as she discovers she really didn't know the man she was dating and there were many people who could have wanted him dead. When Callie is attacked she knows she must be closing in on the identity of the killer. Can she figure it out before they try again and before the police put her in jail? Can she risk her daughter's safety to find the answers or will she lose her freedom and her hard earned business?
My Review
ON THE CHOPPING BLOCK starts off with a bang and doesn't let up for the entire book! It kept me turning pages to find out what happens next with twists and turns in the plot. Callie is a sympathetic protagonist, juggling her new business with raising her young daughter on her own and trying to keep her widowed father happy. Her grandmother, while not on scene that often, is a hoot and a source of comfort to Callie. The interaction between the characters seemed genuine and has set the stage for growth. And of course there's the food…Jenny provides so many amazing food descriptions that I could almost smell and taste what she was making! She has included numerous recipes at the back of the book and they all sound incredibly delicious.
In the end I chose to make her Crème Brûlée Cupcakes. A moist vanilla cupcake is frosted with rich pastry cream and topped with granulated sugar then torched. The crunchy caramelized sugar adds a depth of flavor and textural appeal to the cupcake. Often, the cake part of cupcakes is a support for the starring frosting, but these are the other way around. The cupcakes on their own have a satisfying richness and flavor that the pastry cream compliments. Thank you, Jenny, for allowing me to share your recipe for Crème Brûlée Cupcakes!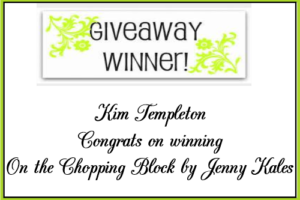 A very special thank you to Jenny Kales for providing an e-book copy of ON THE CHOPPING BLOCK! Please use the Rafflecopter box located below the recipe to enter. Contest ends Thursday, July 21, 2016 at 11:59 pm PST. Winners will be announced on this page and on Cinnamon & Sugar's Facebook page, as well as notified by email (so check your spam folder!)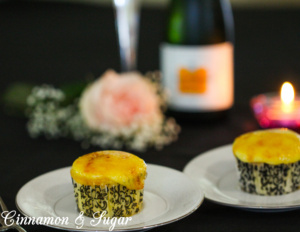 Crème Brûlée Cupcakes
You will need a small kitchen blowtorch to make the caramelized frosting for these cupcakes, which is really a version of a rich pastry cream. You can use your broiler but the blowtorch is easier. Just be careful!
Ingredients
Cupcakes
1 cup all-purpose flour
1 teaspoon baking powder
1/2 teaspoon salt
1 cup granulated sugar
4 large eggs, room temperature
3/4 cup (6 ounces) unsalted butter, softened
1/2 cup buttermilk
2 teaspoons pure vanilla extract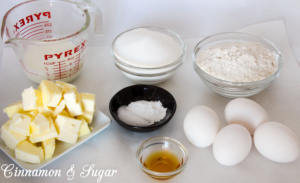 Frosting
1 cup whole milk, slightly warmed in a saucepan
1 teaspoon pure vanilla extract
3 large egg yolks
1/4 cup (2 ounces) unsalted butter
1/4 cup granulated sugar, plus additional sugar for topping
2 tablespoons all-purpose flour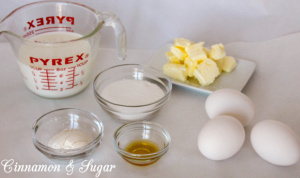 Instructions
Cupcakes
Preheat oven to 350 degrees (F).
Put paper liners in the muffin pan.
Sift the flour, baking powder and salt in a medium bowl and set aside.
In the bowl of a standing mixer, beat butter and sugar until light and fluffy.
Add eggs, one at a time, mixing until well blended.
Add vanilla extract.
Alternate flour mixture and buttermilk in thirds, beginning and ending with the flour.
Bake 15 – 20 minutes, until pale golden on top. The cakes should spring back when you touch them with your fingers.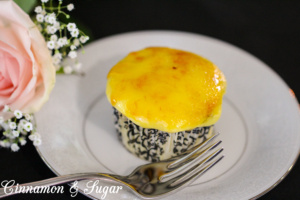 Frosting
In a large bowl, beat the egg with the sugar until creamy, and then add the flour.
Add warmed milk and whisk until smooth.
Pour into the saucepan you used to warm the milk and gradually whisk over low heat until the custard thickens. It should coat the back of a wooden spoon and reach at least 175 degrees (F).
Remove from the heat and stir in butter and vanilla.
Let the custard cool; you'll want to put a piece of wax paper or parchment paper on top so it doesn't form a skin.
Refrigerate until cold.
Spread the pastry cream on top of each cupcake and sprinkle generously with additional granulated sugar.
Use your kitchen blowtorch (or broiler) to caramelize the sugar until golden brown.
Serve immediately for a crunchy topping or chill and serve when cold.
Makes 12 cupcakes.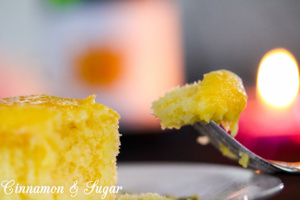 Tips
Make the frosting the day before you need it to give it a chance to fully chill and set up.
After frosting the cakes with the pastry cream, return the cupcakes to the refrigerator until thoroughly chilled before sprinkling on the granulated sugar and torching. Otherwise the frosting may melt too fast from the heat of the blowtorch.
My husband is terrified every time I pull my blowtorch out of the pantry so I keep a fire extinguisher right next to my workstation…just in case.
Pin to Pinterest: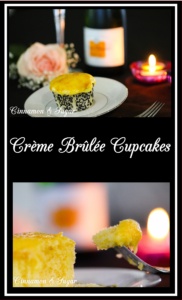 If you receive my blog post via email you will need to visit my website to view the video.