I have eagerly been waiting for the release of CAUGHT BREAD HANDED, the newest installment in the Bakeshop Mystery series by Ellie Alexander! The last book in her series introduced Juliet Montague Capshaw's (aka Jules) estranged husband, Carlos, and I wanted to know more about him. If you are new to this series you might be wondering about Jules' name. Yes, she was named after THAT famous Juliet because her parents were into Shakespeare and opened their bakeshop, Torte, in Ashland which is home to the Oregon Shakespeare Festival. A great setting with a terrific story!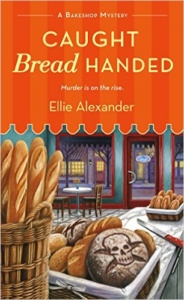 Synopsis
CAUGHT BREAD HANDED picks up with Carlos, a very talented chef, who is in Ashland for three more days before he has to leave for his cruise ship job. He desperately wants to make his marriage work and Jules feels like she might be ready to move beyond what she considered his betrayal. However, instead of spending as much time together as they'd like, Jule's finds Mindy Nolan lying in a pool of blood. It doesn't take long for the police to find out she was murdered and Jules is caught up in the investigation. She just can't seem to keep herself from asking questions.
Mindy was a real estate developer and had recently taken over Alan Matterson's jester-themed restaurant. She angered the other business owners by turning it into a garish fast food joint, going against the Shakespearean themed shops and buildings. Alan was also livid after losing his restaurant and blamed Mindy for it. Town gossip has it that there were numerous people Mindy crossed and it doesn't help that her cook has a mysterious unsavory past. Can Jules learn to mind her own business or will her snooping put her in danger again? Will she find time to resolve her relationship with Carlos or will he sail off into the sunset without her?
My Review
CAUGHT BREAD HANDED was a very enjoyable read. It is much more character driven than preceding books and I truly loved having Carlos involved in the story. He adds a depth to Jules that seems to have been missing in the earlier books in this series (or else I'm just totally crushing on him 🙂 ) There has always been a very strong food theme in Ellie's books, but her descriptions of preparing and eating are almost poetical with Carlos on the scene, which brings a much stronger connection. I have always held the belief that food and emotions are intricately connected and the author definitely captures that in this book. The mystery is satisfying with twists and turns to the plot and the subplots of Jules' mother and the Professor's relationship along with Jules and Carlos were woven into the mystery nicely without being distracting.
Ellie also provides several amazing recipes at the back of the her book. It was very difficult for me to choose which one to showcase with my review but in the end, Chocolate Molasses Crinkles won out. I'm a huge fan of ginger crinkles with all their warm spices. I never would have thought to add chocolate to spiced cookies but oh my, it's a party in your mouth! The author adds very generous amounts of spices to a chewy cookie base and then loads up on chocolate chips. As soon as the Chocolate Molasses Crinkles come out of the oven, they are dipped in granulated sugar, giving them a festive, sparkling appearance with some added crunch. These will definitely be making an appearance in my annual Christmas goodie bags! Thank you, Ellie, for allowing me to share these incredibly yummy cookies!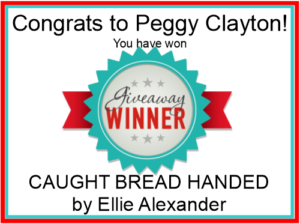 A very special thank you to Ellie Alexander for providing an autographed copy of CAUGHT BREAD HANDED! (U.S. residents only.) Please use the Rafflecopter box located below the recipe to enter. Contest ends Monday, July 18, 2016 at 11:59 pm PST. Winners will be announced on this page and on Cinnamon & Sugar's Facebook page, as well as notified by email (so check your spam folder!)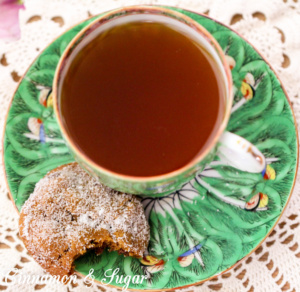 Chocolate Molasses Crinkles
Ingredients
3/4 cup butter, room temperature
1 cup sugar
1/4 cup molasses
1 egg
2 cups all-purpose flour
2 teaspoons baking soda
1/2 teaspoon salt
2 teaspoons cinnamon
1 teaspoon cloves
1 teaspoon ginger
1 teaspoon nutmeg
1 12-ounce package chocolate chips
1/2 cup granulated sugar in extra bowl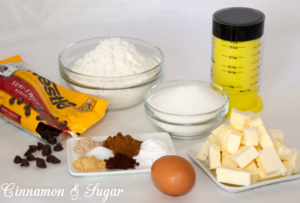 Instructions
Preheat oven to 350 degrees F.
Cream butter, sugar, and molasses together.
Beat in the egg.
Slowly incorporate dry ingredients and spices.
Once batter is firm, add chocolate chips and chill in the refrigerator for one hour.
Spoon batter into 1-inch balls and bake for 15 minutes.
Immediately roll in granulated sugar when cookies are hot from the oven.
Set on a wire rack to cool completely.
Store in an airtight container at room temperature for 5 days.
Pin to Pinterest: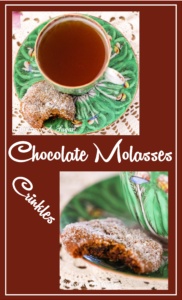 If you receive my blog post via email you will need to visit my website to view the video.
I was provided a copy in exchange for my honest review. All thoughts and opinions are my own.