I am very happy to be able to help celebrate Linda Wiken's new release, TOASTING UP TROUBLE, in her brand new Dinner Club Mystery series! I first met Linda this past February during the Left Coast Crime conference in Phoenix and had a chance to talk about her new series. I loved the premise of her book and couldn't wait to read it!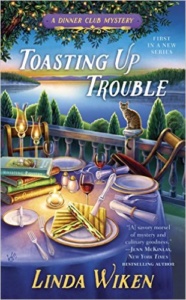 Synopsis
J.J. Tanner works for Make It Happen, an event planning company owned by her best friend, Skye Drake. Business is growing for them in Half Moon Bay, Vermont and J.J. is busy planning an Italian designer themed 21st birthday celebration. The catering company she contracted with quits a week before the party and talented Chef Marcotti agrees to step in due to the prestige of J.J.'s client. However, at the last minute the arrogant chef demands J.J. accept his extremely expensive signature dish even though the budget doesn't allow for it. J.J. think she's got a handle on the situation until she finds out that the sneaky chef served the dish anyway at the party and expects her to pay for it! Late, after the party, tempers fly and the chef threatens her during their vocal argument.
J.J. returns to the client's home to supervise the cleanup and finds that the chef was murdered. The police question her and consider her a strong suspect since she was the last person to be seen with the chef. However, J.J. finds out that one of her friends, Evan, from her Culinary Capers Dinner Club is a suspect too. Chef Marcotti cheated Evan out of money and they had a huge public argument. Knowing that she and her friend are innocent, J.J. decides to ask questions and clear their names. It doesn't take long before she finds out a lot of people in town had reasons to want the chef dead. Can she sift through the clues and find the killer or will she take the blame?
My Review
It's always fun to start a brand new series with the very first book. Linda Wiken did not disappoint with her new culinary cozy. I loved how the murder mystery was intertwined with J.J.'s Culinary Capers Dinner Club. The links between her friend being a suspect to another member being a police officer to the other members wanting to help find clues (which, of course, did not please the police officer!) kept the story flowing. J.J. starts out being a tentative cook when she joins the Dinner club, but I enjoyed how she gained confidence as time goes on, turning her love for collecting cookbooks into actually cooking from them. And boy would I love to be able to browse through J.J.'s collection! I have my own "small" collection of cookbook and dessert decorating books but there's something that draws me to beautiful food photos and I find I can't resist buying just one more book. The author introduces and develops the characters setting the stage for both this mystery and subsequent books which slowed the beginning down just a bit. But once the murder takes place the pace of the book accelerates and kept me turning pages to find answers! There are plenty of suspects and red herrings that kept me guessing until the very end…and what a surprise ending it was!
Of course a Dinner Club themed book must have food and Linda provided plenty of it. From the descriptions of dishes prepared for the dinner club and the recipes included at the back of the book I was ready to eat. One of the recipes Linda shares is Roasted Pears, which I found perfect for serving as a light dessert on a hot summer night. Super fast to prepare with just the right amount of sweetness, the Roasted Pears can be topped with any fresh seasonal fruit, a splash of liqueur, and a creamy dollop of light Greek yogurt or ricotta cheese. I added some toasted nuts for additional texture and visual appeal. This is another one of those desserts that I didn't share with anyone else. It was equally wonderful eaten while the pears were still warm and then again chilled, which makes it convenient to make ahead of time. Thank you, Linda, for allowing me to share your delectable dessert!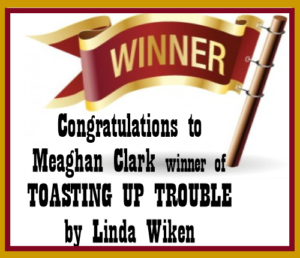 A very special thank you to Linda Wiken for providing an autographed copy of TOASTING UP TROUBLE! (U.S. and Canadian residents only.) Please use the Rafflecopter box located below the recipe to enter. Contest ends Thursday, July 14, 2016 at 11:59 pm PST. Winners will be announced on this page and on Cinnamon & Sugar's Facebook page, as well as notified by email (so check your spam folder!)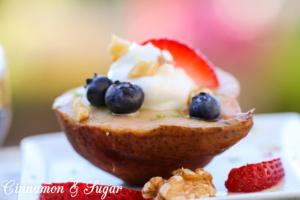 Roasted Pears
One of the characters in the book, Beth, is always looking for light, healthy desserts to balance the delicious baked goods and pastries she sells in Cups 'n Roses. Mix and match the ingredients according to seasonal produce. Enjoy!
Ingredients
Roasted Pears
3 ripe pears
1 tablespoon honey or maple syrup
Zest from one large lime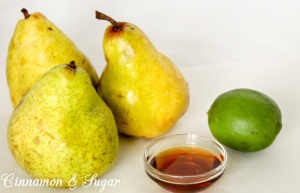 Garnishments
1 cup Greek-style plain yogurt or smooth ricotta
Strawberries
Raspberries
Blueberries
Clementines
Seeds from one medium pomegranate
Toasted walnuts, pecans, or almonds
Limoncello or Chambord
Instructions
Preheat oven to 375 degrees (F).
Line baking pan with parchment paper.
Halve pears lengthwise, remove stems and cores.
Place pears on baking sheet, cut side up; drizzle with honey or maple syrup and sprinkle with lime zest.
Bake for 18 – 20 minutes, depending on size of pears, until softened.
When done, place portions on individual dessert plates, top with yogurt or ricotta, and sprinkle with desired add-ons.
Drizzle with Limoncello or Chambord to taste.
Tip
If you aren't going to serve the pears right away, drizzle a bit of the lime juice over the cut surface to cut down on the browning.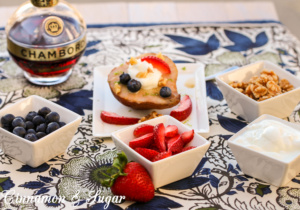 Pin to Pinterest: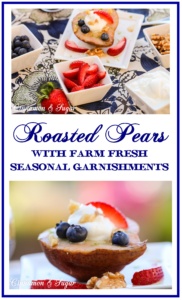 If you receive my blog post via email you will need to visit my website to view the video.
I was provided a copy in exchange for my honest review. All thoughts and opinions are my own.